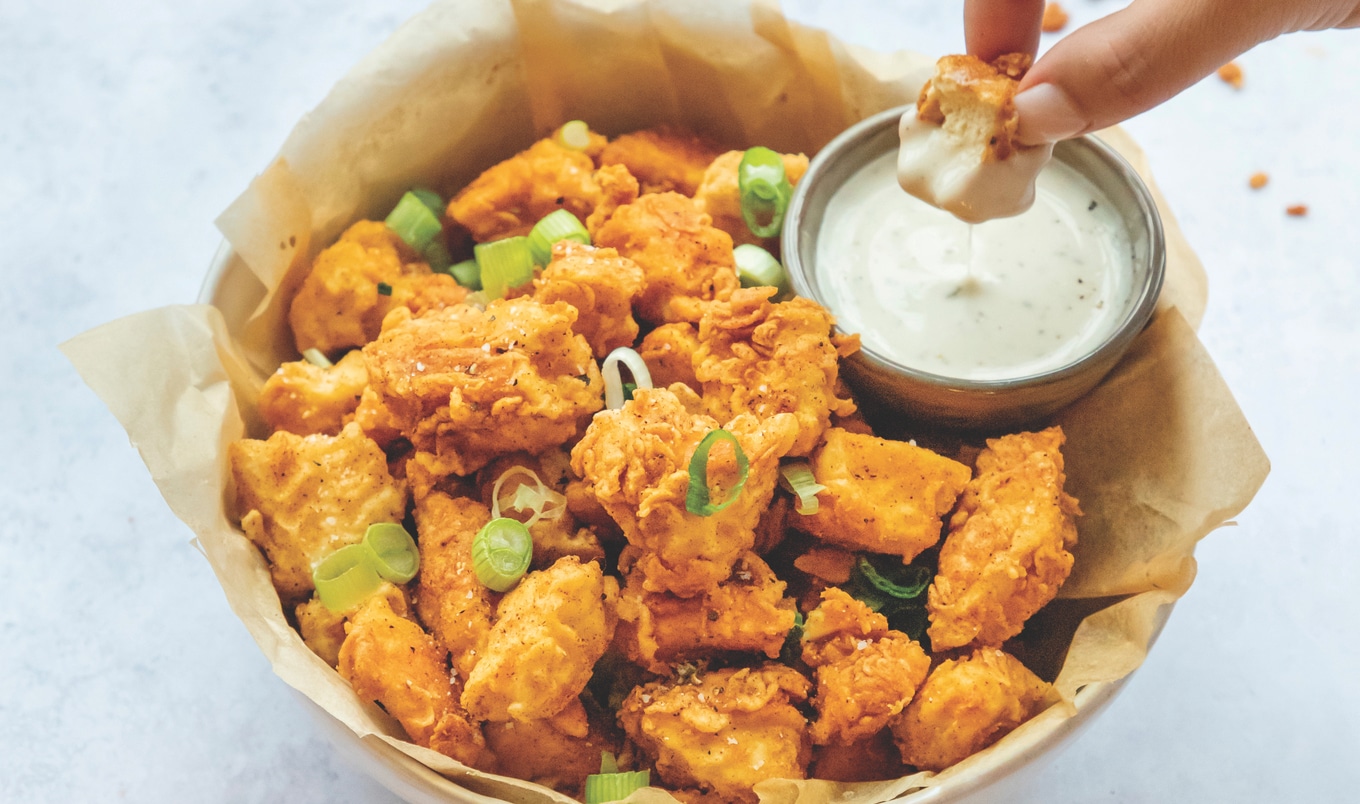 Extra-firm tofu serves as the meaty substitute for these crispy, golden nuggets.
July 12, 2023
Serve these fried-to-perfection, battered vegan chicken morsels from the Plantiful cookbook with sriracha mayo or toss in your favorite BBQ sauce for an extra pop of flavor.
What you need:
1 (16-ounce) block super-firm tofu
For the batter:
⅔ cup flour
⅔ cup vegan milk
¼ teaspoon salt
¼ teaspoon black pepper
For the breading:
½ cup flour
1 tablespoon garlic powder
1 tablespoon onion powder
1 tablespoon paprika
1 teaspoon chili powder
¼ teaspoon salt
¼ teaspoon black pepper
1½ cups canola or vegetable oil, for frying
Black pepper, for garnish
Sliced green onions, for garnish
What you do:
Cut tofu lengthwise into thirds to create 3 large rectangles of equal size. Using hands, break each rectangle into 20 bite-sized pieces, yielding 60 pieces of tofu.
For the batter, in a medium-sized bowl, whisk flour, milk, salt, and pepper.
For the breading, on a large plate place all ingredients and stir with a fork.
In a 1-quart saucepan over medium heat, warm oil to 350 degrees. Oil should be about 2 inches deep. Dip 5 pieces of tofu into batter, then remove, allowing excess batter to drip off. Transfer to plate with breading and coat well. Place on a separate plate until ready to fry. Repeat with remaining tofu, batter, and breading.
When oil is hot, add 10 pieces of tofu (tofu should be mostly covered in oil) and fry for about 5 minutes, until golden and crispy. Use a slotted spoon to remove from oil and place on a paper towel-lined plate to drain. Repeat with remaining tofu. Serve hot, garnished with pepper and sliced green onions.
For more recipes like this, read: