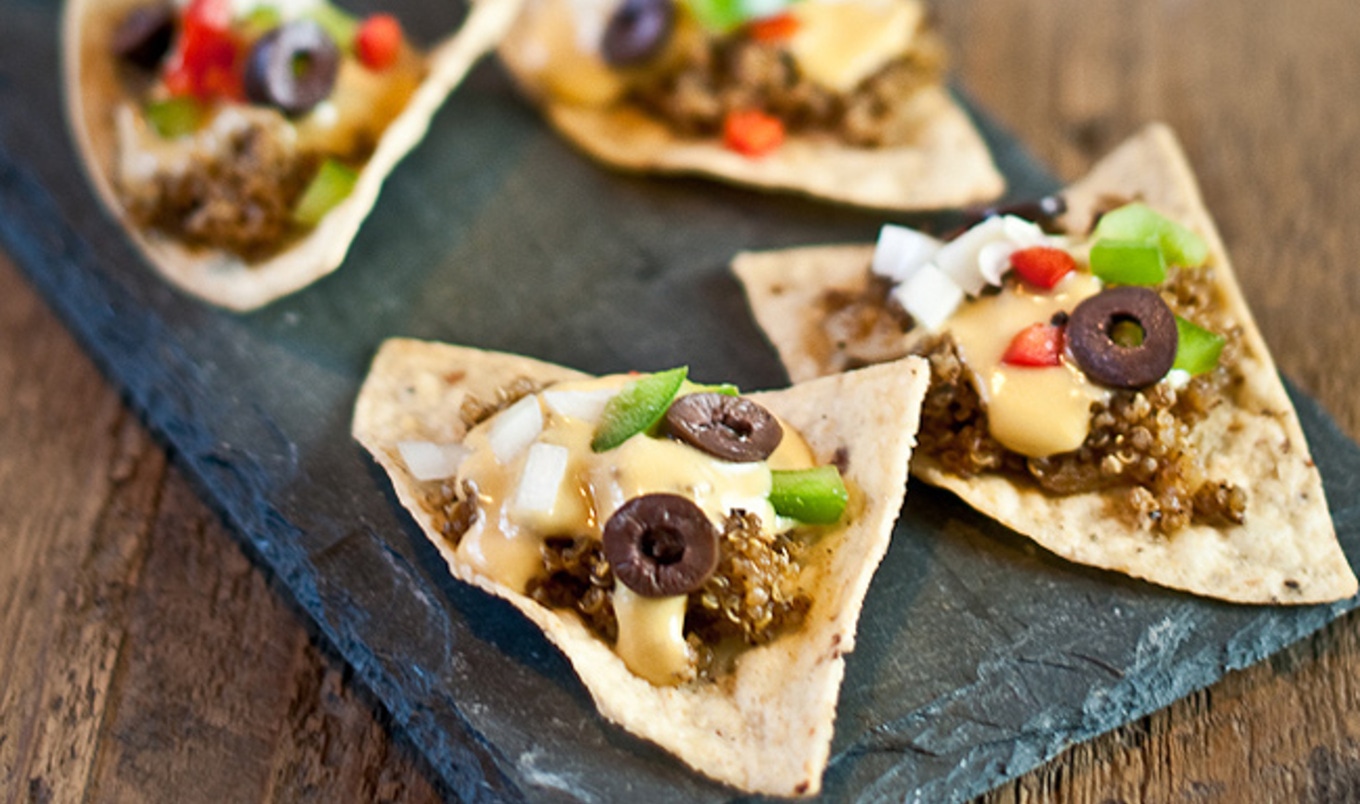 Try these spicy, cheesy vegan quinoa nachos for an innovative twist on a fun classic.
January 26, 2022
What you need:
For the quinoa mixture:
¼ cup safflower or vegetable oil
½ cup diced onions
3 garlic cloves, minced
2 tablespoons dry sage
1 tablespoon dry thyme
1 teaspoon oregano leaves
1 teaspoon dry red pepper flakes
1 tablespoon chili powder
1 tablespoon ground cumin
2 cups cooked quinoa
2 tablespoons soy sauce
2 tablespoons vegan Worcestershire
⅛ teaspoon salt
For the cheese sauce:
2 tablespoons vegan margarine
2 tablespoons flour
2 cups soymilk
2½ cups vegan cheddar cheese shreds
½ cup nutritional yeast
For the nachos:
1 bag tortilla chips of choice
2 to 3 scallions, chopped
1 4-ounce can sliced black olives
1 16-ounce jar chunky salsa
What you do:
1. For the quinoa mixture, in a large skillet over medium-high heat, heat oil until hot. Add onion, garlic, sage, thyme, oregano, peppers, chili powder, and cumin and mix well. Sauté for 3 to 5 minutes.
2. Add quinoa, soy sauce, and Worcestershire and mix well. Reduce heat to medium-low and cook for 5 to 7 minutes. Add salt to taste.
3. For the cheese sauce, in a medium saucepot over medium-high heat, melt margarine. Add flour and whisk together. Reduce heat to medium and brown mixture for 1 to 2 minutes. Whisk in soymilk. Once soymilk comes to a boil, stir in cheese and nutritional yeast and continue to stir constantly. Once cheese is melted, remove from heat and set aside.
4. To assemble the nachos, make a bed of tortilla chips, cover with warm quinoa filling, and top with cheese sauce, scallions, olives, and salsa. Serve hot.