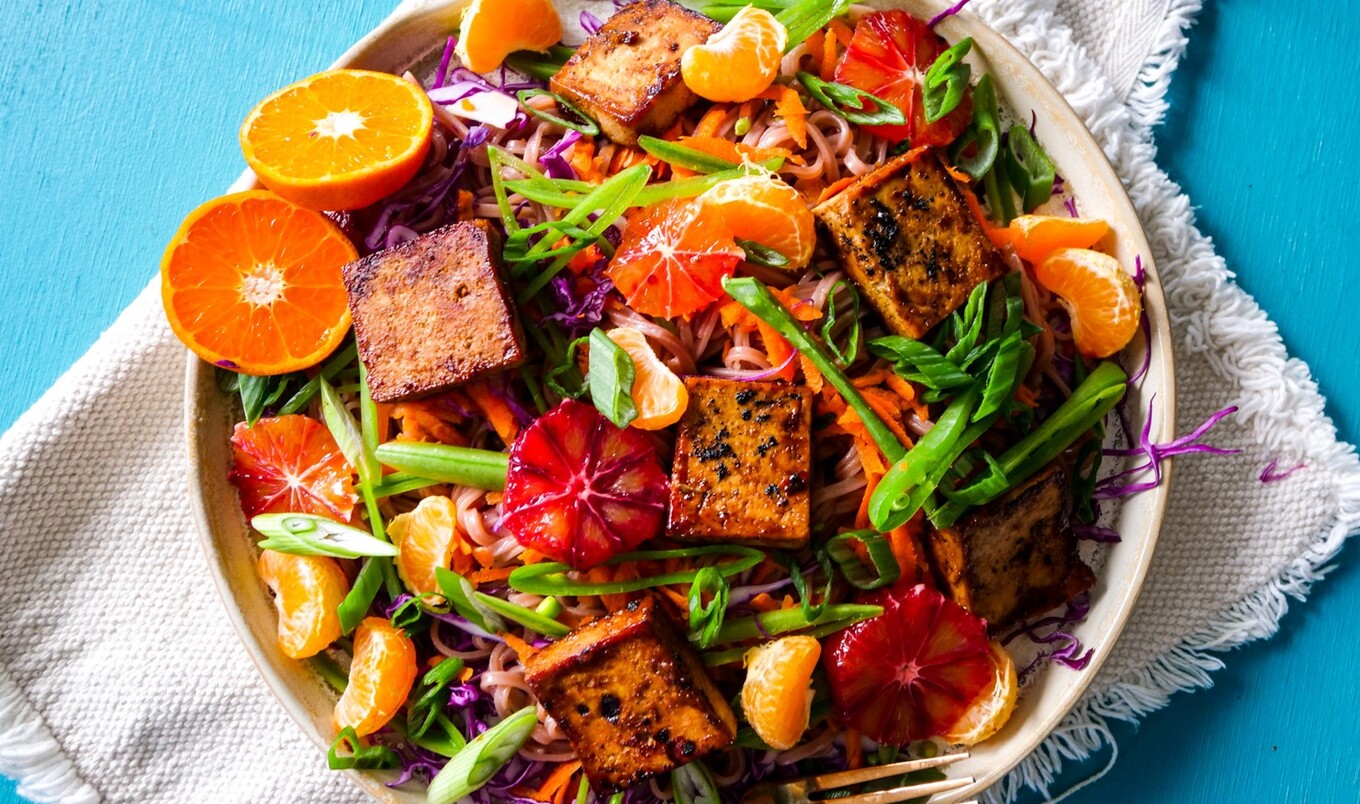 This gluten-free noodle salad gets added crunch from cabbage, carrots, and snap peas and a burst of flavor from a citrusy-ginger dressing.
September 13, 2023
A miso-chili-garlic marinade gives each bite of tender, seared tofu in this recipe from food blogger Chef Bai a wonderful, aromatic, peppery taste. Pair with thin, Thai-style rice noodles and fresh vegetables for an easy go-to plant-based meal.
What you need:
For the tofu marinade:
½ cup coconut aminos
1 tablespoon miso paste
1 teaspoon chili garlic paste
1 block tofu, pressed and cubed
For the salad:
1 (16-ounce) package red rice pad Thai noodles, cooked to package instructions
1 teaspoon sesame oil
1 cup thinly sliced purple cabbage
1 large carrot, grated
10 snap peas, thinly sliced
4 green onions, sliced
4 mandarins, peeled and separated
For the dressing:
Juice of 1 blood orange
Juice of 1 lemon
3 tablespoons olive oil
1 tablespoon maple syrup
½ teaspoon ground ginger
¼ teaspoon pepper
½ teaspoon salt
What you do:
For the marinade, into a jar add coconut aminos, miso paste, and chili paste. Stir with a fork until fully mixed. On a large flat plate, lay out cubed tofu and pour marinade over top. Gently toss until tofu is fully coated on all sides, and then set aside in refrigerator for 15 to 20 minutes to marinate.
For the salad, into a large pot, add noodles and drizzle with sesame oil. Set aside.
For the dressing, into a large jar, add all ingredients, screw on lid and shake until well combined. Set aside.
Remove tofu from refrigerator. Heat a cast-iron skillet over medium-high heat, then add tofu. Cook each side for 2 minutes. Pour extra marinade over top and toss. Remove from heat when tofu is seared on all sides.
Onto each serving plate, add a generous amount of purple cabbage, ½ cup of noodles, carrots, snap peas, green onions, 5 mandarin slices, and a few slices of seared tofu. Garnish with a healthy splash of dressing and enjoy.
For more recipes like this, check out: