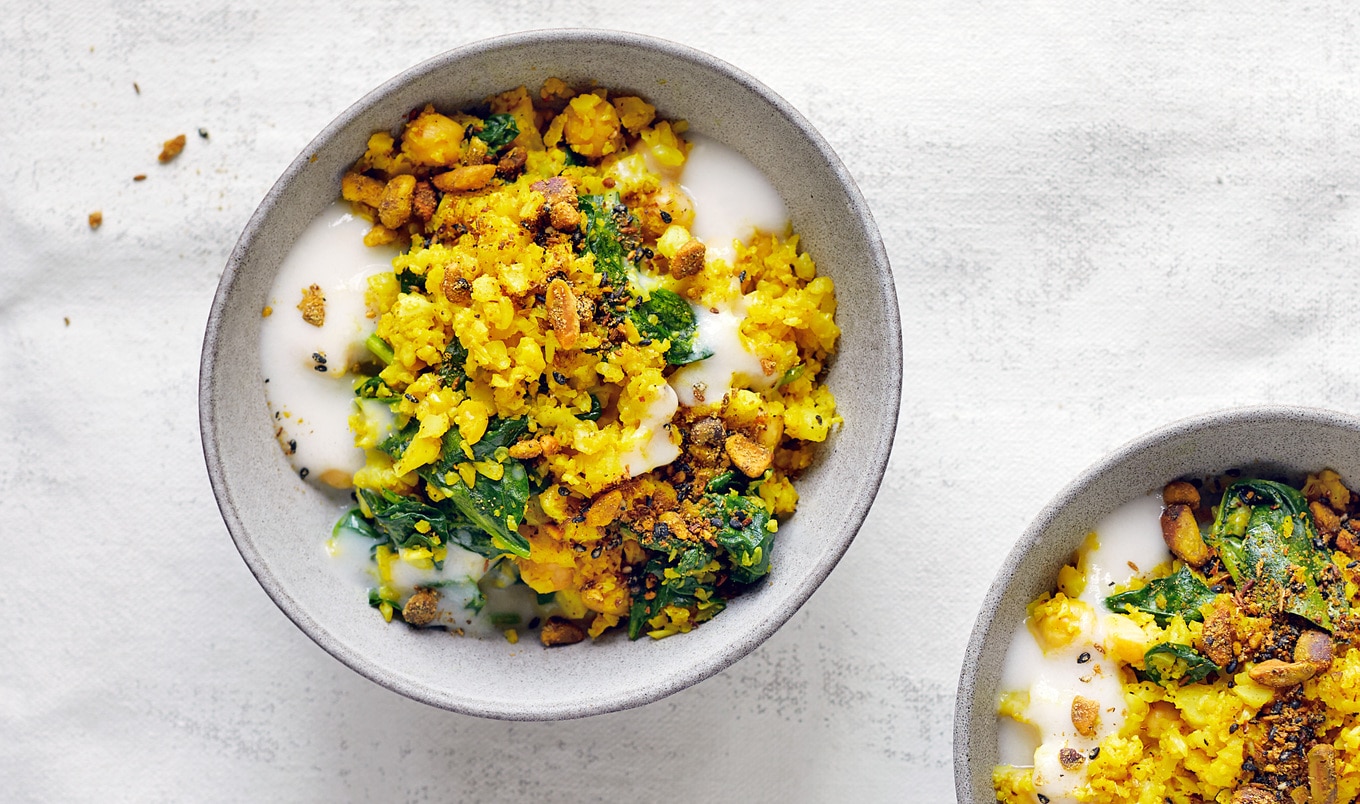 Low-carb riced cauliflower serves as an ideal backdrop for this nourishing vegan bowl featuring wilted spinach, hearty chickpeas, a flavorful Middle Eastern spice blend, and lemony coconut yogurt dressing.
April 6, 2023
This utterly comforting dish from the Smart Plants cookbook won't just feed your belly—it supplies brain-boosting ingredients such as turmeric and spinach, and gut-healing probiotics from rich coconut yogurt. Win-win!
What you need:
For the Spiced Pistachio Dukkah:
1 tablespoon fennel seeds
1 tablespoon cumin seeds
½ cup unsalted, toasted, shelled pistachios
2 tablespoons toasted black sesame seeds
½ teaspoon salt

For the bowl:
1 cup unsweetened coconut-milk yogurt
2 tablespoons fresh lemon juice
1 teaspoon teaspoon salt, divided
6 cups cauliflower florets (about 1 medium head)
1 tablespoon coconut oil
2 cloves garlic, minced
2 tablespoons water
1 teaspoon ground turmeric
¼ teaspoon black pepper
1½ cups cooked garbanzo beans, rinsed, drained, and patted dry
4 cups packed baby spinach
2 tablespoons Pistachio Dukkah
What you do:
For the Pistachio Dukkah, in a small pan over medium heat, toast fennel and cumin seeds for 3 minutes, or until fragrant. Remove seeds from pan and let cool for 1 minute. In a spice grinder, grind seeds into a powder. Add pistachios, sesame seeds, and salt. Grind one more minute, leaving some texture. Store in an airtight container in refrigerator.
For the bowls, in a small bowl, mix yogurt, lemon juice, and ¼ teaspoon salt. Refrigerate dressing until ready to use.
In a food processor, place cauliflower and pulse several times until broken down into small bits that resemble rice. Transfer to a large bowl, and set aside.
In a large skillet with a tight-fitting lid over medium heat, melt coconut oil. When oil is hot, add garlic and cook for 30 seconds. Add cauliflower, water, turmeric, remaining salt, and black pepper. Mix well.
Cover skillet, and steam cauliflower mixture over low heat for 10 minutes. Remove lid, toss mixture, and continue to cook for 5 minutes, uncovered, stirring occasionally, until all excess moisture has evaporated and cauliflower has dried out slightly (it should resemble fluffy rice). Mix garbanzo beans and spinach into cauliflower and cook for 3 minutes more until spinach is wilted and beans are warm. Remove from heat.
To serve, spoon cauliflower rice mixture into 4 bowls. Drizzle each bowl with 3 tablespoons of yogurt dressing, and sprinkle top with 2 tablespoons of Pistachio Dukkah. Serve warm or at room temperature.