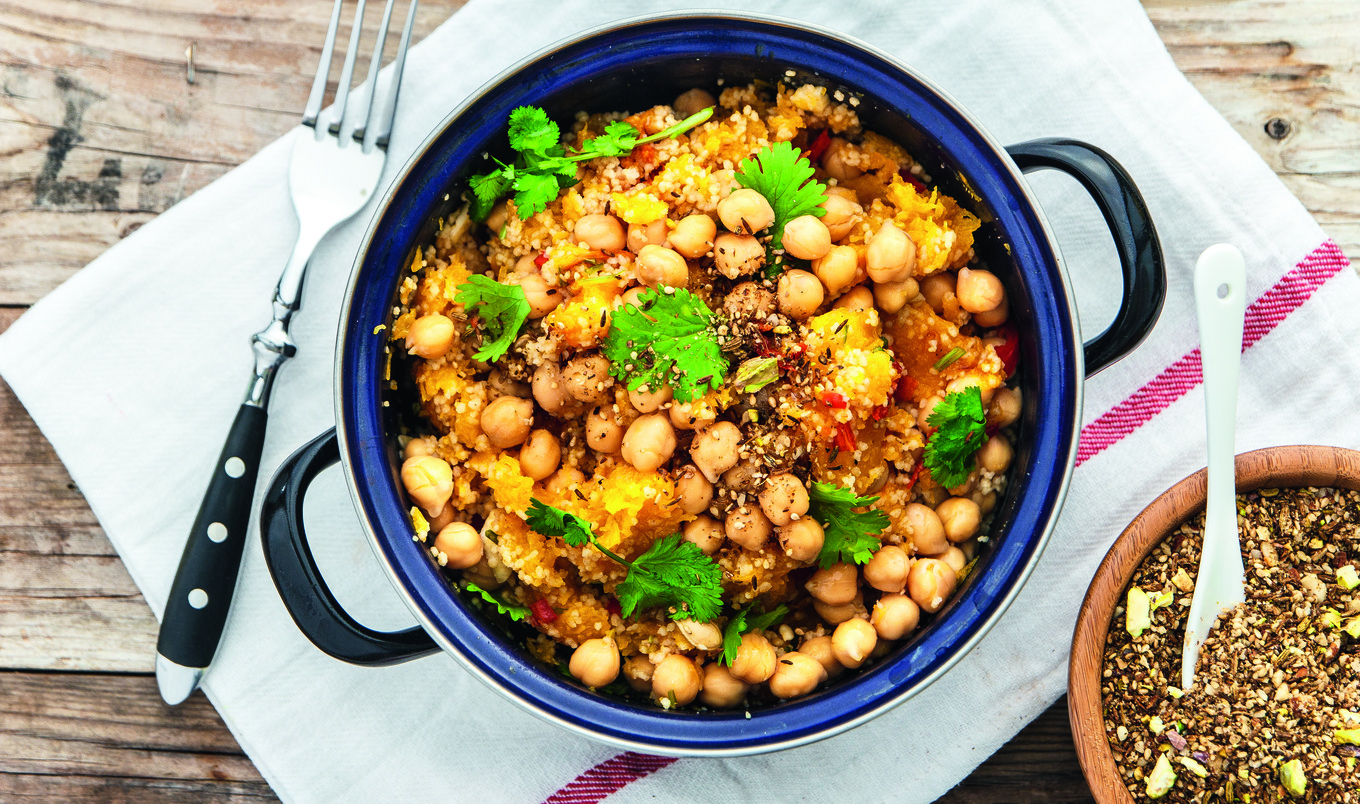 The nutty flavor of butternut squash is amplified in this dish when seasoned with dukkah, a North African mix of nuts and spices.
October 26, 2023
Not only is this salad from the Vegan Everything cookbook packed with nutrients from beta carotene-rich squash and whole grains, but it gets a huge bump in flavor from buttery, toasted nuts and a tangy lemon dressing.
What you need:
For the dukkah:
½ cup mixed raw nuts
2 tablespoons sesame seeds
2 tablespoons coriander seeds
1 tablespoon cumin seeds
½ teaspoon salt
½ teaspoon black pepper
For the salad:
1 small butternut squash
¼ cup olive oil
3 garlic cloves, minced
1 red jalapeño, minced
½ bunch fresh parsley, coarsely chopped
1¼ cups dried instant couscous
1¾ cups boiling water
1 cup chickpeas
Juice of 1 lemon
3 tablespoons dukkah
What you do:
For the dukkah, in a dry pan over medium heat, toast nuts, sesame seeds, coriander seeds, and cumin seeds for 4 minutes, stirring constantly, until golden. Let cool, then transfer to a food processor. Add salt and pepper and pulse to combine. Store in an airtight container for up to 2 weeks.
For the salad, preheat oven to 350 degrees. Line a baking sheet with parchment paper.
Peel squash, halve lengthwise, and remove seeds. Brush cut sides with 1 tablespoon oil and place cut side down on baking sheet. Roast for 45 minutes, or until fork-tender.
While squash is roasting, in a large bowl, combine garlic, jalapeño, and couscous. Pour in boiling water and cover bowl with a plate for 10 minutes.
Remove squash from oven. When cool enough to handle, scoop flesh from skin with a large spoon. Cut into bite-sized pieces.
Remove plate from couscous bowl and fluff with a fork. Mix in squash and chickpeas.
In a small bowl, whisk together remaining 3 tablespoons olive oil, lemon juice, parsley, and dukkah. Toss with couscous mixture and serve.
For more vegan recipes like this, read: