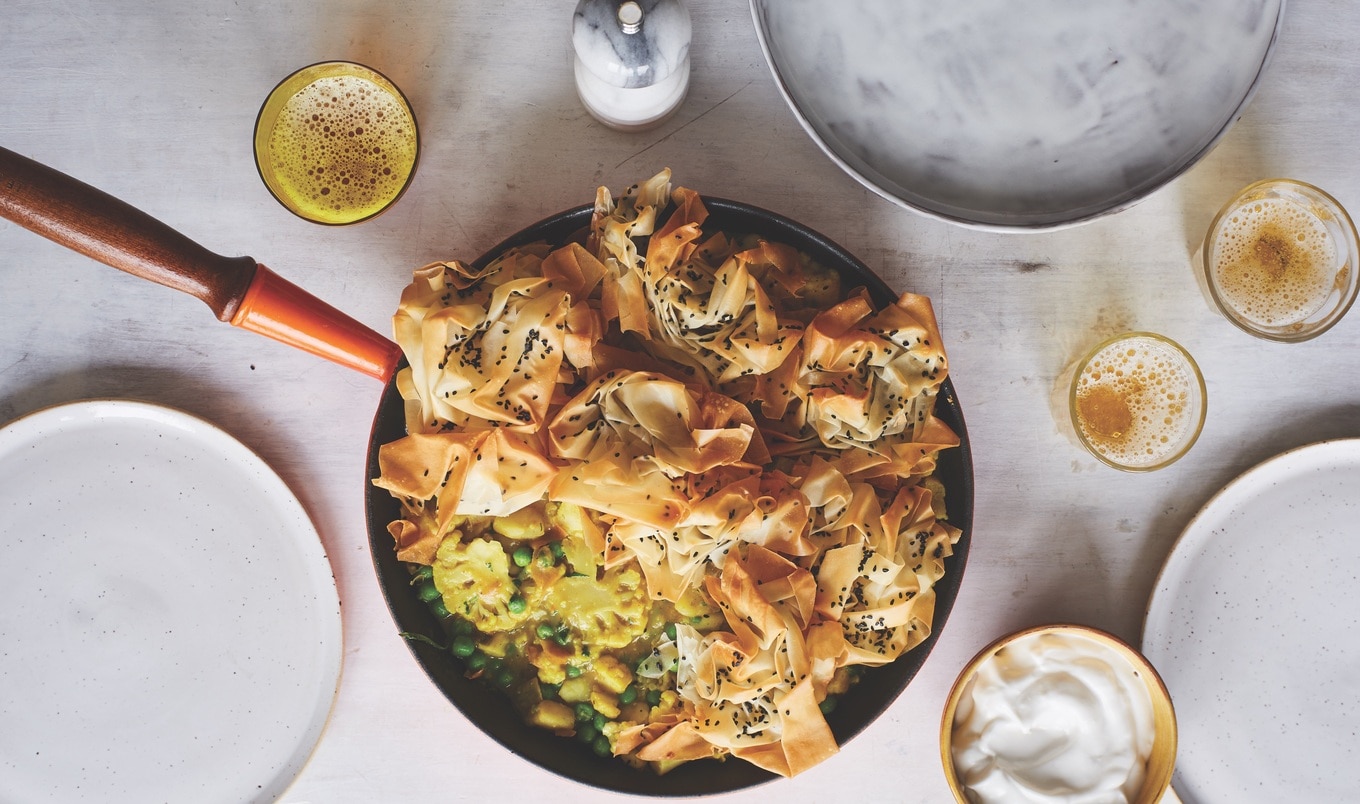 This savory, curry-spiced, pastry-topped pie has all the flavors of classic deep-fried Indian samosas.
January 13, 2023
Serve this golden, flaky pastry-topped potato, cauliflower, and green pea pie from the BOSH! On a Budget cookbook at your next dinner party for a flavorful, meatless main.
What you need:
2 medium Russet potatoes, peeled and chopped into ½-inch pieces
1 small cauliflower
6 sheets phyllo pastry
Black cumin seeds, for sprinkling
3 tablespoons vegetable oil, divided
2 garlic cloves, peeled and grated
1-inch piece fresh ginger, peeled and grated
1 green chili, chopped and deseeded
½ teaspoon salt
1 tablespoon curry powder
2 teaspoons ground turmeric
1 teaspoon fennel seeds
1½ cups vegetable broth
1¼ cups frozen peas
½ cup roughly chopped fresh cilantro
1 lime, juiced
¼ teaspoon black pepper
Coconut yogurt, for serving
What you do:
Preheat oven to 400 degrees. Into a large microwaveable bowl, add potatoes and cover. Microwave on high for 4 to 6 minutes.
Roughly chop cauliflower florets into bite-sized pieces. Add to bowl with potatoes and microwave for 6 minutes.
Into a small dish, pour two tablespoons oil. Using a pastry brush, brush one sheet of phyllo with oil and sprinkle with nigella seeds. Pinch together and place on a baking sheet. Repeat with remaining pastry. Bake in oven for 6 to 8 minutes until golden, being careful not to burn.
Into a skillet over high heat, add remaining oil. Add garlic and ginger, and stir. Add chili, salt, curry powder, turmeric, and fennel seeds, and stir. Let cook for one minute.
Add cooked cauliflower and potato, and stir to coat. Add broth, stir, and cover pan to cook for 2 to 3 minutes. Remove lid and use a fork or potato masher to lightly mash mixture. Add peas and cook for 2 minutes, and then remove from heat. Stir in cilantro and lime juice, and mix well.
Top mixture with phyllo pastry and serve straight from pan with spoonfuls of coconut yogurt.