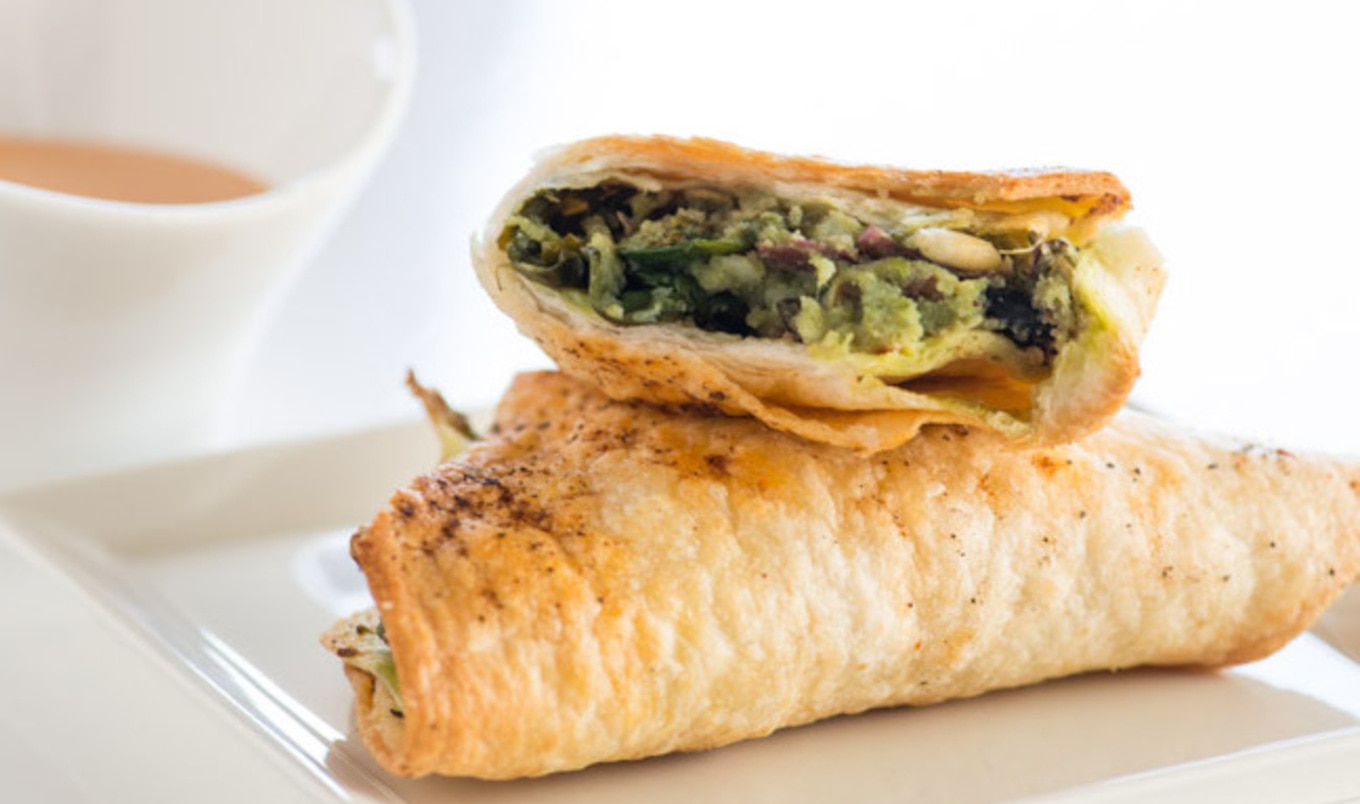 Traditional Indian samosas get an infusion of Peruvian flavor with a zesty, fiery sauce.
April 21, 2020
Warming spices and comforting potatoes take center stage in these crispy, golden brown, fried samosas from VegNews Food Editor Joni Marie Newman's Fusion Food in the Vegan Kitchen cookbook.
What you need:
For the Peruvian Style Aji Sauce:
2 cups baby spinach leaves
½ cup parsley
6 aji amarillo escabeche peppers, thawed, with stems removed
1½ cups extra virgin olive oil
2 tablespoons minced garlic (about 6 cloves)
1 tablespoon lemon juice
¼ teaspoon salt
¼ teaspoon black pepper

For the samosas:
1 pound red potatoes, cut into bite-sized chunks
½ cup Peruvian Style Aji Sauce
½ cup chopped cilantro
½ cup black beans
¼ cup pine nuts
1½ cups baby spinach leaves
12 flour tortillas
Vegetable oil, for baking or frying
¼ teaspoon salt
¼ teaspoon black pepper
¼ teaspoon paprika
What you do:
For the sauce, into a blender, add all ingredients and purée until smooth. Store in an airtight container in refrigerator.
In a large pot of water, add potatoes and boil until fork-tender. Drain and return to pot. Add aji sauce, cilantro, black beans, pine nuts, and spinach. Stir to combine, making sure potatoes are broken up a bit and all ingredients are incorporated fully.
Warm tortillas until soft and pliable. Place tortilla on flat surface and cut off ½-inch of rounded edges. Cut remaining piece in half to make two long strips with rounded tops and bottoms. Start at bottom of one strip, fold up bottom corner to opposite flat edge, and repeat two more times to get to top of strip, leaving a ½-inch tab to tuck and seal. Open into a cone. Place 2 tablespoons filling in center of cone, and tuck in tab to seal.
Into a frying pan, pour enough oil to fill up a ¼-inch and heat to 350 degrees. Carefully add samosas to oil, and fry until crispy and golden, 15 seconds per side. Transfer to a plate lined with paper towels, sprinkle tops with salt, pepper, and paprika.
Photo credit: Wade Hammond