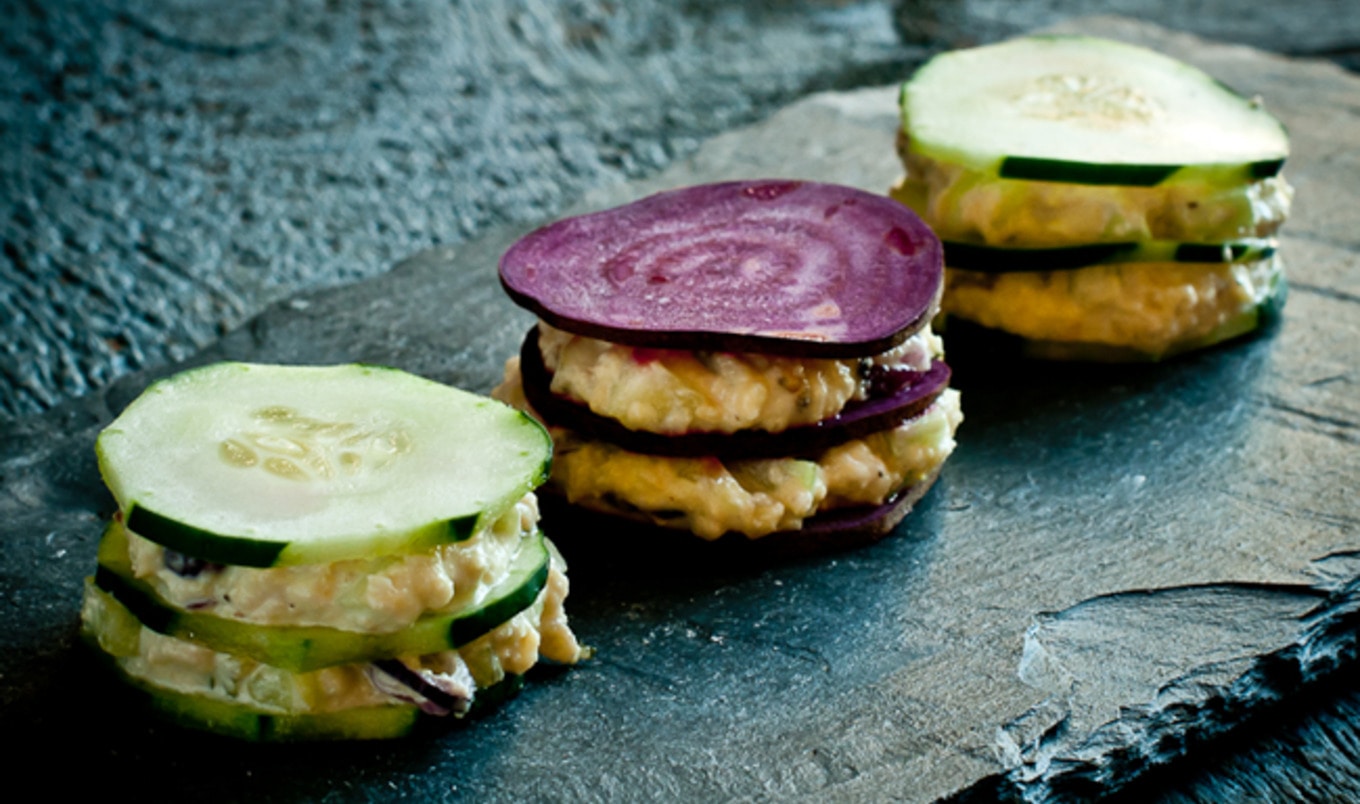 Celebrate spring with a delectable afternoon menu of vegan tea-time sandwiches and one-of-a-kind tea blends.
April 15, 2021
---
Spring is here, you've done the required spring cleaning, and your backyard is environmentally friendlier than ever, which means you're ready to host a tea party. However, no small spring gathering is complete without the proper food-and-drink pairings, which is why we've scoured the internet for the best vegan sammies to nosh with the perfect pot of tea. Although we're pretty sure you can't go wrong with any vegan sandwich-and-tea combinations, here are seven of our favorites we'll be enjoying all season long.


1 Benedictine Tea Sandwiches with Bigelow Cozy Chamomile
The traditional cucumber-and-cream-cheese sandwich is elevated with this Benedictine recipe from Create Mindfully. The cucumber is grated and combined in a food processor with vegan cream cheese and eggless mayonnaise for a creamy filling that is decadently rich when spread on toast. A tea sandwich this classic calls for an equally traditional tea to sip along with it, which is why we suggest the sweet floral blend of Bigelow's Cozy Chamomile.


2 Turmeric chickpea-salad sandwich with Yogi Raspberry Passion Perfect Energy
This easy chickpea-salad sandwich from The Crunchy Chronicles is packed with protein and full of flavor, but has only three ingredients (not counting the spices, of course). With the slightly bitter taste of turmeric, we think a sweet fruity blend is a great pair for this sandwich, which is why we recommend Yogi Raspberry Passion Perfect Energy as the perfect sipping partner.
3 Smashed White Bean, Basil, & Avocado Sandwich with Twinings Lemon and Ginger
The zesty citrus flavor of lemon is fragrantly delicious when combined with ginger in this herbal tea from Twinings. A lively and enjoyable tea experience on its own, this beverage is even more sip-worthy when paired with buttery avocado. Mashed with fresh basil and white beans, this appetizing sandwich from Pumpkin & Peanut Butter is tasty any time of year!
4 Sun-dried tomato spread with Teavana Citrus Lavender Herbal Tea
Tea time just got a whole lot tastier thanks to Veggie Inspired's sun-dried tomato sandwich. This tangy, herb-laden spread is complimented best with a soothing brew that mellows the sandwich's dynamic flavors. We prefer drinking Buddha Teas' Organic Lavender Tea while spooning this yummy spread onto a bagel.


5 Roasted Beet Sandwiches with Numi Jasmine Green
Go Dairy Free's Roasted Beet Sandwiches are heftier than traditional tea fair…and wonderfully scrumptious. Layered with garlic-herb hummus and topped with sliced apple and microgreens, this sammie requires a mild green tea to balance the delicious density. With its smooth layers and mild fragrance, the Jasmine Green from Numi is our go-to for a perfect pairing.
6 Raw Tea Sandwiches with Stash White Peach Oolong Tea
You haven't had tea sandwiches like these raw delicacies from Rawmazing. Pine nuts, nutritional yeast, and lemon juice are blended into a zesty filling that's layered between cucumber and beets for a meal that's as stunning to the eyes as it is to the taste buds. Sip a cup of this White Peach Tea from My Cup of Tea along with it for a mouthwatering high-tea experience.
7 French Vegan Sandwich with Numi Chocolate Pu-erh Tea
It's always time for chocolate, which is why we're loving the combination of velvety Chocolate Pu-erh from Numi with this French-inspired recipe from Vegan Bandit. Pineapple jam, strawberries, apple, bananas, and pomegranate seeds fill this colorful creation, offering a delectable complement to the vanilla, cinnamon, and nutmeg flavors featured in the tea.
For more spring recipes, read:
Vegan Lemony Spring Pasta
Early Spring Pasta Salad
Vegan Sandwich With Walnut Veggie Spread

Stephanie Dreyer is the founder of VeegMama, where she helps families cook and eat healthier.