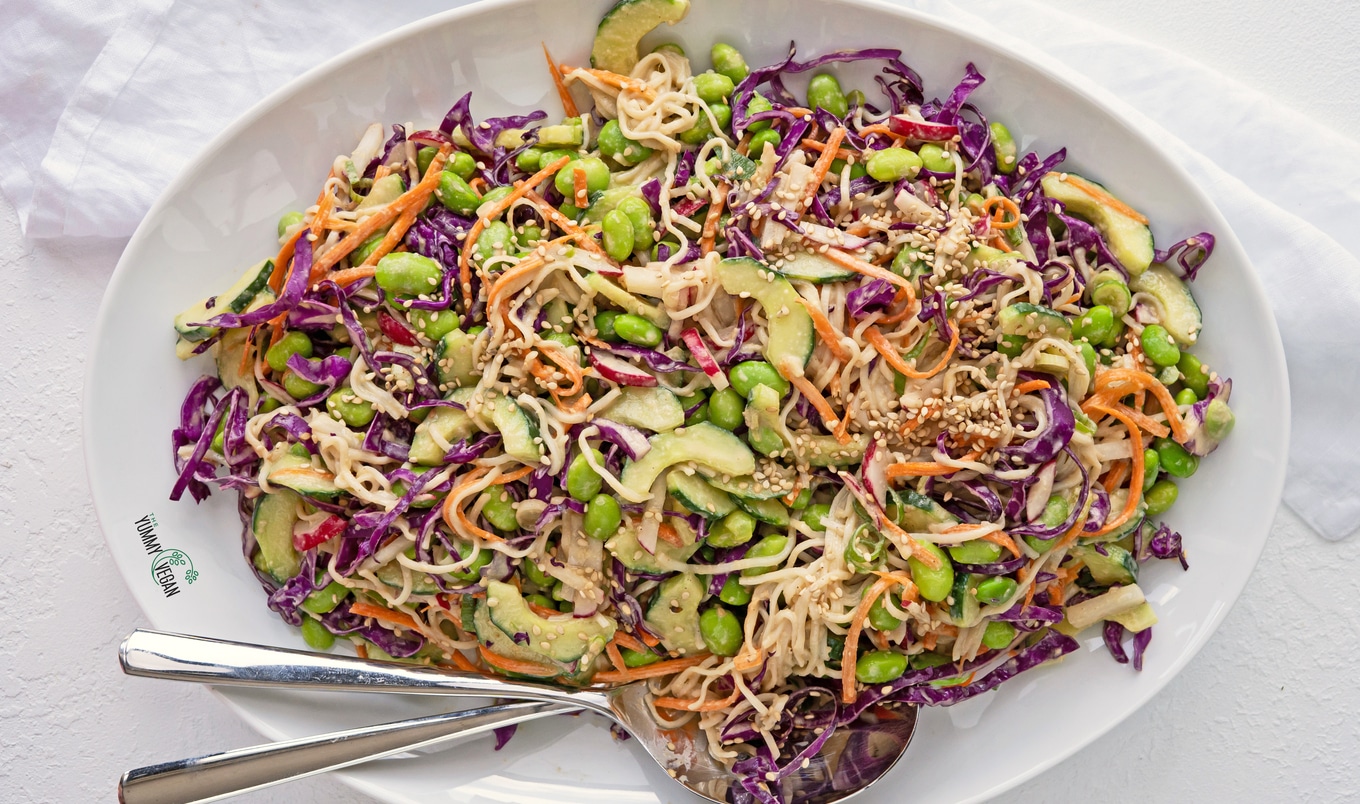 Tender edamame, crisp vegetables, and a zesty sesame ginger dressing collide in a delightful explosion of freshness and crunch.
July 5, 2023
With each bite of this simple salad from the blogger behind The Yummy Vegan, your taste buds are treated to the earthy richness of edamame, the satisfying crunch of vegetables like bell peppers and carrots, and the aromatic notes of the sesame ginger dressing that ties it all together. Whether enjoyed as a light lunch, a refreshing side dish, or a standalone meal, this simple meal is sure to leave you feeling nourished and satisfied.
What you need:
For the sesame ginger dressing:
2 tablespoons toasted sesame seeds
1-inch piece ginger
2 garlic cloves
1 tablespoon miso paste
1 tablespoon rice vinegar
1 tablespoon soy sauce
1 tablespoon toasted sesame oil
1 tablespoon maple syrup
¼ cup water
¼ teaspoon salt
¼ teaspoon black pepper
For the salad:
1½ cups shelled edamame
1 (100-gram) package ramen noodles
2½ cups red cabbage, thinly sliced
½ English cucumber, thinly sliced
1 large carrot, julienned
4 radishes, sliced then cut into strips
2 green onions, thinly sliced
Toasted sesame seeds, for topping
What you do:
For the sesame ginger dressing, into a high-speed blender add all ingredients and blend until creamy. Set aside.
For the salad, bring a large pot of water to boil and cook edamame for 2 minutes until tender. Remove edamame with a slotted spoon and submerge in ice water, drain and set aside.
Cook ramen noodles according to package directions. Set aside.
To a large bowl, add cabbage, cucumber, carrot, radish, and green onions. Add edamame and noodles and pour dressing over everything, tossing to coat. Serve with additional sesame seeds on top.
For more recipes like this, check out: