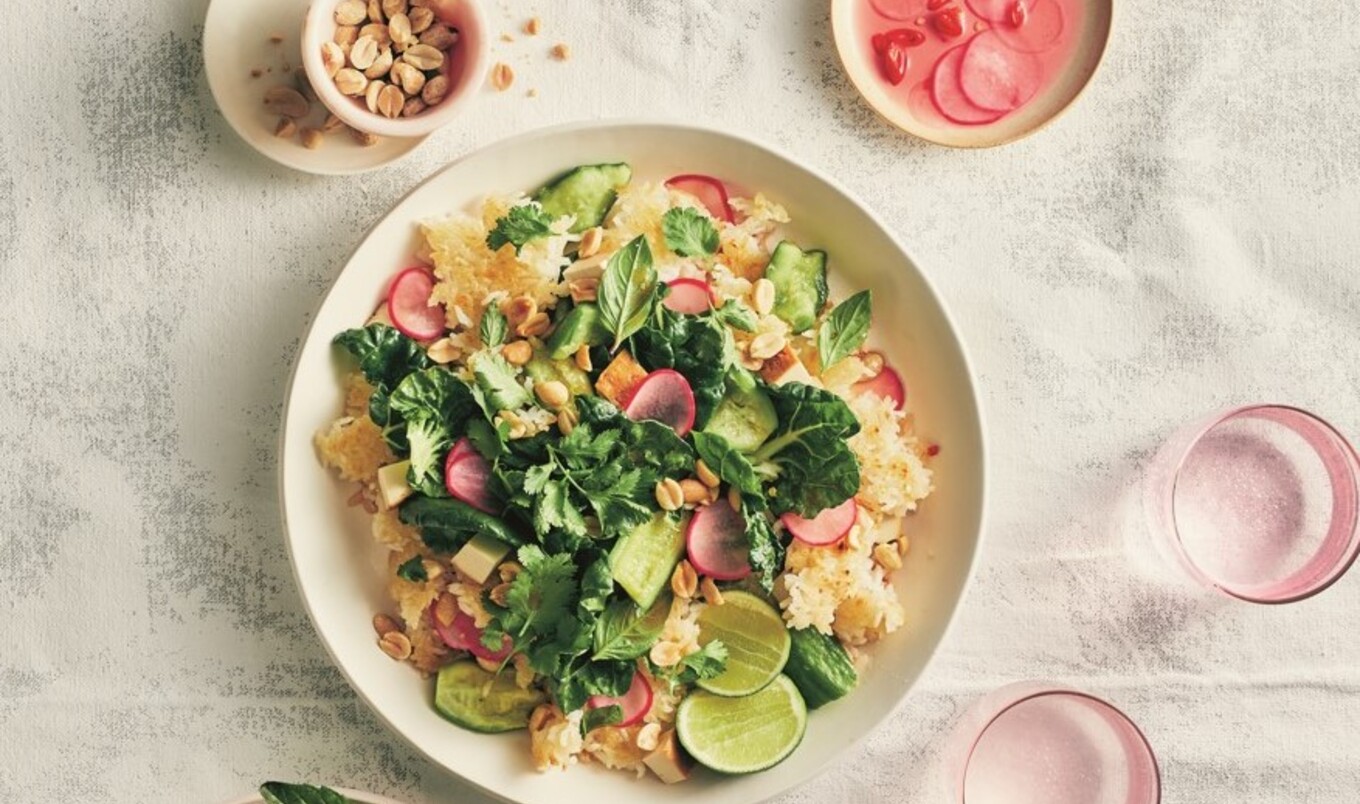 Golden-brown crispy rice, spicy chili-infused pickled radishes, and vinegary cucumbers add a huge burst of flavor to this recipe.
July 29, 2023
This crispy rice recipe from the Evergreen Cookbook takes a slightly different route to maximize crispiness by using a non-stick pan to cook both sides of the rice until golden brown. It's then tossed with smashed cucumbers, fresh herbs, and a tangy lime dressing. If you want more heat, sprinkle some of the chilis straight onto your plate.
What you need:
For the spicy pickled radishes:
⅓ cup boiling water
1 tablespoon sugar
¼ teaspoon fine salt
⅓ cup rice vinegar
4 radishes, thinly sliced
2 fresh red bird's eye chilis, thinly sliced
For the rice salad:
4 cups cooked jasmine rice
4 tablespoons grapeseed oil, divided
½ teaspoon fine salt
3 mini cucumbers, ends trimmed
4 cups chopped baby bok choy
2 tablespoons tamari
2 tablespoons fresh lime juice
⅓ cup lightly packed Thai basil leaves
⅓ cup lightly packed fresh cilantro
1 (8-ounce) package smoked tofu, cubed
½ cup dry-roasted peanuts
Lime wedges, for serving
What you do:
1. For the spicy pickled radishes, in a small heatproof bowl, whisk boiling water, sugar, and salt until sugar and salt are dissolved. Stir in rice vinegar, radishes, and chilis. Let sit for at least 10 minutes.
2. For the rice salad, in a large bowl, toss rice, 1 tablespoon of oil, and salt to mix. In a large nonstick skillet, heat 2 tablespoons of oil over medium heat. Once hot, drop a couple of grains of rice in. If it sizzles, proceed to next step; if it doesn't, heat longer. Scatter rice into pan and cook, undisturbed, until golden brown on bottom, 6 to 8 minutes. Using a spatula, flip rice in sections and cook, undisturbed, until other side is golden brown, about 6 minutes. Remove from heat.
3. Place flat side of knife over each cucumber and press down with palm of hand until cucumber breaks open. Tear into bite-sized pieces and transfer to a large bowl. Add bok choy.
4. Into a small bowl, pour ⅓ cup of pickling brine from radishes, using a fork to hold back radishes and chilis. Stir in tamari, lime juice, and remaining 1 tablespoon oil.
5. Transfer crispy rice to a large serving platter. Drizzle 2 tablespoons of dressing over cucumbers and bok choy, toss to coat, and scatter over rice. Scoop radish out of pickling brine and scatter over dish. Top with Thai basil, cilantro, smoked tofu, and peanuts. Serve with lime wedges and a small bowl of pickling brine and chilis for drizzling.
For more recipes like this, check out;