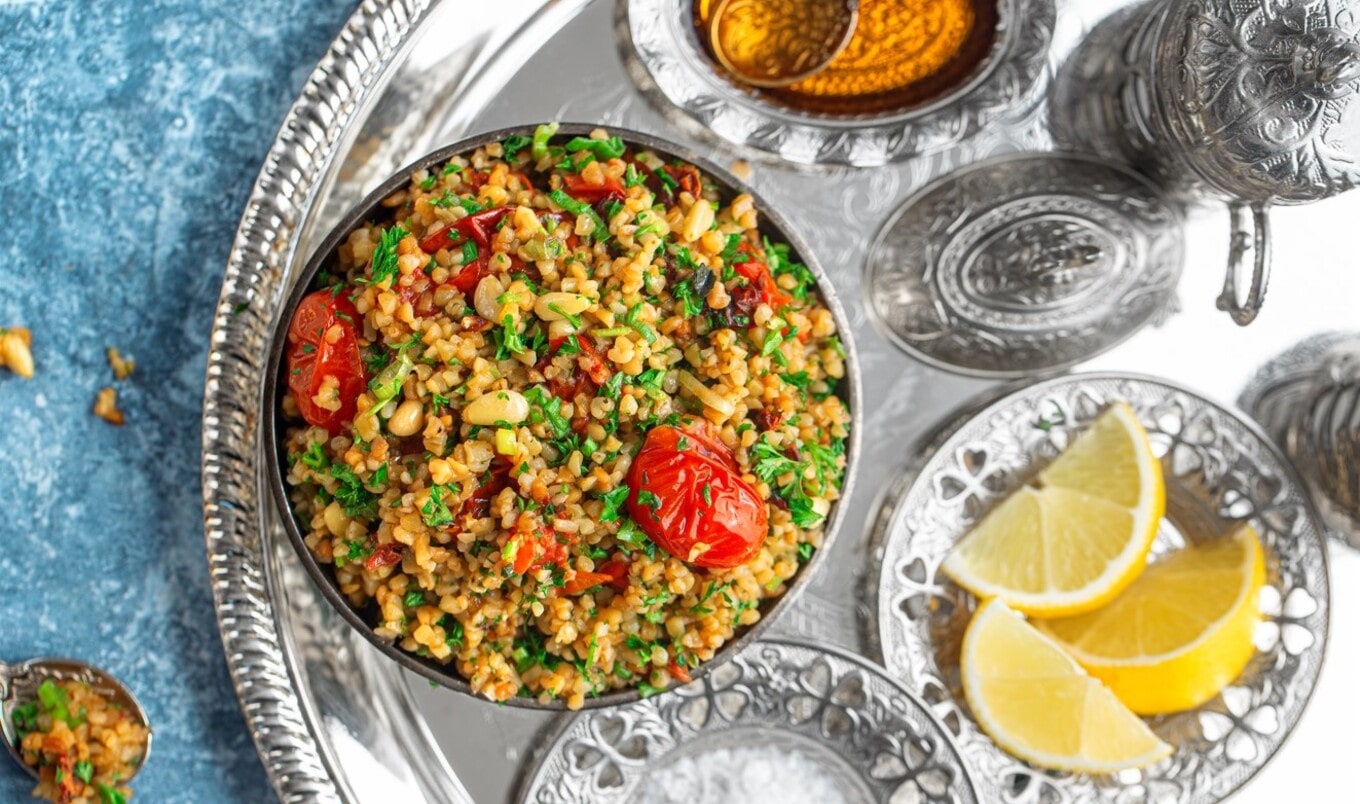 Tomatoes and parsley make up the foundation of this simple grain salad, with a handful of cracked wheat acting as the mortar holding everything together.
May 20, 2023
A simple combination of fresh ingredients in this recipe from The Everyday Vegan Cheat Sheet cookbook such as basil, lemon, and tomatoes impart bright freshness, while toasty pine nuts and sun-dried tomatoes lend complexity and depth to this parsley-forward salad.
What you need:
1 pint cherry or grape tomatoes
3 tablespoons olive oil, divided
¾ teaspoon salt, divided
¼ teaspoon black pepper
1 cup coarse bulgur
3 cups water
1½ cups fresh basil, finely minced
1½ cups fresh parsley, finely minced
2 scallions, thinly sliced
¼ cup sun-dried tomatoes, julienned
¼ cup toasted pine nuts
2 tablespoons lemon juice
What you do:
Preheat oven to 450 degrees. On a sheet pan, toss tomatoes with 1 tablespoon of oil, ¼ teaspoon of salt, and pepper, and roast on bottom rack of oven until soft and skins have blistered and burst; 15 to 20 minutes.
Sprinkle bulgur on top and return to oven without stirring. Bake for 10 minutes to lightly toast bulgur. Carefully pour water over top without removing pan from oven and continue to cook for an additional 12 to 15 minutes, until liquid has been absorbed. Remove from oven.
Let cool completely before transferring bulgur mixture to a large bowl. Add remaining oil and salt along with basil, parsley, scallions, sun-dried tomatoes, pine nuts, and lemon juice. Toss to combine.
Chill for at least an hour before serving. Store in an airtight container in refrigerator for up to 5 days.
For more recipes like this, check out: