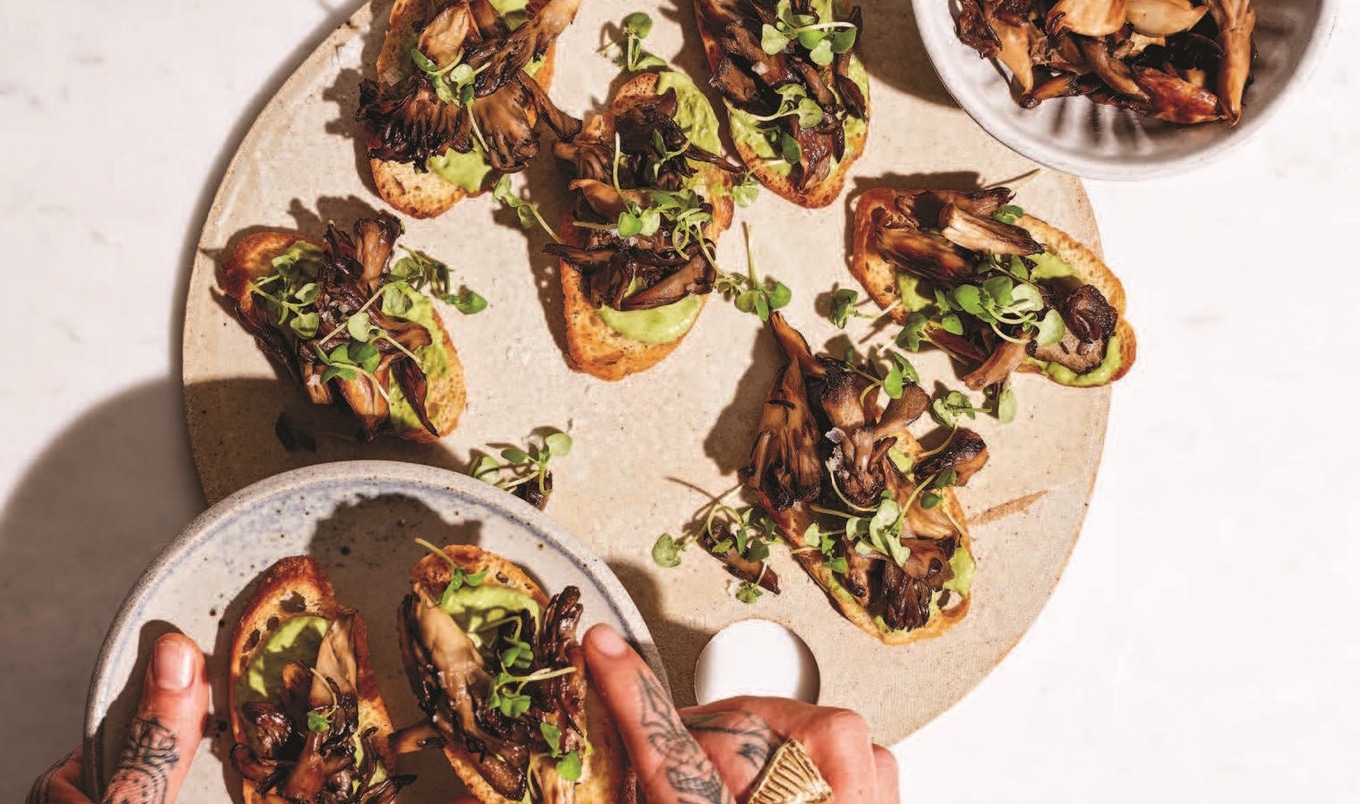 Buttery bread slathered with pesto and topped with roasted mushrooms is the perfect passed appetizer for your next dinner party.
October 22, 2023
Use the pesto aioli in this recipe from the Little Pine cookbook to jazz up sandwiches, vegetable spreads, and burgers. Make extra of the herb-roasted mushrooms for sprinkling over salads or layering in sandwiches.
What you need:
For the pesto aioli:
¼ cup walnut pieces
2 garlic cloves, peeled
½ teaspoon salt
2 tablespoons lemon juice
3 tablespoons water
6 tablespoons olive oil
2 cups packed fresh basil, large stems removed
1 cup vegan mayonnaise
For the crostini:
¼ day-old baguette, cut on an angle into 14 ¼-inch-thick slices
¼ cup olive oil
1 teaspoon granulated garlic
¼ teaspoon salt
For the maitakes:
1 (8-ounce) container maitake mushrooms
3 tablespoons olive oil
1 teaspoon finely chopped fresh rosemary
1 teaspoon finely chopped fresh thyme
¼ teaspoon salt
1½ cups pesto aioli, for serving
10 leaves fresh basil, thinly sliced, for garnish
What you do:
For the pesto aioli, into a food processor, combine walnuts, garlic, salt, lemon juice, and water. Process until mixture is smooth. With motor running, slowly pour in olive oil in a steady stream, then slowly add basil and process just until smooth.
Into a small bowl, transfer pesto and add mayonnaise. Stir until fully incorporated. Store in refrigerator.
For the crostini, preheat oven to 350 degrees. Line a baking sheet with parchment paper.
Brush both sides of each slice of bread with oil and sprinkle both sides with granulated garlic and salt. Place on prepared baking sheet and bake for about 7 minutes, until golden brown. Remove from oven and set aside. Raise oven temperature to 400 degrees.
For the maitakes, line a large baking sheet with parchment paper. Break mushrooms into small clusters and place in a medium bowl. Drizzle with olive oil and add rosemary, thyme, and salt. Toss to coat. Over prepared baking sheet, spread mushrooms in an even layer and roast for about 15 minutes, until golden brown and slightly crispy on edges.
Spread aioli over one side of each crostini and arrange on a serving platter. Top evenly with mushrooms and garnish with basil.
For more vegan crostini recipes, read: