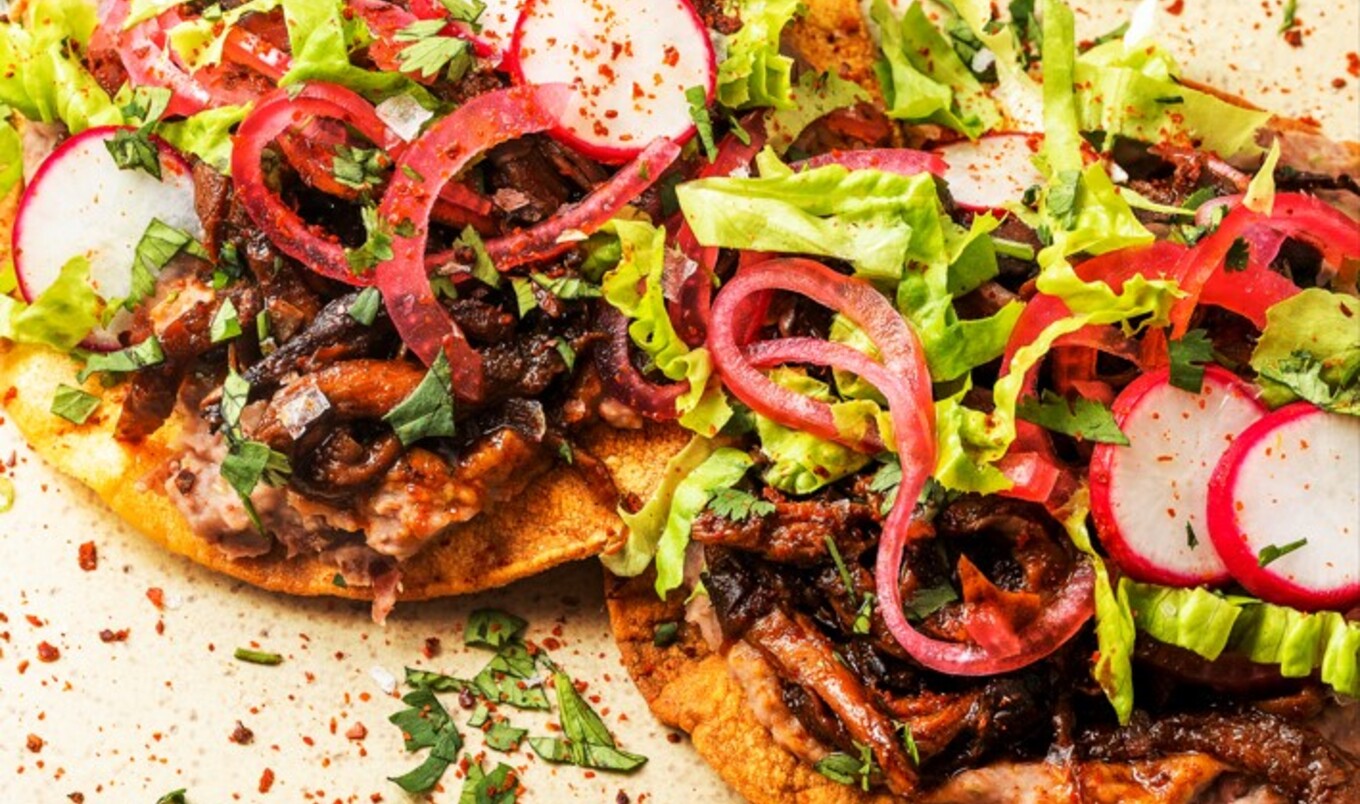 Packed with savory shredded mushrooms, vibrant vegetables, and zesty toppings, these simple tostadas make for an easy dinner.
June 29, 2023
Tostada, which translates to toasted in Spanish, is a famous dish that originated in Mexico. The foundation is simple: a crispy, toasted (thus, the name) corn tortilla piled with a variety of toppings. To stabilize the other toppings, a smear of guacamole or refried beans is added first. Then king oyster mushrooms are piled on top in this recipe from The Plant-Based 5 Ingredient Cookbook for a tender meaty stand-in.
What you need:
1 pound king trumpet mushrooms
2 tablespoons plus 1 teaspoon neutral oil, divided, plus more for the tostada shells
¼ teaspoon salt, divided
¼ teaspoon black pepper, divided
3 teaspoons Mexican spice blend, divided
6 scallions, minced, divided
1½ cups water or vegetable broth, divided
1 (15-ounce) can black beans, drained
8 small corn tortillas, divided
For garnish:
½ cup shredded lettuce
¼ cup minced cilantro
¼ cup sliced radishes
2 tablespoons pickled red onion
What you do:
1. Preheat oven to 400 degrees. Cut off woody base of mushrooms. Cut caps from stems and dice. Using a fork, shred base of mushroom, making long, deep cuts lengthwise from top to bottom around entire mushroom. Continue shredding until it comes apart easily. Repeat until all mushrooms are shredded.
2. In a wide pot or skillet over medium-high heat, warm 1 tablespoon of oil, add half of mushrooms in an even layer, and cook for 8 to 12 minutes until well-browned. Add ⅛ teaspoon of salt and ⅛ teaspoon of pepper and transfer to a bowl. If skillet seems dry, add another drizzle of oil. Once warmed, add remaining mushrooms and cook for 8 to 12 minutes. Season with remaining ⅛ teaspoon of salt and ⅛ teaspoon of pepper.
3. Return all mushrooms to pot and season with 2 teaspoons Mexican spice blend. Toss to coat. Add half scallions and pour in ½ cup water or stock. Bring to a boil, then reduce heat to low and simmer for 10 minutes.
4. In a pot over medium heat, warm remaining 1 tablespoon oil. Once hot, add remaining scallions and cook for 1 minute. Add remaining Mexican spice blend, toss to coat, and cook for 1 minute more. Add beans and remaining water or stock. Bring to a boil, then reduce heat to medium and rapidly simmer for 10 minutes or until liquid reduces. Turn off heat. Use an immersion blender or potato masher to blend beans until smooth.
5. Brush a baking sheet with a teaspoon of neutral oil. Brush 4 tortillas with a drizzle of oil. Place on top of baking sheet and place in oven for 5 minutes. Flip and return to oven for another 5 to 10 minutes until browned and crispy. Remove baking sheet from oven and bake remaining tortillas until crisp.
6. Onto each tostada shell, spoon beans and pile a scoop of shredded mushrooms on top. Garnish with lettuce, cilantro, radishes, and pickled red onions.
For more recipes like this, check out: