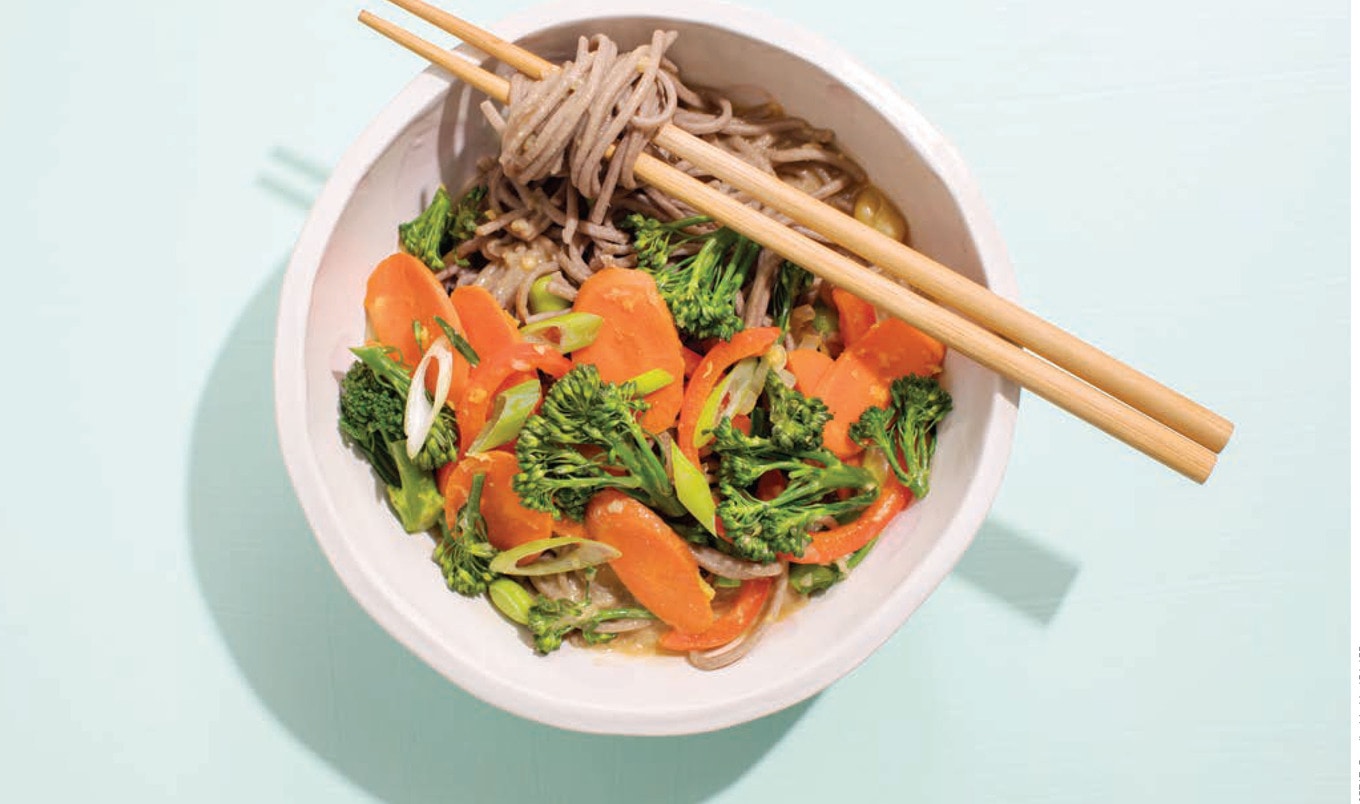 This vegetable and noodle-packed bowl is easily adaptable to whatever produce you currently have in your fridge.
December 1, 2021
This nutrient-dense meal from the Eat More Plants cookbook is perfect for busy weeknights, but be sure to make extra for an easy, ready-to-go lunch for the next school or work day.
What you need:
1 (9-ounce) package buckwheat soba noodles
2 cups frozen shelled edamame
⅓ cup red miso
1 teaspoon sriracha, plus more for serving
2 tablespoons unseasoned rice vinegar
1 tablespoon gluten-free tamari
1 teaspoon toasted sesame oil
2 tablespoons coconut oil
2 tablespoons minced, peeled fresh ginger
4 cloves garlic, minced
½ yellow onion, thinly sliced into half-moons
1 small bunch broccolini, cut into bite-sized pieces
4 large carrots, thinly sliced
1 large red pepper, thinly sliced
⅛ teaspoon salt
¼ cup sliced green onions, for serving
2 tablespoons sesame seeds, for serving
What you do:
1. In a medium pot, cook soba noodles according to package directions, adding edamame during the last 5 minutes of cook time. Reserve 2 cups of cooking water. Drain, rinse soba noodles and edamame, and set aside.
2. In a large bowl, whisk reserved cooking liquid, miso, sriracha, rice vinegar, tamari, and sesame oil until combined. Set aside.
3. In a large skillet over medium-high heat, warm coconut oil. Add ginger, garlic, and onions to skillet and cook for 2 minutes to soften. Add broccolini and carrots and cook, stirring often, for 3 minutes. Add red pepper and cook for 1 minute. Remove from heat and stir in salt.
4. To serve, divide noodle and edamame mixture among 4 large bowls. Top with vegetables and pour ½ cup miso broth over each bowl. Top with green onions, sesame seeds, and more hot sauce, if desired.