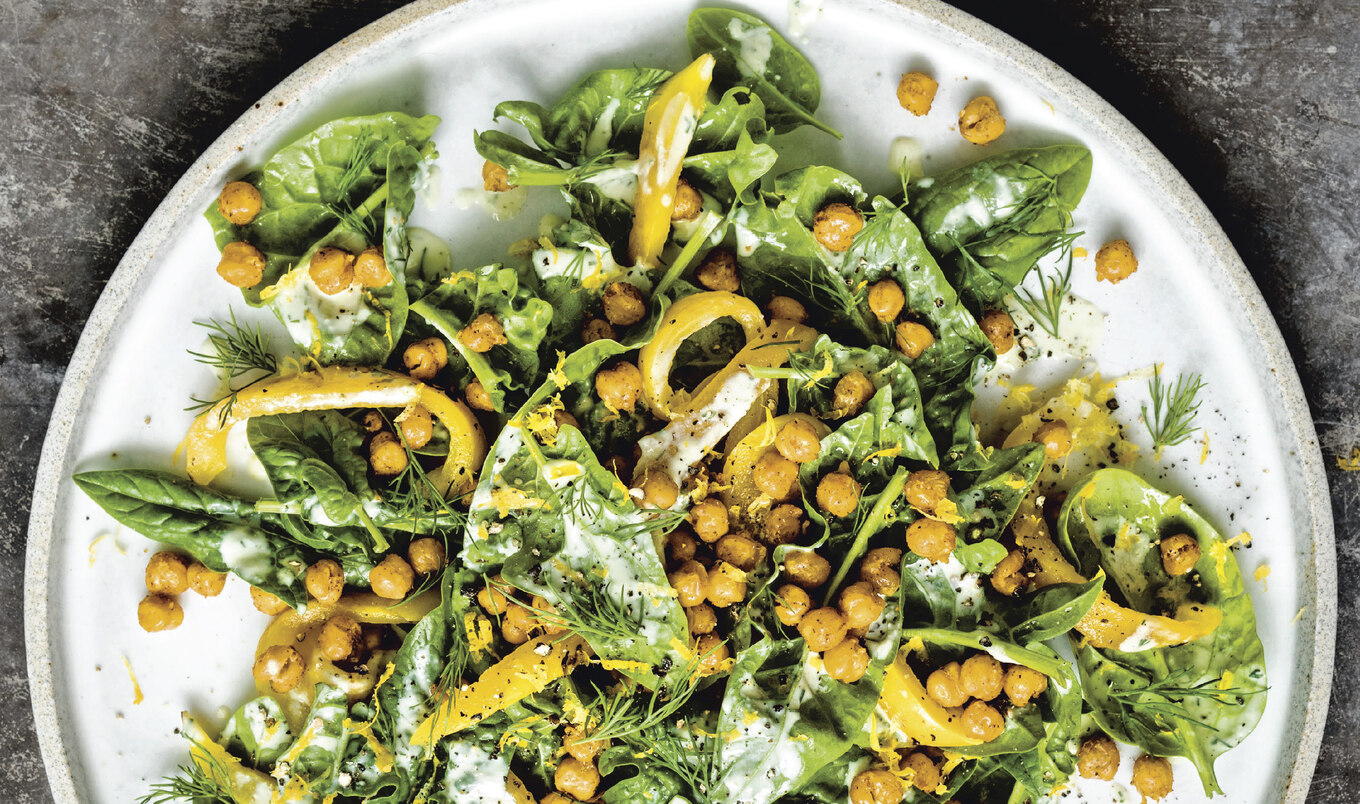 Roasted yellow bell peppers, creamy herb dressing, and lemon zest make this nutrient-rich vegan salad a perfect summertime meal.
September 15, 2023
The roasted and blackened chickpeas in this recipe from the Vegetable Kingdom cookbook make a great snack or crunchy addition to leafy salads.
What you need:
For the Blackened seasoning:
2 tablespoons paprika
1 tablespoon cumin seeds, toasted
2 teaspoons coriander seeds, toasted
2 teaspoons whole black peppercorns
1½ teaspoons salt
1½ teaspoons garlic powder
1 teaspoon whole white peppercorns
1 teaspoon onion powder
1 teaspoon dried thyme
½ teaspoon cayenne pepper
For the creamy herb dressing:
¾ cup silken tofu
2 tablespoons minced shallots
1 tablespoon minced fresh dill
1 tablespoon fresh parsley
¼ teaspoon Dijon mustard
1 teaspoon salt
¼ teaspoon white pepper
For the spinach salad:
1 (15.5-ounce) can chickpeas, drained, rinsed, and dried
2 large yellow bell peppers
1 tablespoon plus 1 teaspoon safflower oil
½ teaspoon kosher salt, plus more as needed
2 teaspoons Blackened seasoning
11 cups spinach, torn into bite-size pieces
Juice of ½ lemon
¼ teaspoon white pepper
1 tablespoon finely grated lemon zest
Dill fronds, for garnish
What you do:
For the Blackened seasoning, in a spice grinder, combine all ingredients and grind into a fine powder. Transfer to a jar and seal tightly. Store in an airtight container at room temperature for up to 2 weeks.
For the dressing, into a blender, add all ingredients. Puree until creamy and set aside.
For the salad, place bell peppers directly over a burner on a gas stove and turn with tongs until skin is blackened and blistered all over. Once charred, place peppers in a heatproof container and cover for 15 minutes, until cooled and skins have loosened. Peel off charred skin (avoid washing peppers or some flavor will be lost), cut off stem end, and remove core. Seed, thinly slice, and set aside.
Preheat oven to 350 degrees. Line a rimmed baking sheet with parchment paper. Into a large bowl, add chickpeas, 1 tablespoon of oil, and ½ teaspoon salt, and toss well to combine. Spread chickpeas in an even layer on baking sheet. Bake, shaking pan every 15 minutes to ensure even cooking, until golden brown and crispy, about 45 minutes.
Remove from oven and immediately transfer to bowl, drizzle with remaining 1 teaspoon oil, and sprinkle with blackened seasoning. Toss well to combine, transfer to baking sheet, and set aside to cool for 15 minutes. Place spinach and bell peppers in a salad bowl. Lightly drizzle with lemon juice, sprinkle with salt, and toss to combine. Add chickpeas, pepper, and drizzle with dressing. Garnish with lemon zest and dill fronds.
For more recipes like this, check out:
Here at VegNews, we live and breathe the vegan lifestyle, and only recommend products we feel make our lives amazing. Occasionally, articles may include shopping links where we might earn a small commission. In no way does this effect the editorial integrity of VegNews.