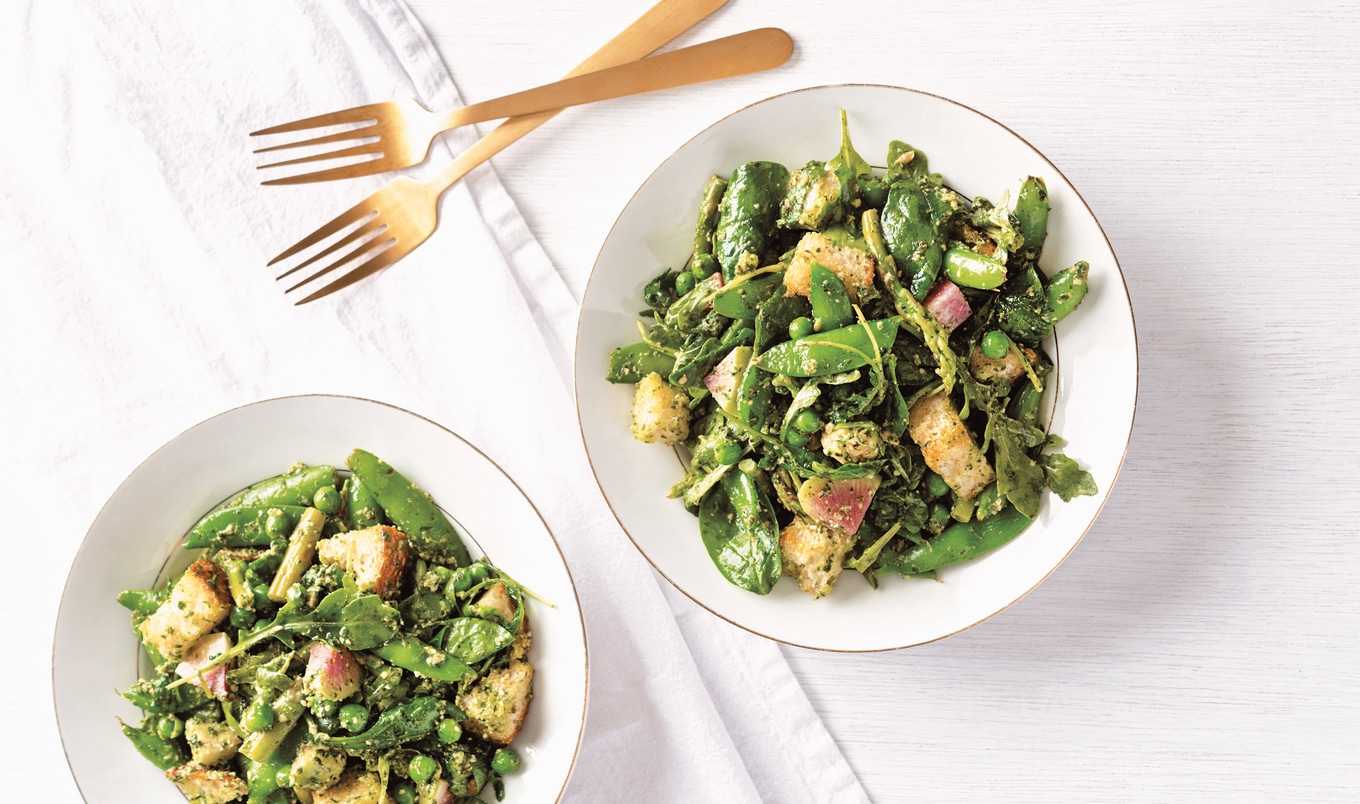 This Italian salad is a great way to use up day-old loaves and add fresh flavors to your daily meals.
March 16, 2020
Inspired by the classic Italian salad, this spring-inspired version from the Vegan Buddha Bowls cookbook features fresh springtime vegetables—such as asparagus, green peas, and sugar snaps—with a bright, lovely pesto that makes this perfect for an outdoor picnic dish.
What you need:
For the pesto:
½ cup raw pine nuts
3 cloves garlic
1¼ cups tightly packed fresh basil leaves
½ cup tightly packed fresh mint leaves
½ cup tightly packed fresh parsley
3 tablespoons lemon juice

½ cup avocado oil

¾ teaspoon salt
¾ teaspoon pepper

For the salad:
¾ pound asparagus spears, preferably thick stalks
1½ cups sugar snap peas

3 cups cubed vegan bread
3⁄4 cup sweet peas
½ cup chopped watermelon radish
3 cups tightly packed arugula
2 cups tightly packed spinach
1 ripe avocado, diced
What you do:
Preheat oven to 450 degrees.
For the pesto, into a food processor fitted with an S-blade, add pine nuts and garlic. Pulse in 10 second intervals, 3 times, until a crumble is formed. Add herbs and lemon juice and pulse again stopping to scrape down sides as needed. With processor on low speed, slowly drizzle in oil. Add salt and pepper. Set aside.
For the salad, bring a medium pot of water to a boil. Meanwhile, create an ice bath by adding ice cubes to a large bowl of water. Blanch asparagus by adding spears to boiling water and cooking for 2 minutes. Transfer asparagus to ice bath to stop cooking process. Repeat process for sugar snap peas, blanching for 2 minutes. Let both asparagus and sugar snap peas sit in ice bath for at least 5 minutes each. Then, drain water and pat dry both vegetables. Cut asparagus into 1-inch lengths and sugar snap peas in half horizontally.
Lay cubed bread in a single layer on a baking sheet and place in oven for 7 minutes, or until lightly toasted. Set aside.
In a large bowl, combine asparagus, sugar snap peas, sweet peas, radish, arugula, spinach, avocado, bread, and pesto. Mix well to evenly coat everything with pesto. Let rest for 10 minutes so bread has time to soak up some pesto. Then, divide equally among 4 serving bowls and serve.