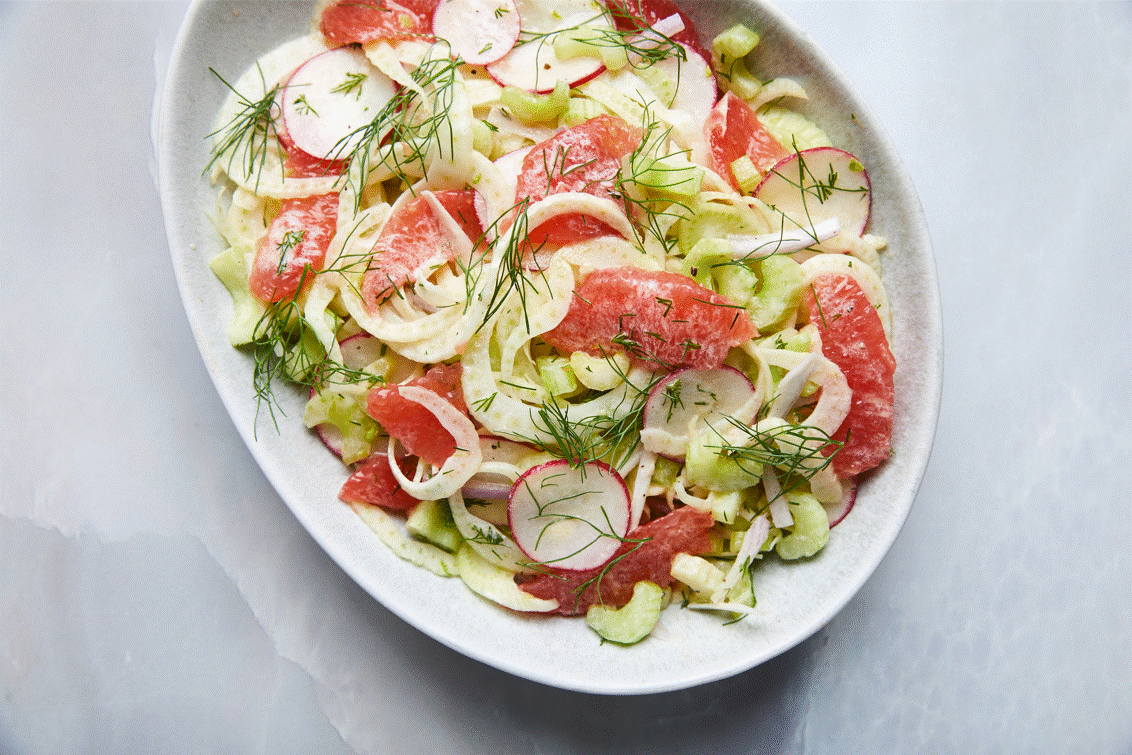 This crunchy and creamy plant-based salad is bursting with notes of citrus and fresh herbs.
May 16, 2023
Noted for its crunchy texture and licorice-like flavor, the fennel in this recipe from The Low-Carbon Cookbook & Action Plan book is filled with anti-inflammatory and anti-bacterial properties. The cooling yogurt dressing tames the sharp flavors of fennel and radishes in this warm weather salad.
What you need:
For the cultured cashew yogurt:
1 cup raw cashews
2½ cups room temperature water, divided
3 capsules refrigerated vegan probiotic
For the cashew dill dressing:
¼ cup prepared cashew yogurt
3 tablespoons olive oil
1 tablespoon lemon juice
1 tablespoon reserved grapefruit juice
2 tablespoons finely chopped fresh dill
¼ teaspoon coarse salt
¼ teaspoon ground black pepper
For the salad:
1 medium fennel bulb
4 celery stalks
1 small shallot, thinly julienned
1 pink grapefruit, supremed, juice reserved
2 radishes, thinly sliced
2 tablespoons fennel fronds
What you do:
For the cultured cashew yogurt, in a small pan over medium heat, combine cashews and 1½ cups of water. Bring to a boil, then reduce heat to low. Cover and simmer for about 3 minutes. Remove pan from heat and allow to rest covered for 10 to 12 minutes. Drain.
In a high-speed blender, combine cashews and remaining 1 cup of water. Process on high until creamy and smooth. Transfer to a jar.
Empty capsules one by one into cashew mixture. Use a wooden spoon to stir until evenly incorporated. Cover jar with cheesecloth or a clean thin towel and secure with kitchen twine. Place jar in a warm place for 36 to 48 hours, then transfer to an airtight container. Refrigerate until yogurt is cold and ready to serve, about 2 hours.
For the cashew dill dressing, in a small bowl, whisk all ingredients until smooth. Set aside.
For the salad, use a mandolin to shave fennel. Set aside. Use a potato peeler to remove celery's fibrous outer layer. Cut base off bottom and cut stalks into ¼-inch-thick slices.
In a large bowl, combine fennel, celery, shallot, grapefruit, and radishes. Toss well. Add ¼ cup of dressing and toss again to coat.
Divide salad into 2 to 4 bowls. Drizzle remaining dressing over top. Garnish with fennel fronds before serving.
For more vegan recipes like this, check out: