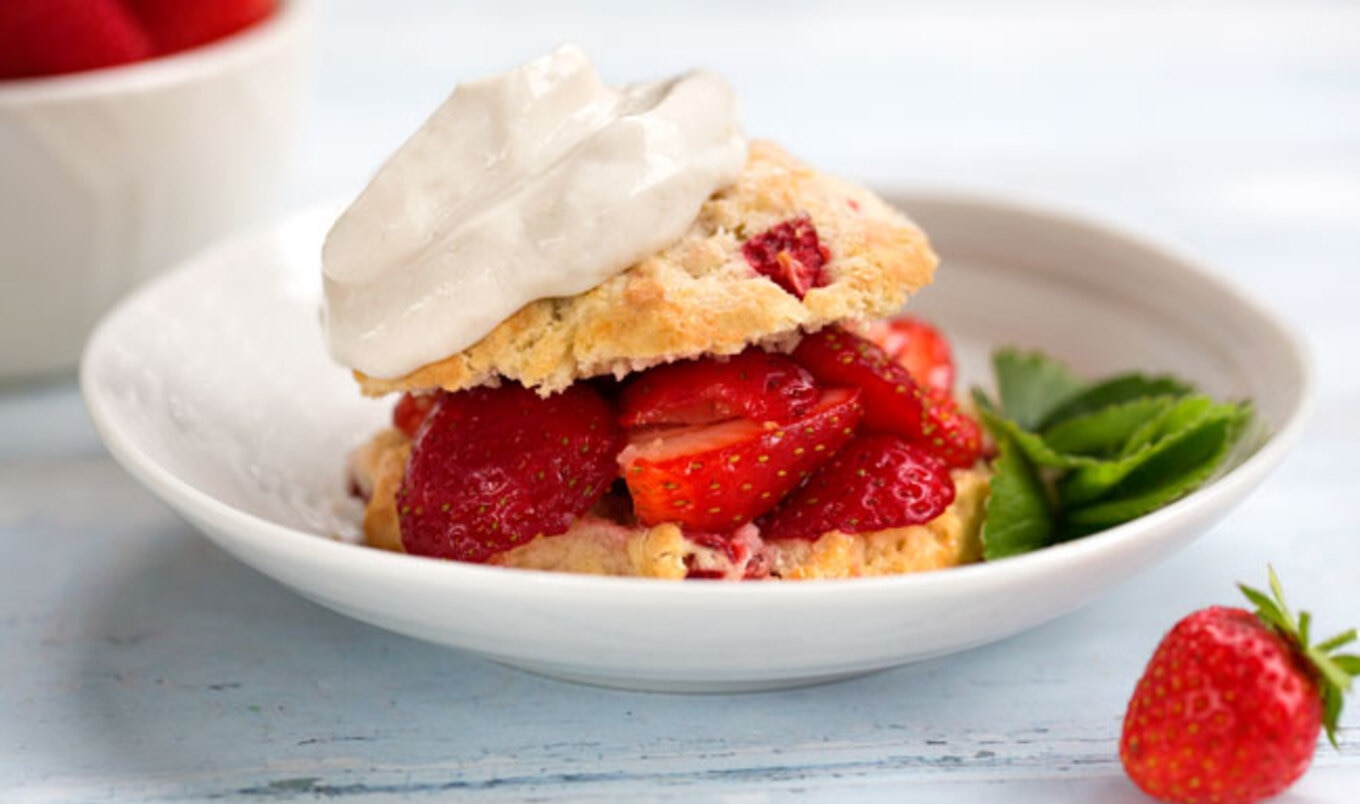 In addition to being the base of a mouthwatering fruit filling, strawberries add flavor and sweetness to the biscuits, which are delicious enough to be eaten on their own.
July 21, 2016
Makes 8 shortcakes
What you need:
For the cake:
1 quart strawberries
1/3 cup sugar, divided
2 cups unbleached flour
1 tablespoon baking powder
1/2 teaspoon sea salt
1/4 cup vegan butter
2/3 cup water
1 1/2 teaspoon vanilla
For the cream topping:
1 (12.3 ounce) package extra firm tofu
1/4 cup maple syrup
1 tablespoon safflower oil
1/2 teaspoon vanilla
What you do:
1. Remove stems from the strawberries. Dice several strawberries, enough to measure 1/2 cup, place in a small bowl, and set aside. Slice remaining strawberries, place in a medium bowl, then sprinkle 2 tablespoons of sugar over top, toss gently, and set aside for 1 hour to allow strawberries to macerate.
2. Place 1/2 teaspoon of sugar in a small bowl and set aside. In a large bowl, place remaining sugar, flour, baking powder, and salt, and stir well to combine. Using a pastry blender, cut in margarine until mixture resembles coarse crumbs. Add remaining ingredients, stir until dry ingredients are just moistened, and then gently fold in reserved 1/2 cup of diced strawberries
3. Line two cookie sheets with parchment paper. Using a 1/3 cup measuring cup, portion out 4 individual shortcakes per cookie sheet, and then sprinkle remaining 1/2 teaspoon sugar over tops. Bake shortcakes at 450 degrees for 8–10 minutes or until lightly browned on bottom and around edges. Remove cookie sheets from the oven and set aside to cool.
4. While shortcakes bake, prepare topping. In a food processor or blender, combine all of topping ingredients, and process for several minutes or until smooth and creamy. Transfer to a glass or plastic container, cover, and store in refrigerator.
5. To serve, split a shortcake in half, place bottom half in a bowl or on a plate, spoon some of macerated strawberries over top, replace top half of shortcake, and finish with a dollop of the topping.