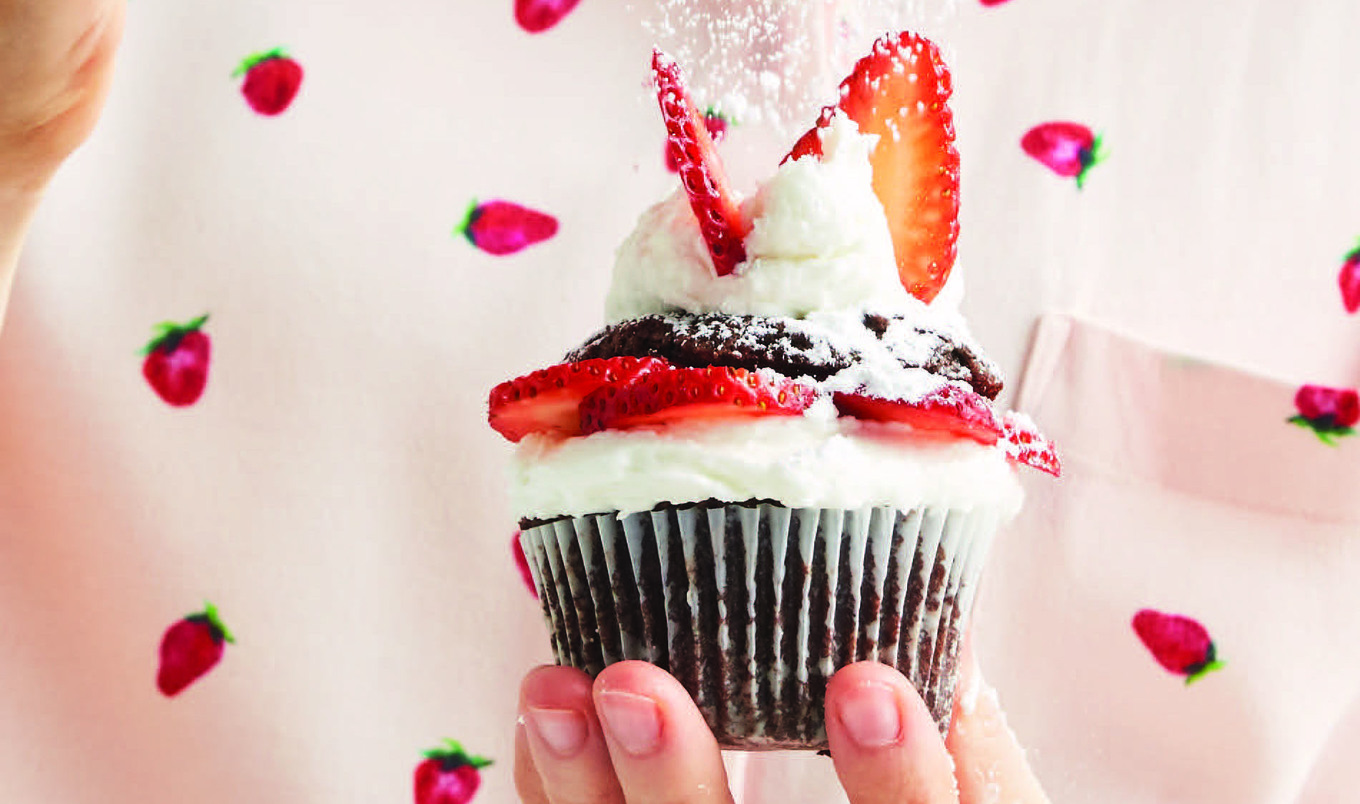 These cupcakes won first prize on Food Network's 'Cupcake Wars', so you can trust that they'll be a winner at your next vegan soirée.
October 18, 2023
Queen of vegan cupcakes Chloe Coscarelli shares her delicious, award-winning recipe for this chocolate twist on strawberry shortcakes.
What you need:
For the cupcakes:
1½ cups all-purpose flour
1 cup sugar
⅓ cup unsweetened cocoa powder
1 teaspoon baking soda
½ teaspoon salt
1 cup canned full-fat coconut milk, stirred well
½ cup vegetable oil
2 tablespoons apple cider vinegar
2 teaspoons vanilla extract
For the frosting:
2 cups vegetable shortening
4 cups powdered sugar
1 teaspoon vanilla extract
Almond milk, as needed
For the garnish:
1½ cups hulled, sliced fresh strawberries
Powdered sugar
What you do:
For the cupcakes, preheat oven to 350 degrees. Line two 12-cup muffin pans with 14 cupcake liners.
In a large bowl, whisk flour, sugar, cocoa powder, baking soda, and salt. In a medium bowl, whisk coconut milk, oil, vinegar, and vanilla. Add wet ingredients to dry, and whisk until just combined. Do not overmix.
Fill cupcake liners about two-thirds full with batter. Bake for 20 minutes, or until toothpick inserted into center of cupcake comes out clean.
For the frosting, in a stand mixer fitted with a whisk attachment, beat shortening until smooth. With mixer running on low, add powdered sugar and vanilla, and beat to incorporate. Beat on high for 2 minutes more, until light and fluffy. If needed, add a little almond milk to thin frosting.
When cupcakes have cooled completely, slice off top of each cupcake and reserve. Spread a layer of frosting on top of cut side of cupcake, decorate with sliced strawberries, and replace top of cupcake. Dust with powdered sugar, then top with a dollop of frosting and a few more slices of strawberry. Repeat with remaining cupcakes.
For more recipes like this, check out: