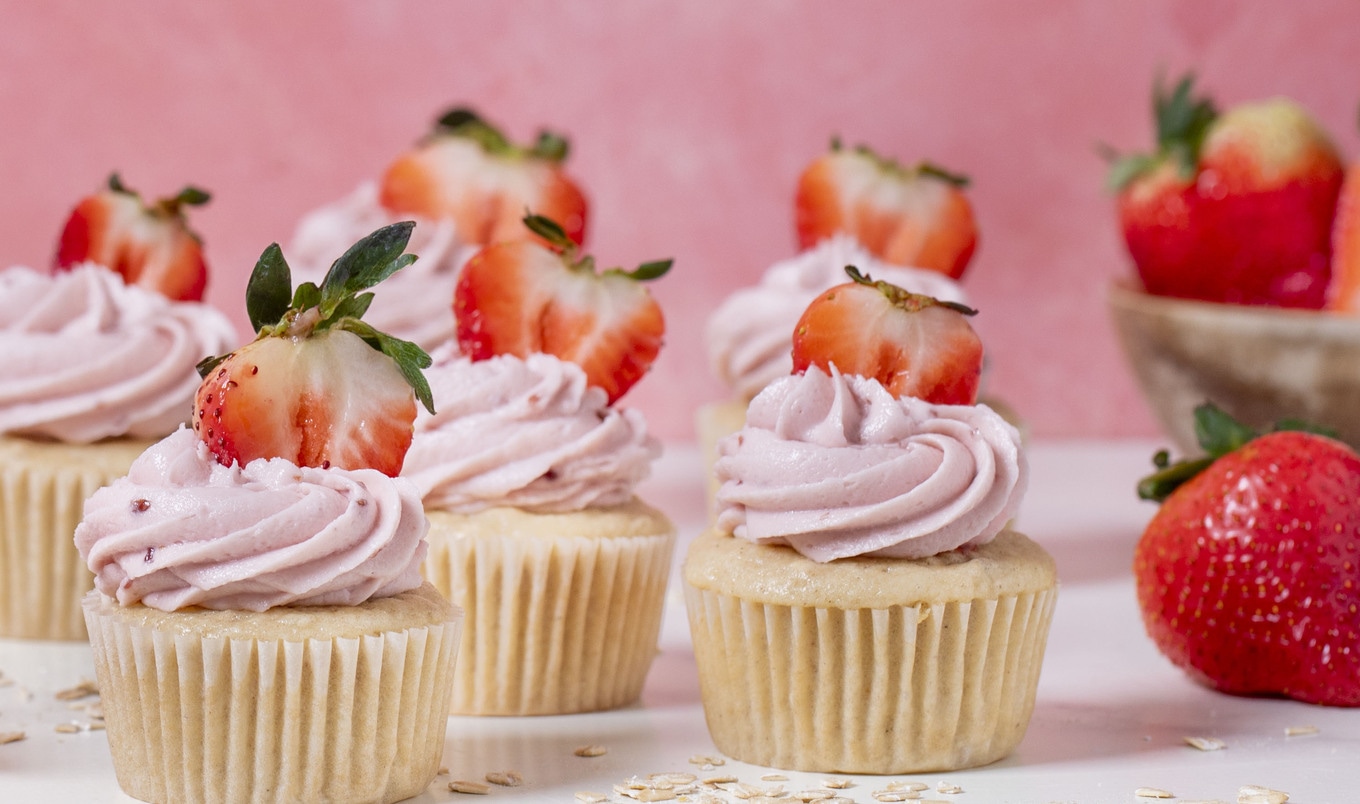 These fluffy, lightly sweetened cupcakes topped with a swirl of berry-infused frosting are the ultimate birthday party treat.
June 21, 2023
Looking for a foolproof party recipe? Try these strawberry frosting-topped oat cupcakes from the Orchids + Sweet Tea: Plant-Forward Recipes with Jamaican Flavor & Southern Charm cookbook.
What you need:
For the cupcakes:
1 cup vegan milk
1 tablespoon lemon juice
2 tablespoons ground flaxseed
6 tablespoons water
1 cup flour
1 cup rolled oats
¾ cup sugar
1½ teaspoons baking powder
½ teaspoon baking soda
½ teaspoon salt
½ teaspoon ground cinnamon
⅓ cup vegan butter, melted
Unsweetened almond milk, if needed
For the buttercream frosting:
½ cup vegan butter, room temperature
4 cups powdered sugar, sifted and divided
2 tablespoons strawberry preserves
1 tablespoon unsweetened almond milk
1 teaspoon vanilla extract
¼ teaspoon salt
12 strawberry halves or slices, for topping
What you do:
For the cupcakes, preheat oven to 350 degrees. Line a muffin pan with cupcake liners.
In a small bowl, combine milk and lemon juice and set aside. In another small bowl, combine flaxseed and water and set aside.
In a large bowl, whisk flour, oats, sugar, baking powder, baking soda, salt, and cinnamon until combined. Add milk mixture, flaxseed mixture, and melted butter, and use a hand mixer on high speed to beat until just combined. If batter is too thick, add almond milk 1 tablespoon at a time until batter is pourable.
Into prepared muffin pan, pour batter until about two-thirds full. Place in oven and bake for 15 to 20 minutes, or until a knife inserted in center comes out clean. Remove cupcakes from oven and let cool completely in pan.
For the buttercream, in a stand mixer fitted with paddle attachment, beat butter on high speed until smooth and creamy, about 2 minutes. Turn mixer to low and add half of powdered sugar, strawberry preserves, almond milk, and vanilla extract. Continue mixing until combined. Add remaining powdered sugar and salt, increase speed to high, and beat until combined.
Remove cooled cupcakes from pan and frost with buttercream. Top each with a strawberry half or slice.
For more recipes like this, check out: