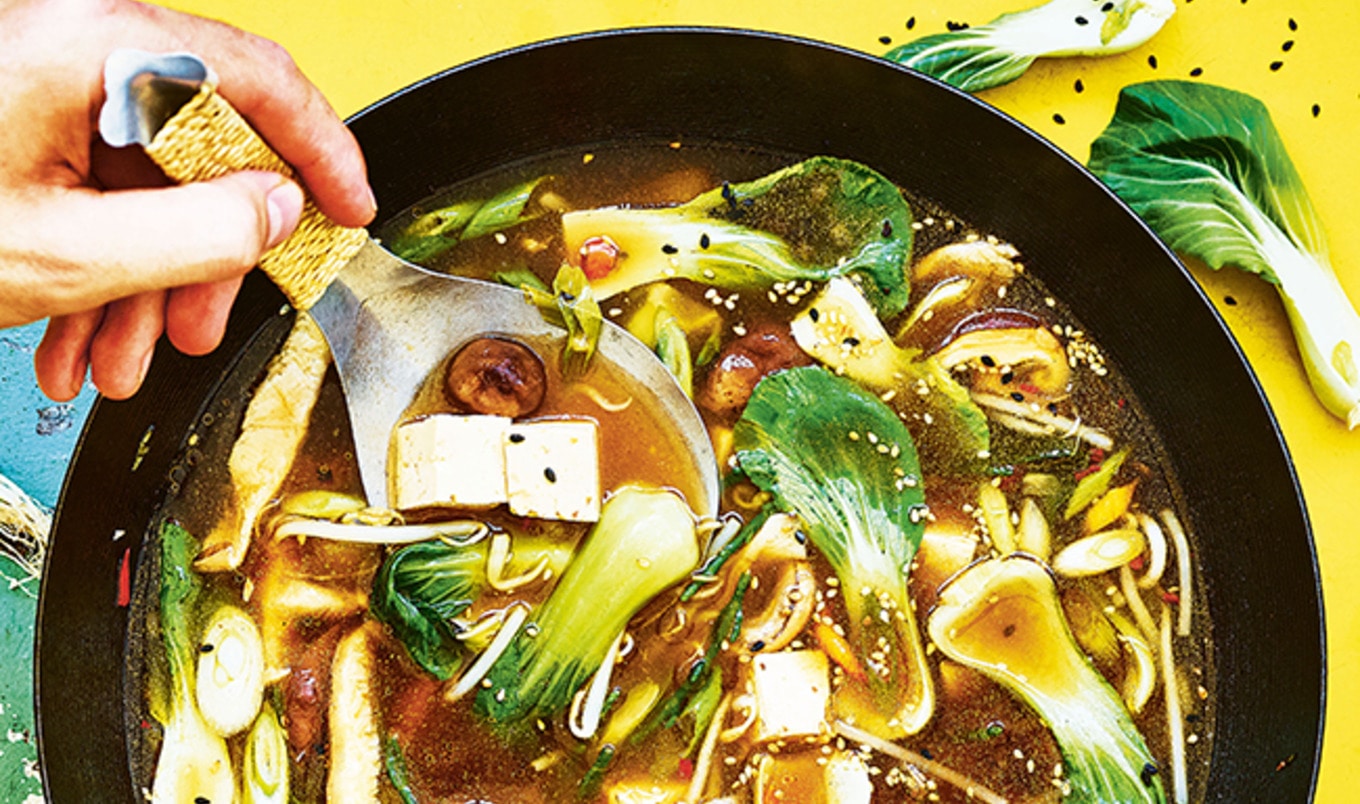 Packed full of punchy flavors and made in 20 minutes, this fiery-sweet soup is sure to become a quick favorite.
February 19, 2019
Saucy, sweet, with a little bit of heat. No, we're not talking about us, we're talking this mouthwatering soup from Gaz Oakley's new book Vegan 100: Over 100 Incredible Recipes from Avant-Garde Vegan. We love this recipe from the British YouTube sensation so much, we featured it on the cover of our March+April 2018 Spring Issue. Yeah, that much.
What you need:
2 tablespoons sesame oil
2 tablespoons fresh ginger, finely chopped
2 garlic cloves, crushed
1 medium red chilli, deseeded and finely chopped
6¼ ounces firm tofu, cut into 3/8-inch cubes
1 cup shiitake mushrooms, sliced
4 cups vegetable stock
3 tablespoons light soy sauce
1 tablespoon miso paste
1 tablespoon rice wine vinegar
3 tablespoons maple syrup
1 cup fresh or canned bean sprouts
½ cup fresh samphire (or chopped asparagus)
1 cup bok choy leaves
4 spring onions, thinly sliced diagonally, to serve
1 tablespoon black and white sesame seeds, to serve
What you do:
1. Into a large wok or saucepan over high heat, warm oil until hot. When oil is almost smoking, add ginger, garlic and chilli. Sauté for 1 minute, add tofu and mushrooms, and toss and stir to cook mixture for additional 2 minutes. Leave to cook for untouched 30 more seconds.
2. Reduce heat to low and add vegetable stock, soy sauce, miso, vinegar and maple syrup. Let simmer for 5 minutes, then add bean sprouts and samphire (or asparagus) and cook for 2 more minutes. Add bok choy, let wilt, and remove wok from heat.

3. Top with spring onions and sesame seeds and serve immediately.