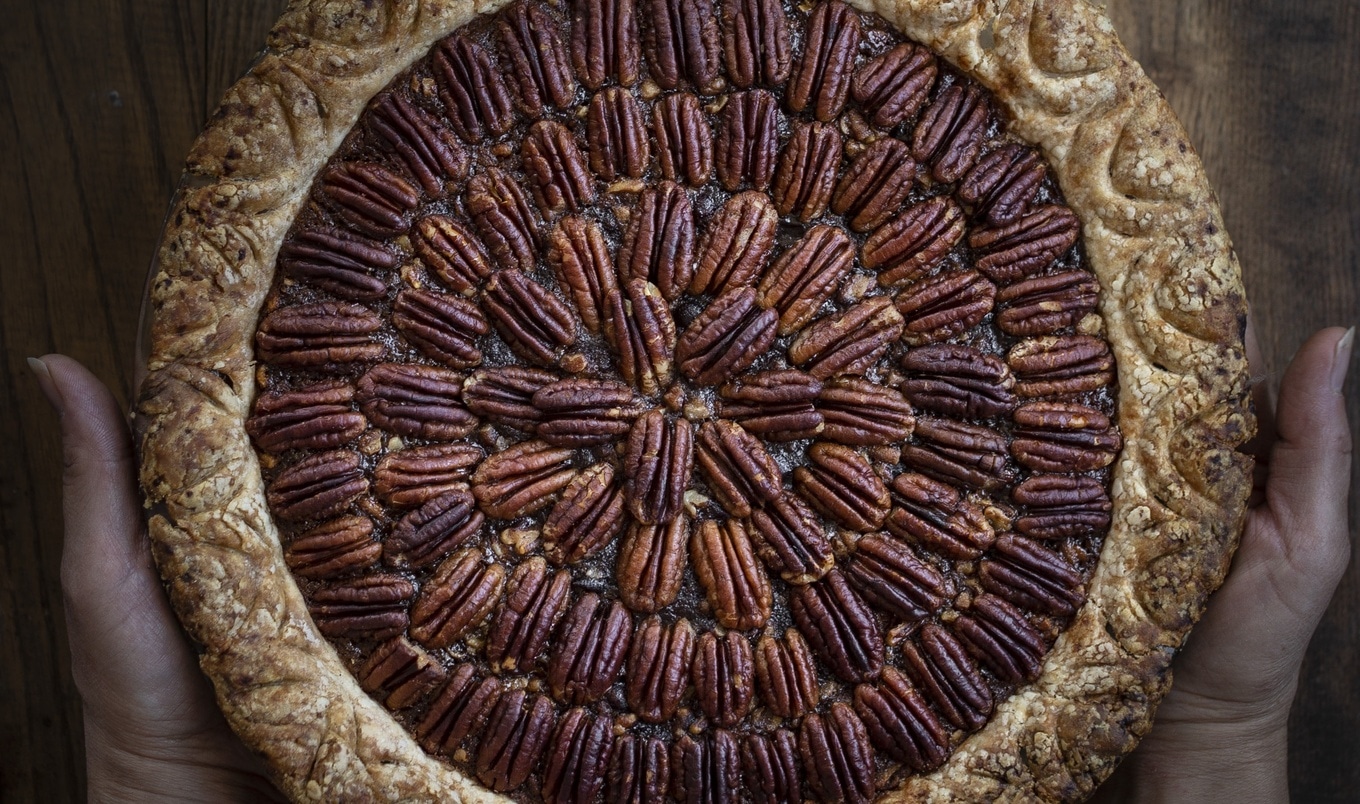 Not only is the red bean paste in this recipe far less sugary than the typical custardy filling of a traditional pecan pie, it also adds a Korean twist.
November 17, 2022
This twist on a Thanksgiving classic from The Korean Vegan cookbook cuts some of the cloying sweetness of pecan pies and will become a new favorite in your holiday rotation.
What you need:
For the pie crust:
1½ cups flour
1 tablespoon sugar
1 teaspoon salt
⅔ cup cold vegan butter, cut into ½-inch cubes
3 to 4 tablespoons ice water
For the pie filling:
¾ cup brown rice syrup
6 tablespoons soy milk
1 cup paht (sweet red bean paste)
¼ cup light brown sugar
4 tablespoons vegan butter, melted and cooled
½ teaspoon salt
1 teaspoon vanilla extract
2 cups chopped pecans
3½ tablespoons potato starch
1 cup pecan halves, for topping
What you do:
For the pie crust, into a food processor, add flour, sugar, and salt, and pulse while adding butter, a few pieces at a time. Add ice water, 1 tablespoon at a time, until a dough starts to form.
Shape dough into a ball. Wrap with plastic and refrigerate for at least 4 hours or overnight, preferably.
Preheat oven to 350 degrees. For the pie filling, in a medium bowl, combine all ingredients.
Place pie dough between two sheets of parchment paper. Using a rolling pin, roll out gently until large enough to line a 9-inch pie pan. Gently press crust in pan and trim any excess dough at edges. Pour in filling. Top filling with pecan halves.
Transfer pie to oven and bake until pie filling sets, about 1 hour. Remove from oven and let cool on a wire rack for 2 hours before serving.