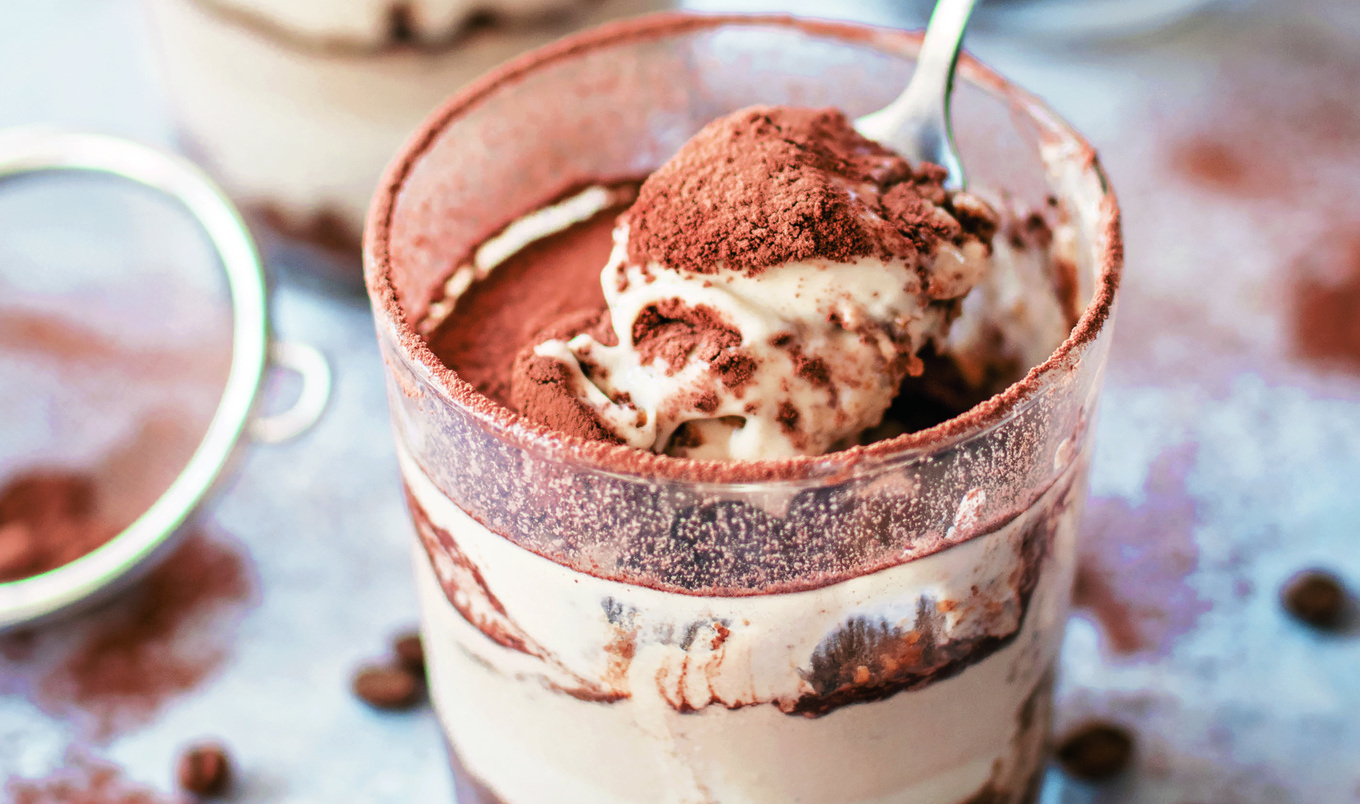 This festive dessert is ultra-rich and loaded with chocolaty flavor and coconut cream, yet so easy to make.
December 4, 2022
Layers upon layers of delicious, coffee-soaked, spongy cake filled with cashew mascarpone and lots of cacao powder make up this mouthwatering dessert from the Vegan Holiday Cooking.
What you need:
For the mascarpone:
¾ cup raw cashews, soaked for 8 hours or overnight
1 (14-ounce) can full-fat coconut cream, refrigerated overnight
1 teaspoon vanilla extract
2 tablespoons maple syrup
3 tablespoons melted coconut oil
⅛ teaspoon salt
¼ cup almond milk
For the vanilla sponge cake:
1⁄2 cup almond milk
1 teaspoon apple cider vinegar
1 tablespoon melted coconut oil
1 teaspoon vanilla extract
1 cup almond flour
1⁄4 cup all-purpose flour
1 tablespoon cornstarch
1⁄2 teaspoon baking powder
1⁄4 teaspoon baking soda
1⁄4 cup coconut sugar
⅛ teaspoon salt
For the coffee syrup:
1⁄2 cup freshly brewed coffee
2 tablespoon coconut sugar
2 tablespoon amaretto
For the topping:
Cacao powder, for dusting
What you do:
For the mascarpone, into a high-speed blender add soaked cashews, firm portion of chilled coconut cream, vanilla, maple syrup, coconut oil, and salt, and blend on high for 2 minutes, until mixture is smooth. Transfer half of filling to a medium bowl. Set aside.
For the vanilla sponge cake, preheat oven to 350 degrees and line an 8 x 8 inch baking pan with parchment paper.
In a medium bowl, make a vegan buttermilk by combining almond milk and vinegar and let milk curdle for 5 minutes. Whisk in oil and vanilla. In a large bowl, add almond flour, all-purpose flour, cornstarch, baking powder, baking soda, sugar, and salt, and whisk together. Pour milk mixture into flour mixture and stir just enough to form a batter, being careful not to overmix.
 Pour batter into prepared pan and bake for 10 minutes, until a toothpick inserted into center comes out clean.
For the coffee syrup, in a small bowl, combine coffee, sugar, and amaretto, and stir until sugar has dissolved. Set aside and let coffee cool.
To reserved mascarpone, add 1⁄4 cup of coffee syrup and whisk to combine. Into seperate mascarpone in blender, add milk and blend until mixture is smooth.
To assemble tiramisu, cut out a piece of vanilla sponge cake and place in bottom of each of 4 serving glasses. Add 1 tablespoon of coffee syrup on top and let soak in for a few seconds. Top cake with a layer of mascarpone, dust with cacao powder, and place serving glasses in freezer for 10 minutes. Remove from freezer and top each serving with a layer of coffee mascarpone then a layer of cacao powder and return to freezer for 10 minutes.
Crumble remaining vanilla sponge cake on top of each serving and repeat preceding layering steps, freezing for 10 minutes in between until all the ingredients have been used. Once tiramisu is finished, dust top with more cacao powder and transfer each serving to fridge to set for
 3 hours before serving.