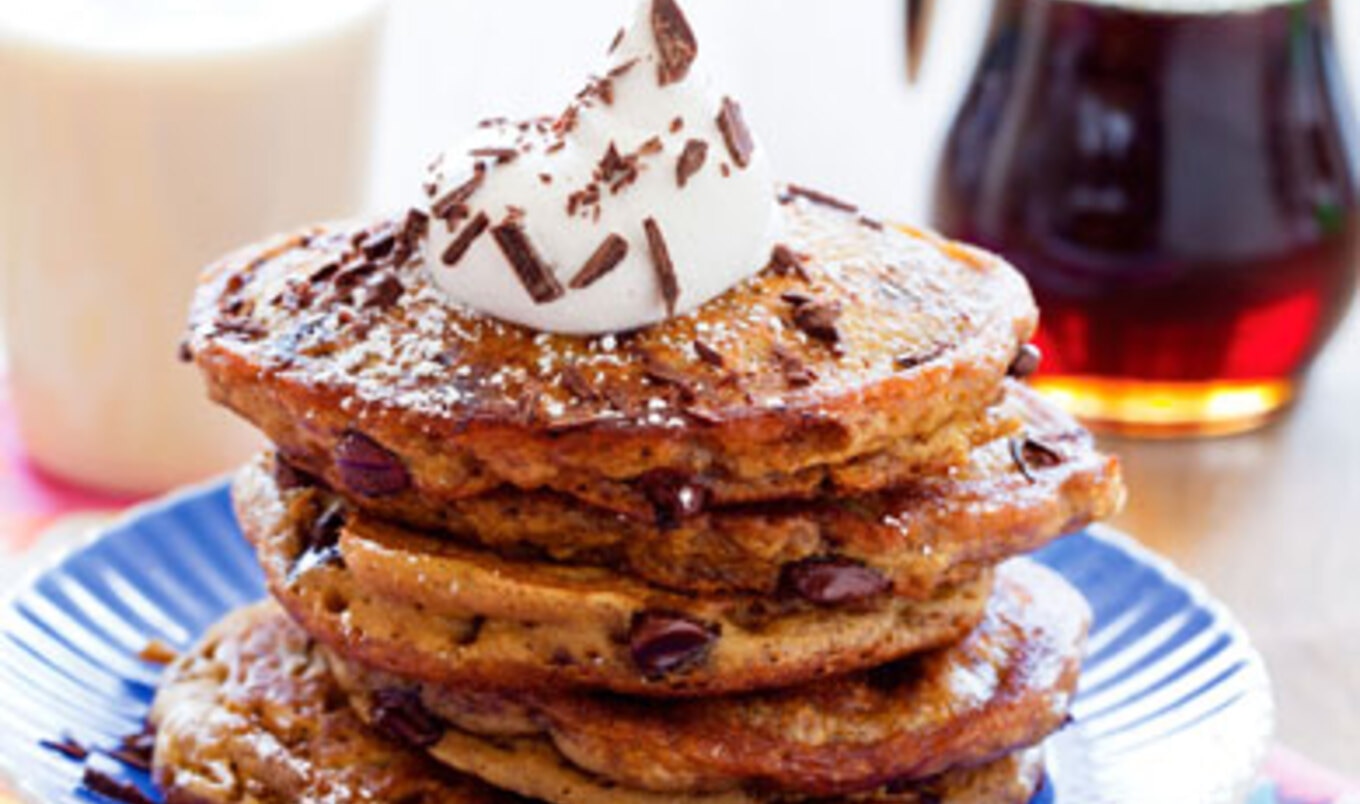 What may be the most impressive pancakes on the planet, Chloe Coscarelli's dessert-inspired 'cakes feature espresso, rum, chocolate, and a dollop of whipped cream.
December 4, 2022
These fluffy pancakes pack in all the flavors of the classic Italian dessert, but in breakfast form!
What you need:
For the coconut whipped cream:
1 (13.5-ounce can) full-fat coconut milk, chilled
2/3 cup powdered sugar, plus extra for serving
For the pancakes:
1 cup flour
1 tablespoon baking powder
1 tablespoon instant espresso powder
1/2 teaspoon salt
3/4 cup water
1/4 cup maple syrup
1 tablespoon dark rum
1/3 cup semisweet chocolate chips (dairy-free)
Canola oil, for greasing
Coconut Whipped Cream
What you do:
1. For the Coconut Whipped Cream, chill bowl and whisk of a stand mixer in freezer for about 10 minutes. Skim solidified coconut cream from can of coconut milk and transfer solids to bowl of stand mixer. Do not include any coconut water.
2. Into the mixer, add powdered sugar and whip for a few minutes until mixture begins to stiffen and turn into whipped cream. Chill whipped cream in an airtight container in refrigerator for 3 hours to overnight before serving.
3. For the pancakes, in a large bowl, whisk together flour, baking powder, espresso powder, and salt. In a separate small bowl, whisk together water, maple syrup, and rum. Add wet mixture into dry mixture and whisk until just combined. Do not overmix; batter should have some lumps. Gently fold in chocolate chips.
4. Lightly oil a large nonstick skillet or griddle and heat over medium-high heat. Pour 1/4 cup batter onto skillet. When bubbles appear in center of pancake, flip it. Cook other side until lightly browned and cooked through, about 1 more minute. Repeat with remaining batter, adding more oil to skillet as needed. If batter becomes too thick, add a little more water, 1 tablespoon at a time. To serve, dust pancakes with powdered sugar and top with a dollop of Coconut Whipped Cream.
Check out more of Chloe's treats from Chloe's Desserts!
Mojito Chocolate Chip Cookies
Hot-Fudge-on-the-Bottom Cake