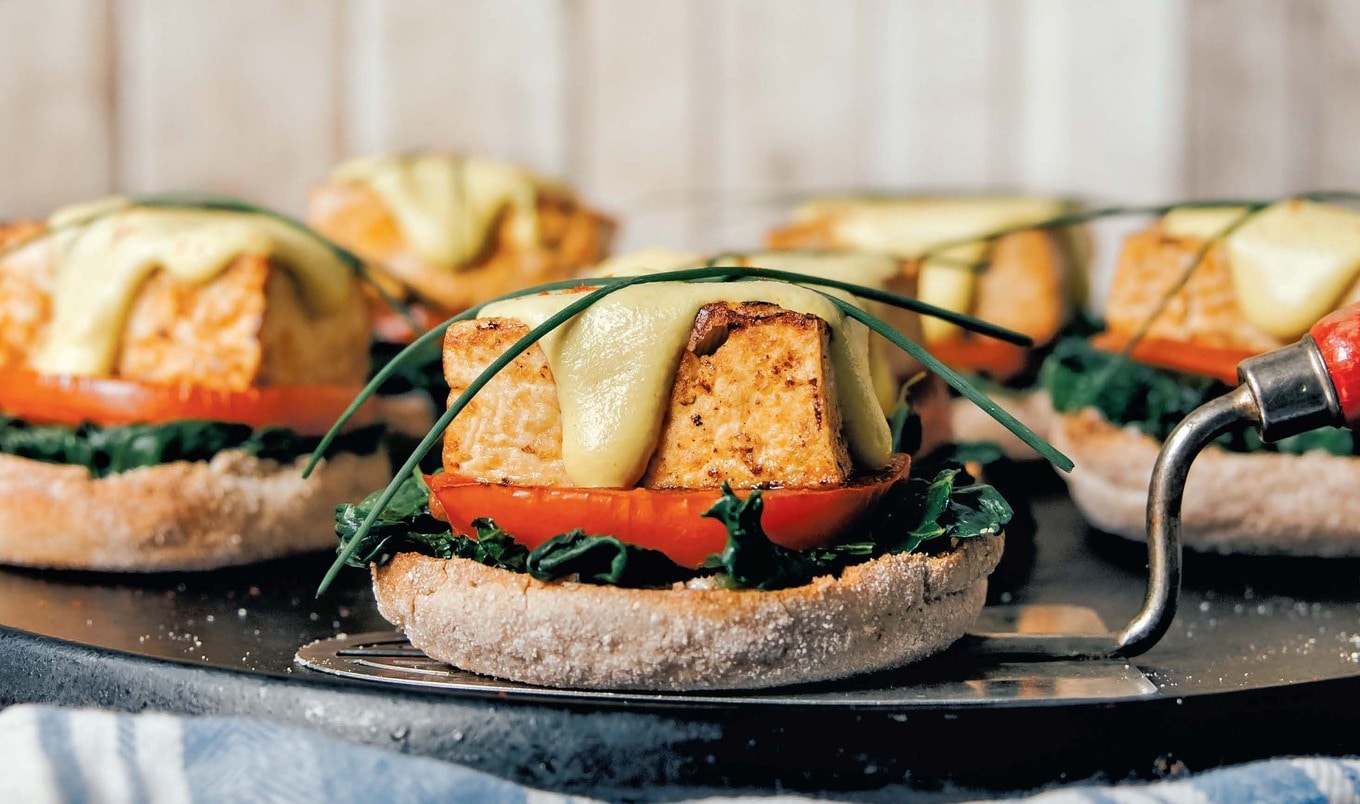 This crispy-fried tofu covered with a rich, egg-free hollandaise sauce will win over even the most skeptical eaters.
August 27, 2023
Make a restaurant worthy brunch at home with this delicious recipe from the Hot For Food Comfort Classics cookbook. Pro tip: add some fresh avocado for added creaminess!
What you need:
For the hollandaise sauce:
½ cup sliced blanched almonds
½ cup unsweetened vegan milk
2 tablespoons nutritional yeast
½ teaspoon mustard powder
½ teaspoon salt
½ teaspoon ground white pepper
¼ teaspoon turmeric
2 tablespoons lemon juice
1 tablespoon white wine vinegar
1 tablespoon vegetable oil
For the tofu:
1 (16-ounce) package medium-firm tofu
¼ teaspoon smoked paprika
¼ teaspoon salt
¼ teaspoon black pepper
1 tablespoon vegetable oil
For assembling:
10 cups packed baby spinach
¼ teaspoon salt
¼ teaspoon black pepper
2 vine tomatoes, sliced
Hollandaise Sauce (recipe above)
4 English muffins, split in half
4 tablespoons vegan butter
¼ cup chives, for garnish
¼ teaspoon ground cayenne, for garnish
What you do:
For the hollandaise, into a high-powered blender, add all ingredients and blend until very smooth. If needed, add small amounts of milk until desired consistency is achieved.
In a saucepan over low heat, add sauce and whisk constantly, before serving. Be careful not to overheat sauce, as it will thicken and get lumpy. If this occurs, reblend to smooth.
For the tofu, drain tofu and pat dry of excess moisture. Slice tofu into quarters and slice each quarter in half lengthwise to get 8 thick medallions. Season tofu on all sides with paprika, salt, and pepper.
In a large cast-iron skillet over medium-high heat, warm oil. Place tofu in pan and fry for 3 minutes on first side. Flip and fry for another 3 minutes, until a nice golden crust is developed. Continue turning pieces to fry all sides. Remove tofu, cover to stay warm, and set aside.
Lower heat to medium and sauté spinach with salt and pepper until just wilted and cooked through. Remove greens from pan. Add tomato slices and fry for 1 minute each side.
Warm up hollandaise sauce and toast and butter English muffins. Top each muffin half with greens, a tomato slice, a piece of tofu, and a dollop of warm hollandaise. Garnish with chives and a sprinkle of cayenne.
For more recipes like this, check out: