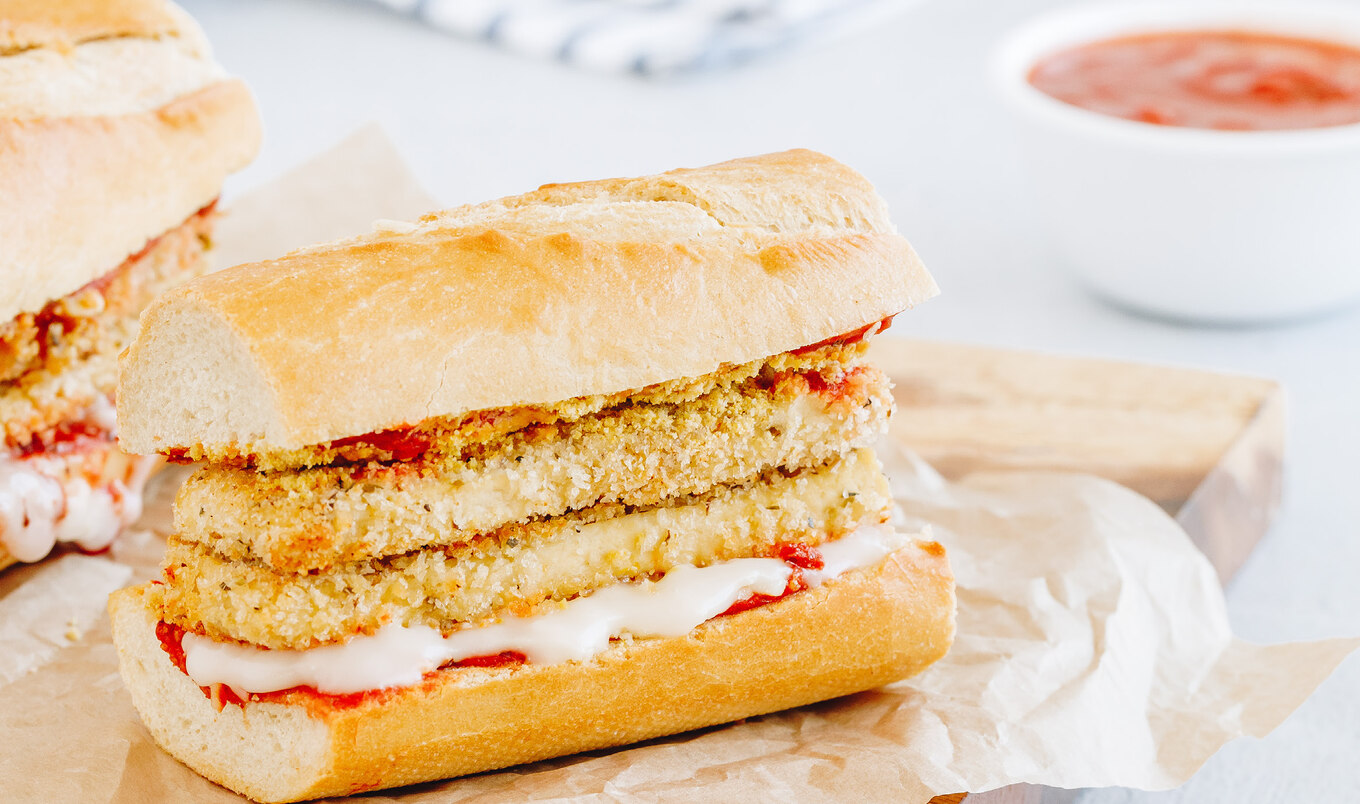 This hoagie melt combines crispy breaded tofu with zesty marinara sauce and melty vegan mozzarella and parmesan.
January 12, 2023
This delicious sub sandwich recipe from The Six Vegan Sisters Everyday Cookbook is super simple to make and will please even the most tofu-skeptical of eaters.
What you need:
1 (16-ounce) block extra-firm tofu, drained, sliced into 8 pieces lengthwise, and pressed
Nonstick cooking spray
For breading:
¼ cup flour
⅓ cup plain, unsweetened soy milk
1 cup vegan panko breadcrumbs
½ teaspoon onion powder
½ teaspoon garlic powder
½ teaspoon dried oregano
⅛ teaspoon dried thyme
¼ teaspoon dried rosemary
¼ teaspoon dried sage
¼ teaspoon dried basil
¼ teaspoon salt
⅛ teaspoon black pepper
For assembling:
4 (6-inch) vegan hoagie rolls
1 cup vegan marinara sauce, divided
1 cup vegan mozzarella shreds, divided
¼ cup vegan parmesan cheese, divided
What you do:
Preheat oven to 400 degrees and spray a baking sheet with nonstick cooking spray.
For breading, in a small bowl, mix flour and milk. In a separate small bowl, add remaining breading ingredients and stir. Dip each slice of tofu into flour mixture, then panko coating, entirely coating each slice, then place on prepared baking sheet.
Spray tofu with nonstick spray. Bake for 40 minutes, flipping halfway through and spraying both sides with cooking spray again. Remove from oven, keeping oven on, and set aside.
To assemble, coat insides of each baguette slice with ¼ cup marinara sauce, then evenly sprinkle ¼ cup mozzarella and 1 tablespoon parmesan on top. Add two slices of baked tofu to each sandwich. Place, open-faced, on an ungreased baking sheet and bake until bread is crispy and cheese has melted, 5 to 7 minutes. Serve immediately.