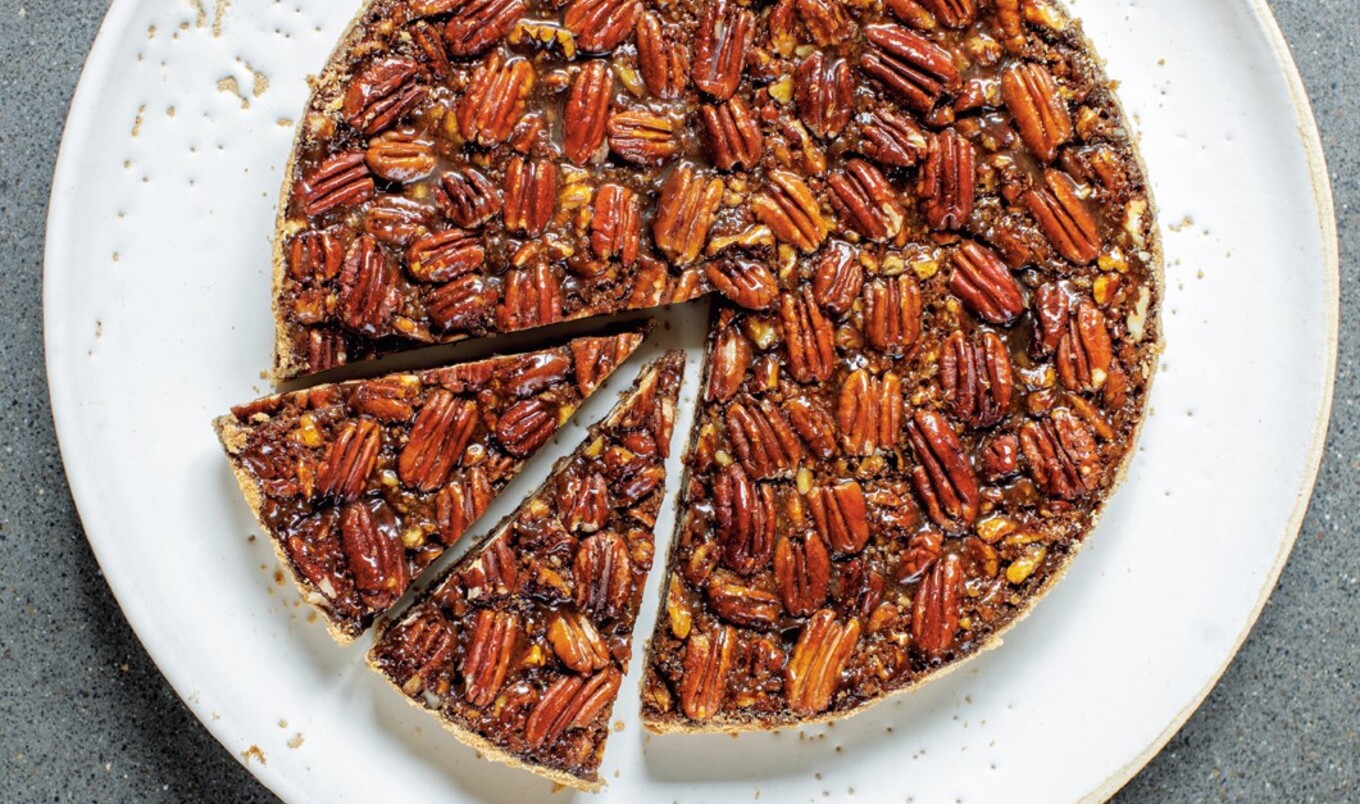 Relish in the simple pleasure of every bite of this nutty pie as the aroma of freshly baked pecans fills the air.
September 25, 2023
A shortbread-style pastry crust adds wonderful butteriness to this maple-pecan pie from the BReD cookbook. Top with cloud-like, fluffy whipped cream or decadent scoops of vanilla bean ice cream to cap off any meal on a sweet note.
What you need:
For the crust:
½ cup cold vegan butter, cut into 1-inch cubes
1¾ cups whole wheat pastry flour
¼ cup vegan powdered sugar
¼ teaspoon salt
2 tablespoons cold water
1 tablespoon olive oil
For the filling:
⅔ cup vegan liquid egg
¼ cup cornstarch
¼ cup vegan butter, melted
¾ cup maple syrup
½ cup golden syrup
2 tablespoons blackstrap molasses
2 tablespoons vanilla extract
¾ cup sourdough breadcrumbs
2 teaspoons ground cinnamon
½ teaspoon salt
2 cups plus 2 tablespoons pecan pieces or chopped pecans
¾ cup pecan halves, for topping
What you do:
1. Place bowl of a food processor in refrigerator for 30 minutes before starting.
2. Into chilled bowl of food processor, add butter, pastry flour, powdered sugar, and salt and pulse until combined, about 1 minute. Add cold water and olive oil and pulse until a dough forms.
3. Transfer to an unfloured work surface and finish mixing by hand. Bring pastry together into a ball with no dry patches.
4. Gently roll pastry between two 12 × 18-inch pieces of parchment paper into a 5-inch disc. Transfer pastry (between parchment) to a baking sheet and chill in refrigerator for at least 2 hours, but ideally overnight. The pastry needs to stay as cold as possible to prevent splitting or shrinking.
5. Place a 10-inch non-stick tart pan on a baking sheet lined with parchment paper or a silicone baking mat. Roll out chilled pastry between parchment paper into a 12-inch circle, about ¼-inch thick. Place back into refrigerator and chill for at least 30 minutes.
6. Remove top sheet of parchment paper. Gently flip pastry over tart pan and carefully ease and press into corners. Return to refrigerator and chill for 30 minutes.
7. Preheat oven to 340 degrees. Using a small knife, trim off excess dough, leaving ½ inch on sides. Keep trim, covered and in refrigerator, in case repairs are needed. Lightly prick holes across surface of pastry with a fork. Line pastry with a sheet of plastic wrap, leaving some overhang, and fill with baking beans, dried
chickpeas, or rice. Bake until edges are golden brown, 20 to 25 minutes.
8. Remove from oven and carefully lift out plastic wrap and beans. If there are any holes or tears in pastry, use reserved trim to patch. There must be no holes in pastry, or filling will run through it. Return to oven to bake until base is light golden brown and any repair pastry has had a chance to bake, 5 to 7 minutes. Remove from oven and set aside.
9. In a large bowl, whisk vegan liquid egg and cornstarch until smooth. Add butter, maple syrup, golden syrup, molasses, vanilla, breadcrumbs, cinnamon, and salt and whisk until smooth. Add 2 cups plus 2 tablespoons pecan pieces and mix with a rubber spatula.
10. Into baked crust, pour filling and gently spread into an even layer. Sprinkle with pecan halves. Carefully transfer to oven and bake until filling is golden brown and just set when jiggled, 30 to 35 minutes. Remove from oven and let cool on baking sheet for 30 minutes.
11. Using a serrated knife, carefully trim excess pastry from rim, cutting away from pie to prevent pastry crumbling onto filling. Remove from tart pan. Enjoy warm from the oven.
For more recipes like this, check out:
Here at VegNews, we live and breathe the vegan lifestyle, and only recommend products we feel make our lives amazing. Occasionally, articles may include shopping links where we might earn a small commission. In no way does this effect the editorial integrity of VegNews.