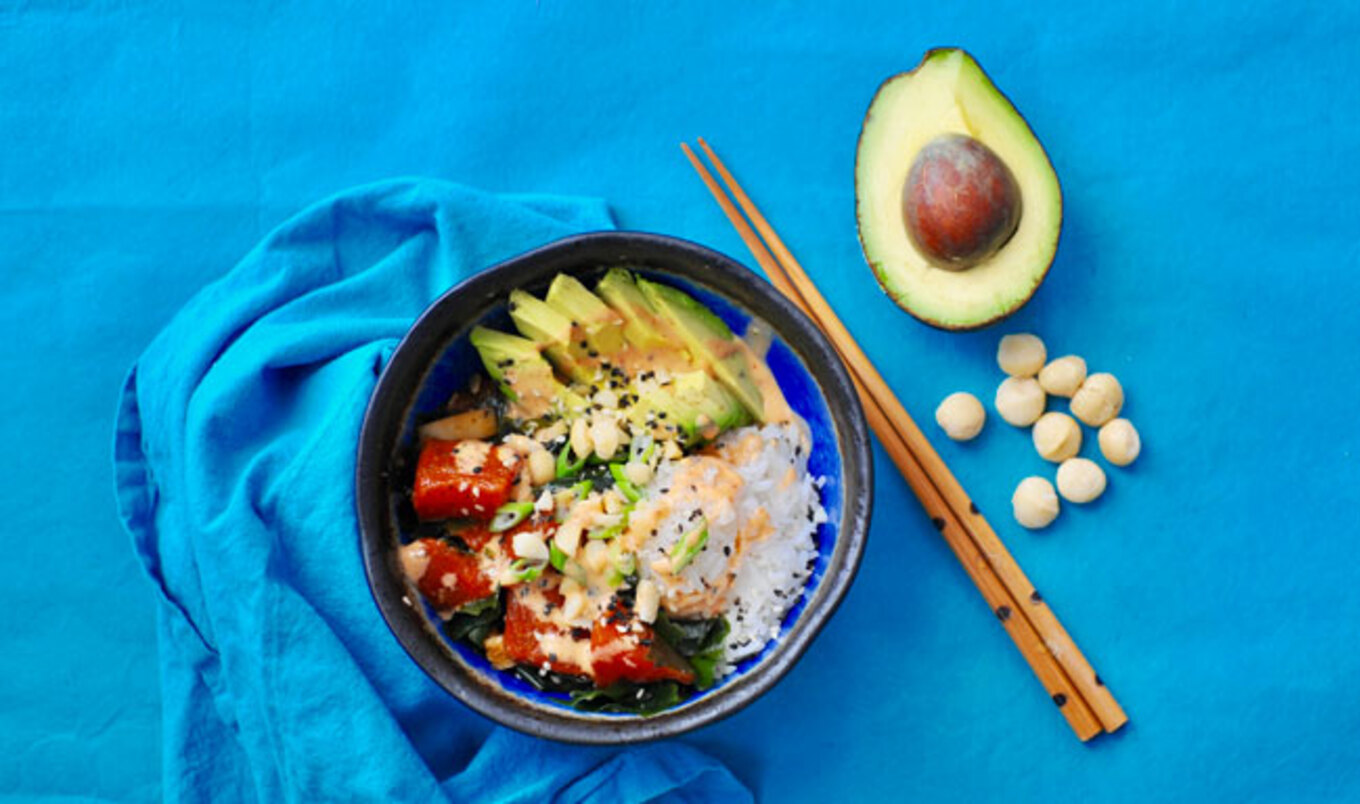 Get a taste of the tropics with this summery poke bowl.
July 1, 2021
Hawaiian poke ("poh-kay") is a simple dish usually made with raw fish, seaweed, and onion that's topped with sesame-soy dressing. And while there are endless variations on this versatile dish, we (of course) prefer our slightly spicy vegan watermelon version. Cooking the watermelon not only deepens the bright red color so that it actually resembles raw tuna but doing so also transforms the texture of the fruit.
What you need:
For the poke:
2 pounds watermelon, cut into 1-inch cubes
1 tablespoon tamari or soy sauce
1 tablespoon toasted sesame oil
1 tablespoon kelp granules
1 teaspoon gochugaru (Korean chili powder)
¼ cup arame seaweed
¼ cup sweet onion, diced
1 ½ cups cooked white or brown rice, for serving
1 avocado, thinly sliced
For the dressing:
¼ cup vegan mayonnaise
1 tablespoon + 1 teaspoon sriracha sauce
1 ½ teaspoon tamari or soy sauce
1 teaspoon toasted sesame oil
1 teaspoon agave
For the garnish:
2 scallions, sliced
⅓ cup chopped toasted macadamia nuts
1 tablespoon black and/or white sesame seeds
What you do:
In a medium bowl, toss watermelon cubes with tamari, sesame oil, kelp granules, and gochugaru. Transfer to a skillet and cook over medium-high heat approximately 15 minutes, or until most of the liquid has evaporated. Transfer to a heatproof container, and refrigerate until cool.
In a medium bowl, cover arame with water and let soak 10 minutes, or until fully hydrated. Drain bowl. In a small bowl, whisk together dressing ingredients. Set aside until ready to serve.
When watermelon has cooled, toss cubes with onion and arame. Pour off accumulated liquid from the watermelon bowl.
In a bowl, layer poke over cooked rice. Add avocado slices and garnish with sliced scallions, macadamias, and sesame seeds. Drizzle dressing over top.
For more recipes like this, check out: