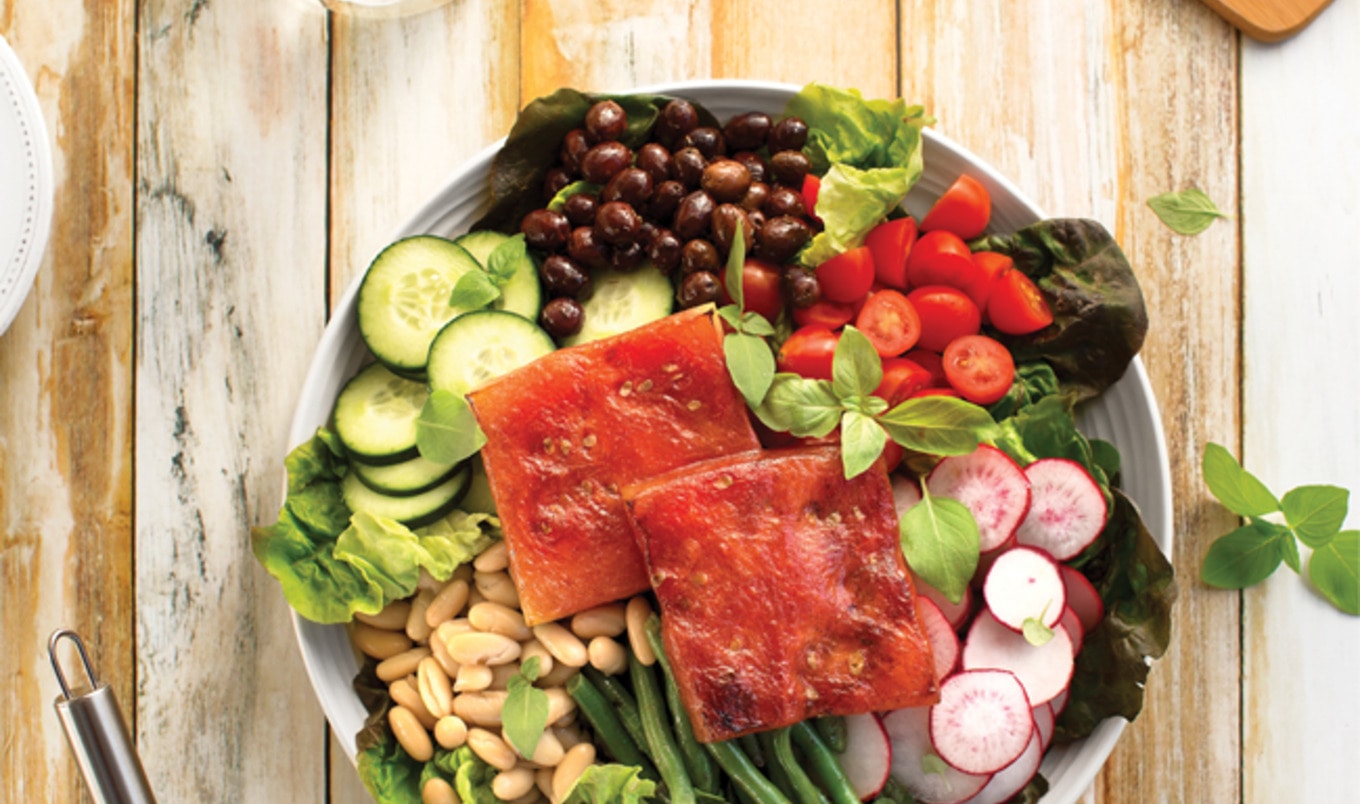 Watermelon steps in for tuna in this inventive, mouthwateringly juicy dish.
July 1, 2021
What you need:
For the seared watermelon tuna:
2 tablespoons olive oil
4 3-inch squares seedless watermelon, approximately 1-inch thick
For the classic vinaigrette:
1 tablespoon finely minced shallot
1 clove garlic, finely minced
¼ cup olive oil
2 tablespoons lemon juice
1 tablespoon dijon mustard
¼ teaspoon salt
1/8 teaspoon ground black pepper
For the Niçoise salad:
1 head butter or bibb lettuce
1 cup haricot verts, raw or blanched
1 pint grape or cherry tomatoes, halved
½ cup pitted Niçoise olives
6 small radishes, thinly sliced
1 cup cooked Cannellini beans
1 seedless Persian cucumber, thinly sliced
¼ cup fresh basil
What you do:
1. For the seared watermelon tuna, into a medium skillet over high heat, add olive oil. When on the verge of smoking, carefully add watermelon, standing back to avoid beign splattered. Cook watermelon slices, pressing firmly with a spatula to compress 2 to 3 minutes or until caramelized on one side. Flip and repeat on the other side.
2. For the classic vinaigrette, into a small bowl, add all ingredients whisk, slowly streaming in oil last to emulsify.
3. For the Niçoise salad, lay down a base of roughly torn or lightly chopped lettuce on a large serving platter and arrangegreen beans, tomatoes, olives, radishes, beans, and cucumber in rows. Top with seared watermelon tuna, drizzle with vinaigrette, and top with basil. Serve immediately.