One of the greatest joys of New York City is exploring its vegan food scene. You could easily spend a week here and barely scratch the surface with everything from burgers and milkshakes to French macarons, Italian classics, Ethiopian cuisine, and beyond. But don't be overwhelmed—VegNews contributor and New York native Kat Smith shares their picks to help you find the food experiences you'll reminisce about for years to come.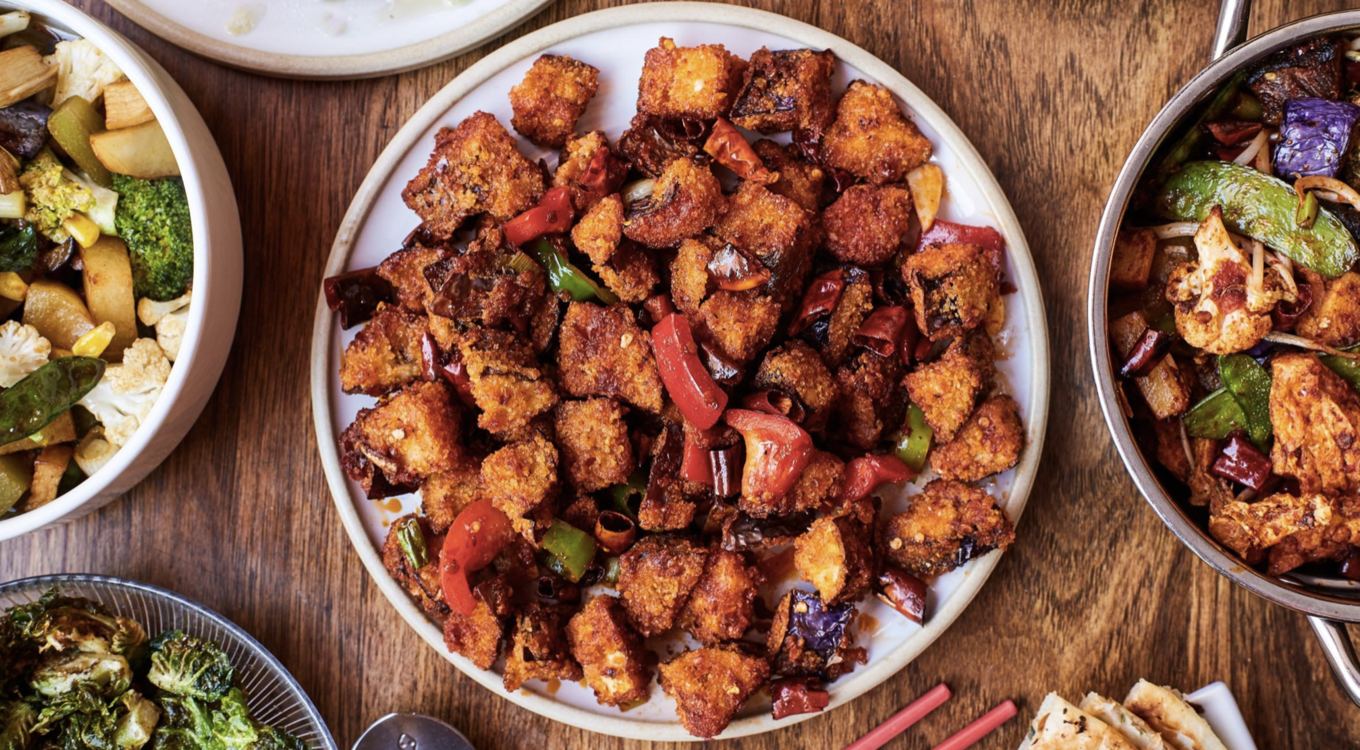 Spicy Moon
1
Fiery Szechuan fare goes plant-based
Spicy Moon made its NYC vegan scene debut in 2019, introducing diners to a menu centered around Szechuan Chinese cuisine from málà-spiced dry pot and mapo tofu to dandan noodles and wontons dressed in scarlet chili oil. Szechuan peppercorn—known for the "tingly, numbing" sensation it causes—stars prominently throughout the menu, along with plenty of other spicy, bold, sour, sweet, smoky, and umami flavors. Plus, it boasts three outposts—East Village, Greenwich Village, and the newly opened Bowery location, which is NYC's largest-ever vegan restaurant.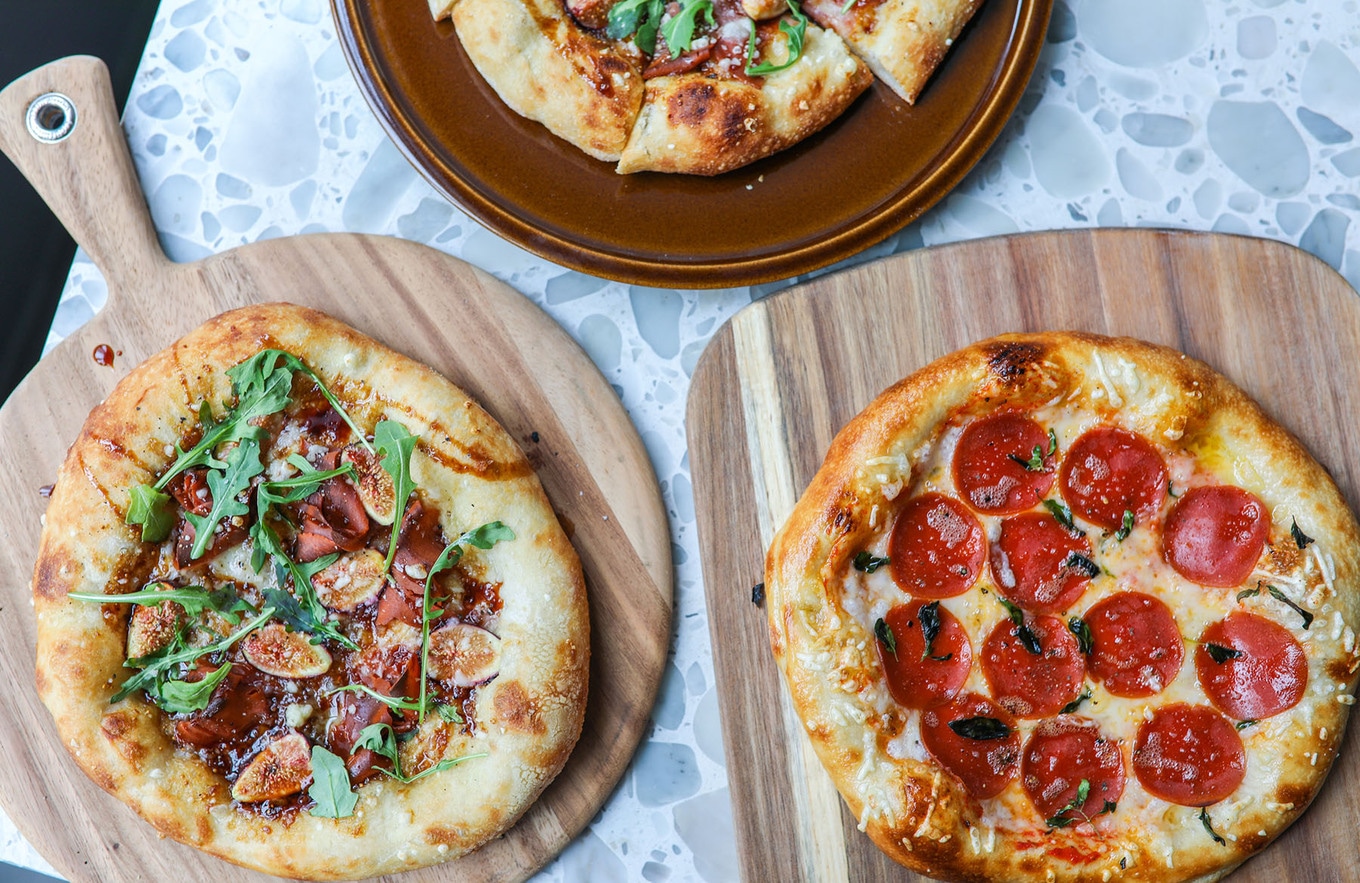 Coletta
2 Where red sauce reigns supreme
A plant-based Italian restaurant that's taken up roots in the city where Italian American cuisine was born, Coletta dishes out everything one could want, and does it well. It's a true modern Italian-American menu, where the vodka sauce is velvety and the chicken parmigiana evokes dinner in Little Italy. Not missing are staple dishes like calamari (made with king oyster mushroom rings and served with lemon), pizza, garlic knots, and ravioli. Close out the meal with a coffee, a slice of tiramisu, and good conversation.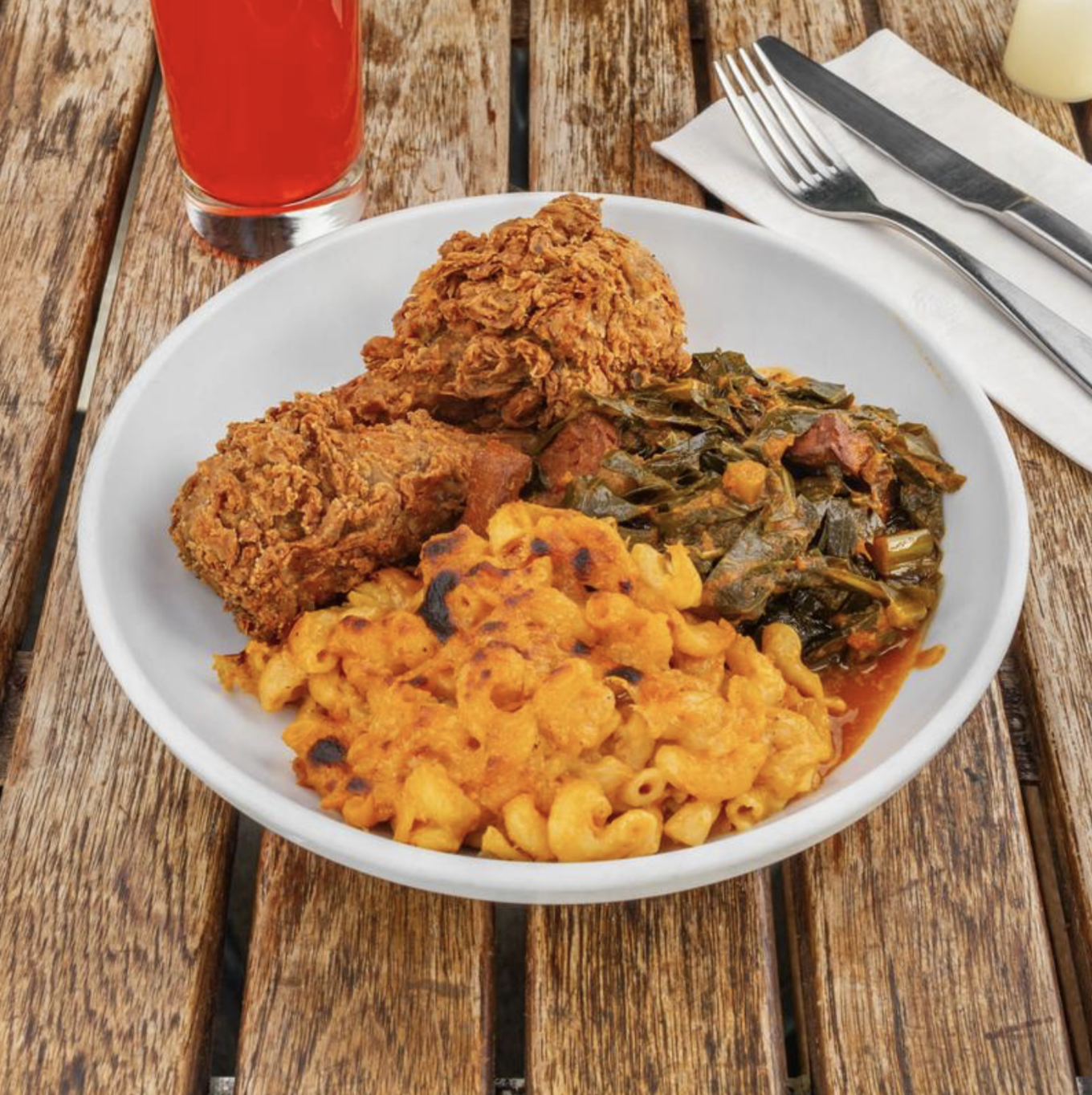 VeganHood
3 Caribbean classics and soul food staples
Caribbean fare meets soul food at VeganHood, a neighborhood spot with a cheery atmosphere and mustn't-miss cuisine. Co-owners Janine Smalls and Lanise Herman-Thomas opened this Harlem establishment in the name of serving their community plant-based versions of the dishes they eat at home. You'll find meat-free oxtail pan-fried with West Indian spices alongside dairy-free mac and cheese, plus gumbo, chicken and gravy, and Oreo pudding for dessert. It's located just steps away from Central Park's beautiful North Woods, so take a walk and arrive hungry.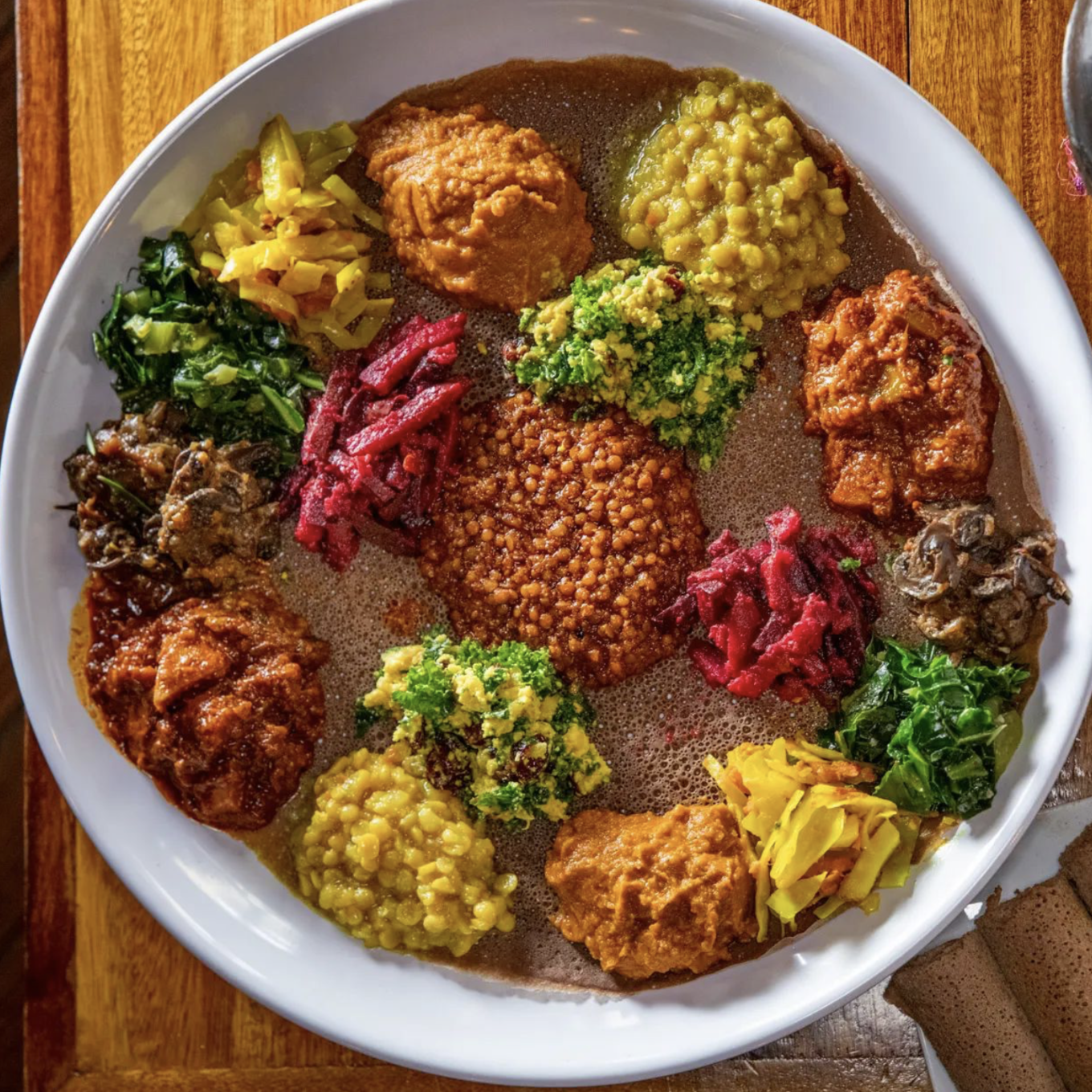 Bunna Cafe
4 Ethiopian, with a side of ethics
At Bunna Cafe, an intimate vegan Ethiopian hot spot in Brooklyn, the food is made for sharing. Order the beyaynetu, a traditional meal featuring a rainbow of plant-based dishes served atop injera (sour fermented flatbread made from teff), which is used to scoop up bites of impeccably spiced and ground chickpeas, lentils, collard greens, and beets. Each dish balances earthy, spicy, tart, and sour. Visit during the weekend at 5pm to catch the coffee ceremony, an integral part of Ethiopian social life.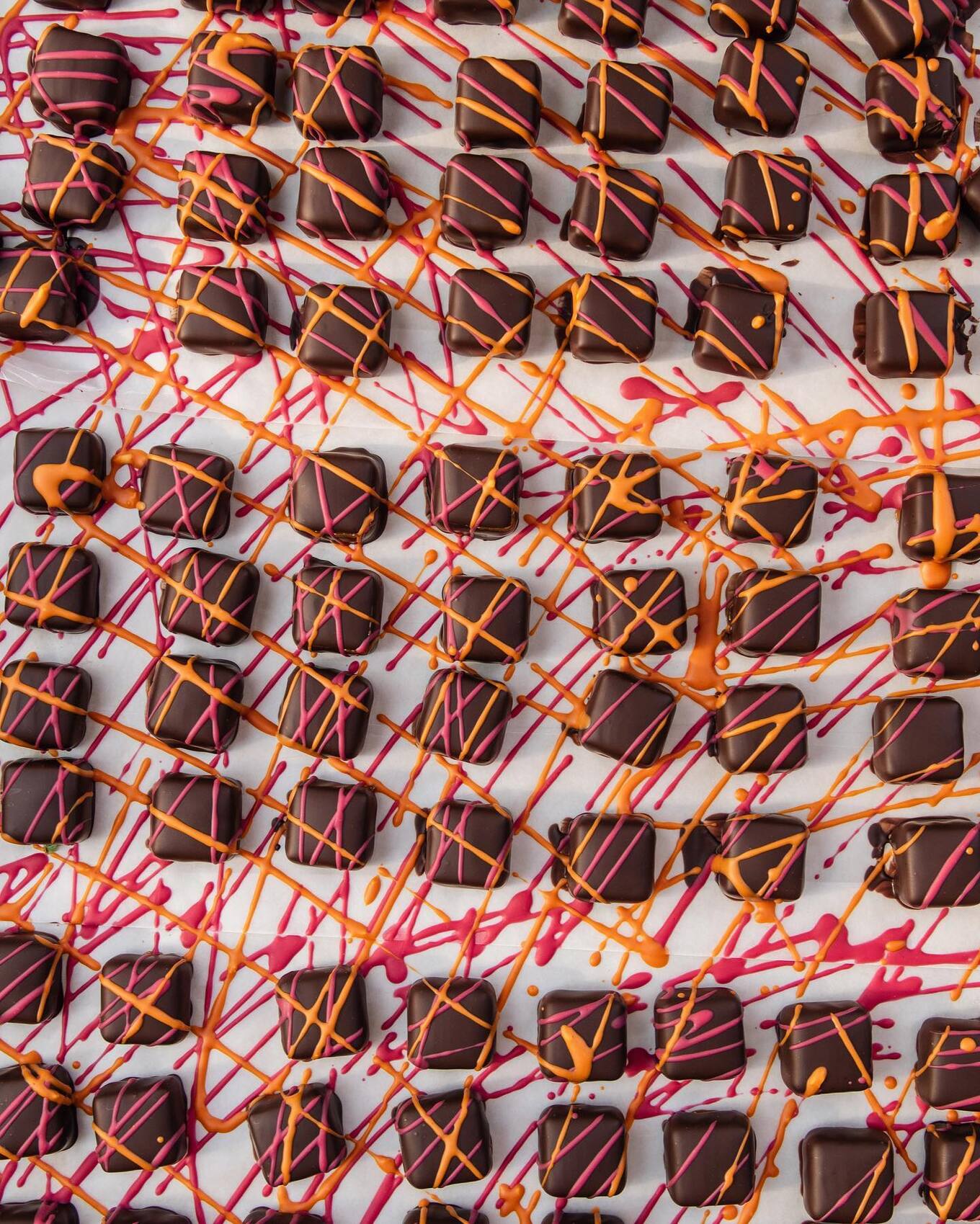 Confectionery!
5 Sweet and luscious treats in the East Village
The charming all-vegan sweets shop Confectionery! is nestled in a cozy space decorated with vintage-inspired floral wallpaper and hobnail glassware. A joint effort between vegan bakery Sweet Maresa's and ethical chocolatier Lagusta's Luscious, here you'll find an array of colorful macarons and tempting baked goods and chocolates, including airy princess cakes, gooey caramels, buttery cookies, and some stunning seasonal treats.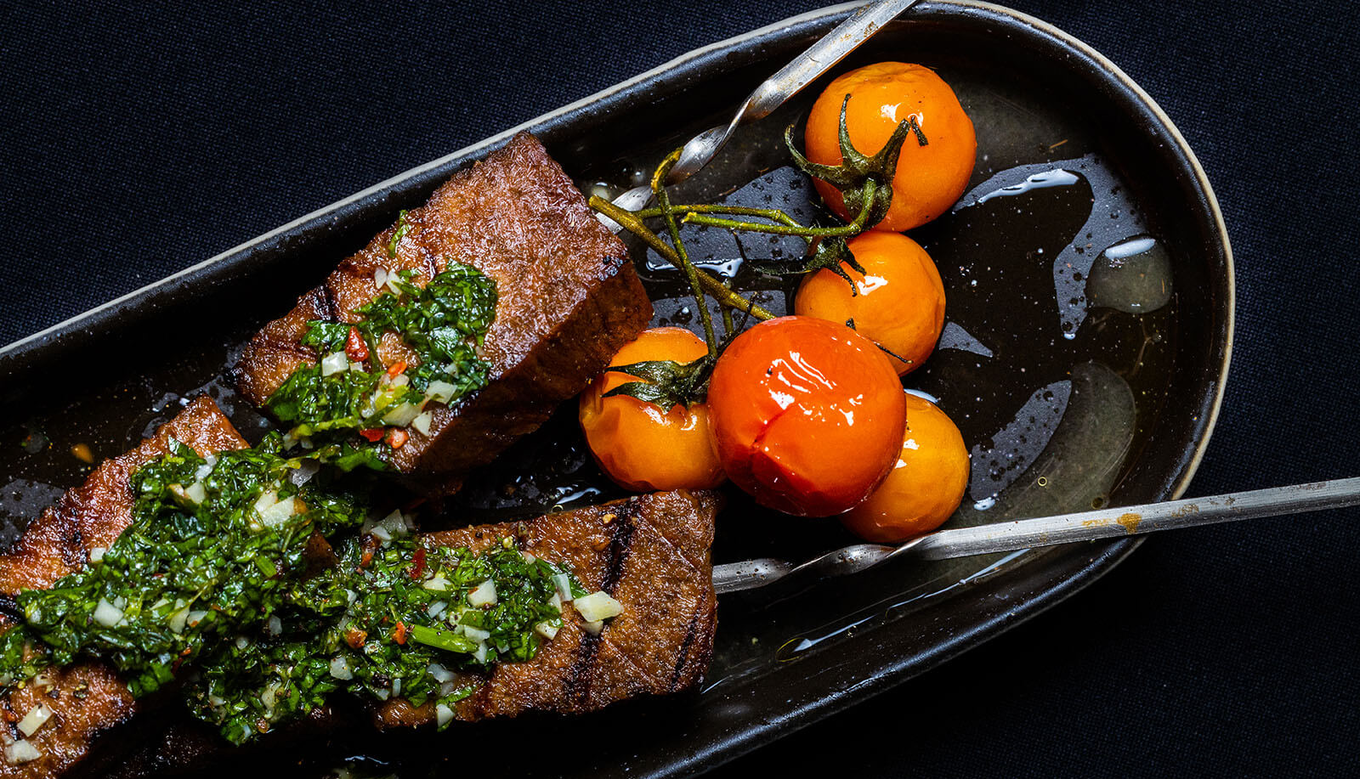 Anixi
6 Contemporary kosher Mediterranean
You'll find a few plant-based options at most Mediterranean restaurants, but at Anixi, everything from the shish kebabs to the moussaka is vegan. Nestled in Chelsea, Anixi's contemporary vegan approach shines in its mezze menu, featuring whipped almond and cashew ricotta and cured "salmon." Beyond the appetizers is an abundance of familiar classics like risotto, and some less familiar dishes such as a trio of pides, or Turkish flatbread pizza, with your choice of toppings like pomegranate-molasses roasted eggplant, braised beef and feta, and olive za'atar.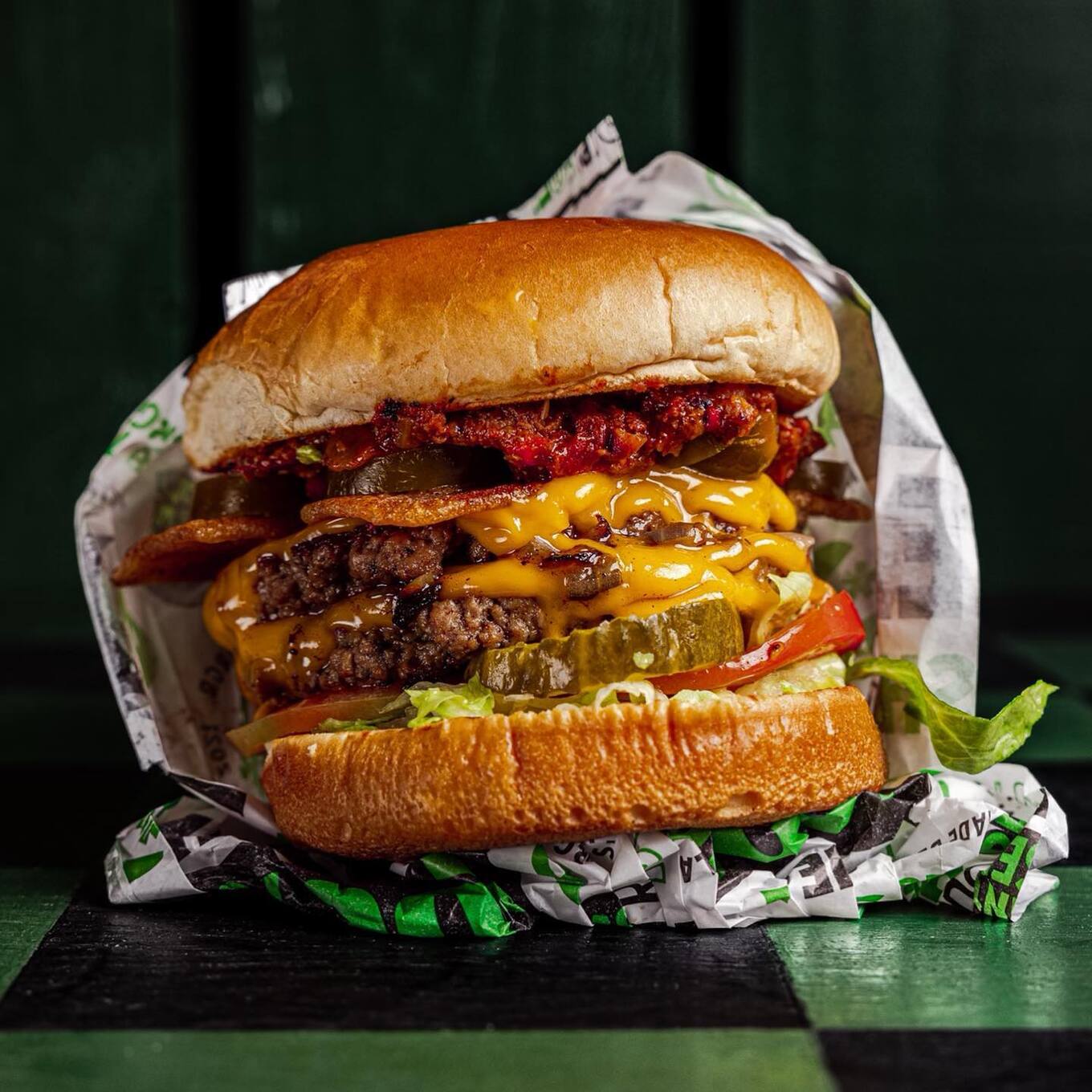 Kevin Pineda-Gould
7 NYC's #1 Black-owned burger spot
In an age where vegan burgers have gone mainstream, Jerrell's BETR BRGR is somehow a total standout. The menu at this late-night SoHo joint is expertly crafted—from its juicy, double-patty burgers (with the option of a "SUPR" bacon-chili-jalapeño upgrade) to its nostalgic, golden waffle fries to the oat milk shake dolloped with whipped cream. Open until 12:30am on weekdays and until 3:30am on weekends, it's the place to be when the midnight munchies hit.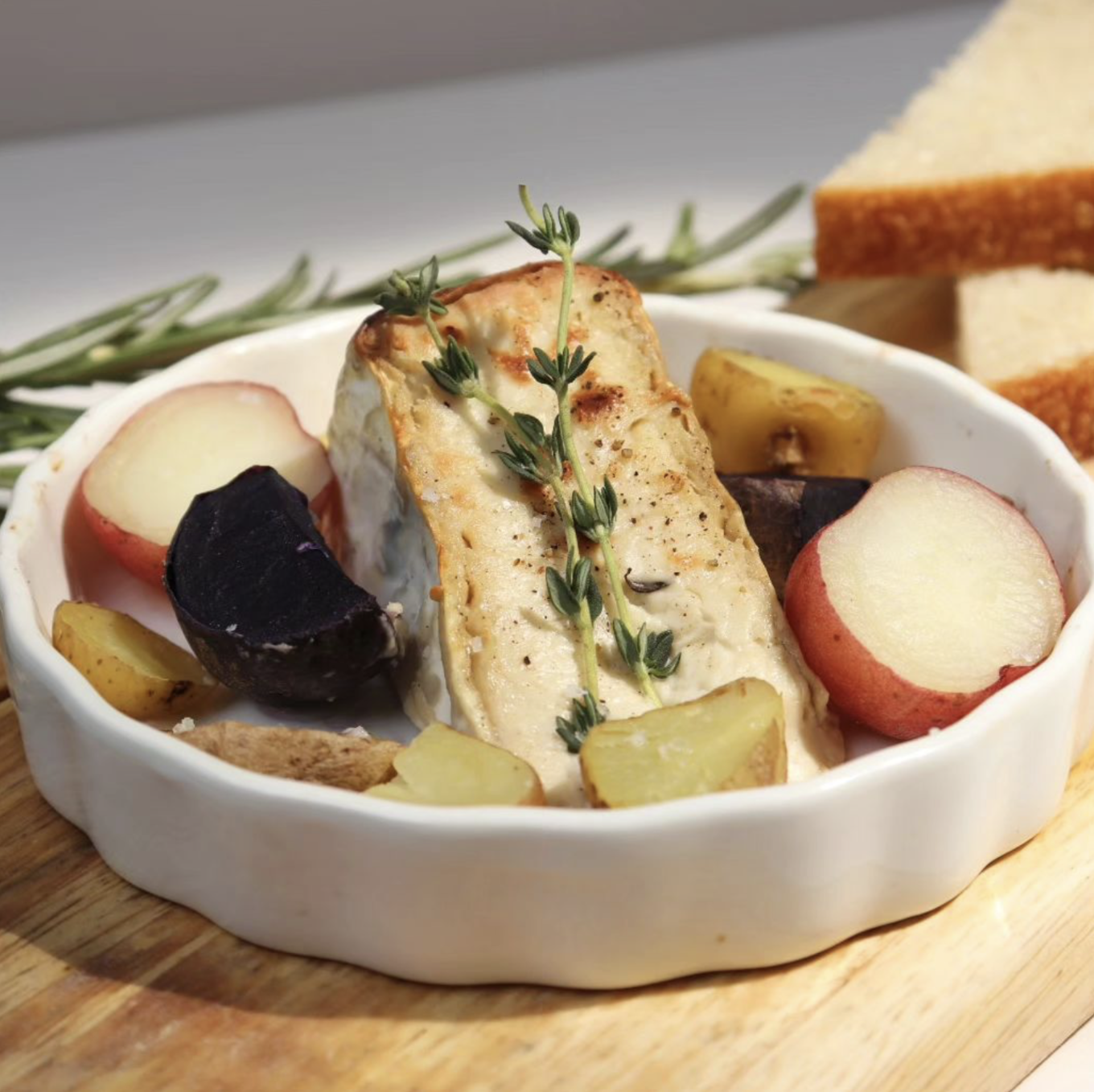 Délice & Sarrasin
8 French fare without the butter and cheese
French cuisine traditionally leans heavily into animal products, but at Délice & Sarrasin, the food doesn't skimp on buttery sauces and tender, braised meats—they just do it 100-percent vegan. The intimate French bistro is a master of reimagining traditional dishes such as coq au vin, escargot, and foie gras. Save room for the orange-infused crème brûlée or venture out to this West Village establishment early on a weekend for crêpes and French toast.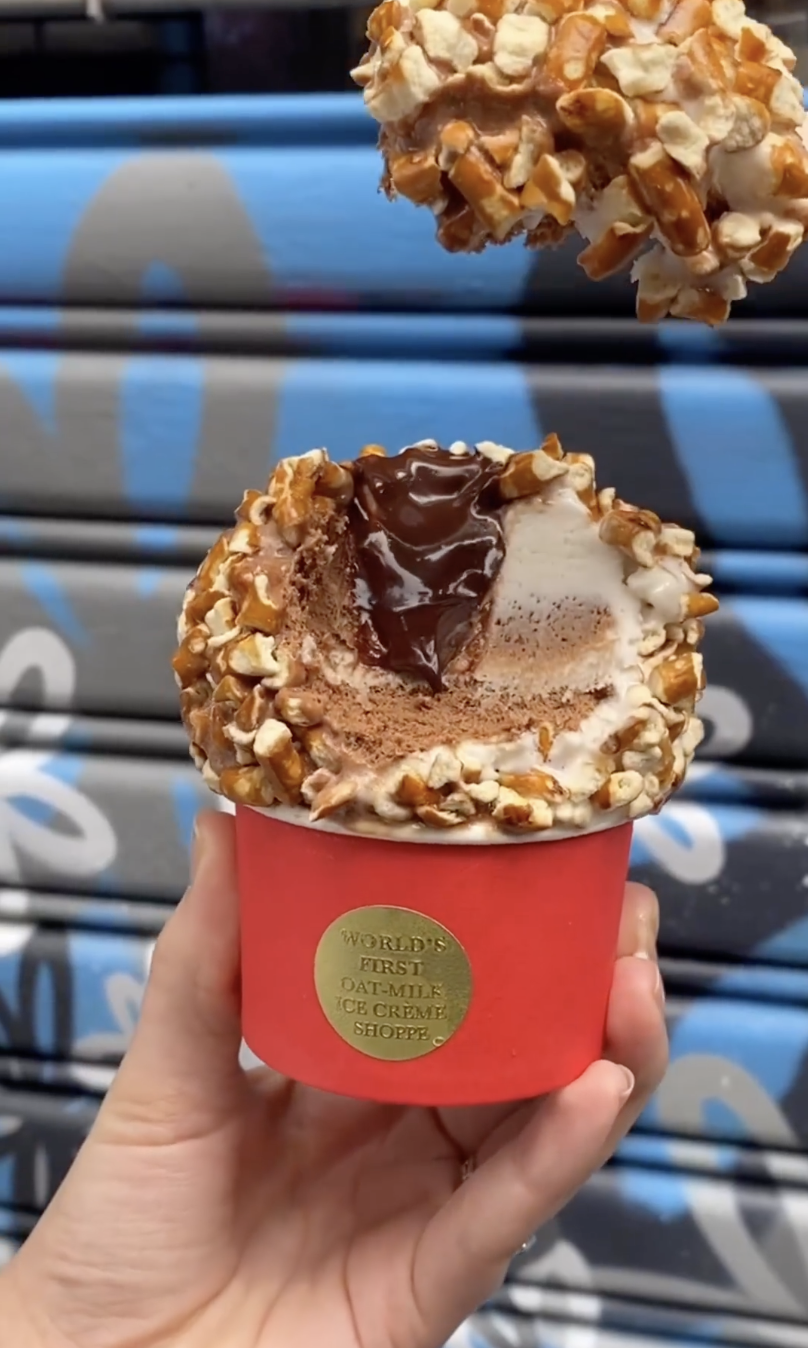 Whipped Urban Dessert Lab
9 The scoop on the first oat milk soft-serve shop
Expect a (worthwhile) wait when you arrive at Whipped Urban Dessert Lab. The tiny, Lower East Side oat milk soft-serve shop went viral as soon as it opened in 2019, capturing the hearts of ice cream lovers near and far. The flavors are traditional—chocolate and "Sweet Creme" vanilla—but the mix-and-match toppings and fillings allow you to customize to pure ice cream bliss. And no worries if you're indecisive: there's a set menu of ice cream "fusions" that offers concoctions like Chocolate Peanut Butter Pretzel, Strawberry Shortcake, and Salted Pecan.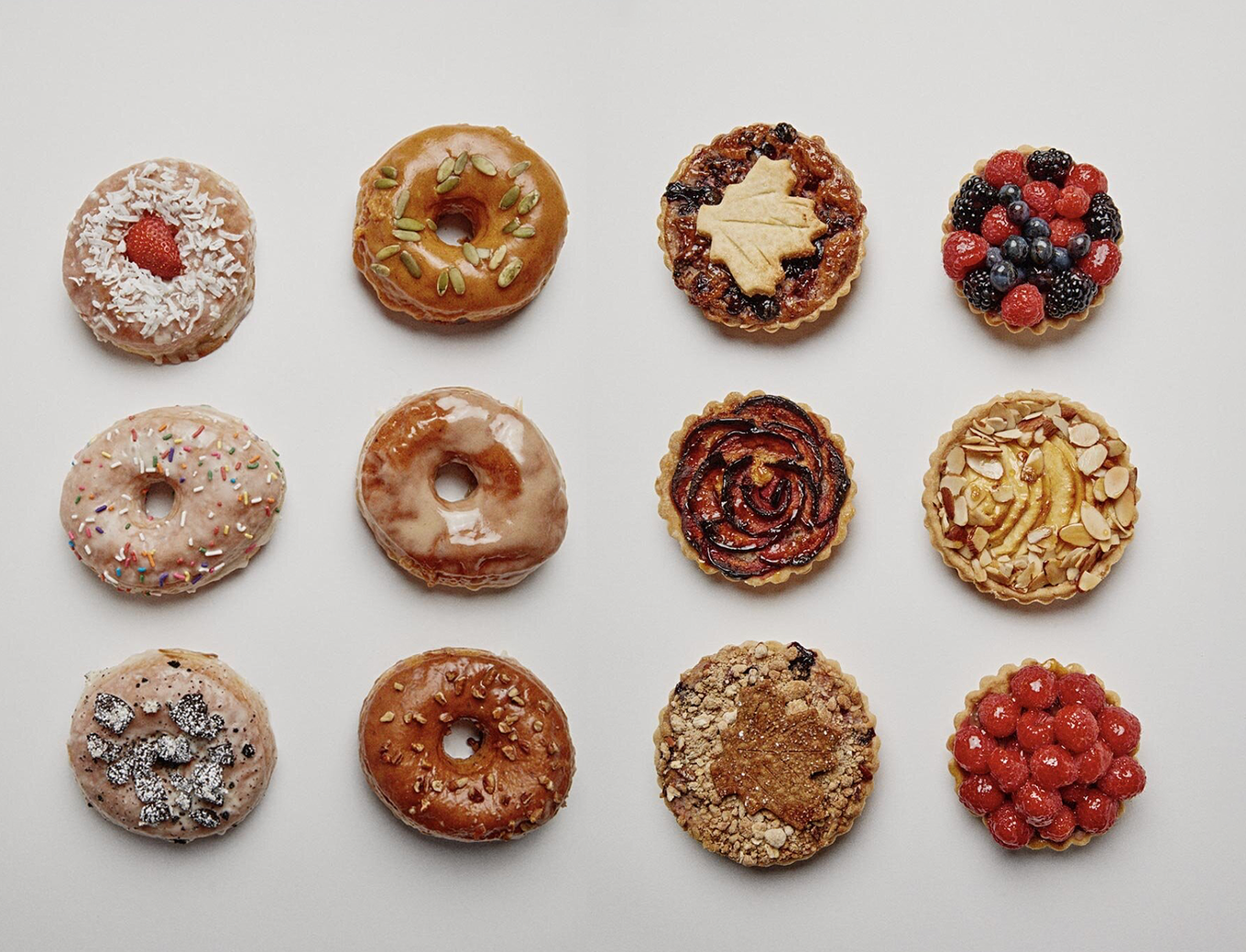 Le Petit Monstre
10 Brooklyn's plant-based patisserie
Flaky pastries, croissants, danishes, and doughnuts galore pack the pastry case at Le Petit Monstre, a Brooklyn-based patisserie-slash-plant-shop. If you don't have a sweet tooth, sandwiches and savory pastries (like croissant breakfast sandwiches and palmiers with roasted veggies and cheese) are on regular rotation. Pair your order with a cup of coffee, then peruse the foliage section of the shop and maybe bring home a new green friend.
For more on New York City vegan eats, read: