Last summer, Belse opened as the largest vegan restaurant in New York City history on the Bowery, the historically rough stretch just north of Chinatown. Belse was about five times larger than the city's average vegan restaurant with seating for nearly 200—the capacity of a subway car.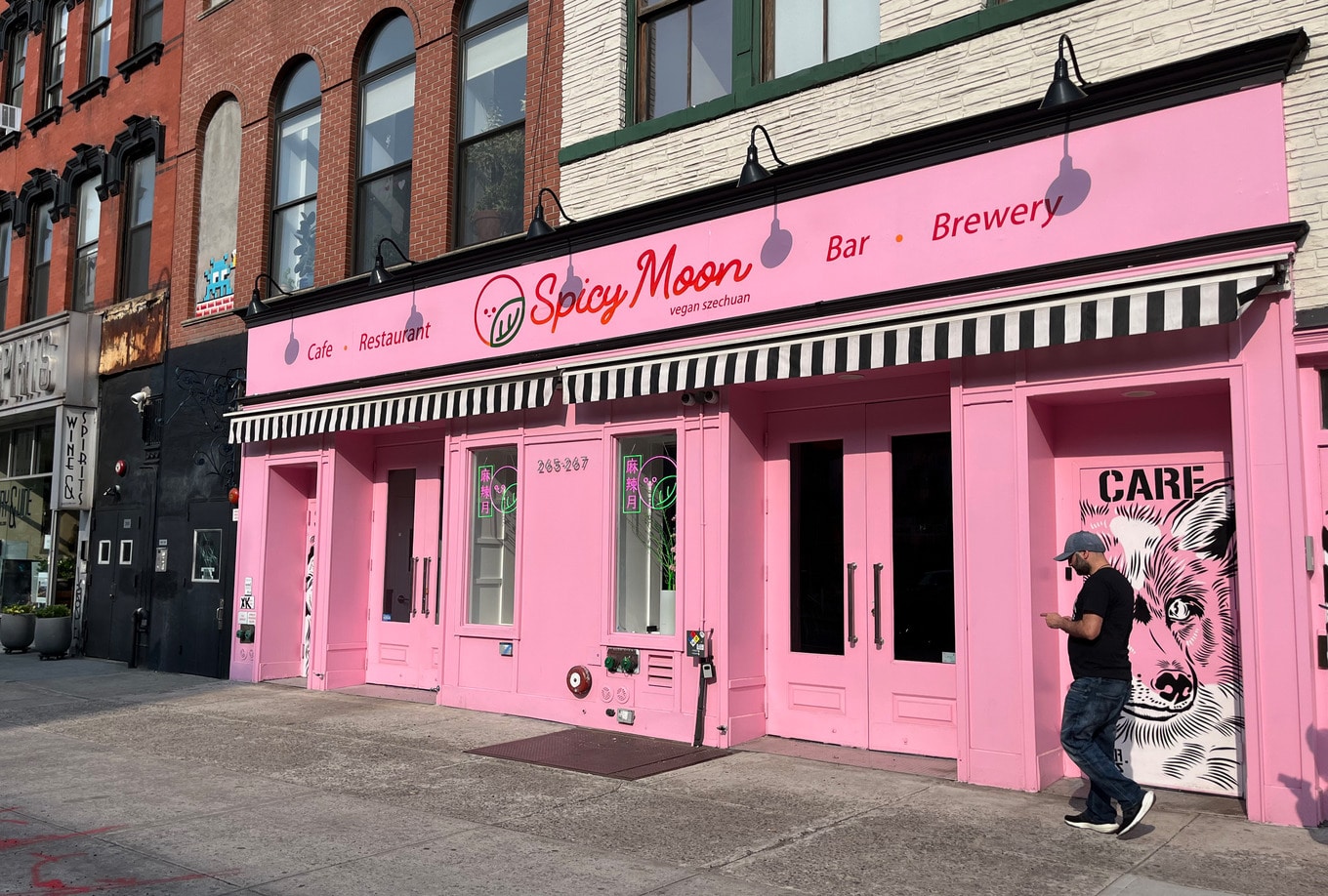 Matt Marshall
In a city where space is very tight, Belse opened with a unique challenge: too much space. "We're too big to fail," Belse owner Steve Bellamy told VegNews a few months after opening, when the challenge of filling hundreds of seats per day was becoming clear.
As a dedicated vegan looking to save animals one meal at a time, Bellamy could never imagine a public defeat for the city's largest vegan establishment. It was a high-visibility vegan venture that needed a successful outcome.
Belse quickly became a fixture in the NYC vegan community, becoming the go-to spot for hosting local vegan events. The food was delicious. However, too many of those seats remained empty.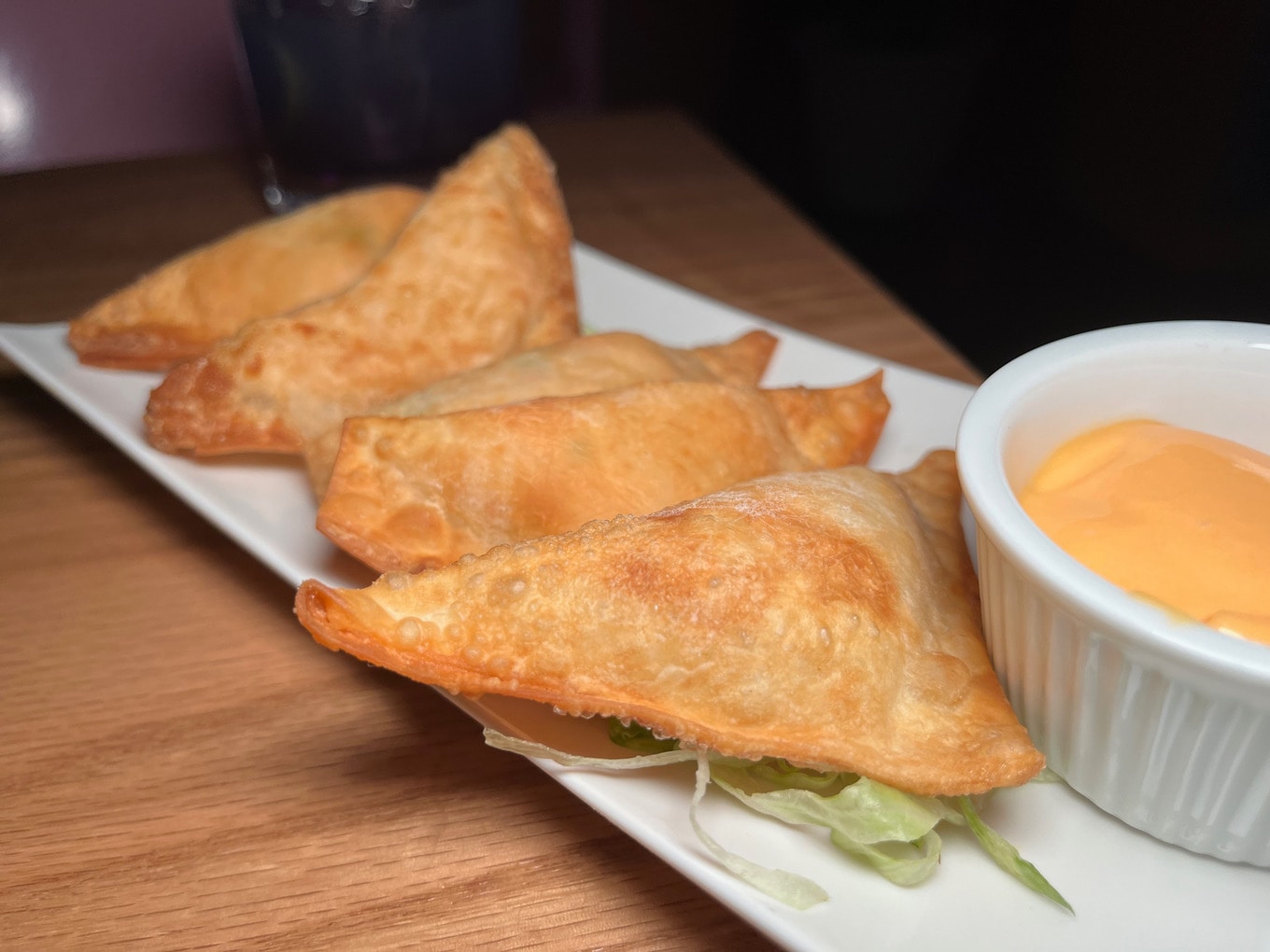 Matt Marshall
On January 1, Belse abruptly announced that it was closing—with a big mission-preserving surprise: Spicy Moon, one of the city's most-loved vegan franchises, would take over the massive space.
NYC's largest vegan restaurant gets spicier
This week, Spicy Moon lands on the Bowery, opening its third location in the city. It brings an established customer base that has been packing its first two locations for years, and continues the restaurant's penchant for steady, but significant, growth.
Spicy Moon first opened in 2019 on East 6th Street, with approximately 20 very tightly-packed seats and a tiny closet-sized kitchen. In early 2020, right as the pandemic was hitting, Spicy Moon opened a Greenwich Village location more than triple the size of the original. And this week, opening at 265 Bowery, it more than triples that Greenwich Village location, becoming the largest vegan restaurant in NYC.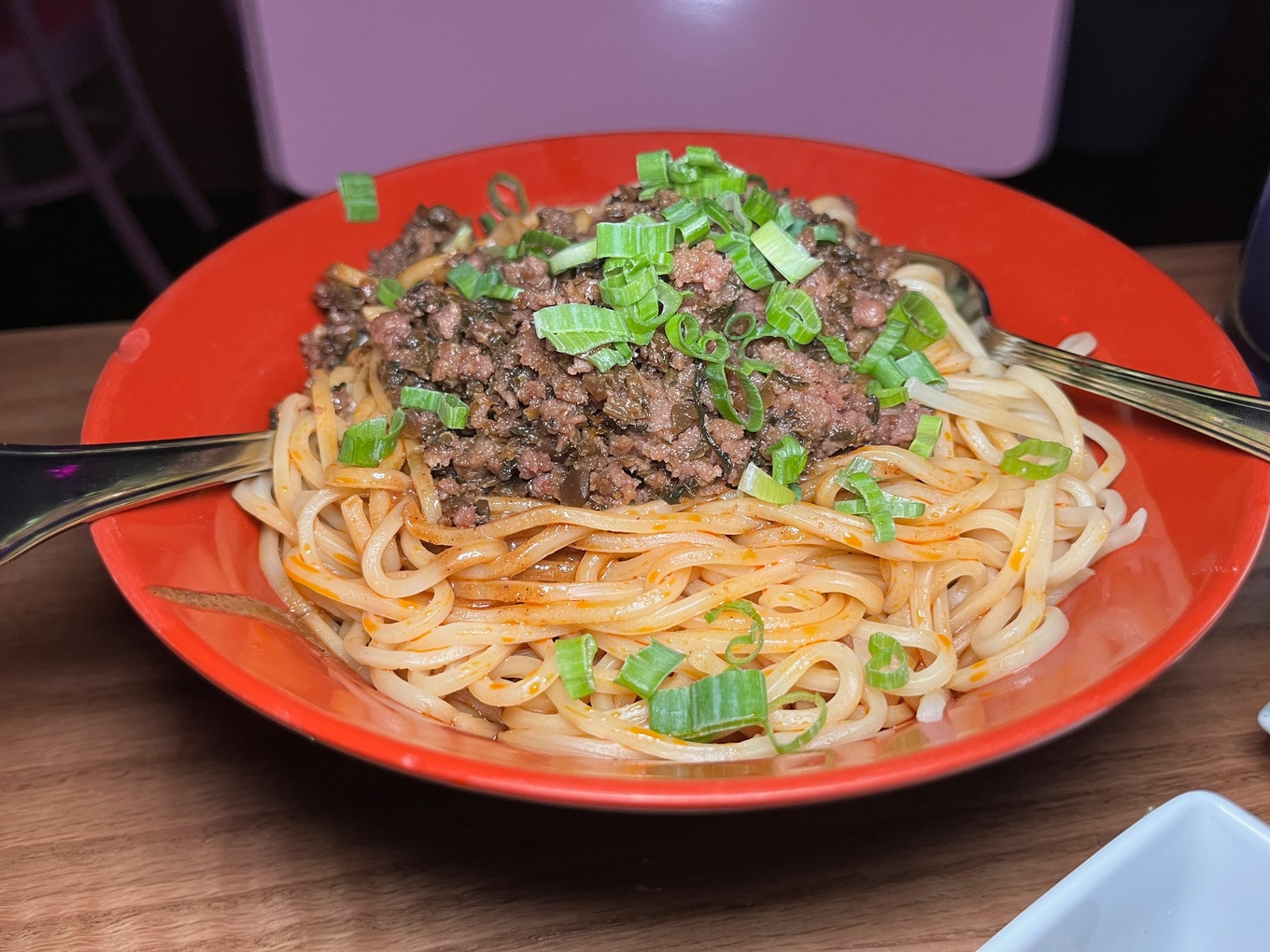 Matt Marshall
Spicy Moon's plant-based Szechuan cuisine is already a massive hit with vegans and non-vegans alike. The menu offers spicy dan dan noodles with vegan beef, wontons in chili oil, crispy kung pao tofu, shiitake buns, vegan duck, crabless rangoon, and more. The dishes are bold, unique, and made with fully plant-based ingredients. That means that even the "honey" on the menu is a vegan, bee-sparing alternative.
Spicy Moon is bringing that beloved menu to the Bowery, with the addition of a few colorful new cocktails. The local chain has also kept the massive brewing equipment left by previous occupants, and not just for decoration. In coming months, expect Szechuan-flavored beers to hit the menu, brewed right in-house.
Once operational, this means that Spicy Moon will not only be NYC's largest vegan restaurant but also the city's only 100-percent vegan brewpub.
Bright pink animal activism
The design of the space echoes the bold flavors on the menu. The newly painted bright-pink facade stands out from several blocks away. Passersby inevitably turn and comment on the storefront, which is adorned in pro-animal murals.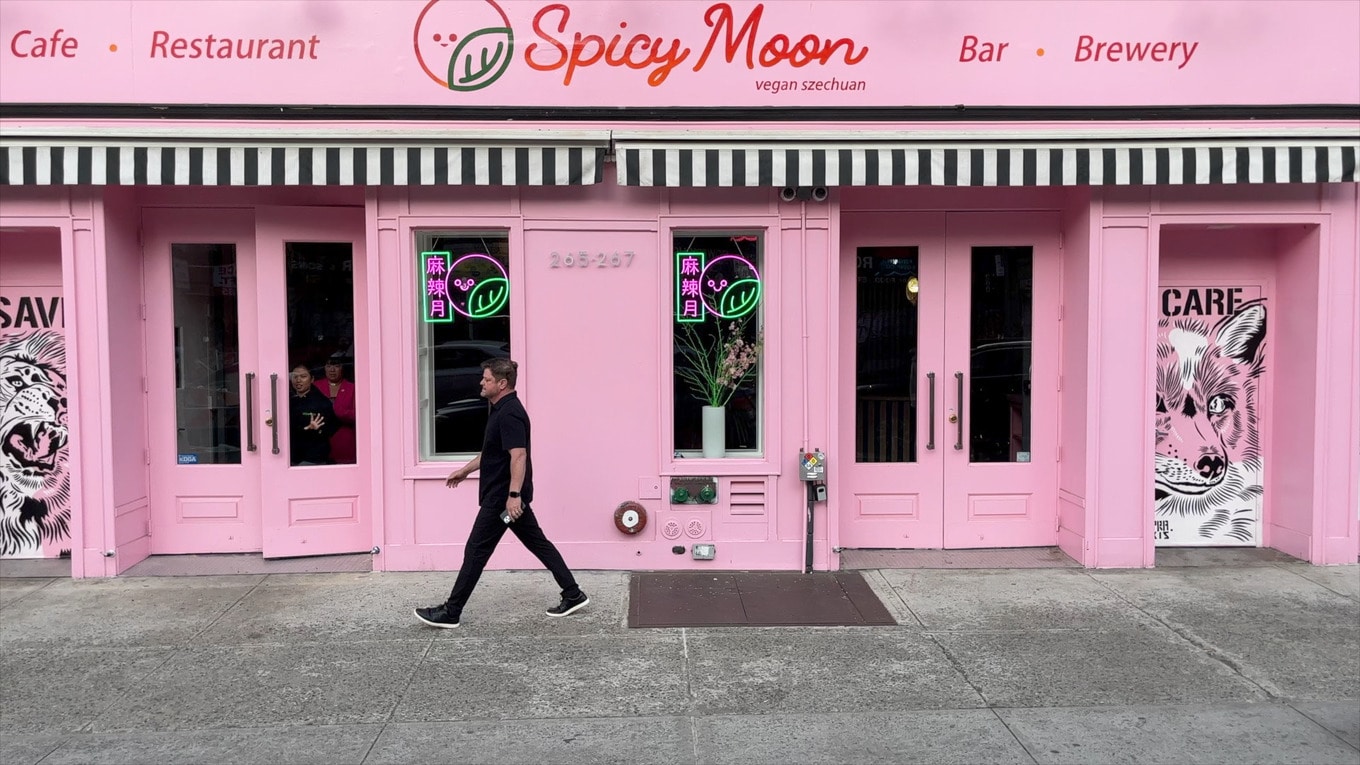 Matt Marshall
Spicy Moon on the Bowery is opening with a visual bang—right in tune with the punk rock history of the neighborhood.
Some of the local love for Spicy Moon stems from the unique way it has openly embraced the animal rights community: posting anti-fur signs, hiring vegan artists to paint animal-rights murals, supporting local sanctuaries, and even donating a bullhorn to activists for animal-rights marches. That bold ethical stance continues in the new space, where a giant "Defend Animals" quote greets all visitors inside the front door.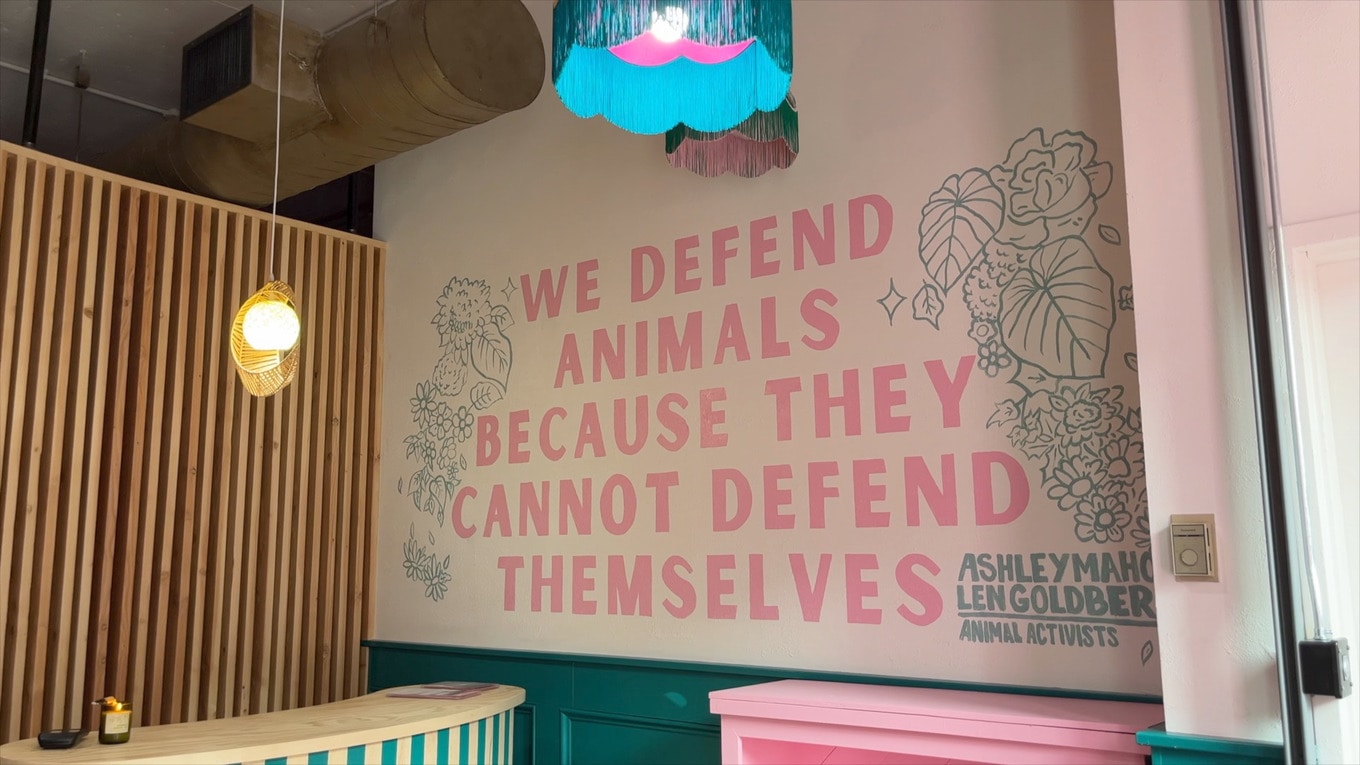 Matt Marshall
The authors of that quote—activists Len Goldberg and Ashley Ollie—traveled all the way from Canada to enjoy a preview of the new restaurant.
"I love being part of Spicy Moon's extraordinary work to achieve animal freedom," Goldberg tells VegNews. "It isn't just the tastiest restaurant ever, it's an historically influential animal liberation shrine."
For this massive space to be financially sustainable, the restaurant will also have to entice thousands of non-vegan customers to enjoy a flavorful, plant-based meal. Spicy Moon hopes to make this easier by utilizing the restaurant space in creative ways.
During the daytime, the bar will morph into a vegan caf​​é offering pastries and Szechuan-flavored coffee. It also plans to host events in the large private-dining space downstairs (which includes a backyard).
To help build a space that everyone in the community can enjoy, a stage has already been erected to welcome local musicians, comedians, and artists.
For the latest vegan news, read: