A few months ago, the abandoned building at 265 Bowery in New York City was covered in layers of graffiti. Today, it's home to Belse, a spacious upscale brewpub with a fully vegan food and drink menu. With 11,000 square feet (and almost 200 seats), Belse is by far the largest vegan restaurant ever to open in New York City. It's also the city's most vegan-friendly brewery.
In a city known for squeezing people into extremely tight spaces, Belse feels palatial with its high ceilings and spacious dining area spread out across two separate floors. Its inviting space has helped it get noticed by well-known diners seeking the city's finest vegan experiences. While it has only been open for a few weeks, Belse has already drawn visits from New Jersey Senator Cory Booker, television personality Gayle King, music legend Russell Simmons, and NYC Mayor Eric Adams. Due to its ample space, it's also become a popular meeting place for the city's many vegan organizations.
Later this month, Belse will host Vegan Drinks, NYC's longest-running vegan meetup.
Matt Marshall
The menu at NYC's biggest vegan restaurant
Belse comes from the team behind much-loved Little Pine in Los Angeles and its NYC outpost is its second location, which follows an opening in Dallas, TX in early 2021. Both locations offer similar upscale vegan comfort foods, with a few culinary nods to their sister restaurant in LA. Both Belse menus offer variations of Little Pine's apple sandwich, sausage fennel flatbread, and chick'n picatta.But, there are also many dishes unique to the just-opened New York City location.
Highlights include charred broccolini (with chipotle aioli), maitake risotto, an aubergine filet (with a mushroom au jus), and a cheese plate starring the gourmet vegan bleu cheese made by local Brooklyn-based brand RIND. Dessert includes (vegan) cookies and milk, harvest bark, and raw cheesecake.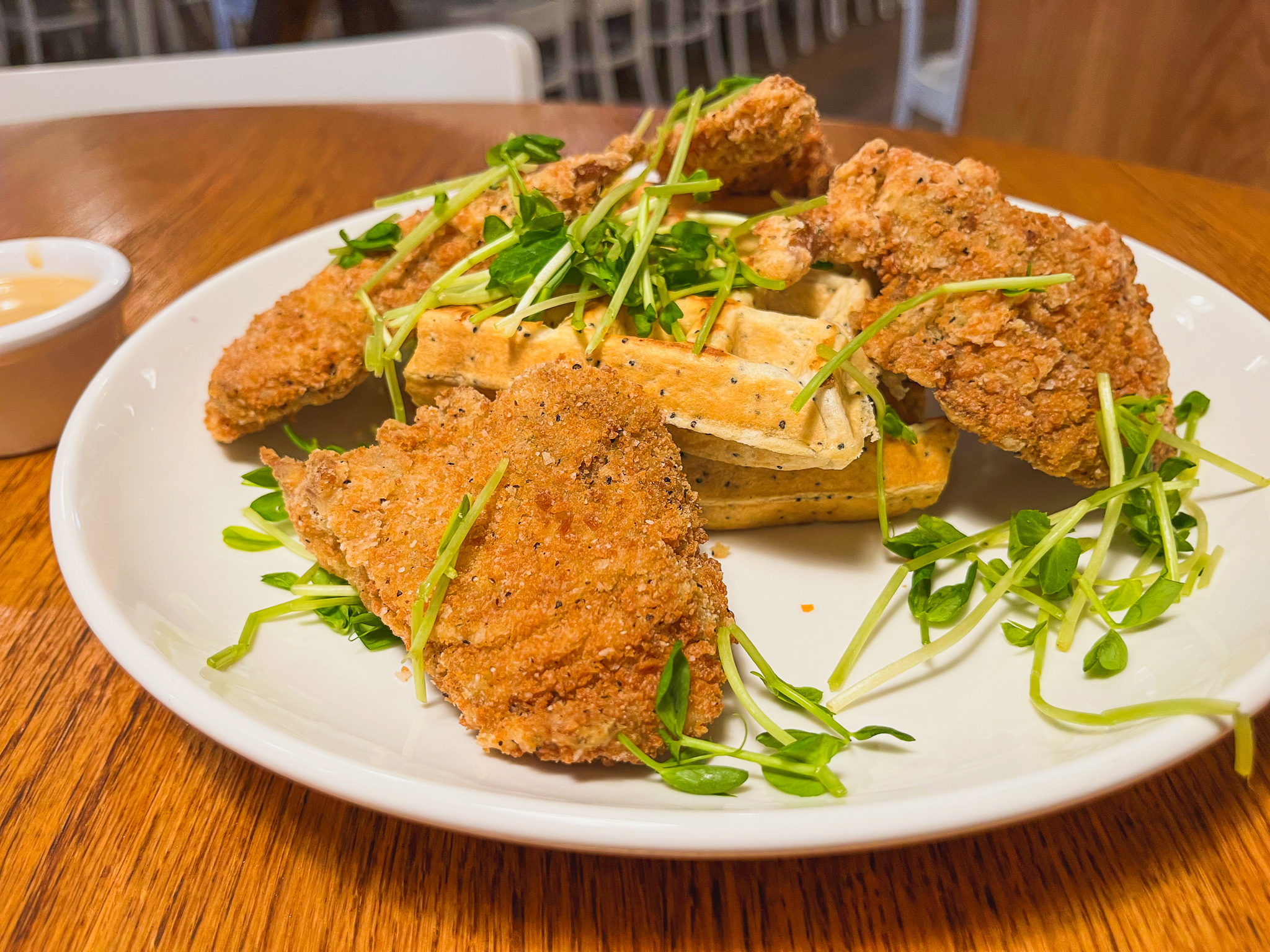 Matt Marshall
Belse also offers a full weekend brunch menu that includes banana pancakes, tofu scramble, chick'n and waffles, and more. The chick'n is house-made from breaded and fried oyster mushrooms and it is served over waffles with a creamy rum-infused maple syrup.
Local vegan foodies will be excited to learn that these dishes are the work of Executive Chef Anthony Spino. In recent years, Chef Spino has delighted diners at NYC pop-ups with his plant-based Italian food under the name Anthony's Eastside. Some of Spino's signature Italian dishes are expected to make an appearance on the Belse menu in the future.
The vegan brewpub side of Belse
As a vegan brewpub, Belse brews and serves all of its own beers on site. According to Belse, it's "the only 3-vessel German brewhouse in Manhattan." Large fermentation tanks are scattered around the space, lending it an industrial vibe.
Brewmaster Ryan Gillette started his menu with four beers: a pale lager, a blonde ale, a blackberry ale, and a hefeweizen (a hazy German wheat beer with subtle hints of banana and cloves). All beers go right from the tanks to the glass, offering customers a remarkable freshness. This gives Belse the potential to become a destination for craft beer aficionados, not just vegan diners.
Matt Marshall
Belse also has plenty to drink other than beer, including bottles of wine from Belse's own vegan winery in California and an upscale cocktail menu, featuring a Blueberry Amaretto Sour, the coconut cream-based Wild Card, and (during brunch) a Black & White Espresso Martini. Belse also serves a creative alcohol-free cocktail menu, featuring drinks such as the Blackberry Coconut Mojito.
Belse is part of the changing face of the Bowery, one of NYC's most storied avenues. It sits just two blocks from the former site of CBGB's, the gritty club where hardcore and punk bands like The Ramones kick-started their careers. Belse continues to push boundaries in the Bowery with its own approach. For one, its logo is designed by legendary street artist Shepard Fairey. It features hands holding up the Earth within a Lotus flower, which Fairey says represents "harmony with the planet and the cultivation of good karma."
Chef Spino is impacting that changing neighborhood in his own way, with his own form of protest art: world-class cruelty-free cuisine. "Our restaurant and brewery is unlike anything else in the world," Chef Spino told VegNews. "It's a state-of-the-art brewery with elevated plant-based cuisine in the greatest city in the world. The menu offers incredible food, made from the best ingredients, in a beautiful setting, where we feel comfortable and want to stay a while. That's Belse."
For the latest vegan news, read:Burger King Adds NotCo's High-tech Vegan Chicken to Menu in ChileFirst Vegan Cheddar and Mozzarella Made From Watermelon Seeds Debuts
CA Is First State To Support Plant-Based School Meals With $700M Investment