Mumbai-based startup Katharos recently launched a one-of-a-kind watermelon seed-based range of vegan cheese, which includes cheddar and mozzarella. According to the company, they are the world's first cheese blocks made with watermelon seeds. The soft, creamy cheeses are made with other simple ingredients such as coconut oil, carrageenan (a seaweed extract), apple cider vinegar, corn and potato starch, and nutritional yeast; and they can be melted and grated on pizza, sandwiches, burgers, fondue, and more.
Founded in 2019 by Jasmine Bharucha, Katharos—which means "pure" in Greek—aims to revolutionize the vegan food industry in India by employing modern plant biochemistry and food science to create plant-based alternatives to dairy products. In addition to the new watermelon seed-based cheese, the brand also offers cashew-based pizza cheese sauce; soft cheese spreads in flavors such as peri-peri, roasted cumin, jalapeno, and nacho; almond-based feta cheeses; and energy balls made with dates, cashews, and sunflower seeds. Katharos's products are currently available through its own website as well as Indian online grocery retailers Big Basket and Urban Platter.
"We are delighted to add the world's first watermelon seed-based cheddar and mozzarella to our product line," Bharucha said in a statement. "These cheeses are not only nutritious but also rich in texture and flavor. We firmly believe in bringing healthy and affordable plant-based products to people. This is another step towards appeasing the cheese cravings of steadfast and transitioning vegans."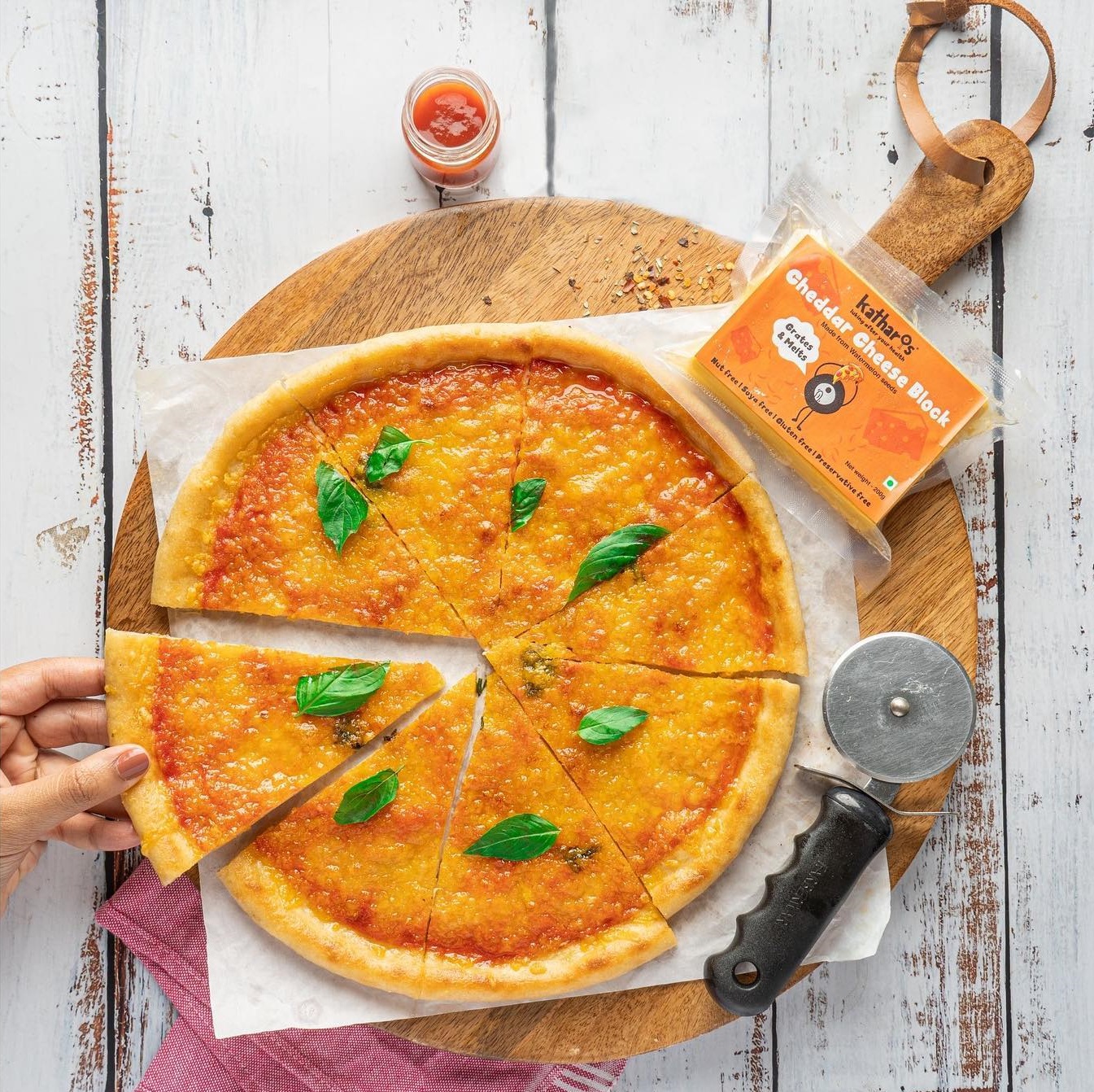 Katharos
What is vegan cheese made of?
While the first iterations of vegan cheeses were often made from starches and oils, the industry has evolved to more realistic options often made using cultures and a variety of nuts such as cashews and almonds. Watermelon seeds may be the secret to next-level vegan cheese, and Katharos is not the first to experiment with the unique ingredient.
Earlier this year, American vegan brand Miyoko's Creamery debuted a first: cultured vegan cottage cheese made from organic watermelon seed milk and sunflower seed milk. The new Cultured Plant Milk Cottage Cheese offers the same mild taste and creamy, curded texture as traditional dairy-based cottage cheese and is expected to launch in retail stores next year.
During research and development, Miyoko's innovation team tested a variety of cultures and formulations and researched how different plants and their proteins work in cheesemaking. During their research and development, they discovered that watermelon seeds are high in a protein called globulin that helps with coagulation.
"The idea for cottage cheese originated in my home kitchen when I was playing around with various plant milks and discovered a way to form curds that resembled cottage cheese," Miyoko's Creamery founder Miyoko Schinner told VegNews. "I handed the project over to our innovation team, which developed the processes to create a consistent quality curd system, as well as best overall flavor, testing a variety of cultures and otherwise fine-tuning the formula through many iterations."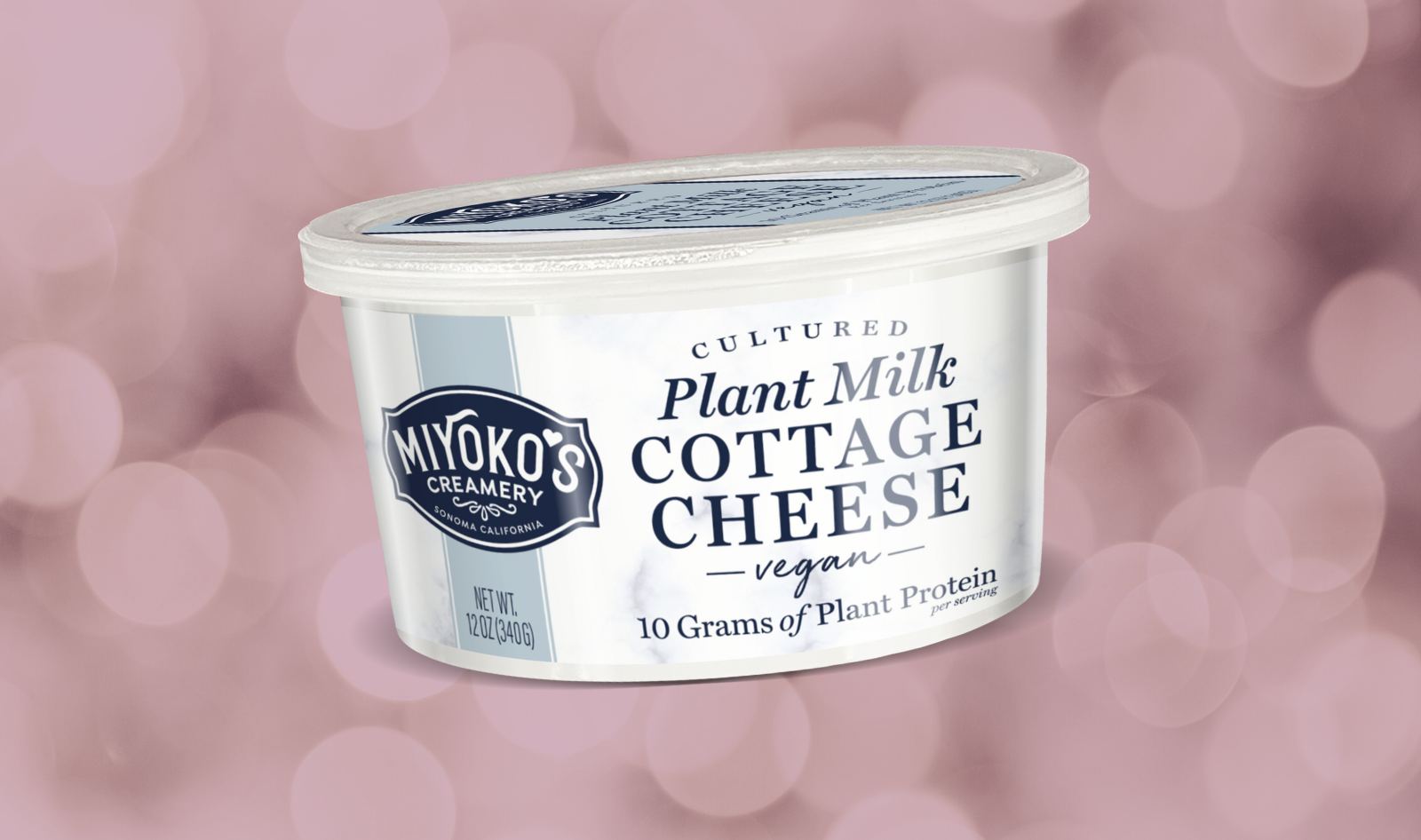 Miyoko's Creamery
Vegan cheesemaking techniques
While Katharos and Miyoko's are experimenting with watermelon seeds, other companies are working to make use of other high-protein ingredients such as beans in vegan cheese. Over in Amsterdam, food-technology startup Mr. & Mrs. Watson is launching the first vegan cheese wheel made from fava beans. The sliceable, Gouda-style cheese is fermented in the same way as traditional dairy cheese and offers a high protein content from fava beans, which it uses instead of cow's milk.
To create the new Gouda cheese, Mr. and Mrs. Watson first makes plant milk from locally grown fava beans, ferments it using live cultures the same way dairy cheese is made, and the resulting liquid is poured into traditional cheese molds. "It is time that beautiful, traditional, and high-protein cheese substitutes are introduced to the market that are accessible to the general public," Nick Piña, co-founder of Mr. & Mrs. Watson, said in a statement. "With our plant-based sliced cheese, we are setting a new standard in terms of nutritional value, craftsmanship and taste."
Meanwhile, other startups are also employing traditional cheesemaking techniques when making vegan cheese in an effort to replicate the flavor and texture of dairy cheese and ultimately disrupt the dairy industry altogether. Canadian vegan startup Future of Cheese was co-founded in 2020 by entrepreneur Jen Wojtaszek, chef Craig Harding, and Maître Fromager (cheese master) Afrim Pristine. The startup uses a cashew base to make plant-based versions of traditional ripened brie that is naturally aged and has a delicate, ripe rind.
"Our products are created by experts who have spent a lifetime mastering the art of cheesemaking and perfecting culinary mastery from the best in the world," Wojtaszek told VegNews. When Future of Cheese launched its first plant-based Ripened Brie in 2021, it promptly sold out in less than 24 hours of its pre-sale launch.
For the latest vegan news, read:
India Releases Its First Log and Standards for Vegan Food Products

Will Wingstop Add Vegan Chicken Wings For Lizzo?

Why DoorDash Tapped Slutty Vegan's Pinky Cole As its New Advisor