Vegan brand Miyoko's Creamery is debuting cultured vegan cottage cheese—the first of its kind—in retail stores in early 2023. Made from organic watermelon seed milk and sunflower seed milk, the new Cultured Plant Milk Cottage Cheese offers the same mild taste and creamy, curded texture as traditional dairy-based cottage cheese. Miyoko's vegan cottage cheese also features a similarly high protein content, offering 10 grams of plant-based protein per half cup serving.
During research and development, Miyoko's innovation team tested a variety of cultures and formulations before landing on the right one. The team also researched how different plants and their proteins work in cheesemaking, and discovered that watermelon seeds are high in a protein called globulin that helps with coagulation.
"The idea for cottage cheese originated in my home kitchen when I was playing around with various plant milks and discovered a way to form curds that resembled cottage cheese," Miyoko's Creamery founder Miyoko Schinner told VegNews. "I handed the project over to our innovation team, which developed the processes to create a consistent quality curd system, as well as best overall flavor, testing a variety of cultures and otherwise fine-tuning the formula through many iterations."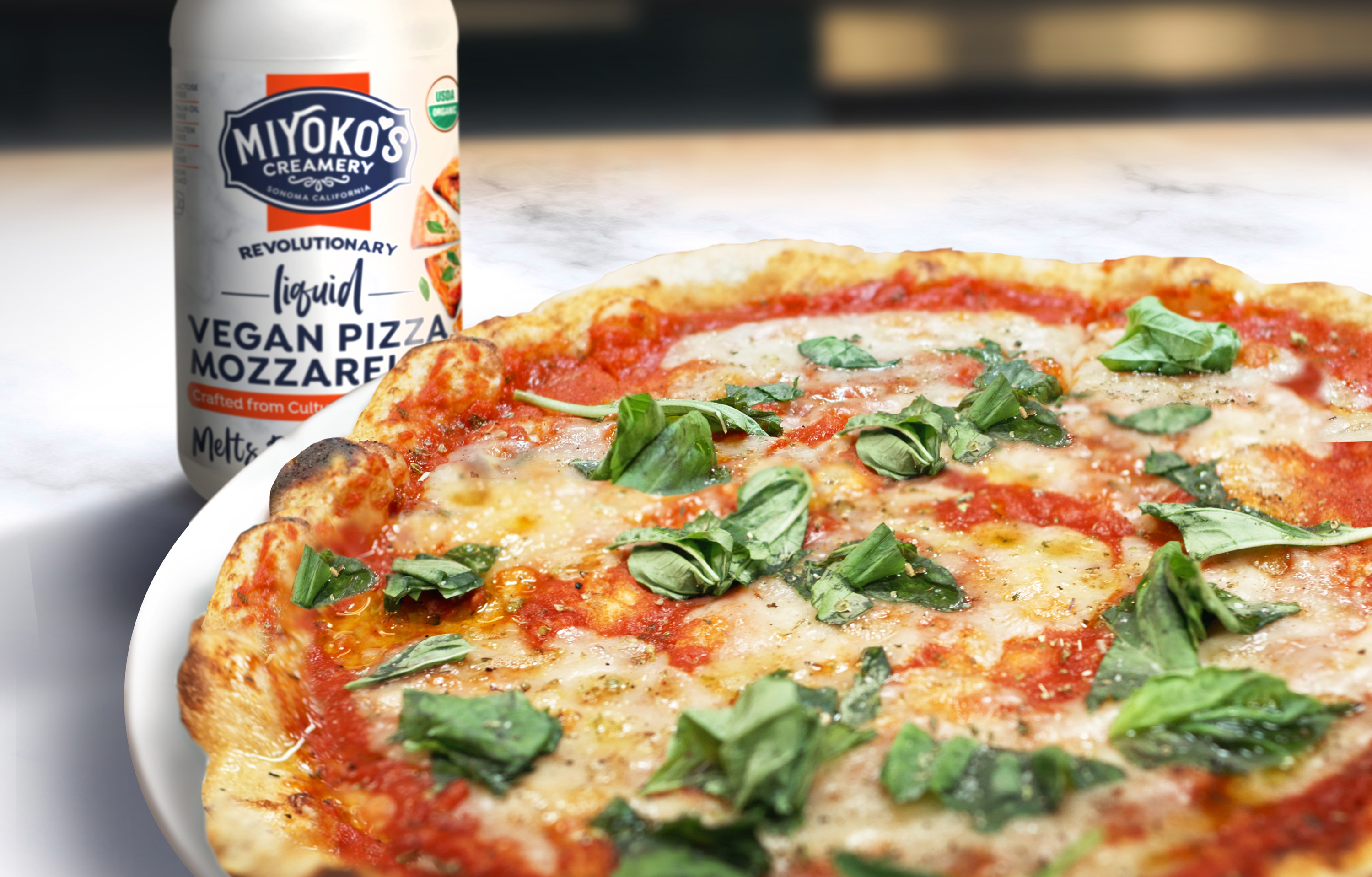 Miyoko's Creamery
Miyoko's breaks the dairy-free cheese mold
Last year, Miyoko's debuted another first in the vegan cheese category: liquid mozzarella. Made with cultured cashew milk, Miyoko's first-of-its-kind pourable vegan mozzarella was created to provide a product that melts perfectly on pizza. Rather than creating a traditional solid block of vegan cheese that needs to be shredded on pizza, Miyoko's removed the solids and other ingredients that hinder meltability.
"My goal was to create a vegan cheese worthy of pizza," Schinner previously told VegNews. "A vegan pizza cheese that is so good that pizza lovers cannot believe it is vegan and inspires people to change their cheese to change the world."
The pourable vegan mozzarella is one of the first items to benefit from a $52 million series C funding round the company raised last fall. With the funding, Miyoko's has also been expanding its research and development efforts, including working on another version of its liquid vegan pizza mozzarella that uses watermelon seed milk instead of cashews, so that there's a nut-free and allergen-friendly version available. The new version is now becoming available exclusively in food service.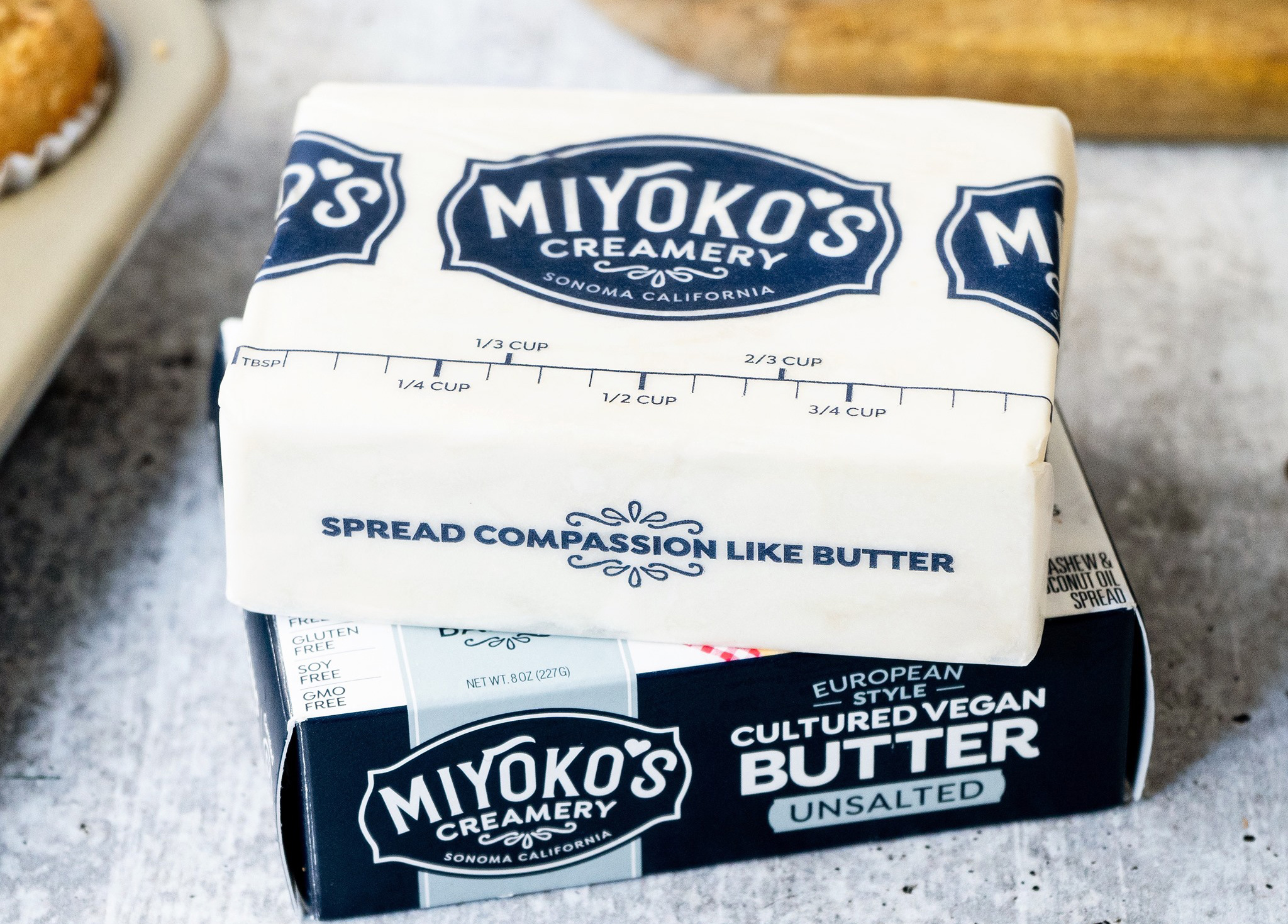 Miyoko's Creamery
Revolutionizing vegan cheese and butter
Schinner founded Miyoko's Creamery in 2014 and is working to build a future where an animal-free dairy food system is a reality. By combining old-world creamery traditions with new, innovative technology, Miyoko's Creamery has revolutionized the cheese and butter categories, demonstrating how plant dairy is, in fact, dairy. The brand offers a selection of more than 25 plant-based cheeses and butters that can be found at nearly 20,000 retailers nationwide, including Whole Foods, Target, Trader Joe's, and Walmart.
To further disrupt the traditional dairy industry, Miyoko's is now working to create large, aged vegan cheese wheels for cut and wrap operations—just like those displayed in delis and cheese shops. The first of these aged, deli-style cheeses is 13-month-old parmesan and eight-month-old smoked provolone.
"[They're] not solidified oil and starch, but truly cultured cashew milk cheese that gained its texture and flavor with long aging," Schinner told VegNews. "We're doing similar things with nut-free milks as well, and seeing some exciting results. Unfortunately, because these products have to age, we won't be able to share them with the public for at least a year—but good things are worth waiting for."
For more about vegan cheese, read:
VegNews Guide to the 15 Best Vegan Cheese Brands
Vegan Babybel is Here and It's Wrapped in Green Wax
15 Ways To Use Miyoko's New Vegan Pourable Mozzarella