French cheese brand Bel Group is releasing a vegan version of its famed Babybel cheeses. To recreate the eating experience of the original, the mini vegan cheese wheels come wrapped in wax but instead of the classic red color, these new dairy-free cheeses are covered in a peelable green wax. The new Babybel Plant-Based cheeses are certified vegan by The Vegan Society and fortified with calcium and B12.
"We've seen overwhelming demand for the development of a vegan-friendly Babybel over the years, and with the plant-based market continuing to grow substantially, the new launch is perfectly timed to meet this consumer appetite," Babybel brand manager Ollie Richmond told The Grocer.
The new vegan Babybel cheeses (£2 per five pack) will hit Sainsbury's stores in the United Kingdom on January 1, in time for the annual Veganuary campaign which challenges people to go vegan for the month of January and beyond. Sold in recyclable packaging, the Babybel vegan cheeses are expected to hit additional stores and regions after the initial Sainsbury's launch.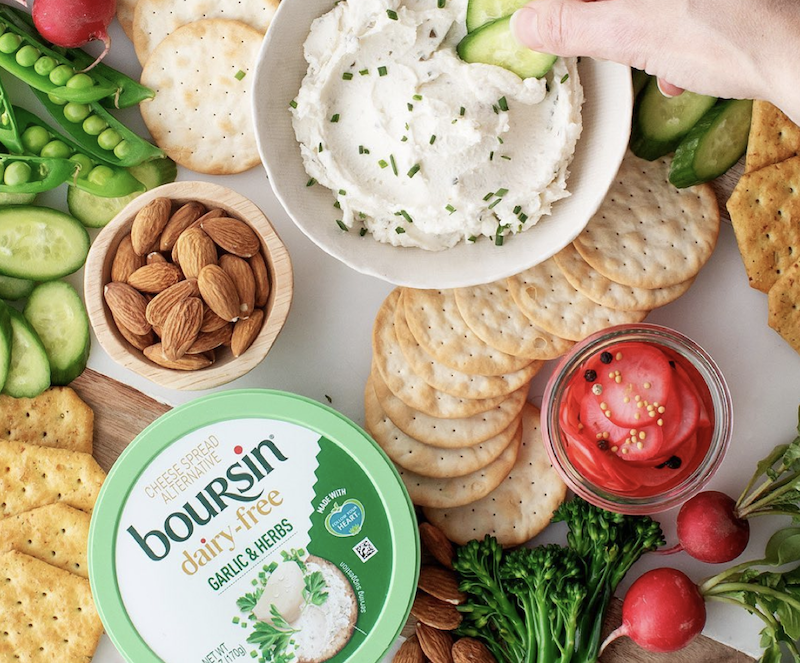 Bel Group
Bel Group gets into vegan cheese
Bel Group is acutely aware of the demand for vegan alternatives to cheese and the French giant is working to develop plant-based alternatives to its classic cheese products. The launch of vegan Babybel cheeses follows Bel Group's release of its first vegan cheese product: Boursin Dairy-Free Cheese Spread Alternative. The vegan Boursin spread was developed in partnership with iconic vegan brand Follow Your Heart and is made from organic coconut oil and organic expeller-pressed canola oil. The vegan Boursin hit shelves at retailers such as Trader Joe's last year.
"For the past year, we have been accelerating the [Bel] Group's transformation, with the conviction that a responsible and profitable growth is possible: an enlightened 'capitalism' that is moving from a logic of balance of power to a logic of value sharing, beyond any major stakes," Bel Group's Executive Vice President Cécile Béliot told Food Dive last year. "This is what guides all the [Bel] Group's actions today."
In addition to developing vegan versions of its iconic cheeses, the Bel Group launched a wholly new vegan cheese line. In April, the French company launched Nurishh in the United States on Amazon Fresh and at select retailers. The new vegan cheese line features six flavors and two formats: mozzarella, provolone, and cheddar slices and mozzarella, cheddar, and mozzarella/cheddar blend shreds. Outside of the US, the Nurishh line also features a vegan camembert-style cheese wheel.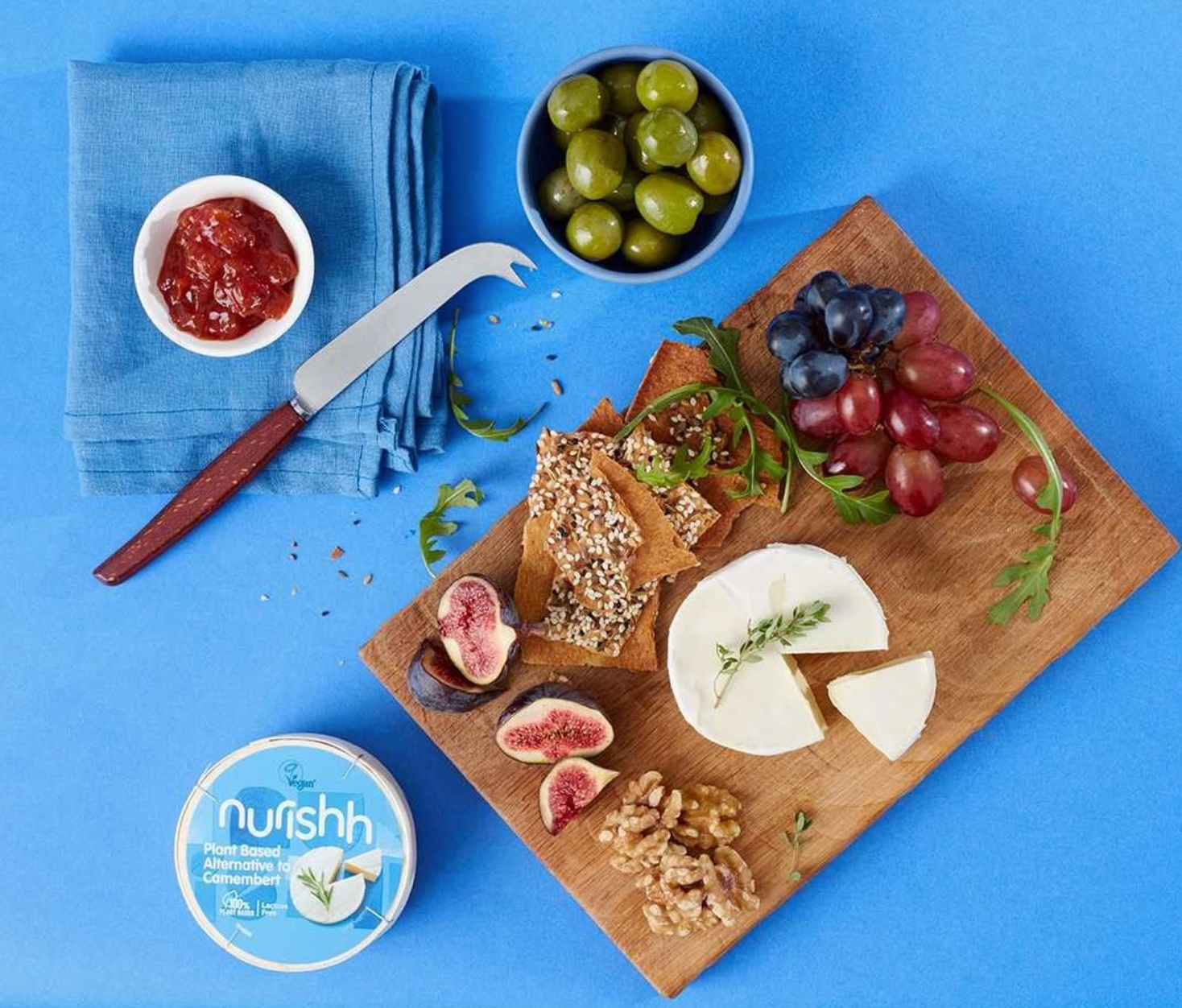 Bel Group
To further diversify its portfolio with plant-based products, the Bel Group recently acquired French startup All in Foods, which produces plant-based products under the Nature & Moi brand.
What about vegan Laughing Cow wedges?
The Bel Group also owns the Laughing Cow brand, known for its snackable cheese wedges. While the French company has yet to release dairy-free Laughing Cow wedges, vegan brand GOOD PLANeT Foods beat it to the punch with the launch of its own version.
GOOD PLANeT launched the world's first vegan cheese wedges—packaged individually and packed into a round box—in August at retailers across the United States. These vegan cheeses are allergen-friendly and available in Original, Smoked Gouda, and Pepper Jack flavors.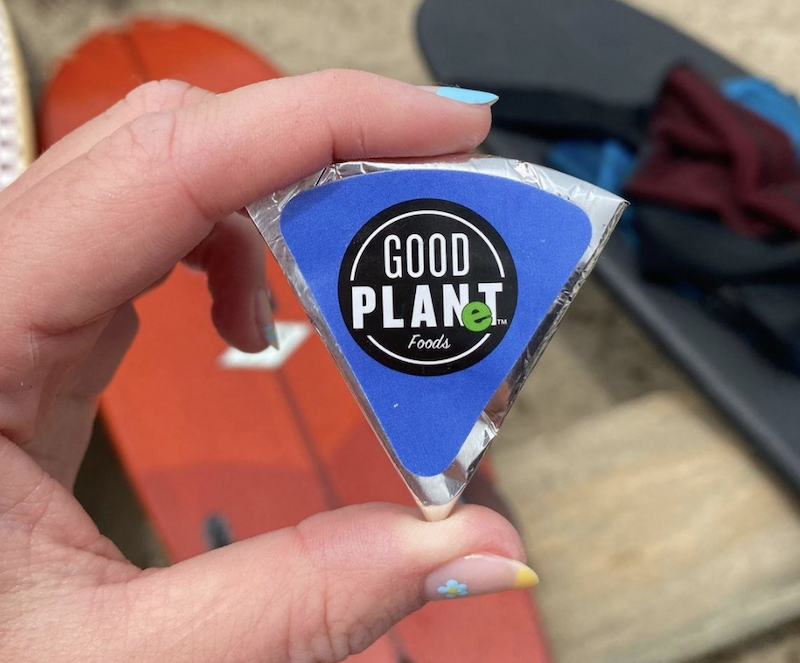 Good PLANeT
"We are committed to growing the [plant-based cheese] segment by making it easy for consumers to make a sustainable choice and choose plant-based," Bart Adlam, co-CEO of GOOD PLANeT, said in a statement. "With this innovation, we are delivering an allergen-free, keto-certified, plant-based snackable cheese wedge that delivers all the creaminess, satisfaction, and taste of dairy cheese."
For more about vegan cheese, read:
Toronto Cheese Master Makes Realistic Vegan BrieGeneral Mills' First Vegan Cheese Is Made With Animal-Free WheyFollow Your Heart Launches Vegan Feta Cheese