From today and through October 24, Miyoko's Creamery is giving away 1,000 free vegan pizzas in partnership with Northern California chain Pizza My Heart. At three locations (Palo Alto, Capitola, and Monterey), the chain will offer a free Vegan Big Sur pizza, which features Miyoko's Liquid Vegan Pizza Mozzarella, roasted garlic, Field Roast vegan pepperoni, Beyond Meat Italian sausage, portobello mushrooms, and green onions.
Made with cultured cashew milk, Miyoko's first-of-its-kind pourable vegan mozzarella was developed to provide a product that melts perfectly on pizza. Rather than creating a traditional solid block of vegan cheese that needs to be shredded on pizza, Miyoko removed the solids and other ingredients that hinder meltability.
"My goal was to create a vegan cheese worthy of pizza," Mioyoko's Creamery founder Miyoko Schinner previously told VegNews. "A vegan pizza cheese that is so good that pizza lovers cannot believe it is vegan and inspires people to change their cheese to change the world."
The free pizzas are available between 5pm and 8pm at the three Pizza My Heart locations while supplies last and the chain will also offer 50 percent off the Vegan Big Sur pizza at all 23 locations throughout the weekend.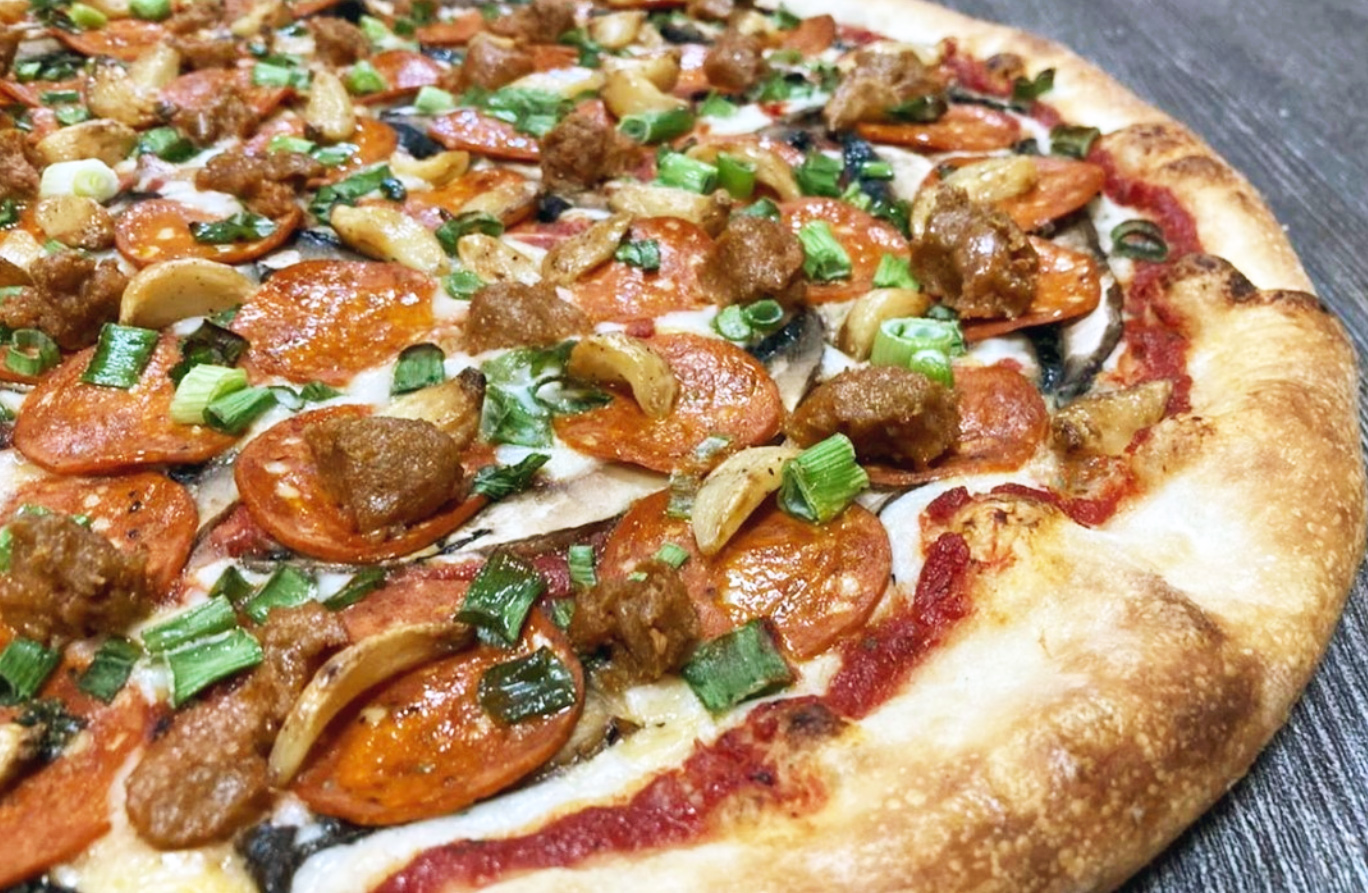 Better vegan cheese makes for great vegan pizza
Miyoko's free pizza giveaway follows the "Miyoko's Mind-Blowing, World-Changing, Phenomenally Vegan Pizza Tour" that gave away 10,000 slices of vegan pizza on a multi-city tour through America's "Pizza Belt" earlier this month. Both giveaways were created to showcase the company's groundbreaking new vegan cheese.
According to the company, Miyoko's Liquid Vegan Pizza Mozzarella generates 98 percent less greenhouse gas emissions than conventional animal dairy mozzarella. When you compare this to conventional mozzarella—which accounts for approximately 80 percent of cheese production in the United States—Miyoko's new product has the ability to change how people choose their cheese. In addition to being offered to the foodservice sector, the new vegan pourable mozzarella hit retail shelves starting with select Sprouts locations this week. Additional retail partners will be announced in January 2022.
Last year, Miyoko's first tested its new pourable mozzarella at Pizza My Heart and the new giveaway celebrates this long-standing partnership. "While Pizza My Heart has offered vegan options, we haven't always done it well. We have long searched for a mozzarella with the taste profile that would appeal beyond the hardcore vegan community. This is the first vegan mozzarella that we've tasted that can do that," Pizza My Heart CEO Spencer Glenn said in a statement. "With Miyoko's Cultured Vegan Pizza Mozz, we truly believe everyone, including our customers who are omnivores, have lactose intolerance, or other dietary issues, don't need to sacrifice taste and texture to enjoy our delicious pies and slices."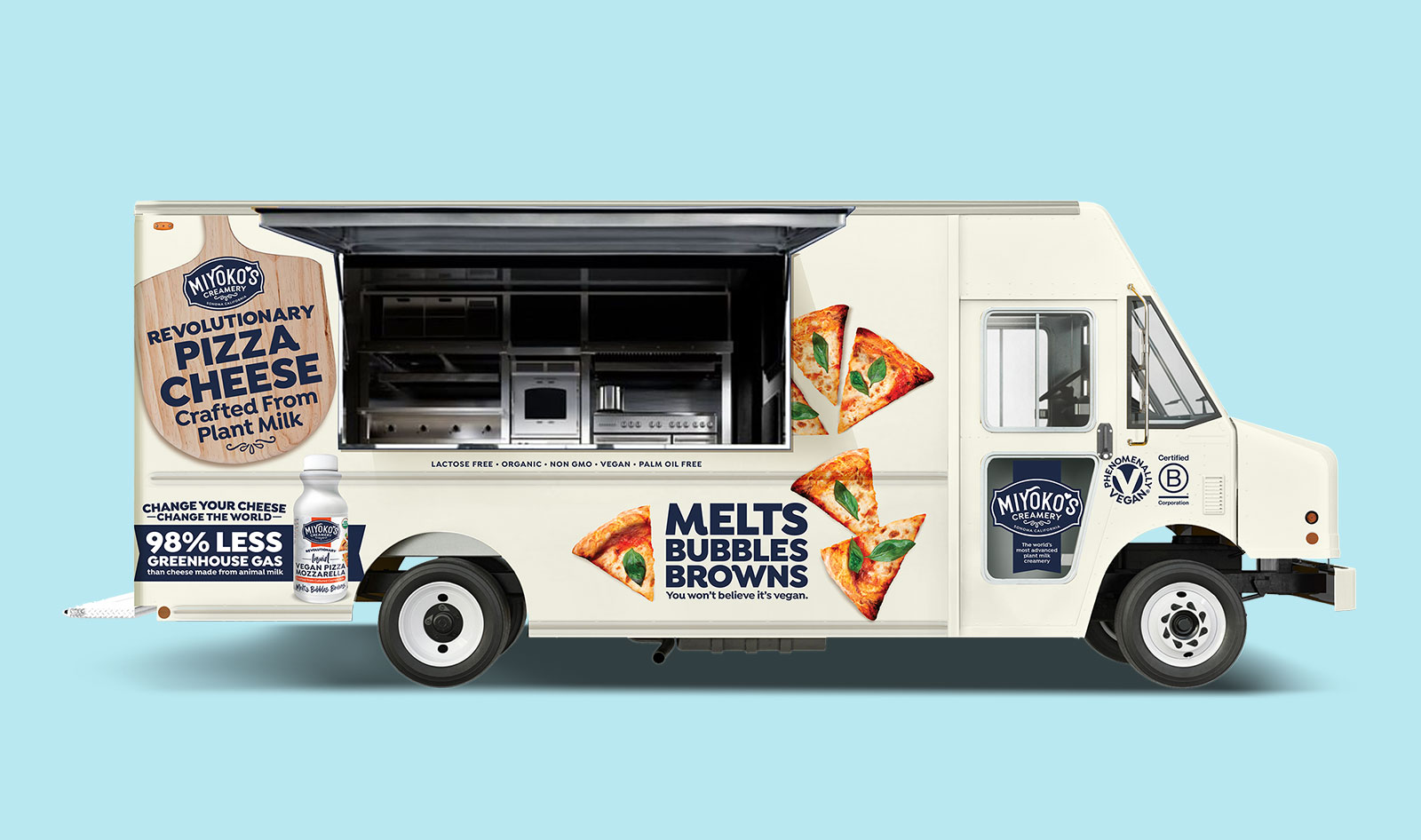 A mission to revolutionize the dairy industry
Schinner founded Miyoko's Creamery in 2014 and is working to build a future where an animal-free dairy food system is a reality. By combining old-world creamery traditions with new, innovative technology, Miyoko's Creamery has revolutionized the cheese and butter categories, demonstrating how plant dairy is, in fact, dairy. The brand offers a selection of more than 25 plant-based cheeses and butters that can be found at nearly 20,000 retailers nationwide, including Whole Foods, Target, Trader Joe's, and Walmart.
Miyoko's recently secured $52 million in a series C funding round, which will allow the company to finance an expansion into the foodservice industry as well as hire up to an additional 10 research and development employees. The pourable vegan mozzarella is one of the first items to benefit from this funding.
For more about Miyoko's Creamery, read:
There's Now A Miyoko's Creamery … Vegan Ice Cream. Here's Where To Get It.
Vegan Cheese Queen Miyoko Schinner Is Making Wine Country Vegan Friendly
Miyoko's Shocks Cheese Lovers At Secret Vegan Pop-Up In San Francisco