Vegan jerky is a great investment in the planet, animal welfare, and health, according to Rizwan H. Bukhari, MD, owner of the North Texas Vascular Center, a surgical medical facility in Mesquite, TX.
The vascular surgeon invested in Texas-based vegan jerky company All Y'alls Foods as part of a $1 million Simple Agreement for Future Equity (SAFE) note raise and said his investment is one that can help support a shift away from animal products and toward healthier foods.
"I am excited to join forces by investing in and becoming All Y'alls Foods medical adviser to help promote and develop healthier alternatives to animal-based products," Bukhari said in a statement.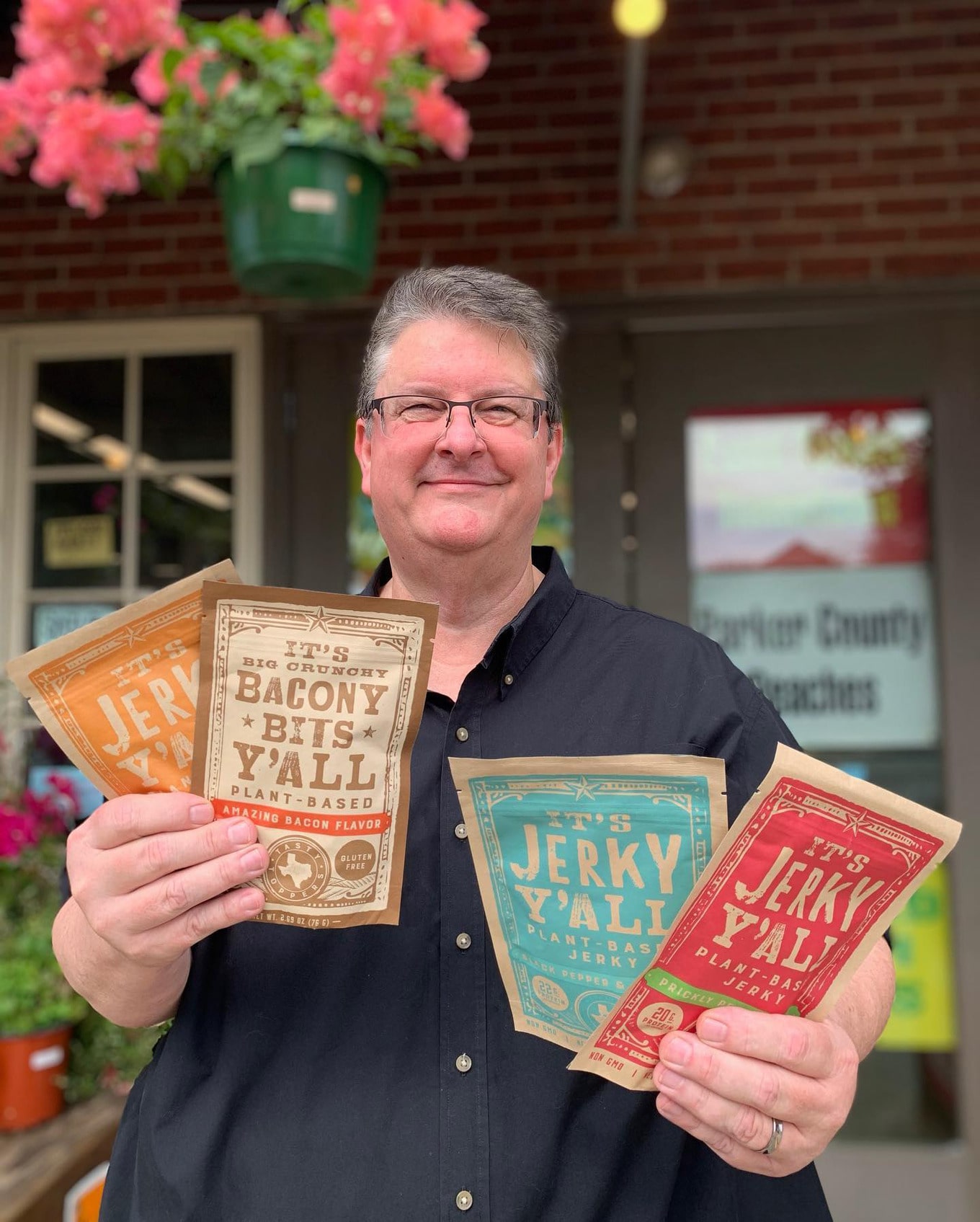 All Y'alls Foods
Brett Christoffel founded All Y'alls in 2018 as a better-for-you jerky company. It produces its plant-based jerky from soy, olive oil, and seasonings with flavors that speak to different regions of Texas, including Black Pepper and Sea Salt, Prickly Pear Chipotle, and Prickly Pear Teriyaki.
"We celebrated our fifth anniversary on May 18, and I've boot-strapped All Y'alls Foods myself the whole time," Christoffel said in a statement. "Now, with the help of investors, it is time to grow."
Christoffel explained that over the last five years, he has been focused on steadily growing All Y'alls in order to make a real impact. "I had my nose to the grindstone, offering plant-based jerky, a delicious alternative to beef jerky in the great state of Texas—beef capital of the world," he said.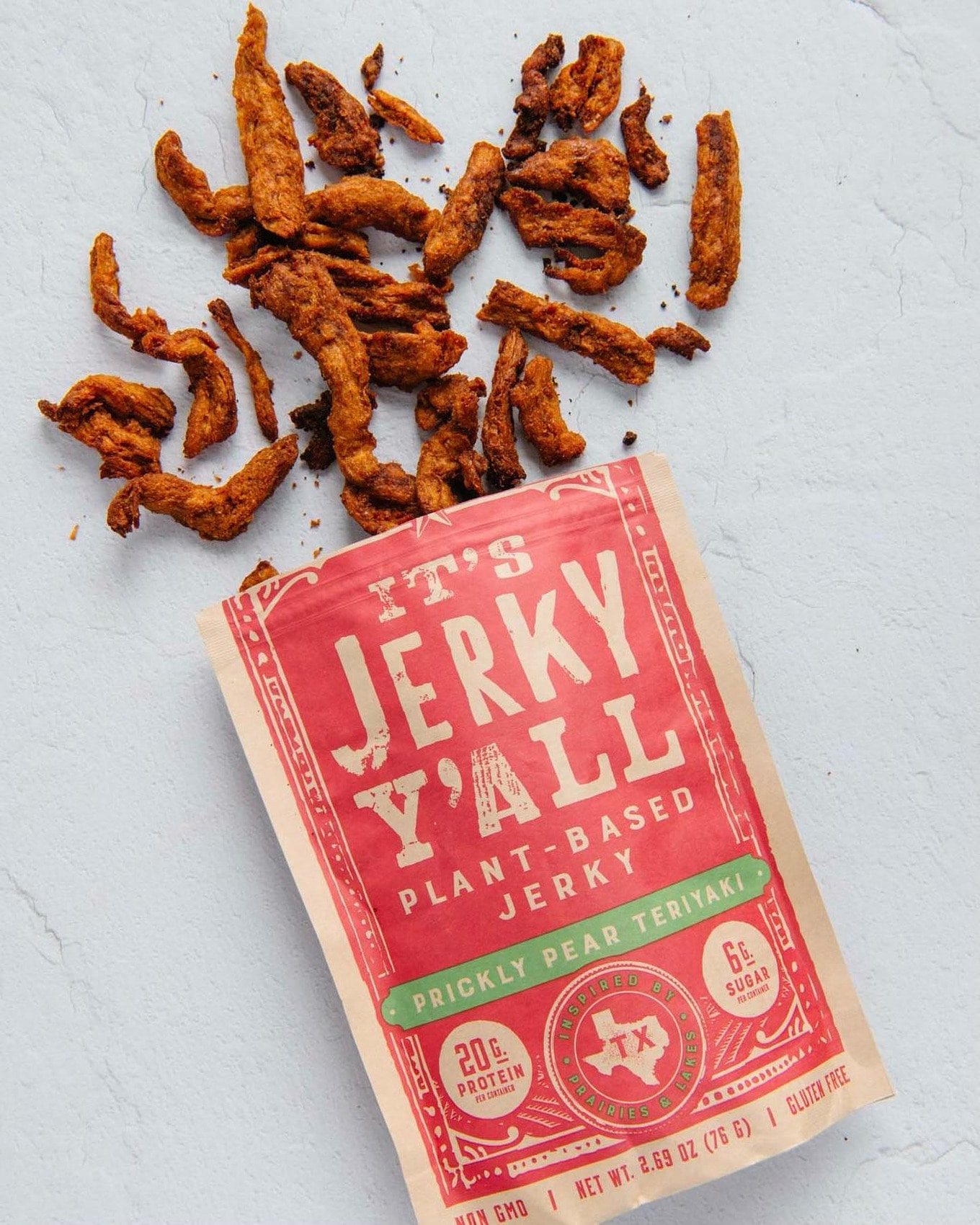 All Y'alls Foods
Bukhari's investment, a first for All Y'alls, and role in the company as a medical advisor comes at a time when it is doubling down on growth. "Sales exceed expectations, with 2023 becoming the year we achieve stable profitability," Christoffel said.
"Since my team and I have built a solid foundation, it is time to ramp up as quickly as possible," he said. "Having Dr. [Bukhari], a capable, mission-aligned investor who gets it, as our medical adviser is incredibly timely and meaningful."
Meatless jerky is a good investment
Making tasty vegan jerky—and plant-based bacon bits—is part of the company's greater mission of disrupting the whole jerky category with better alternatives.
"Replacing beef jerky is a big goal, but it's working," Christoffel said. "By focusing on smart growth and delivering enjoyable bold, uniquely flavored proteins that are better for people, animals and our planet, we are tapping into what consumers want: a great taste that doesn't harm personal or planetary health."
And Bukhari is not the only one who thinks vegan jerky is a great investment. Billionaire Mark Cuban—owner of NBA team Dallas Mavericks—is also a vocal proponent of plant-based products. In a 2020 episode of Shark Tank, Cuban invested $300,000 in vegan brand Pan's Mushroom Jerky in exchange for 18 percent equity in the company. "I'm a vegetarian so I live this," Cuban said to convince the jerky company's founder Michael Pan to take his deal over the other "Sharks" offers.
Multinational food and beverage giant PepsiCo also put its weight behind Beyond Meat to develop vegan snacks, starting with plant-based jerky. In 2021, the two companies formed a joint corporation called the "Planet Partnership" to develop plant-based snacks and drinks—which would gain mass distribution with Pepsi's well-established networks.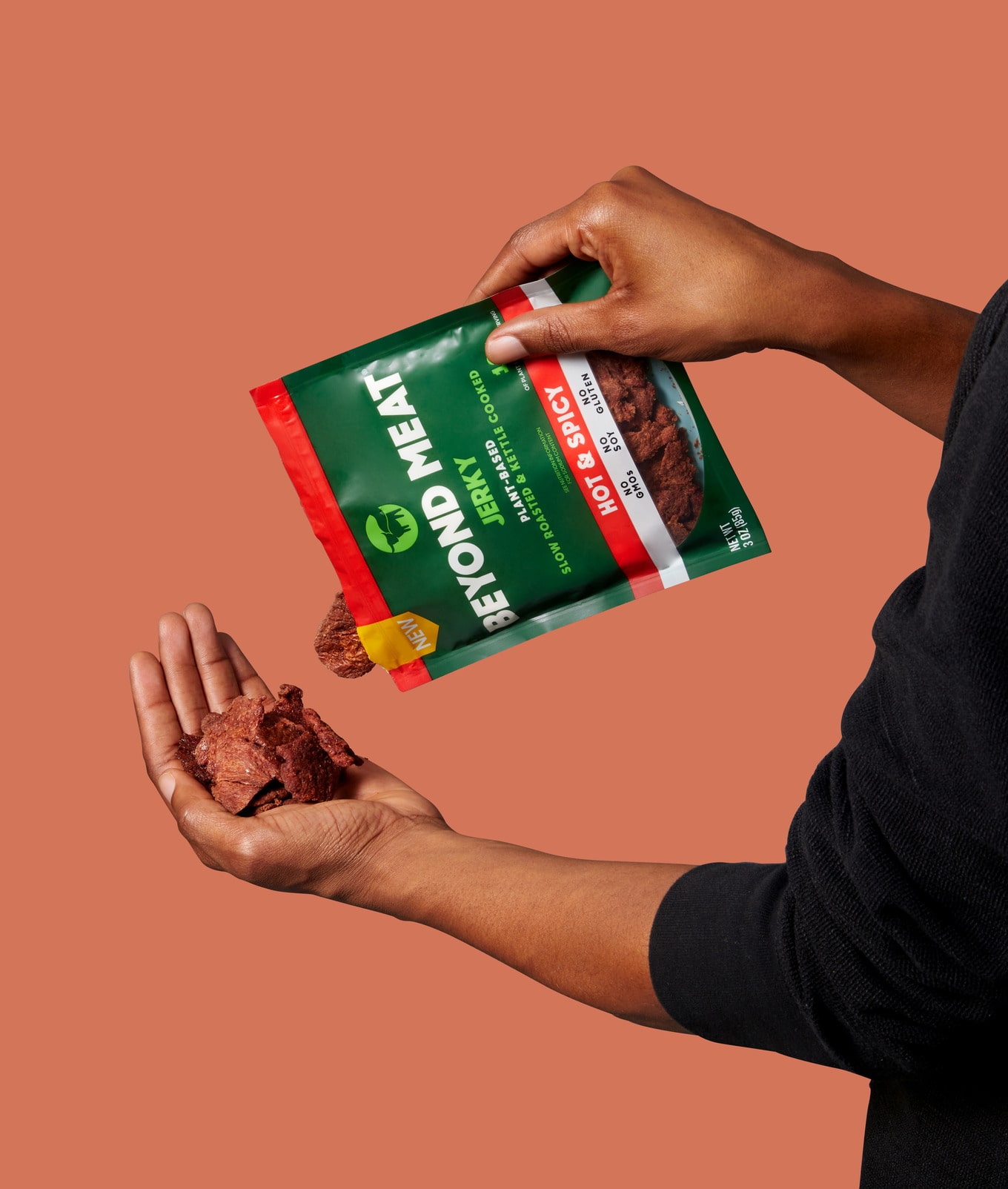 Beyond Meat
Last year, the first product to come out of the partnership was vegan jerky made from a base of pea and mung bean proteins in three flavors: Original, Hot & Spicy, and Teriyaki.
"Consumers are increasingly looking for sources of nutritious, sustainable protein, and this was the perfect opportunity to meet those needs in a plant-based snack that's delicious and convenient," a Planet Partnership spokesperson told VegNews at the time.
Meat and vascular health
In addition to being a good financial investment, vegan jerky, as Bukhari points out, is also an investment in health as it provides a snack option that can replace beef-based jerky.
Meat consumption has been linked to a number of health issues, including various vascular diseases. Last year, a study found that eating just one serving of red meat can substantially increase the risk of cardiovascular disease.
Rawpixel
Published in medical journal Arteriosclerosis, Thrombosis, and Vascular Biology, the study involved nearly 4,000 American men and women over age 65, and showed that higher meat consumption is linked to higher risk of cardiovascular disease—22 percent higher risk for approximately every 1.1 serving per day.
Researchers identified that specific components in animal meat were connected to this elevated cardiovascular disease risk.
"Interestingly, we identified three major pathways that help explain the links between red and processed meat and cardiovascular disease—microbiome-related metabolites like TMAO, blood glucose levels, and general inflammation—and each of these appeared more important than pathways related to blood cholesterol or blood pressure," study co-senior author Dariush Mozaffarian, Dean for Policy at the Friedman School, said in a statement.
"This suggests that, when choosing animal-source foods, it's less important to focus on differences in total fat, saturated fat, or cholesterol, and more important to better understand the health effects of other components in these foods, like L-carnitine and heme iron," Mozaffarian said.
Other studies have linked the consumption of meat to cancer, heart disease, diabetes, and dementia—making vegan jerky an even more attractive investment.
For the latest vegan news, read: