Known for its love of cars and Motown, Detroit, MI may actually surprise visitors with its abundance of plant-based fare. The days of lackluster iceberg salads and soggy veggie burgers have been replaced with crispy Detroit-style deep-dish pizzas, spicy noodles, and even traditional soul food. If Detroit wasn't on your travel list, it needs to be! Aside from tantalizing vegan fare, the city is also home to world-class cultural institutions, a diverse music scene, and sports teams that can't seem to catch a break—but Detroiters love 'em nevertheless! When you visit, don't miss these eight vegan-friendly restaurants in Detroit.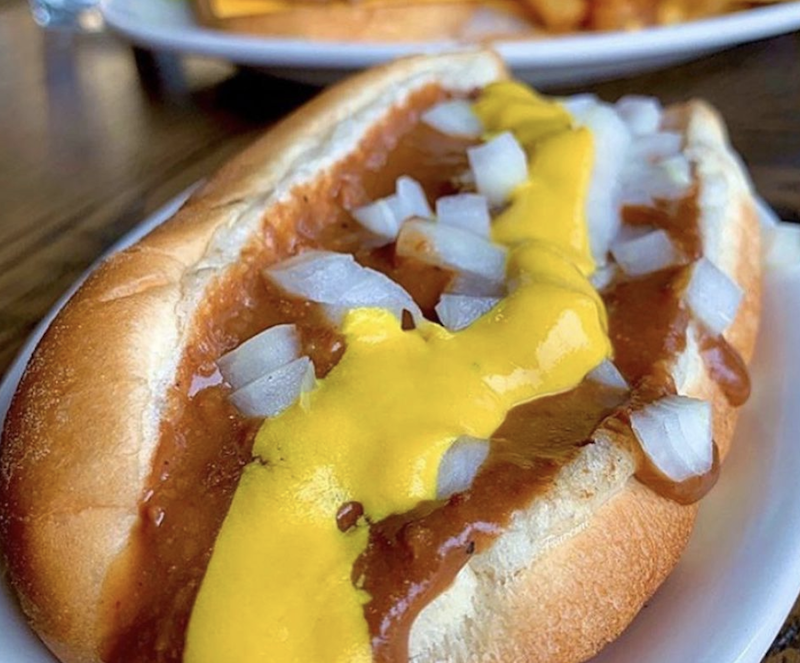 Chili Mustard Onions
1. Chili Mustard Onions
Detroiters adore a hearty chili-covered Coney dog, and vegans can get their fill of this regional delicacy at Chili Mustard Onions. The unique Coney Island menu is filled with fully loaded hot dogs, Chik'un Parm Subs, and a special Big Mock beefless burger. Whatever you decide to order, don't miss out on their loaded fries topped with house-made cheeze sauce, bacun bits, and Tofutti sour cream. Behind the fun food, the restaurant takes great pride in serving up dishes that are sustainably sourced and organic.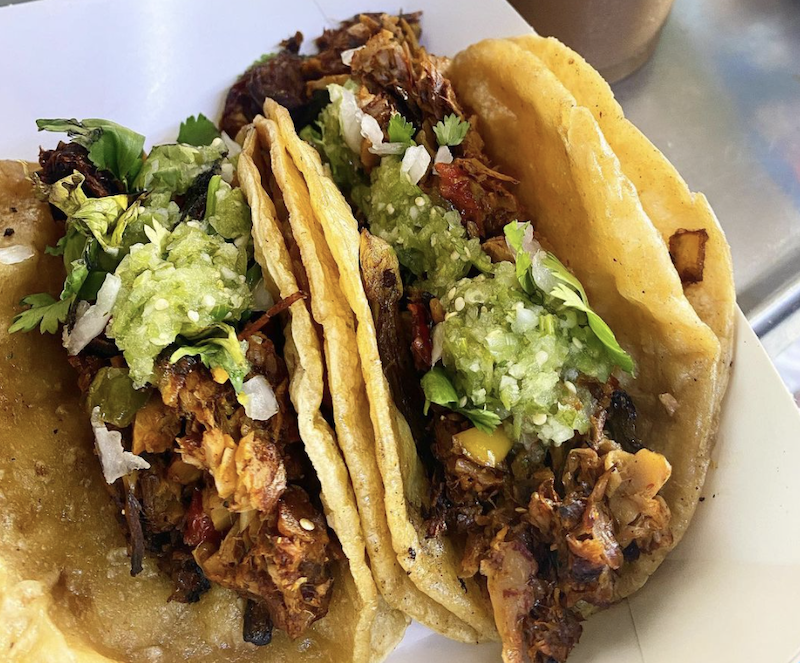 Rocky's Road Brew
2. Rocky's Road Brew
The best vegan tacos in town can be found at Rocky's Road Brew right in the heart of Southwest Detroit. These tacos pack a flavor punch. The vegan chicken tacos are stuffed with shredded jackfruit marinated in a delicious salsa verde while the plant-based fish tacos feature fried banana blossoms topped with mango pico de gallo and a drizzle of house-made chipotle sauce. Every taco is best washed down with one of the restaurant's refreshing non-alcoholic drinks such as Citrus Pomegranate Spritzer or a Cucumba Mule.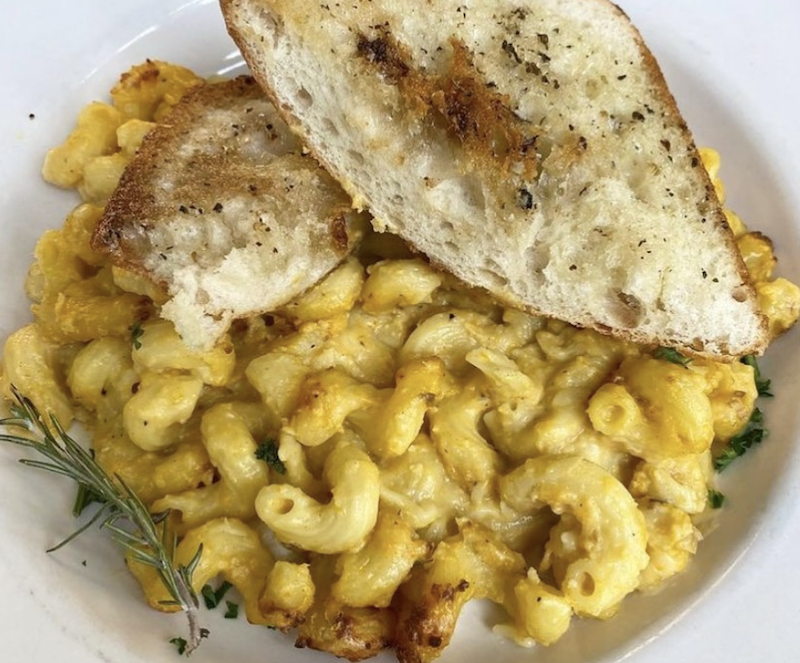 Seva
3. Seva
Exposed brick, vaulted wood ceilings, and a terrific outdoor patio make Seva the perfect place to meet up with friends for a fun night out. This vegetarian hot spot has been cooking up amazing meatless food since the '70s—the Detroit location is an expansion of the original Ann Arbor spot. The varied menu offers something to please even the pickiest of eaters such as savory stir-fries, spicy jambalaya, tempeh reubens, and so much more. The patio is the best place to enjoy dinner on a summer night with a glass of Michigan beer or cider.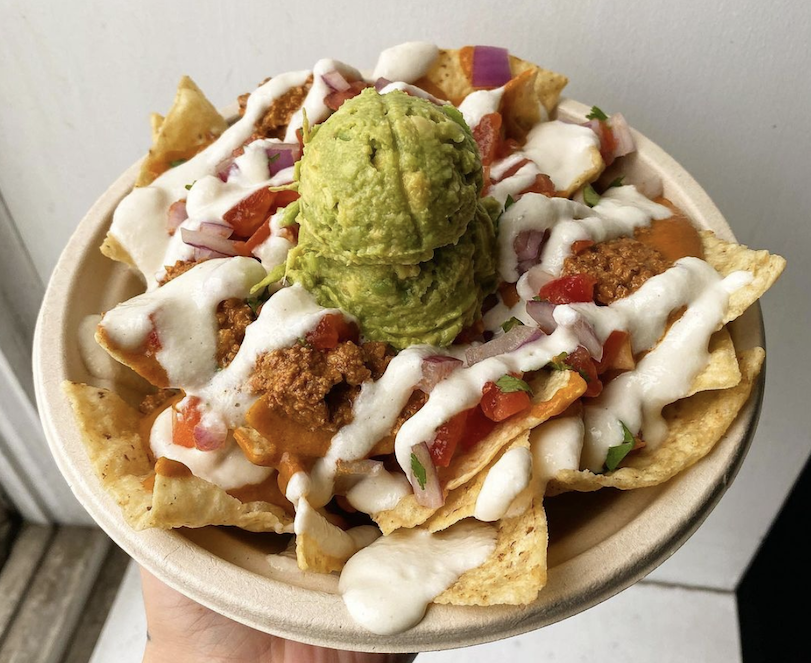 Street Beet
4. Street Beet
The team at Street Beet started as a pop up and veganized Taco Bell classics with its tongue-in-cheek Taco Hell menu. Now a popular brick-and-mortar in Midtown, customers' favorites include the Supreme Crunchywrap and the Nachos Hell Grande. The permanent location has also allowed Street Beet to expand its menu to include a variety of sandwiches and sides such as the Hot Fake Chicken Sando and cheezy potatoes.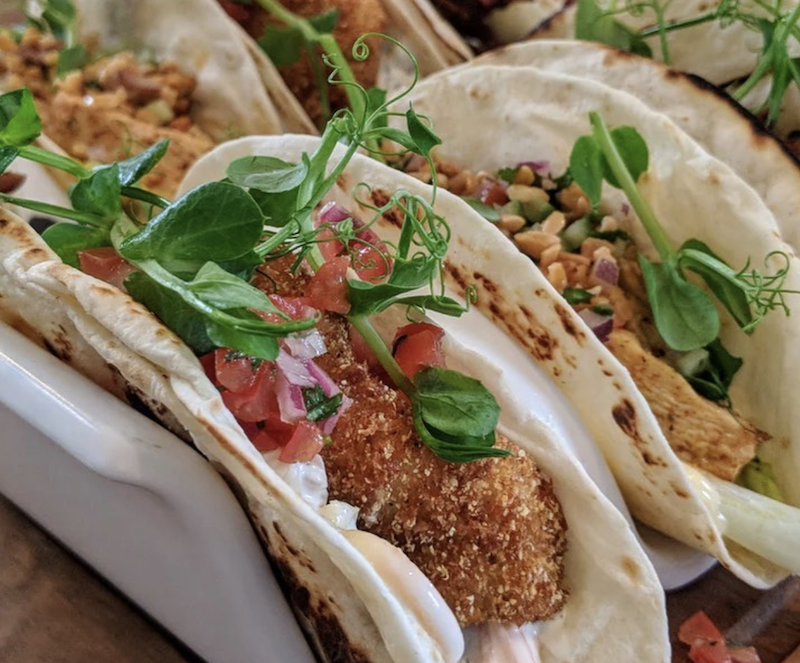 The Kitchen
5. The Kitchen by Cooking with Que
The Kitchen isn't a typical table-service restaurant. It's a culinary demonstration space that offers diners the opportunity to learn, taste, and experience a wide range of foods and drinks, always encouraging customers to try something new. However, those who would rather leave the learning for someone else and just order can do just that. The menu features a wide range of vegan dishes from buffalo cauliflower tacos to a selection of entrée salads. Make sure you leave room for a slice of vegan lemon pound cake!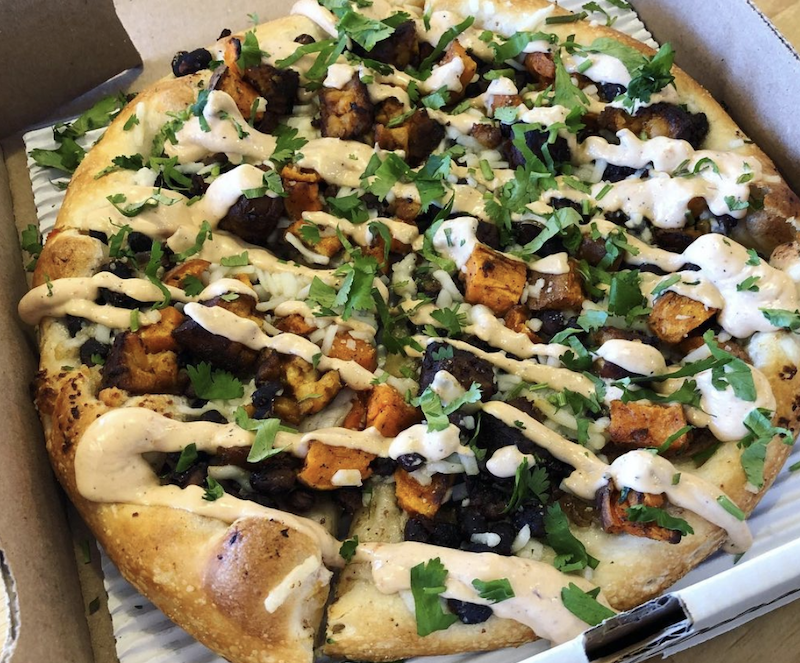 Pie-Sci Pizza
6. Pie-Sci Pizza
Located near Wayne State University, Pie-Sci is the place for vegan Detroit-style pizza. This regional specialty features a crispy golden crust with a chewy interior that's topped with melty vegan cheese. The most coveted portion of this Detroit-style pie is the corner piece. Dubbed "the golden corner" by locals, it's the spot where the cheese caramelizes between the hot pan and crust creating a delicious lacey cheese cracker. While searching for the golden corner, choose from a selection of vegan pies that range from plain cheese to pizzas topped with walnut mock chorizo, tofu bacon, radish slaw, jackfruit, and more. Your order isn't complete without a Cloud Bite—Pie-Sci's version of an ice cream cookie sandwich.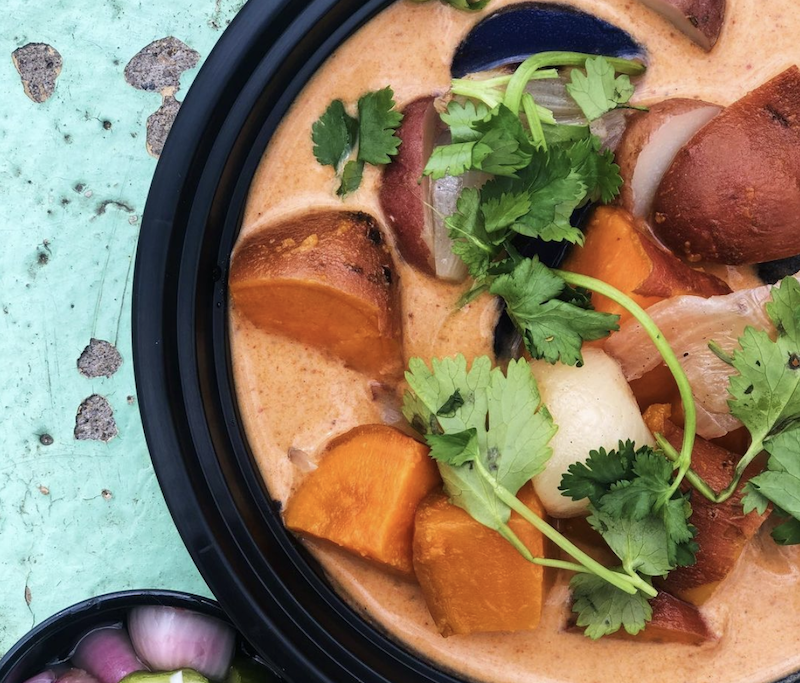 Takoi
7. Takoi
The hip atmosphere coupled with creative and herbaceous flavors make Takoi the perfect date night spot. While the Asian fusion menu isn't entirely vegan, there are still plenty of worthy plant-based options. Grab a glass of wine and chill out on the patio while enjoying the spicy Som Tum Thai salad made with green papaya followed by the flavorful red curry featuring perfectly grilled king oyster mushrooms. Interested in dessert? Finish with the house-made coconut milk ice cream served with mango purée and almond crumb.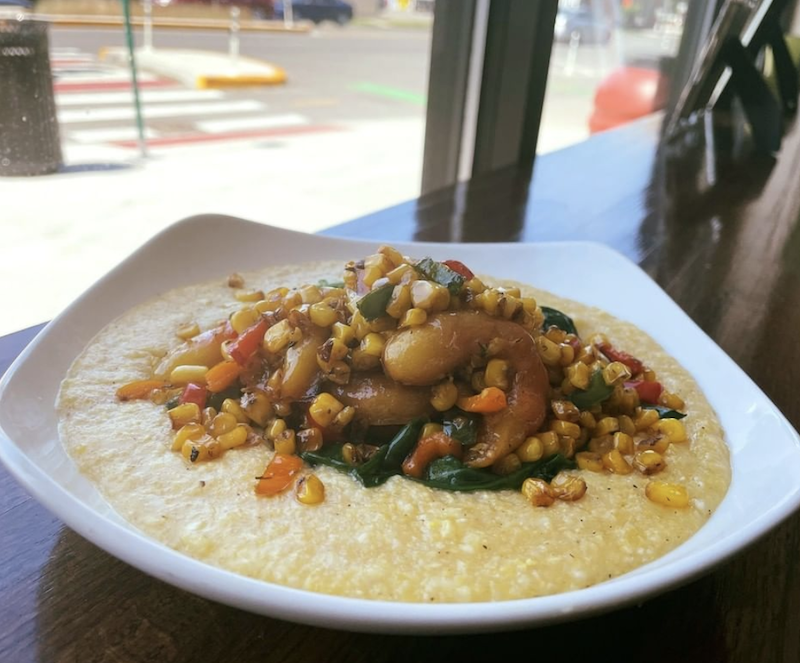 Detroit Vegan Soul
8. Detroit Vegan Soul
This Black- and women-owned restaurant began after co-owner and executive chef, Erika Boyd, lost her father to cancer. She adopted a plant-based diet and began veganizing her favorite soul food recipes that eventually launched Detroit Vegan Soul. Through her delicious dishes, Boyd seeks to show the community how healthy and tasty traditional comfort food can be. The menu features favorites such mushroom po' boys and okra stew along with house-made vegan burgers served with pesto aioli on a pretzel bun. For a little taste of everything, order the Soul Platter. Loaded with Catfish Tofu, mac and cheese, candied yams, cornbread, brown rice, smoked collards, and black-eyed peas, this dish is the star of the menu. Plus, the fresh hibiscus punch or sweet tea is the perfect accompaniment to any meal.
Rebecca Gade Sawicki is the Detroit-based creator of vegan travel blog Veggies Abroad.