Americans really, really love wings. On Super Bowl Sunday in 2022, it was estimated that more than 1.4 billion wings were eaten across the country. But while they may be tasty, wings have a dark side. The chicken farming industry is rife with animal welfare issues, and it's also harmful to the environment, too. Every year, more than nine billion chickens are raised in the US for the meat industry, most of them on cramped, industrialized factory farms. But there is another way to enjoy wings without any chicken at all.
In the last few years, cauliflower wings have been rising in popularity. They're just as delicious and just as addictive, but they don't require any animals. Here's everything you need to know about the crispy veggie snack, plus where you can buy them and how to make them from home.
What are cauliflower wings?
Cauliflower wings are essentially florets of cauliflower covered in a crispy, crunchy batter. Just like chicken wings, they can be covered in barbecue sauce, buffalo sauce, super spicy sauce⁠—the list goes on.
Are cauliflower wings vegan?
While many brands and restaurants offer vegan cauliflower wings, they are not vegan by default. This is because the coating can sometimes contain animal products, like milk or honey, or they're deep-fried in animal fat. The cauliflower wings at Buffalo Wild Wings, for example, are meat-free, but they're not vegan because they're cooked in beef fat. (That said, you could try and order them baked instead of fried!)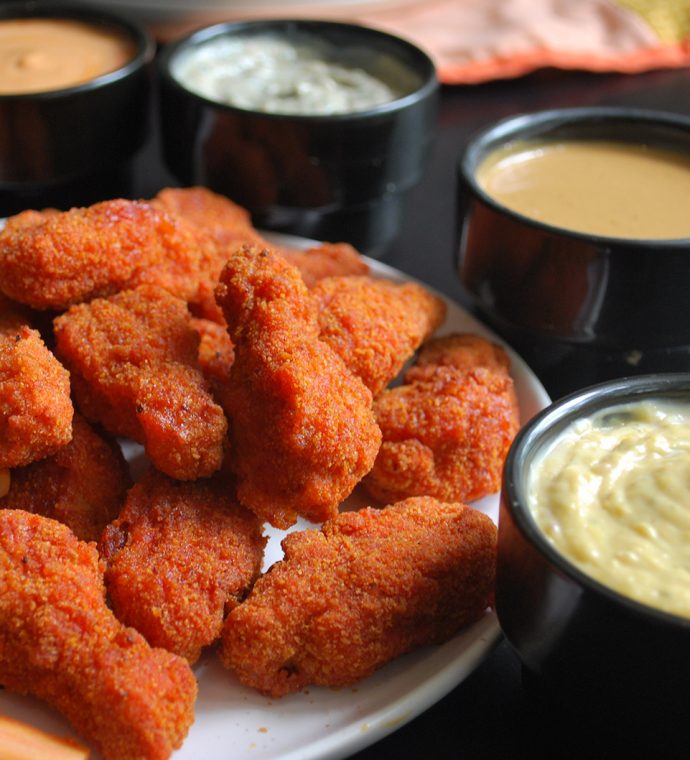 Sol Cuisine
Do cauliflower wings taste like chicken wings?
Thanks to its neutral taste, cauliflower will take on the flavor of whatever it's cooked with. So, if you order barbecue cauliflower wings, you can be assured the overpowering flavor is going to be barbecue, rather than the taste of the cauliflower. In this sense, cauliflower wings are very similar to chicken wings. (After all, by itself, chicken has a very bland flavor.)
But it's important to note, due to the different textures, cauliflower wings don't taste exactly like meat. But they're still a great-tasting snack in their own right. (If you're after vegan wings that taste exactly like chicken, plenty of plant-based meat brands, like Like Meat and Gardein offer convincing alternatives.)
Where can you buy vegan cauliflower wings?
A few different brands and restaurant chains offer vegan cauliflower wings. Here, we've put together a handful of examples. But it's also worth checking the menu of your favorite local vegan or vegetarian restaurant (or veg-friendly restaurant, too), as cauliflower wings are quickly becoming a popular menu addition in many eateries.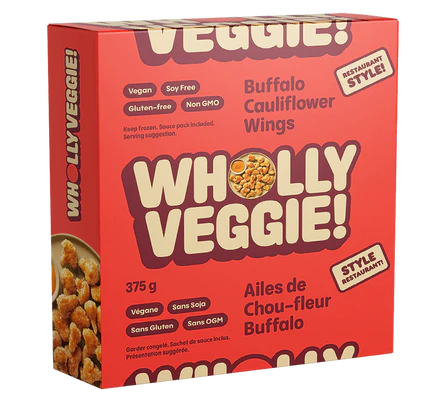 Wholly Veggie!
1 Wholly Veggie
All of Wholly Veggie's products are made with recognizable healthy, vegetable-based ingredients. Unlike many plant-based brands, none of its range is designed to taste exactly like meat. But that doesn't mean it's not delicious. Its crunchy, gluten-free Buffalo Cauliflower Wings (designed to be baked, not fried) feature a panko breadcrumb crust and come with a side serving of Buffalo Sauce.
Check it out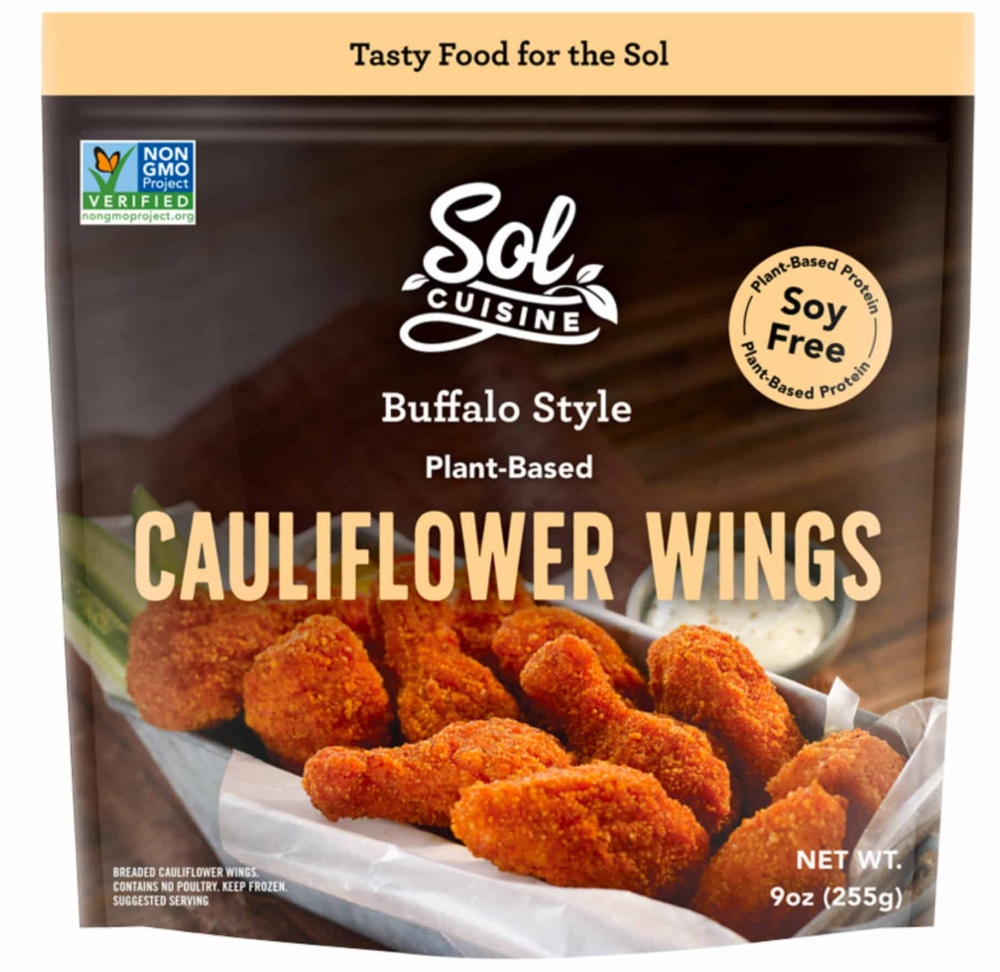 Sol Cuisine
2 Sol Cuisine
When Sol Cuisine's founder Dror Balshine wrote a song called "Cauli (You're My Favourite Flower)," he meant what he was singing. The brand's breaded cauliflower wings demonstrate just how tasty and versatile this humble vegetable can be. With a kick of buffalo sauce in the mix too, you won't feel the need to buy chicken wings again.
Check it out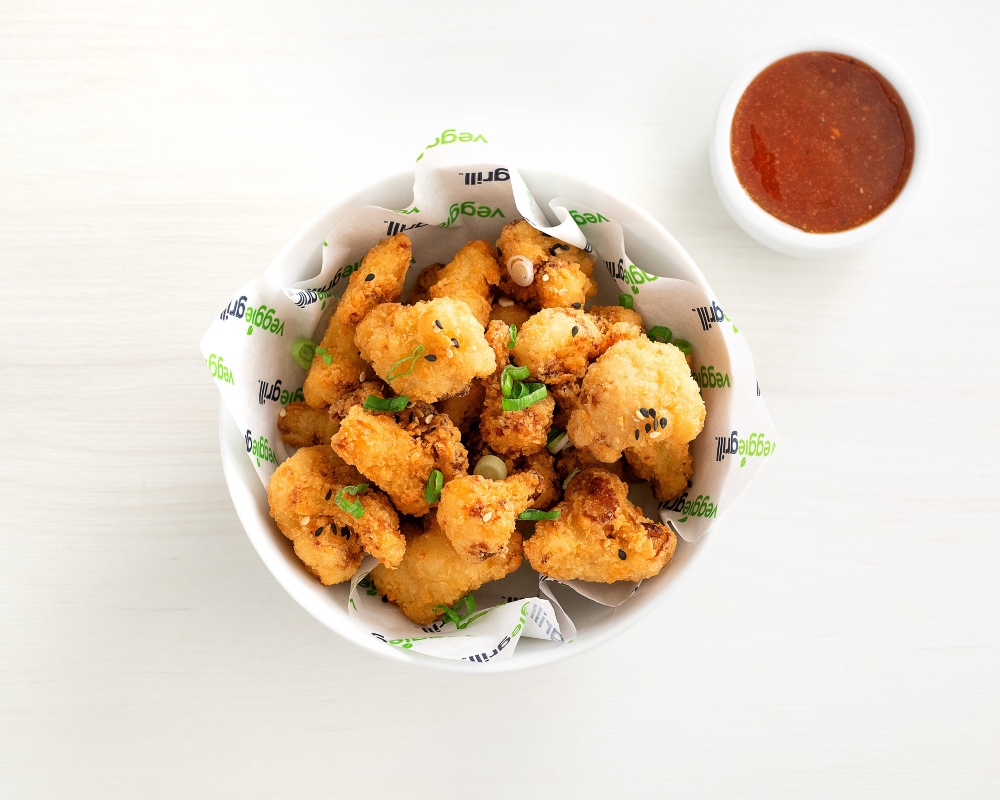 Veggie Grill
3 Veggie Grill
If you happen to live near one of Veggie Grill's 30 locations, lucky you: you can grab a side of the chain's Crispy Cauliflower any time you want. The crunchy florets are battered with tempura and come served with either buffalo sauce (as per usual) or orange sauce. If you also enjoy the taste of plant-based meat, you can grab a serving of chicken-style buffalo wings while you're there, too.
Check it out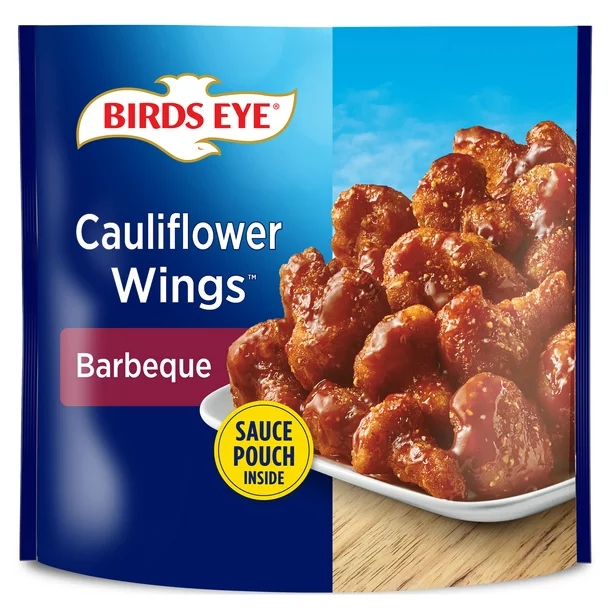 Birds Eye
4 Bird's Eye
Next time you're in the grocery store, check out the frozen aisle for Bird's Eye's range of cauliflower wings. It's worth noting that none are actually marked vegan, but the Barbeque option doesn't include any animal products on its ingredients list. (The Garlic Parmesan version is, of course, not vegan.)
Check it out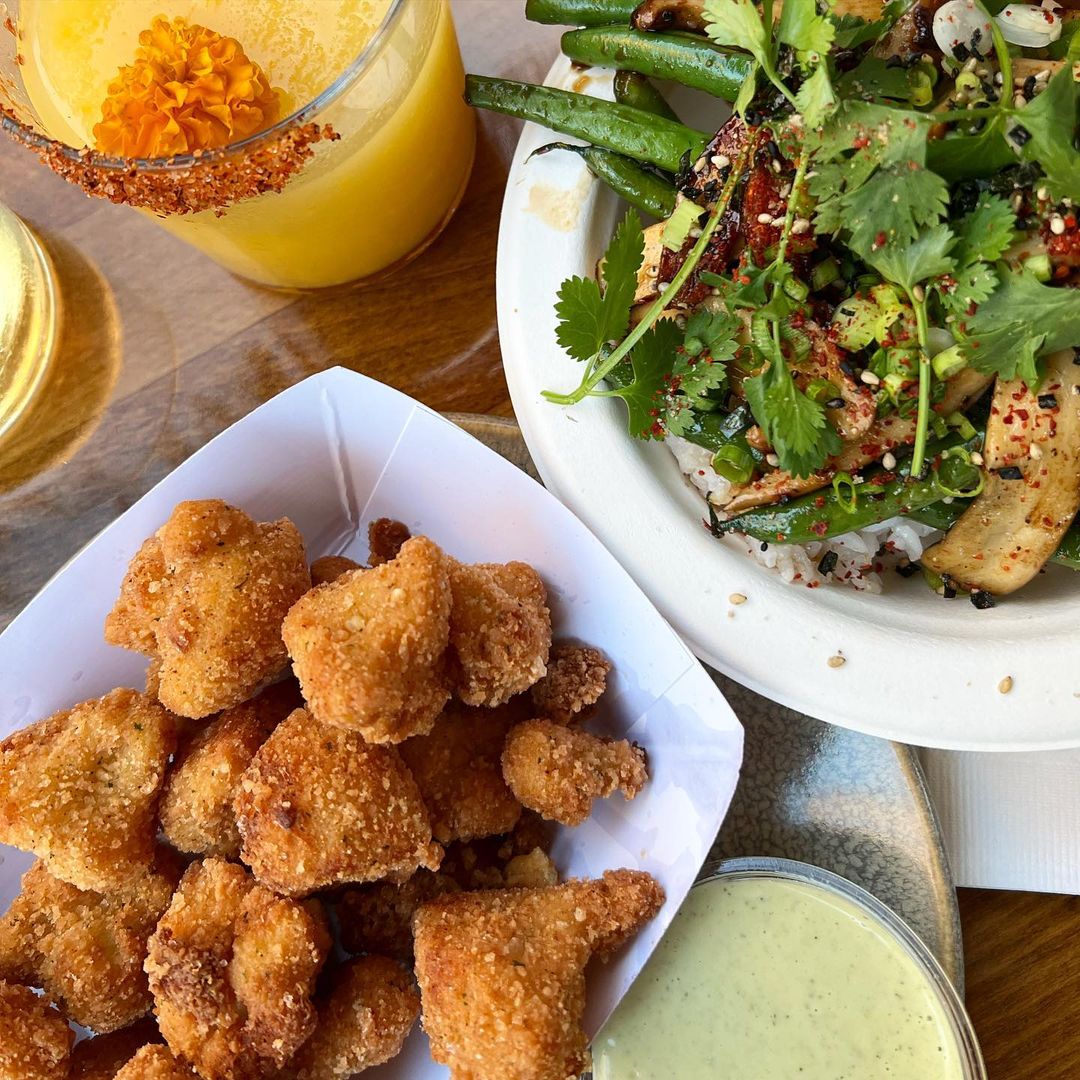 No Bones Beach Club
5 No Bones Beach Club
During the pandemic, the popular vegan company No Bones Beach Club pivoted from a restaurant chain to food service. Now, it supplies its range of products, which includes Buffalo Cauliflower Wings with a coconut-based buffalo sauce, to restaurants and stores instead. Right now, you can find its tasty wings in a handful of Seattle eateries, as well as the Alberta Food Co-op in Portland.
Check it out
How to make vegan cauliflower wings
If you can't find vegan cauliflower wings near you, or you simply enjoy getting creative in the kitchen, another way to enjoy this crunchy side is to make it at home. They're pretty easy to throw together, all you need is a cauliflower (of course), your favorite hot sauce (or mild, you do you), and a few pantry staples to make the batter (flour, cornstarch, black pepper, oil, etc).
To help you out, we've gathered a few of our favorite vegan cauliflower wing recipes below. Happy snacking!
Best vegan cauliflower wings recipes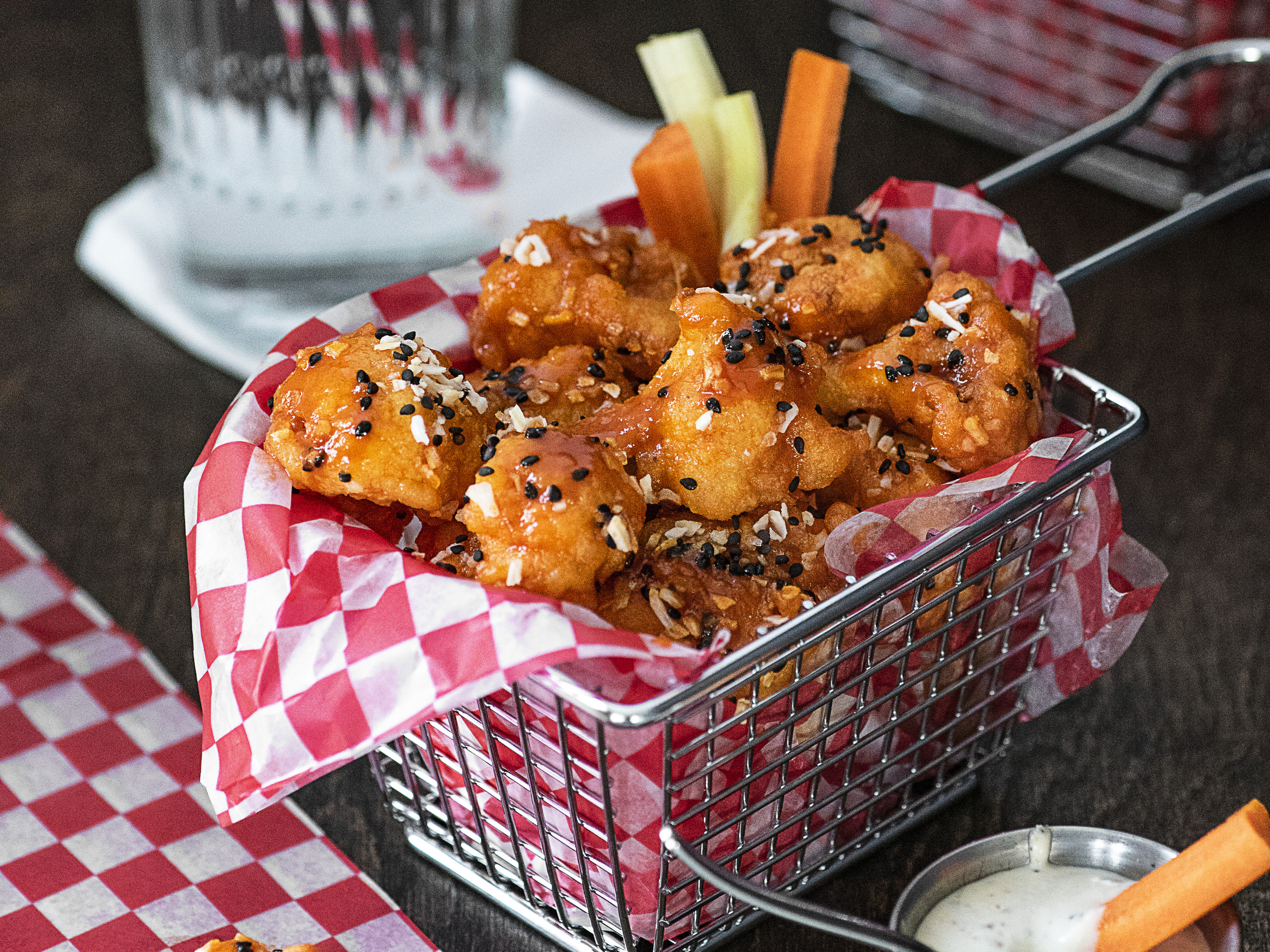 Dustin Harder
1 Everything Buffalo Cauliflower Bites
If you don't have everything bagel seasoning in your pantry, it's easy to make from home with a few different seeds, garlic, onions, and salt. Paired together with spicy buffalo sauce, it's one of the best ways to coat your cauliflower wings.
Get the recipe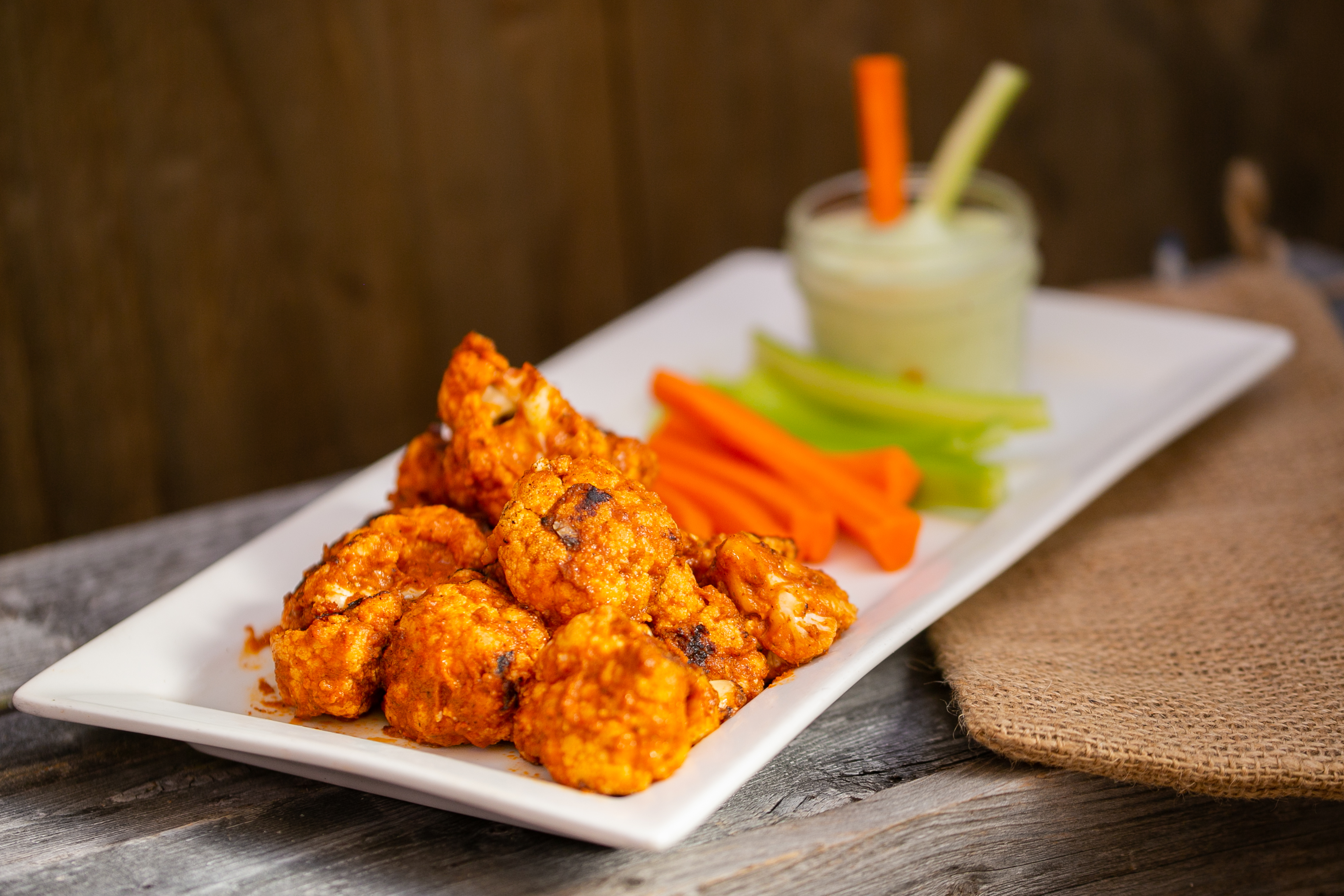 Trilogy Sanctuary
2 Spicy Cauliflower Wings With Pesto Dipping Sauce
Not a fan of buffalo? When it comes to cauliflower wings, one type of sauce isn't mandatory. You can experiment until you find the right flavor for you. For example, we recommend serving your wings with this cool, refreshing pesto-cashew dip.
Get the recipe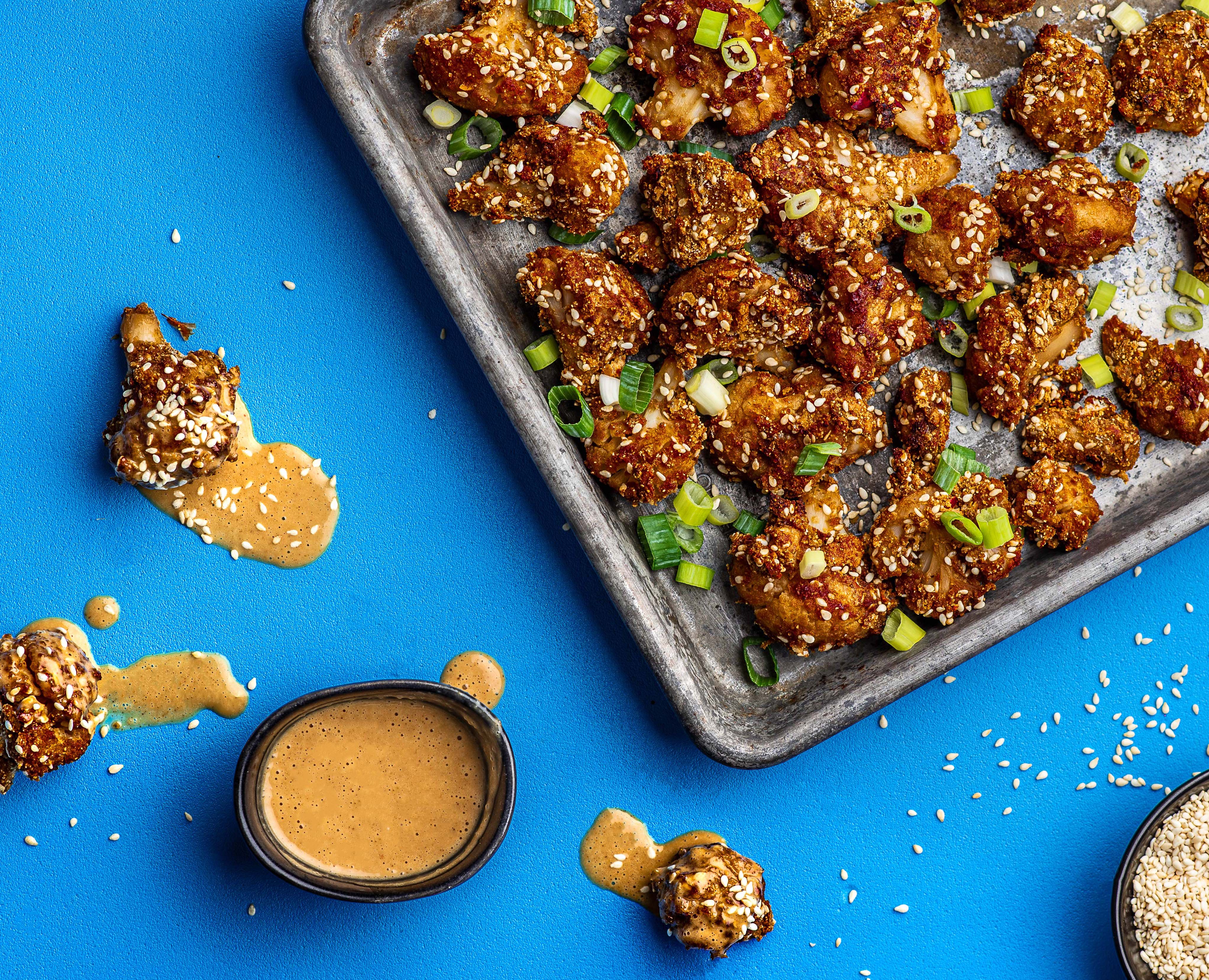 Ashley Madden
3 Baked Thai Chili Cauliflower Bites
If you like a spicy Thai curry, then team up your favorite flavors with these crunchy cauliflower bites. This recipe is also ideal for those who don't own a fryer because they can simply be baked in the oven. (It's healthier, too!)
Get the recipe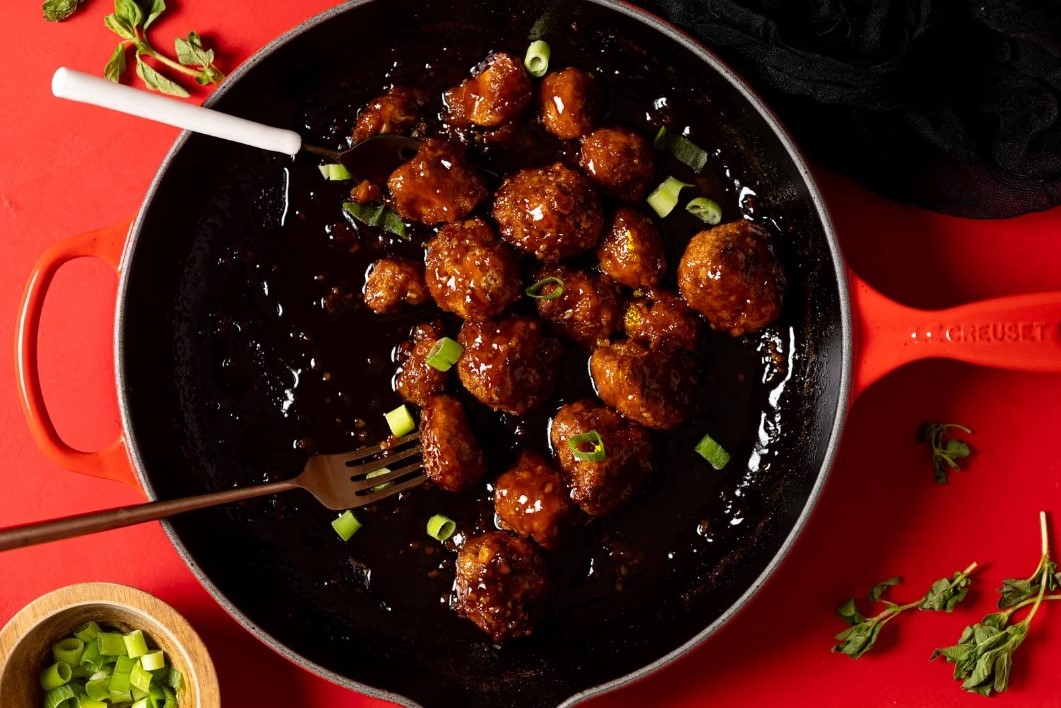 Shanika Graham-White
4 Sticky Vegan Coca-Cola Cauliflower Wings
Cooking with Coca-Cola sounds a little weird, but trust us, you'll be glad you gave it a go. These vegan cauliflower wings are just the right amount of crispy, saucy, and sticky. Food always tastes better when it's a mess to eat, right?
Get the recipe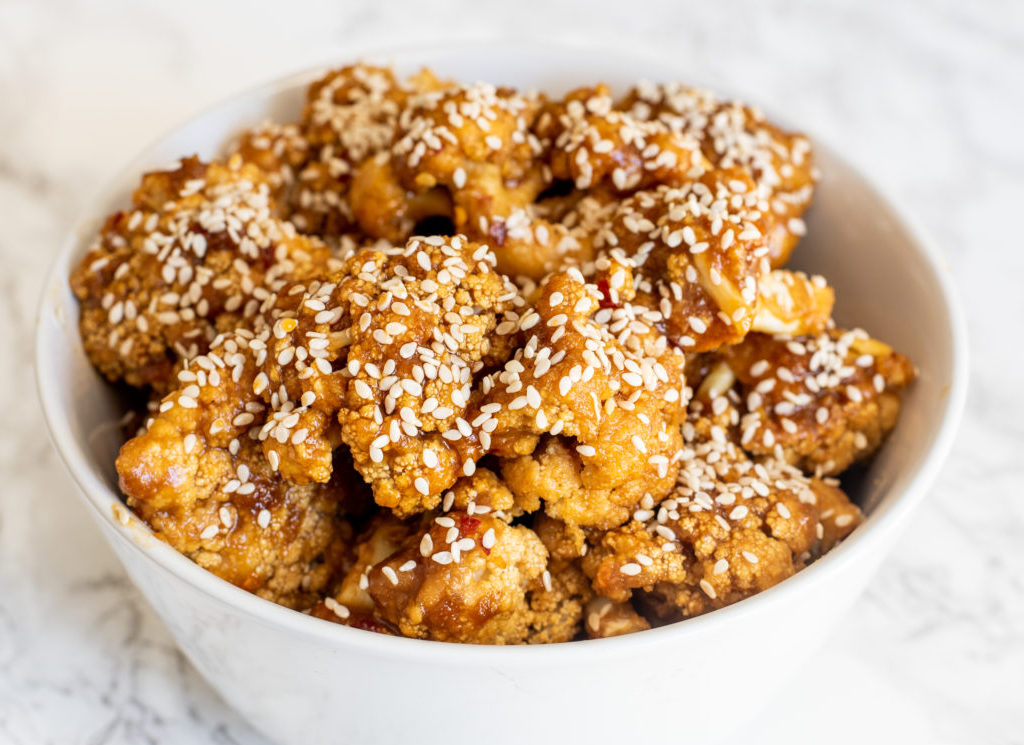 Danielle Keith
5 Teriyaki Sesame Cauliflower Bites
Again, these cauliflower bites are baked and not fried, so they don't require faffing about with any oil. All you need for the coating is some flour, teriyaki sauce, garlic, ginger, and red chili flakes. Plus, of course, the sesame seeds to top them with. Simple and delicious.
Get the recipe
For more vegan food guides, read: