The 20th century was full of exciting food innovations. We're talking chocolate chip cookies, nachos, instant noodles, Oreos, and chicken nuggets (basically, the late-night snack market boomed). All of these food creations remain popular today, but the latter was particularly revolutionary. Created by inventor Robert C. Baker in the 1950s, chicken nuggets have become a fast-food favorite, a supermarket staple, and a pop culture phenomenon. In 2020 alone, Americans ate more than 73 billion of them.
But the nugget market is starting to change; today's food scientists have taken Baker's original invention and developed it further. Now, many brands sell nuggets that look, cook, and taste like the original recipe, only they're totally chicken-free. These vegan nuggets are far better for the environment (and for the animals) than chicken. And as more people choose to leave meat off their plates—more than half of young Americans describe themselves as flexitarian—they are growing in popularity.
Here, we've put together a helpful guide to vegan chicken nuggets, from which brands to buy them from to how to make them at home. But first, let's take a closer look at the issues with regular chicken nuggets.
Are chicken nuggets vegan?
Chicken nuggets are not vegan. That's because (as the name suggests) they are made from chicken, but we're not talking predominantly meat. Instead, research suggests they contain nerves, bones, and connective tissue, as well as a lot of fat. One analysis published in The American Journal of Science, which tested nuggets from two fast-food chains, notes: "Chicken nuggets are mostly fat, and their name is a misnomer."
However, chains dispute this. McDonald's claims its nuggets are "made with all white meat chicken."

What's wrong with chicken nuggets?
Due to the fat content, chicken nuggets aren't a healthy choice. But that said, most people aren't buying them under the impression they are nutritious. Putting health aside, there are a few other major problems with chicken nuggets.
For starters, there is the environmental impact of intensive chicken farming. The dramatic increase in the popularity of nuggets and other chicken-based fast food and convenience items has led to a boom in poultry farming. According to Greenpeace, in 2019, there were 30 chickens for every 10 people on the planet. And feeding all of these animals takes a lot of resources.
According to the BBC's climate food calculator—which is based on a major food production study from the University of Oxford and Zurich's Agroecology and Environment Research Division—eating chicken once or twice a week contributes 106 kilograms of emissions and uses more than 7,130 liters of water. This isn't as bad as beef, but it's still substantial, especially when compared with the same amount of beans, which contribute just seven kilograms of emissions and use more than 1,905 liters of water.
But one of the biggest issues with chicken farming is the feed; it contains soy, a crop that is causing mass deforestation. Nearly 80 percent of soy is grown to feed livestock animals. Research suggests that between 2001 and 2015, the crop replaced 8.2 million hectares of forest around the world.
On top of this, chicken farming is also plagued by animal welfare problems. In fact, McDonald's chicken supply chain is so problematic, it has prompted six animal rights organizations to come together to launch a dedicated initiative called The Truth About McDonald's Chicken.
According to the page, the fast-food chain buys from factory farms that pack thousands of chickens in dark sheds, with no room to move or express their natural behaviors. They are forced to sit in their own waste, and, because farms and corporations want to maximize profit, they are bred to grow so big so quickly, their legs can buckle underneath them, and they can suffer from heart failure.
But this isn't just a problem exclusive to McDonald's. Across the US, more than 99 percent of farm animals live in intensive factory farm conditions. Globally, the statistic is more than 90 percent.
Vegan chicken nugget ingredients
When it comes to nuggets, there really is no need to eat chicken. Because nowadays, the vegan versions are so convincingly chicken-like anyway, you can get the exact same taste, texture, and overall experience, without the need for animals.
The ingredients that go into a vegan nugget can vary, but for the most part, brands use soy or pea protein, both of which have a meaty texture when processed. Quorn, which has won awards for its realistic-tasting vegan chicken products, makes its nuggets out of mycoprotein, a type of fermented fungi.
Vegan chicken nugget brands
If you're feeling inspired to put some vegan chicken nuggets to the taste test, here are some of the plant-based brands you could buy them from.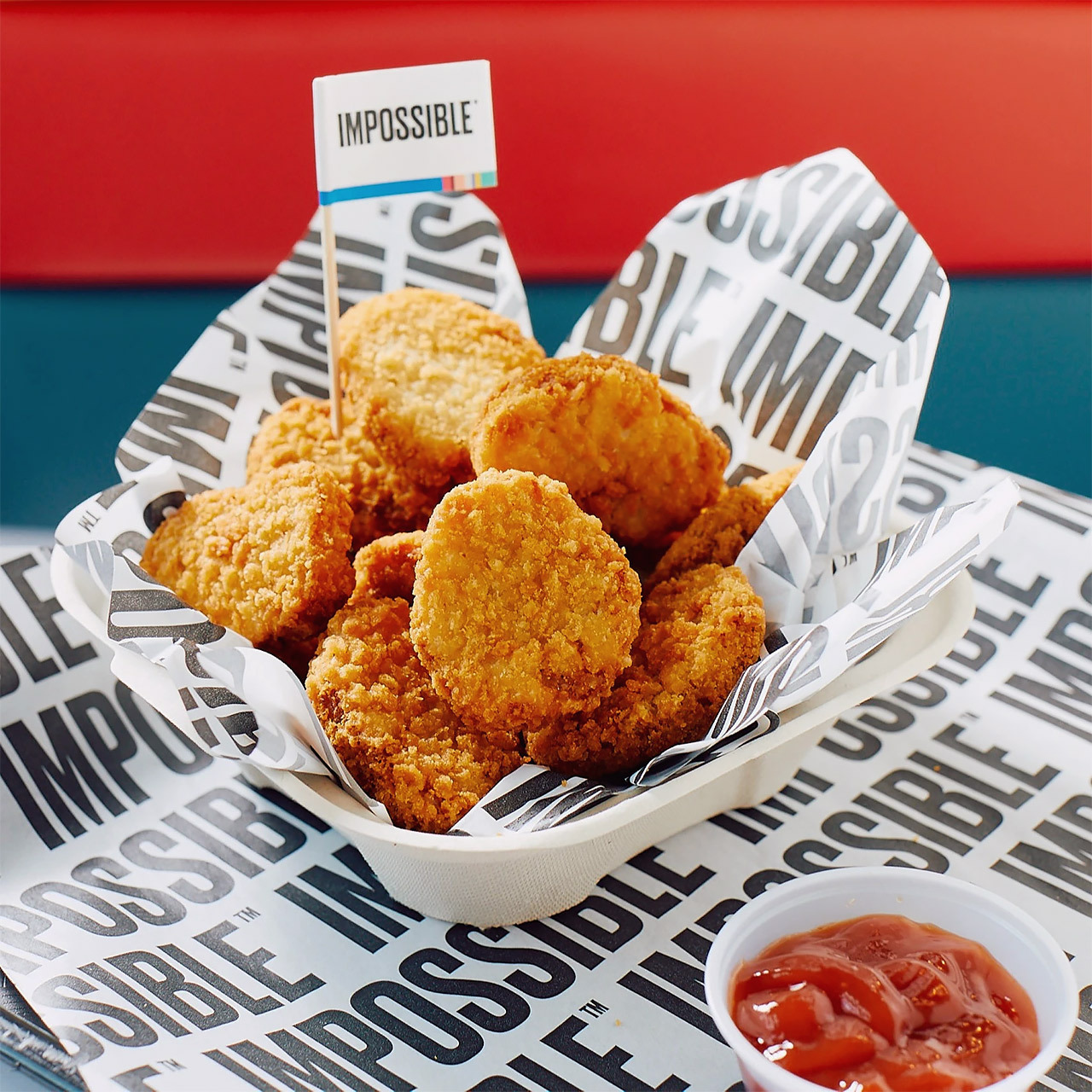 Impossible Foods
1 Impossible Foods
California-based Impossible Foods is known for its meaty Impossible Burger, but it also sells vegan Impossible Chicken Nuggets, too. Launched last year, the brand claims its product is nearly indistinguishable from the real thing. It states that in one blind test, seven out of 10 meat-eating consumers preferred Impossible nuggets to chicken nuggets. The brand also claims its vegan nuggets use up to 49-percent less land, 44-percent less water, and generate 36-percent fewer emissions than chicken.
Check it out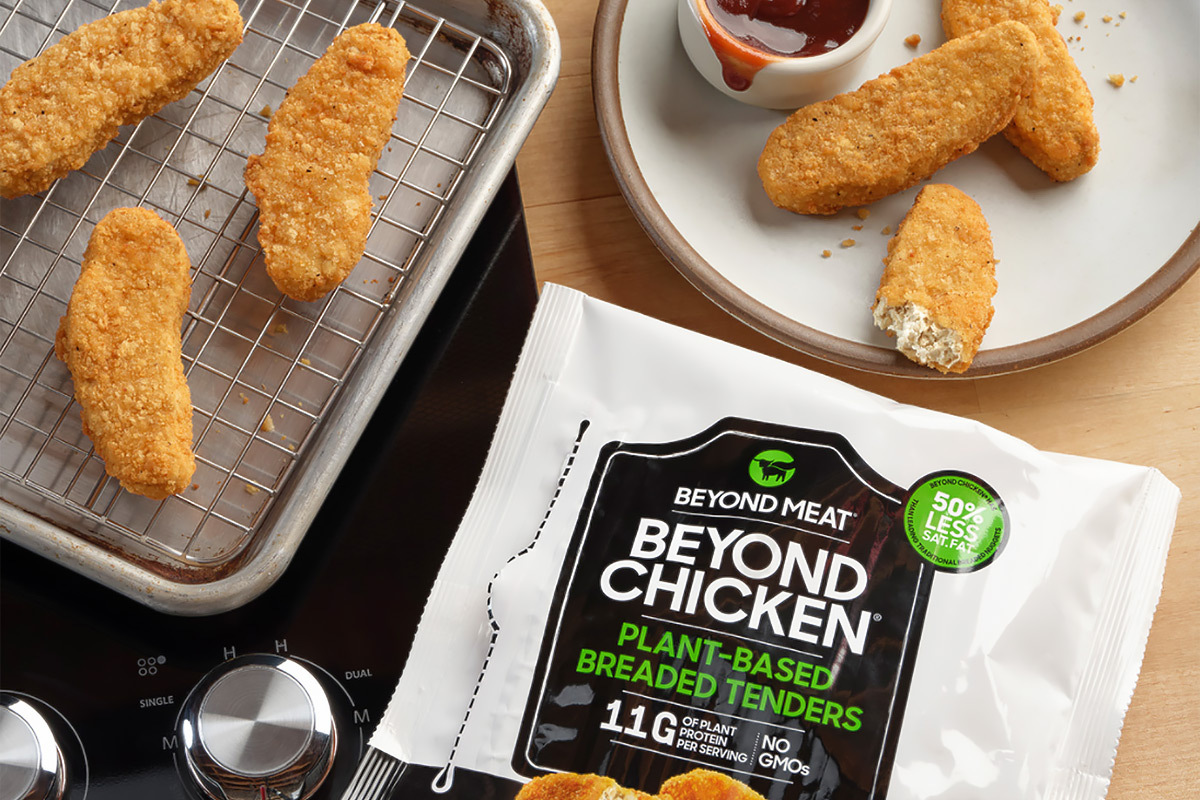 Beyond Meat
2 Beyond Meat
Again, Beyond Meat made its name from realistic beef-like burgers, but has since moved into the vegan chicken market. It offers three vegan chicken products, including Plant-Based Breaded Tenders, Beyond Popcorn Chicken, and Beyond Chicken Nuggets. The latter packs in 14 grams of protein per serving, and has 50-percent less saturated fat than a standard chicken nugget.
Check it out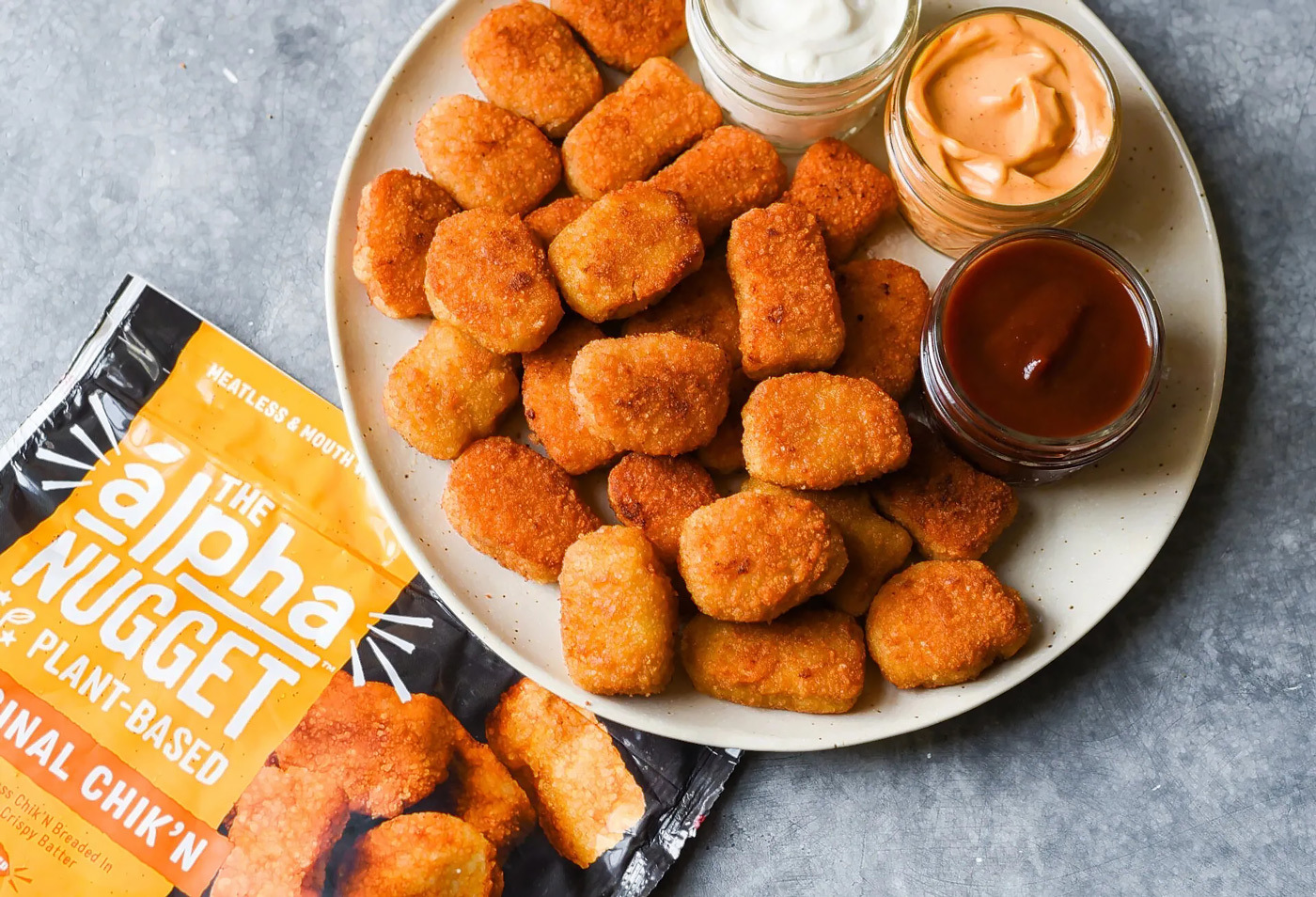 Alpha Foods
3 Alpha Foods
Alpha Foods has three main goals: happy animals, happy planet, and happy humans. And from burritos to meatballs, all of its plant-based products are in service of this main mission. Its nuggets are no exception. Choose from the brand's Original Chik'n Nuggets, which it claims are a good source of protein and fiber, or if you want something with a bit of an extra kick, try its Sizzlin' Spicy Chik'n Nuggets.
Check it out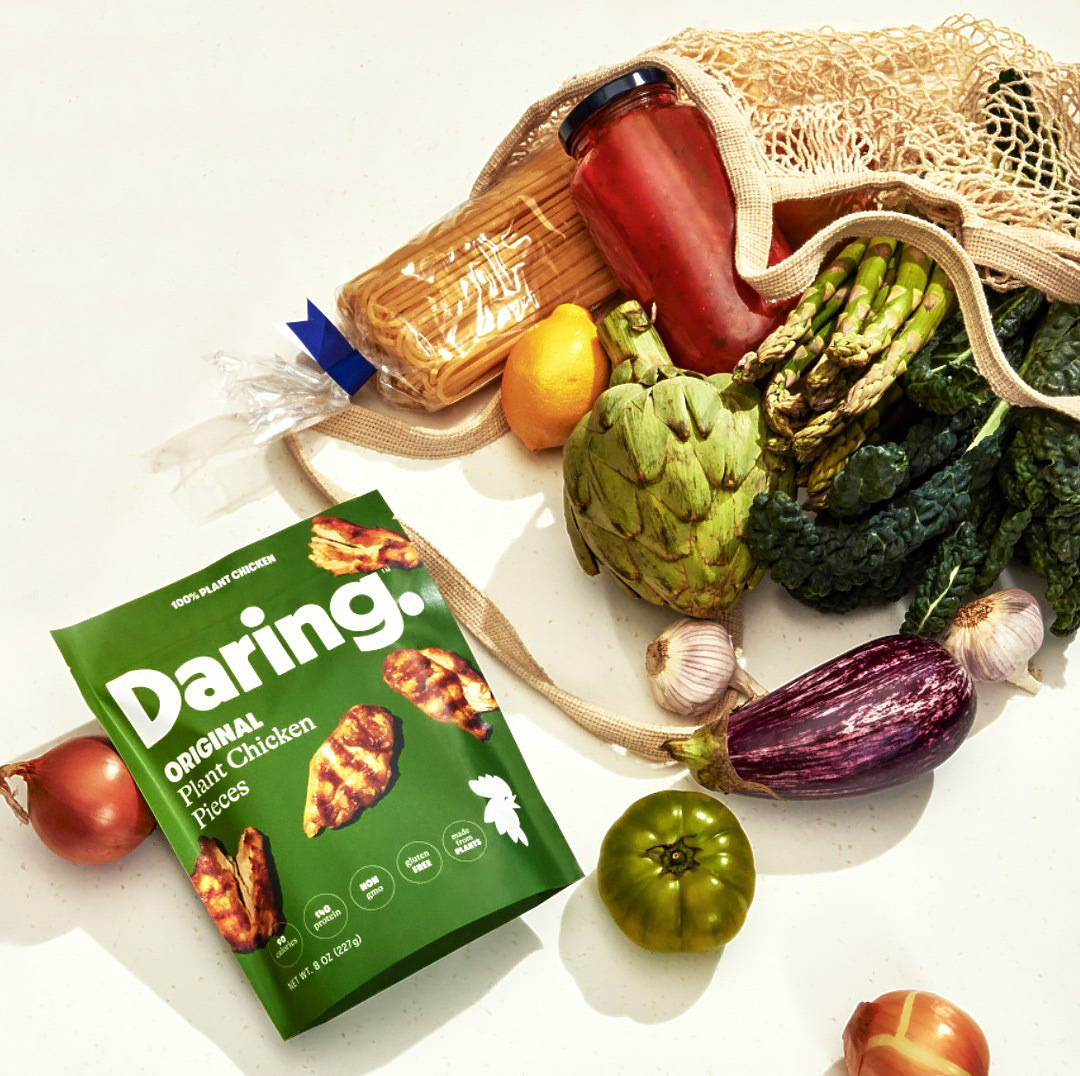 Daring
4 Daring
Unlike some of the other brands on this list, Daring started out totally focused on cracking the vegan chicken market. The company is still relatively new but is already witnessing major success. In 2020, it raised $8 million for product development and expansion. Its range includes Plant Chicken Pieces with different spices and coatings, including a breaded nugget-style option.
Check it out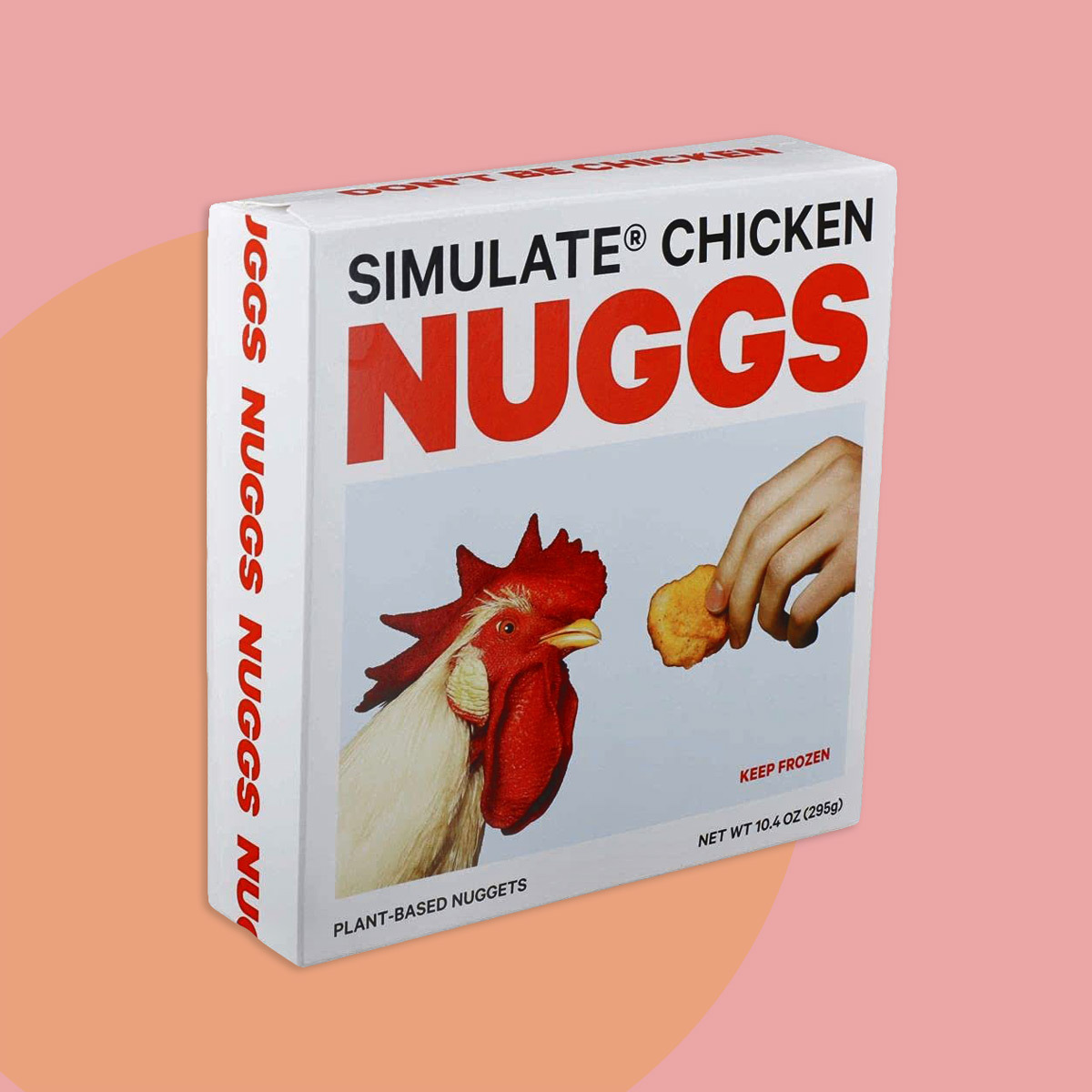 Simulate
5 Simulate
Simulate, which used to be known as Nuggs, has always embraced a science-led approach to food. To be as close to chicken as possible, the brand's product is highly processed. And it doesn't shy away from that fact, which is proudly displayed on the packaging. Its hyper-realistic vegan chicken range includes Tenders, Nuggs, and Spicy Nuggs.
Check it out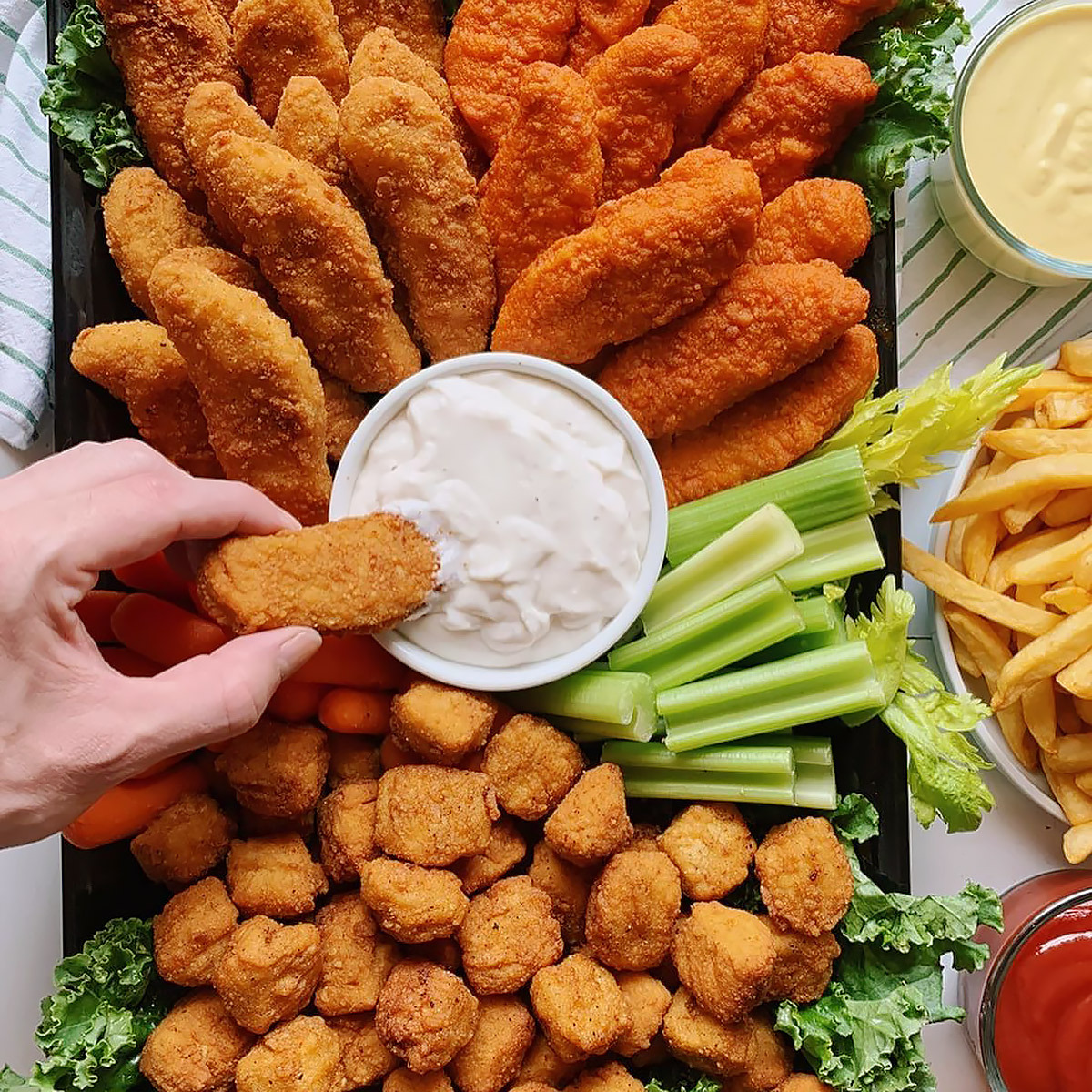 Gardein
6 Gardein
Whether you want fish, beef, pork, turkey, or chicken-style plant-based meat, Gardein has you covered. The brand has been building its extensive portfolio since 2003, and today it offers several different breaded vegan chicken options. As well as its Ultimate Plant-Based Chick'n Nuggets, you can also try Nashville Hot Chick'n Tenders, Seven Grain Crispy Tenders, and Chipotle Lime Flavored Chick'n Tenders.
Check it out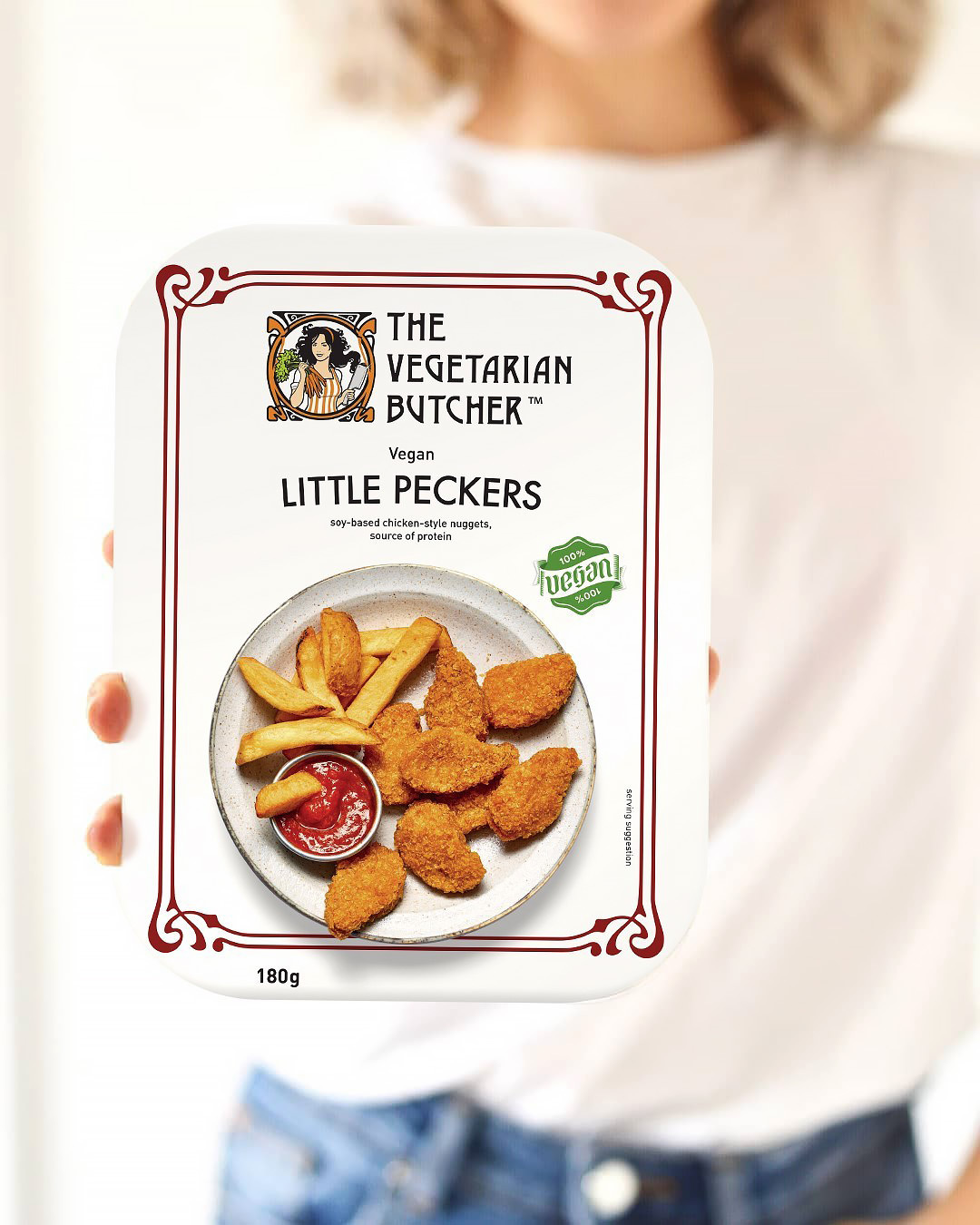 The Vegetarian Butcher
7The Vegetarian Butcher
Dutch brand The Vegetarian Butcher is focused on creating plant-based meat products that are so close to the real deal, you'll never feel the need to eat real animal meat again. The brand's soy-based nuggets, called Little Peckers, even managed to convince Burger King to give them a go. UK customers can order them from all of the fast-food giant's locations in the country.
Check it out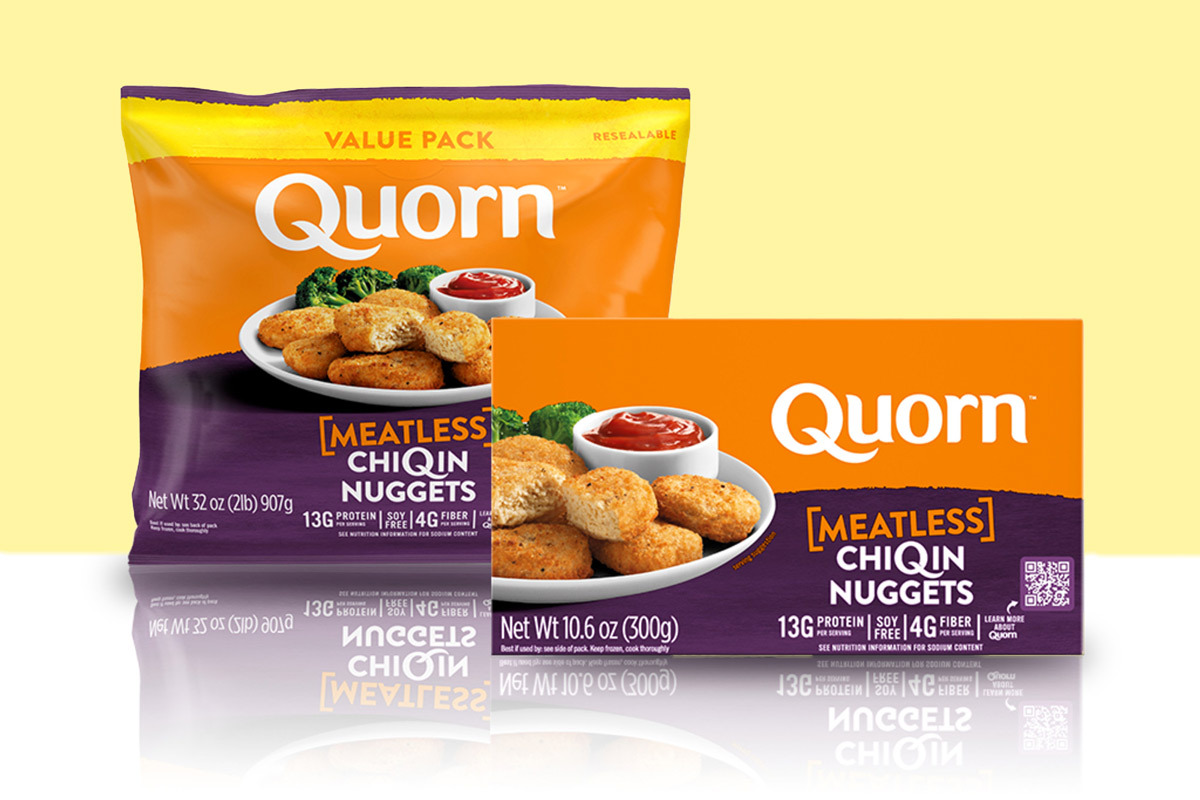 Quorn
8 Quorn
British brand Quorn has been making convincing vegetarian meat from mycoprotein since the 1980s. Its products are known for their distinct texture, which is very close to meat, particularly in its chicken range. The brand offers vegan dippers and nuggets. However, make sure you double-check the label before you buy, as some of its range includes milk and egg in the ingredients.
Check it out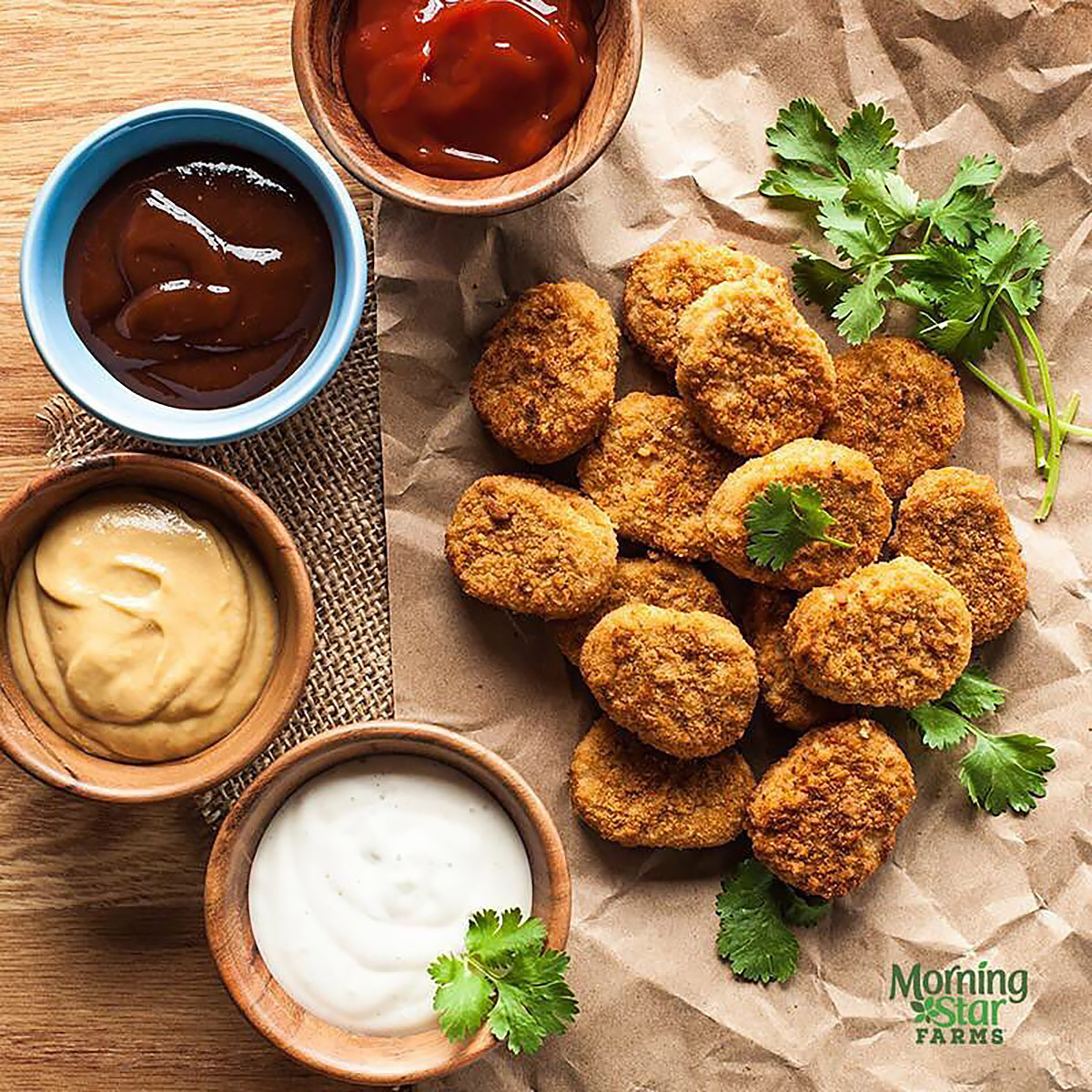 MorningStar Farms
9 MorningStar Farms
Originally founded in 1975, MorningStar Farms is now owned by Kellogg's. It has a wide range of vegan nuggets, some of which are a little different from what you would usually find on the shelves. It offers several different flavors, including BBQ, Zesty Ranch, and Sweet Mustard.
Check it out
Vegan chicken nugget recipes
It's incredibly easy to pop down to your local supermarket and buy a bag of frozen vegan nuggets. But sometimes, you don't want easy, you want rewarding, and maybe something a little less processed. If you fancy making your own nuggets from home, these recipes will help you do just that.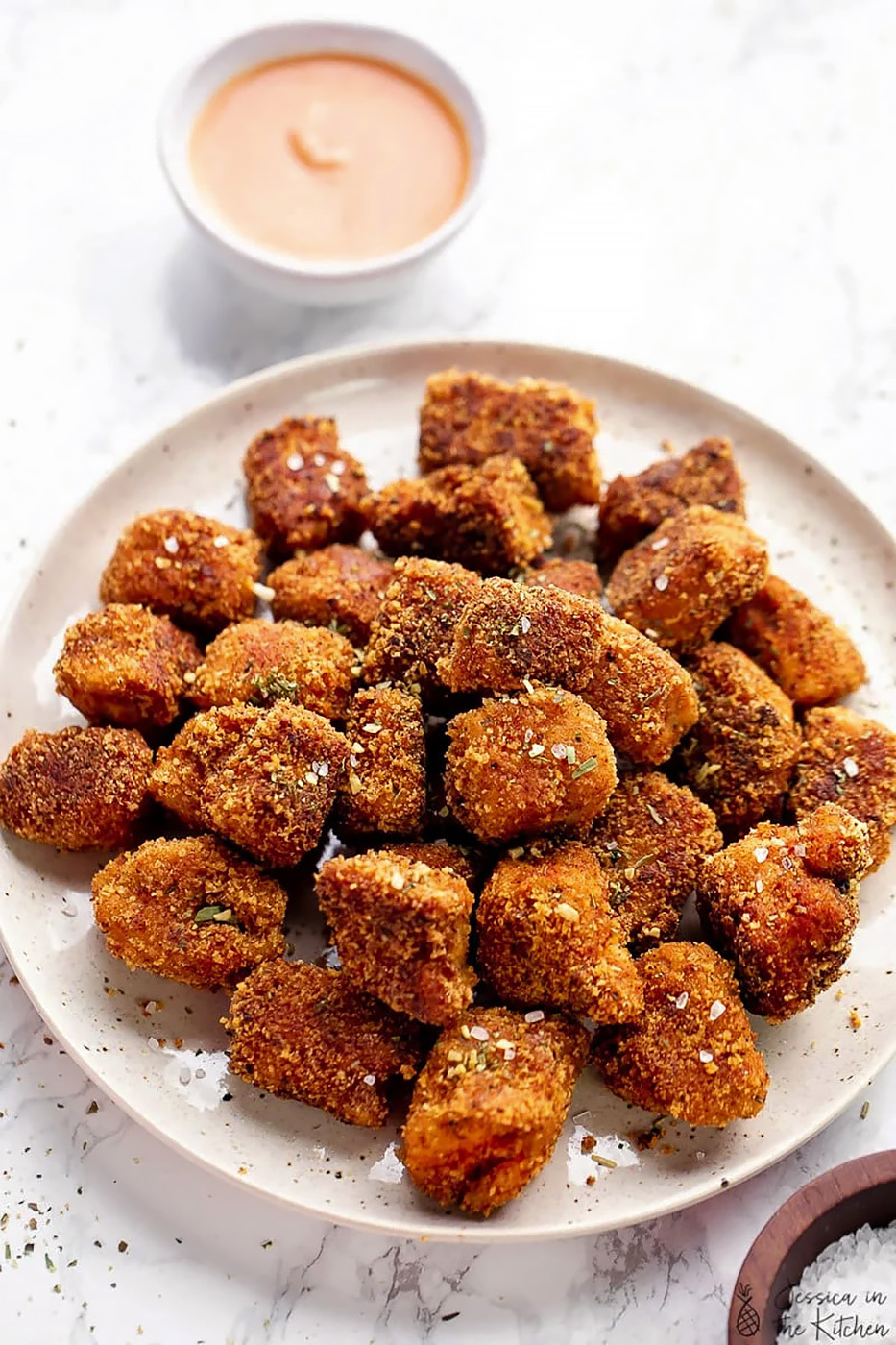 Jessica in the Kitchen
1 Vegan nuggets with tofu
This recipe proves that, with the right cooking method, versatile tofu can taste just like chicken. But to really get that nugget experience, you have to have a crispy coating too. While you can use breadcrumbs, this recipe also recommends blending up some crispy rice cereal for that ultra-satisfying crunch.
Get the recipe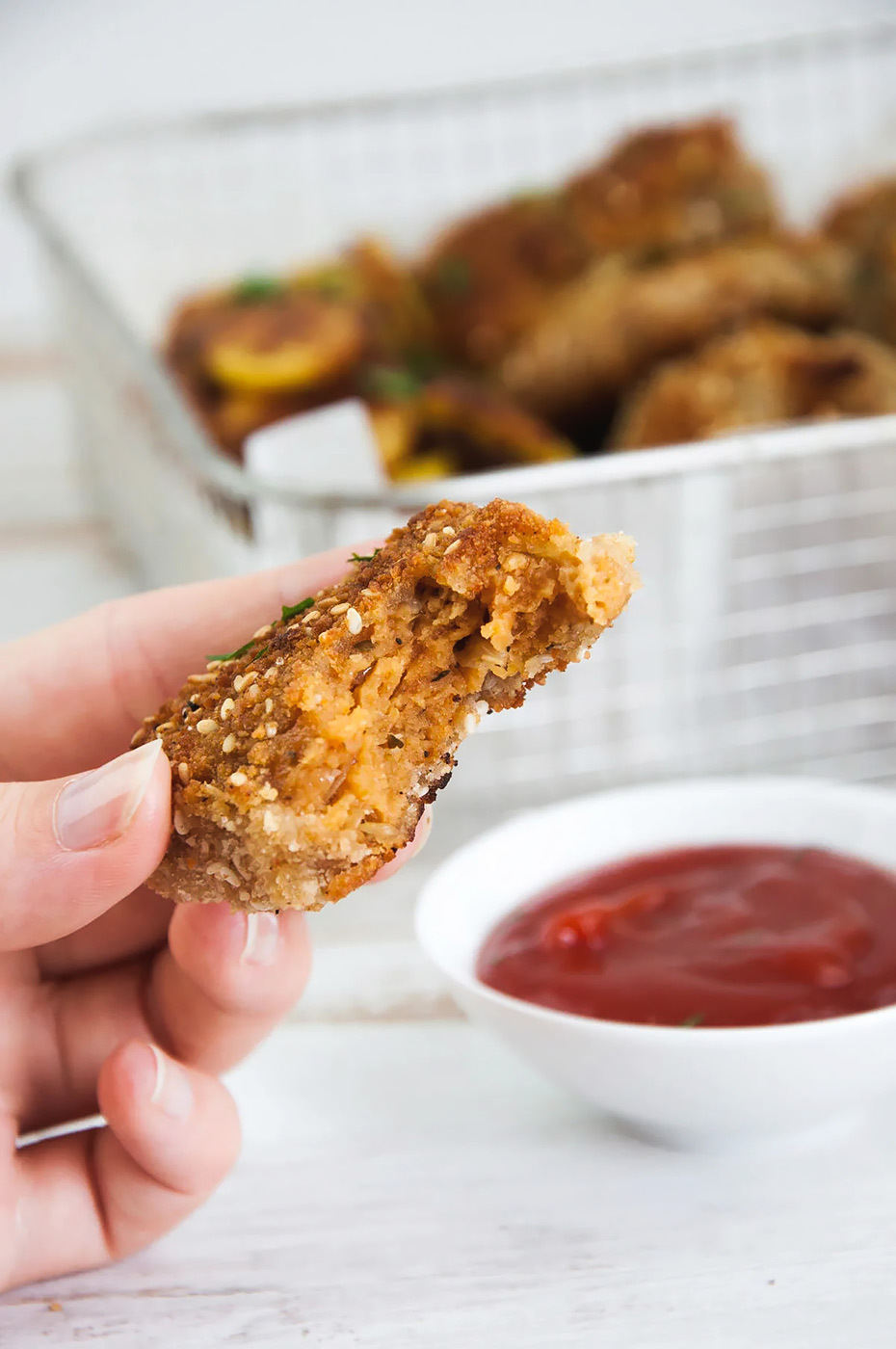 Elephantastic Vegan
2 Vegan nuggets with seitan
The juicy texture of seitan, which is basically just pure gluten, lends itself very well to vegan chicken recipes, which is why it forms the basis of this recipe. To make moreish (and nutritious) nuggets, combine it with herbs, spices, onion, garlic, and chickpeas. This recipe also calls for sparkling water, which sounds unusual, but will help to give your seitan a light and fluffy texture.
Get the recipe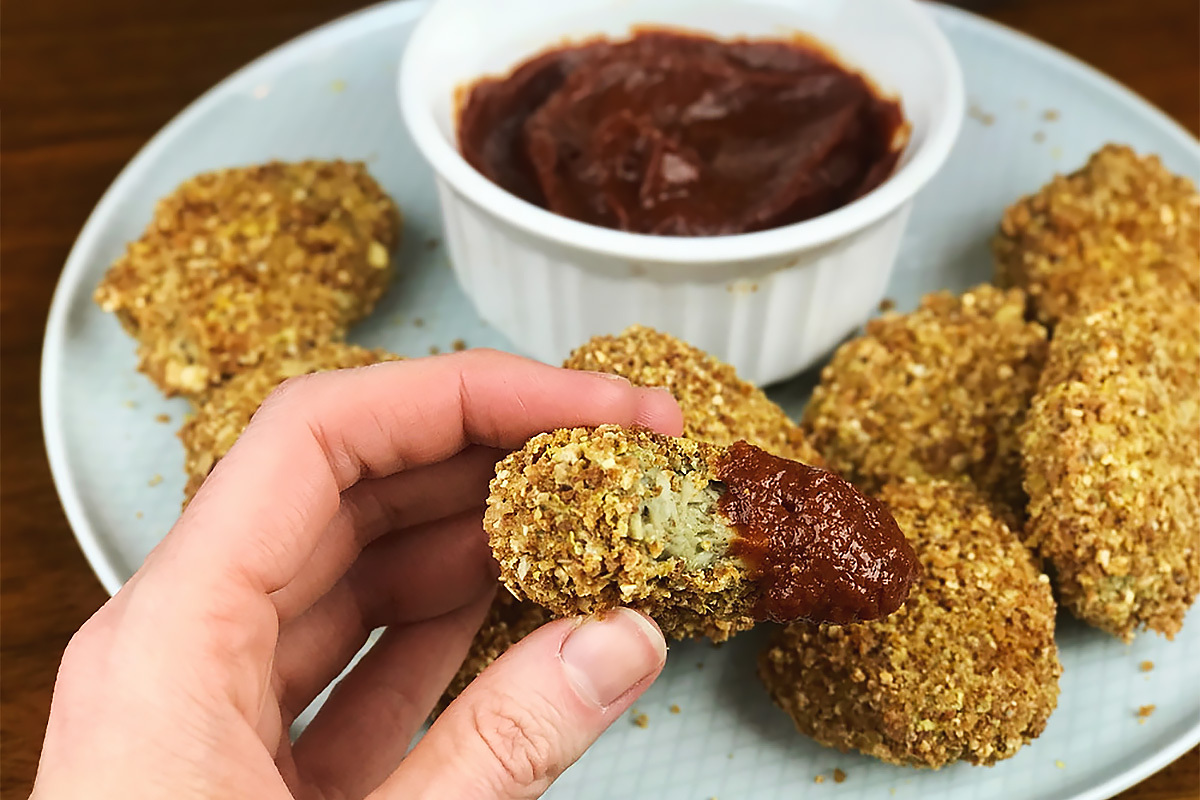 Not That Kind of Vegan
3 Vegan nuggets with mushroom
For those who prefer vegetables over mock meats, mushrooms are an excellent alternative for vegan nuggets. All you need to do is pulse them up with chickpea flour, seasoning, and salt, and you'll be on your way to getting the right meaty texture. You don't even need to cook them in oil, as these can be popped right in the air fryer.
Get the recipe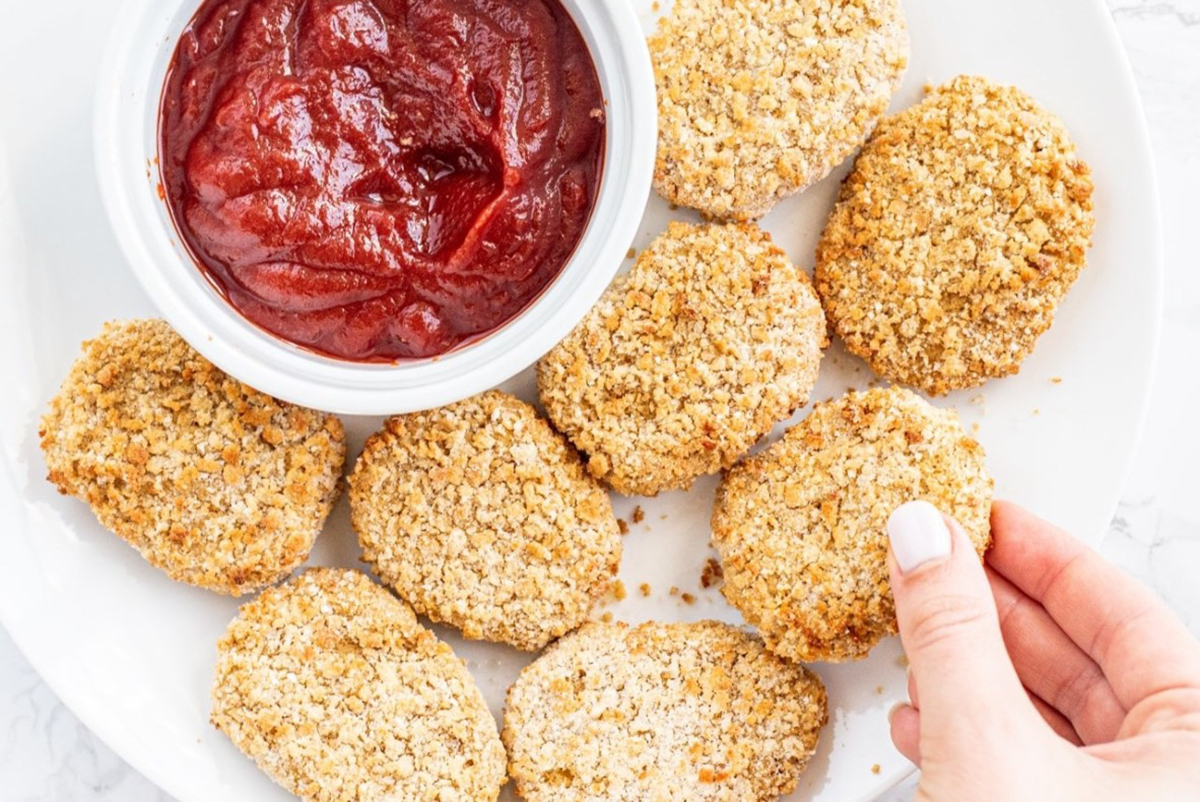 Healthy Girl Kitchen
4 Vegan nuggets with chickpeas
If you love nuggets, but not all the processing that goes into store-bought options, this recipe will help to satisfy your cravings. Instead of vegan meat, chickpeas form the basis of these nuggets. And seriously, they're so tasty and moreish, you won't even notice the difference.
Get the recipe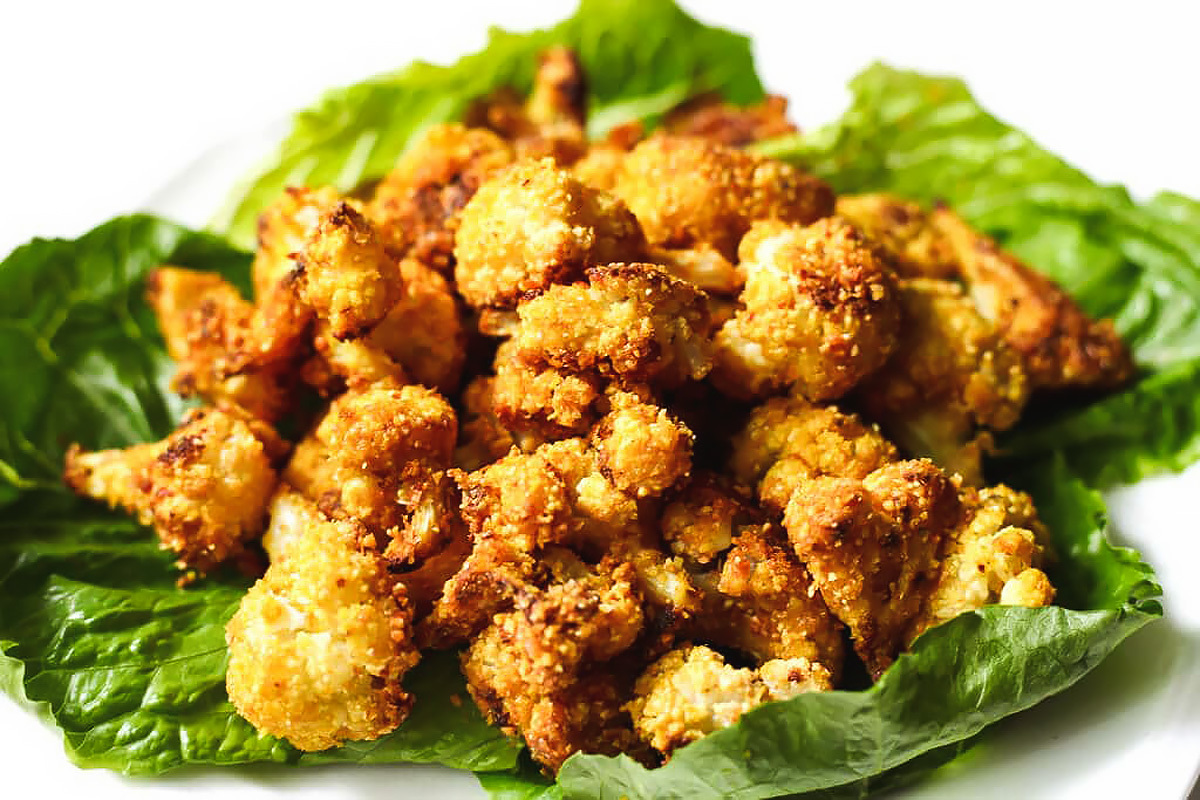 The Hidden Veggies
5 Vegan nuggets with cauliflower
You've heard of cauliflower wings, but cauliflower nuggets are also a thing. This is a great way of sneaking in vegetables into your (or your children's meals) without even thinking about the fact that you're healthy eating. For the ultimate nugget experience, serve with buffalo or barbecue dip. Happy snacking!
Get the recipe
For more on vegan chicken, read: