It might seem like air fryers have been around forever, but this clever cooking invention didn't actually hit the market for the first time until 2010, when Dutch multinational Phillips debuted the first-ever model in Berlin, Germany. Fast-forward more than a decade, and air fryers are in kitchens all over the world.
In 2022, the market was worth more than $897 million, and by 2030, it's expected to expand at a compound annual growth rate of 11.2 percent. It's no surprise that air fryers are popular; they can cook food quickly, and efficiently, and they don't need anywhere near as much oil as a deep-fat fryer. But which ones are the best? Here's what you need to know.
What is an air fryer and how does it work?
Air fryers work by circulating hot air around food in order to cook it. This is in contrast to a deep fryer, which cooks food by heating large amounts of oil to high temperatures. Air fryers can still help to give foods that tasty crispy layer, but the resulting dish is usually much healthier because the fat content is lower.
That said, it's important to note that air-fried food is still fried food.
"Generally, when compared to deep frying, the air fryer is a healthier option because it has fewer calories and can result in less inflammation, potentially decreasing the risk for chronic disease down the line," Vanessa Rissetto, MS, RD, CDN, writes for EatingWell.
However, she adds that the "real driver" of healthy food is still the type of food you're putting in the air fryer. It's not going to make French fries good for you, for example. But Rissetto notes that nutrient-dense foods "are generally just as nutritious in the air fryer as in the oven."
What vegan foods can you cook in an air fryer?
As well as convenience foods like French fries, nuggets, and vegan sausages, you can cook plenty of vegetables in the air-fryer. Cauliflower wings are a particularly good example, and air fryers will also help to crisp up ingredients like sweet potatoes, tofu, and falafel.
For more inspiration on the type of foods to cook in the air fryer, find our guide here. We also love this recipe for spicy air-fried buffalo tofu poppers and this recipe for crispy air-fryer wontons.

The best air fryers to buy now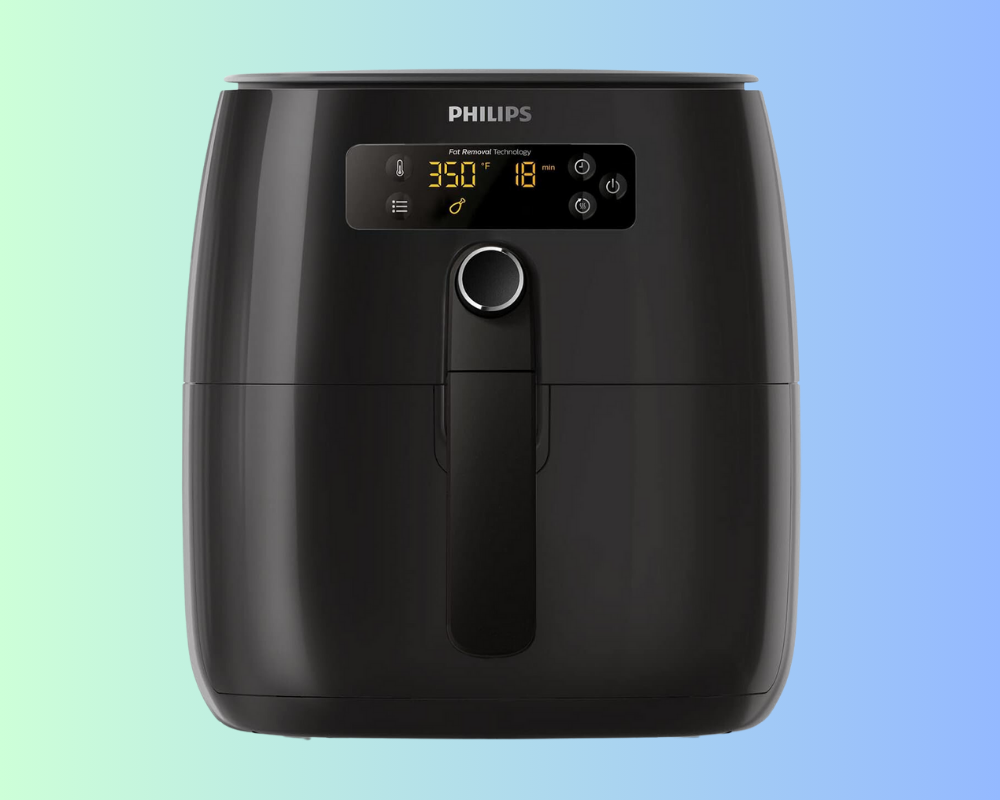 Philips
1 Philips Kitchen Premium Digital Airfryer, $249.95
Phillips was the first to introduce an air fryer to the market, and it's still one of the leading manufacturers of the popular appliance. If you're looking for something premium and sophisticated, this model—which costs just under $250—comes with an easy digital interface (which helps you switch between not just air frying mode, but also grilling, reheating, roasting, and more), as well as fat removal technology. According to the brand, this means that the appliance "reduces and captures excess fat."
Get it here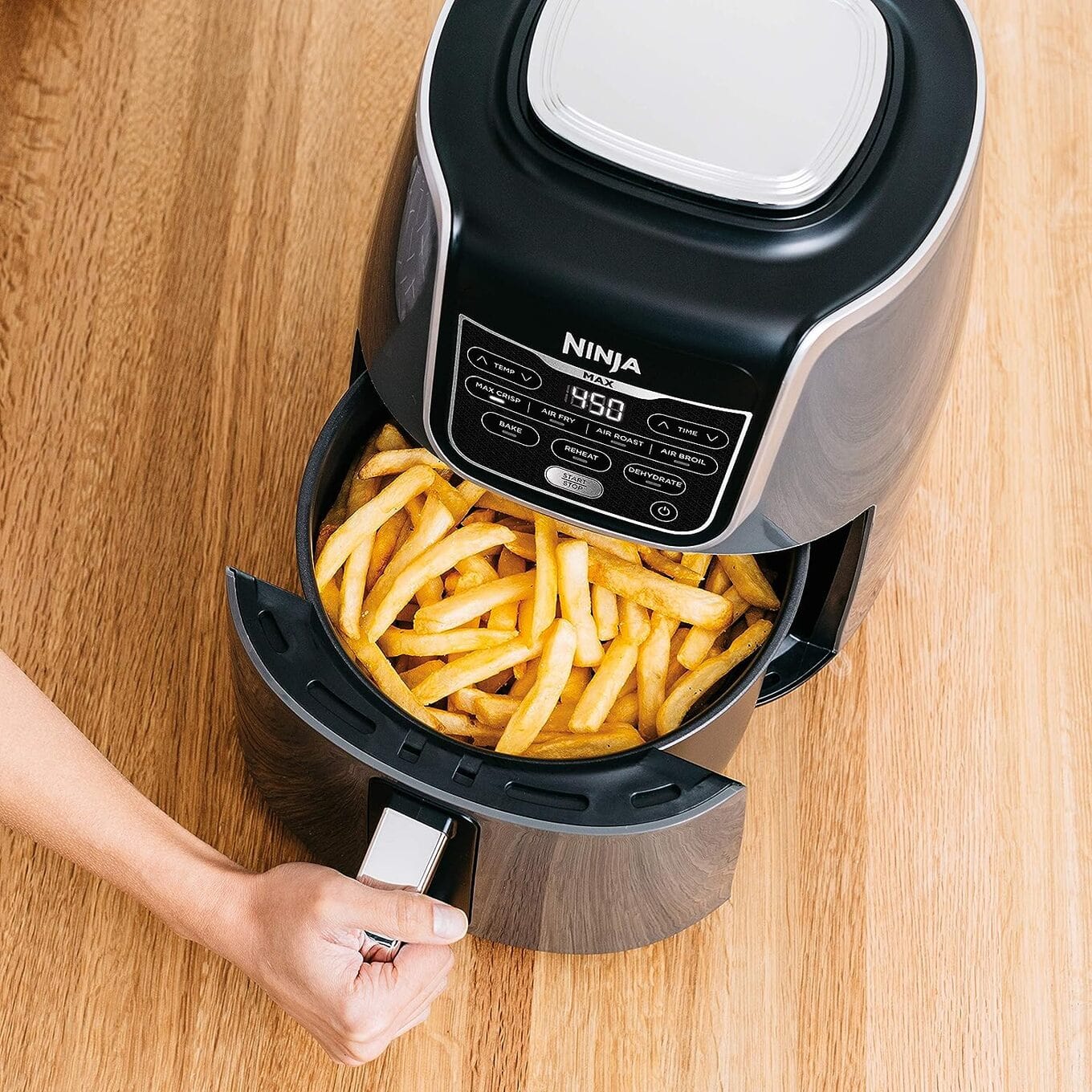 Ninja
2 Ninja Air Fryer Max XL, $129.99
Again, if you're willing to spend a little more on your air fryer (in this case, just over $129), the Air Fryer Max XL from Ninja is worth a go. It has seven cooking programs, including air fry, air roast, and, arguably, the selling point: max crisp. Yep, this means that those cauliflower wings are going to be even crispier and more satisfying than ever, a definite plus.
Get it here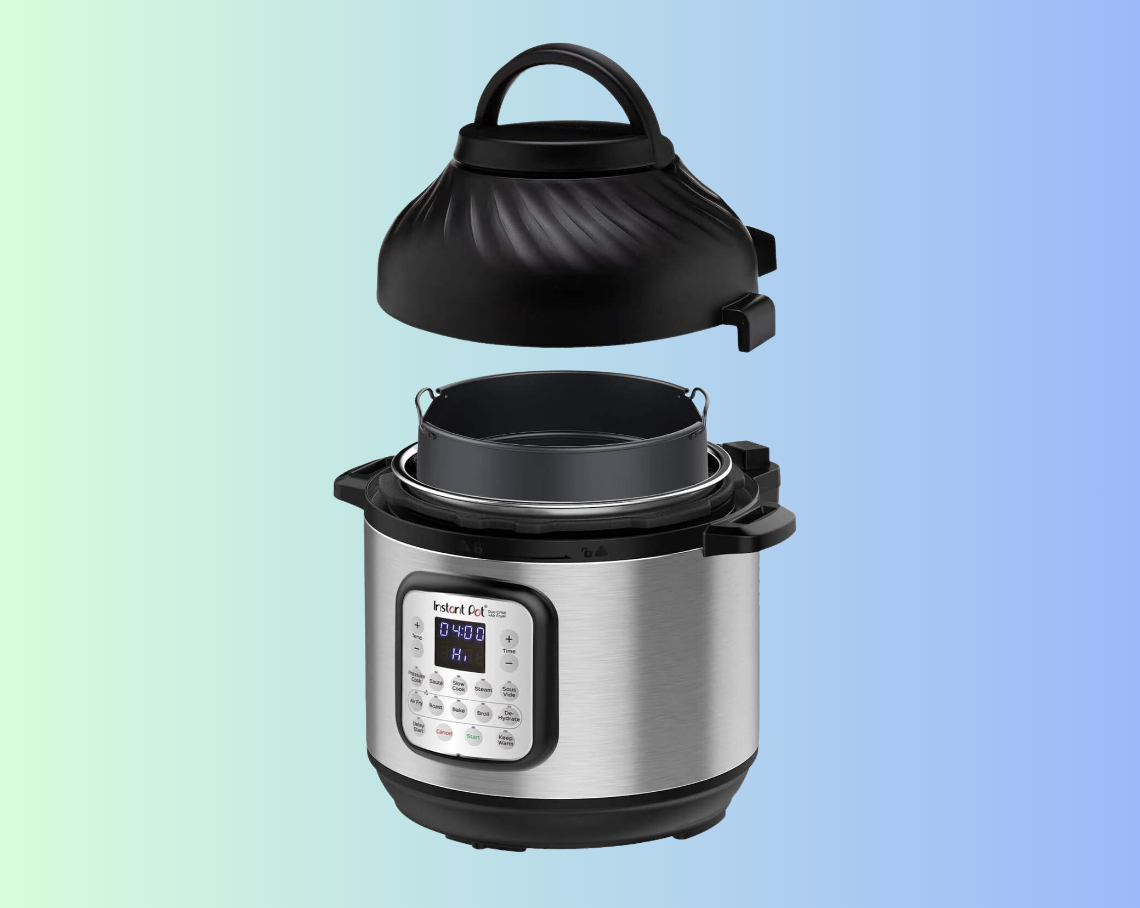 3 Instant Pot Duo Crisp, $149.99
As you would expect from an Instant Pot appliance, this air fryer can also slow cook your food, as well as steam, broil, sauté, and much, much more. So if you're looking for a kitchen gadget that will multi-task along with you when you're cooking in the kitchen, this is the one for you.
Get it here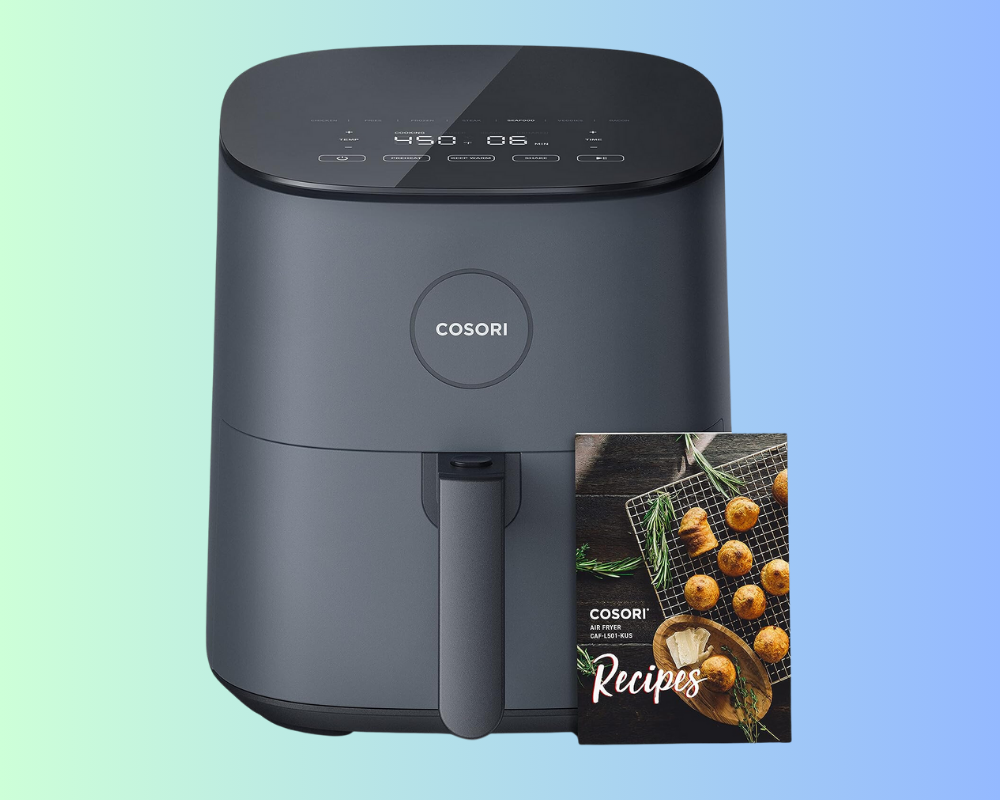 4 Cosori Air Fryer Pro, $84.98
For those who are prepared to spend a little on a good air fryer, but not too much, this reliable appliance from Cosori comes in at just under $85. It's still incredibly efficient, has nine functions, and will heat your food quickly and efficiently, thanks to its "industry-leading temperatures."
Get it here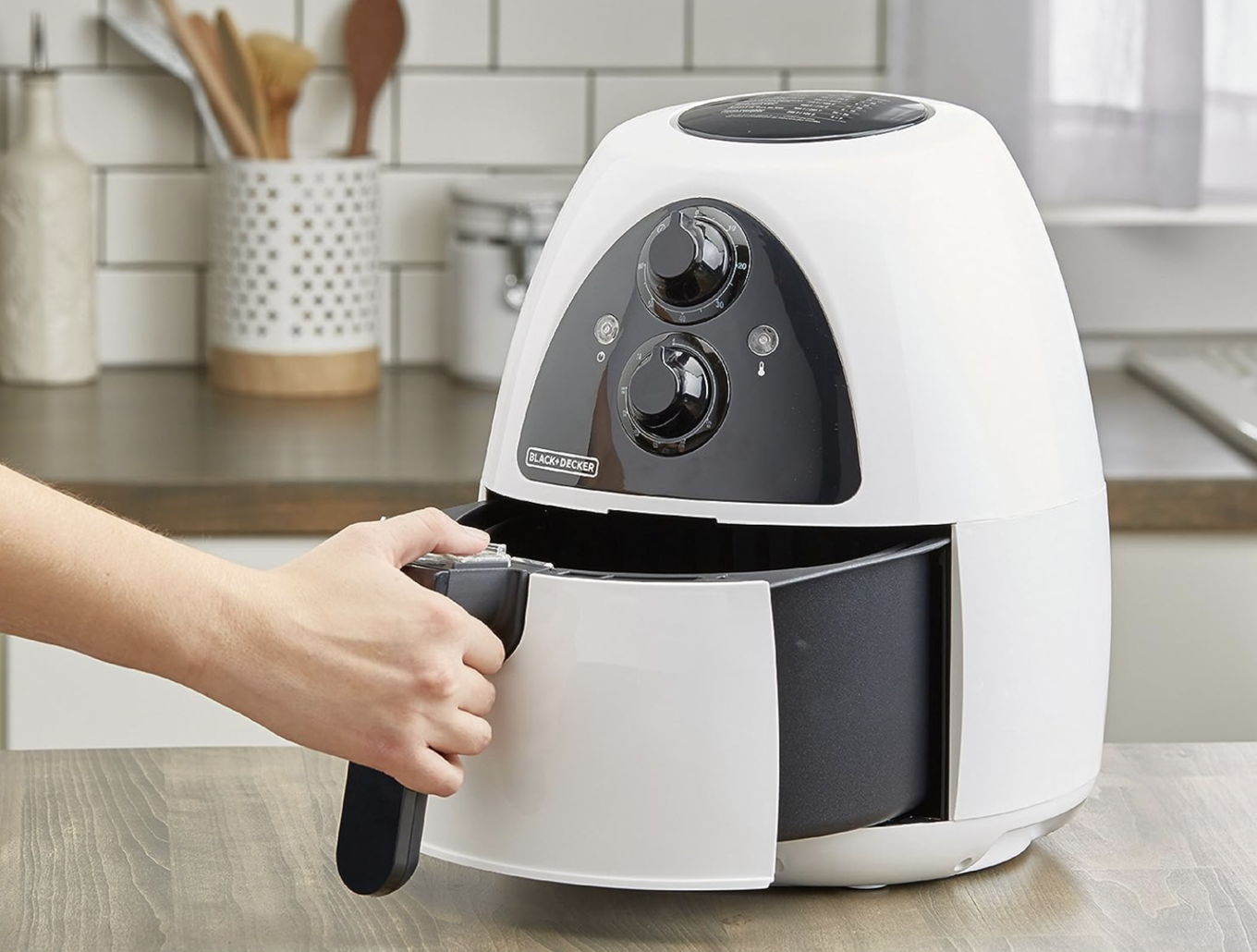 Black + Decker
5 Black + Decker Purify 2-Liter Air Fryer, $69.99
If you've got limited kitchen space, this 2-liter air fryer from Black + Decker will sit neatly in the corner without taking up too much room. It doesn't have the fancy digital interface or the multiple cooking options, but it will do the job it was built for efficiently. So if you're not looking for anything fancy and you don't want to spend tons of money, it's well worth giving it a shot.
Get it here
6 DASH Tasti-Crisp Digital Air Fryer, $59.99
This compact, lightweight digital air fryer is ideal for beginners. It's neat, it's fast, and it's healthier, as it will help reduce added fat by between 70 and 80 percent, according to the brand. Like most air fryers, it's also energy efficient, as it doesn't require pre-heating. Plus, it looks stylish and quirky, thanks to the range of colors on offer (hello, aqua!).
Get it here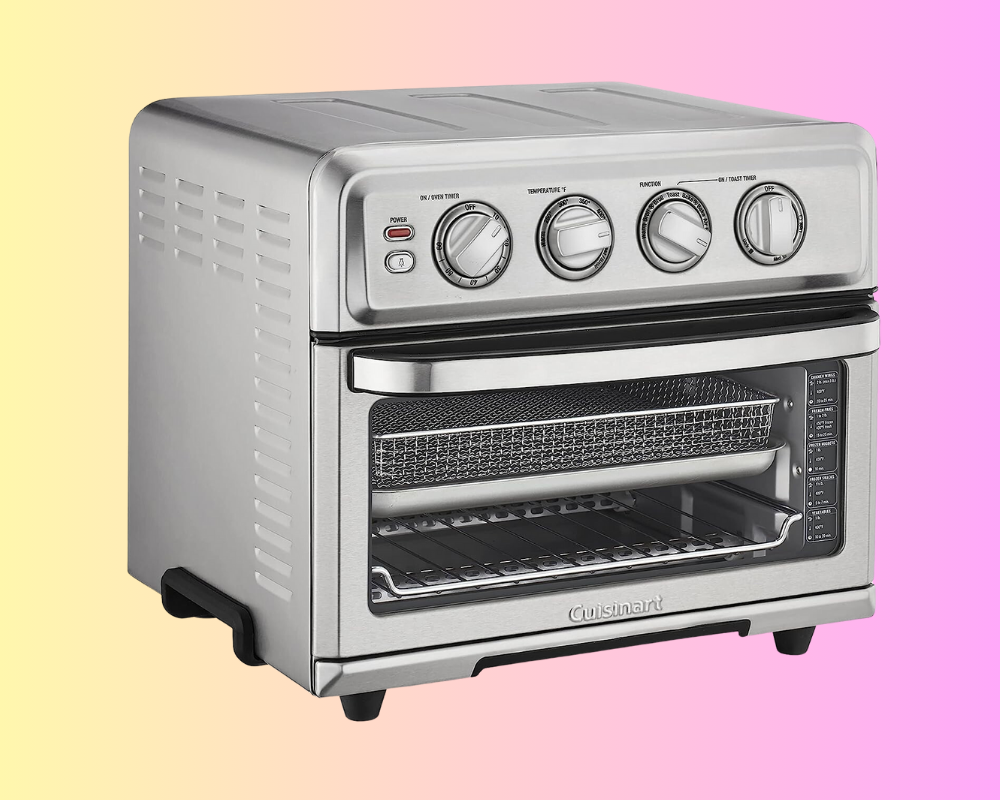 Cuisinart
7 Cuisinart Air Fryer + Convection Toaster Oven, $189.80
At nearly $200, this is the most expensive appliance on the list, but that's because, arguably, you'll get the most use out of it. It combines a 1,800-watt toaster oven with an air fryer, which can also bake, broil, grill, and warm your food, too. Plus it has plenty of space and comes complete with an oven rack, a baking pan, and an air fry basket. Choose from white, stainless steel, or black, depending on your preference.
Get it here
For more on vegan cooking appliances, read:
Here at VegNews, we live and breathe the vegan lifestyle, and only recommend products we feel make our lives amazing. Occasionally, articles may include shopping links where we might earn a small commission. In no way does this effect the editorial integrity of VegNews.