We all have that one food we love so much that we'll eat it anytime and anywhere. For Kourtney Kardashian, that food is vegan chicken by Daring Foods. And she'll eat it anywhere, including the bathroom.
Karashian recently took to her Instagram to share a few photos of her life, one of which included a somewhat chaotic bathroom shot with plates of vegan chicken, burgers, salad, fruit, and two bottles of champagne. A bag of Daring chicken can be seen just under a towel on the floor and a burger is tucked into the soap holder by the tub.
View this post on Instagram
The post was quickly swarmed with comments calling out Kardashian for eating in the bathroom and putting food on the toilet and floor near the tub. However, not all of the comments were negative, with one fan pointing out that it's the "same difference" when people take their phones into the bathroom and then use them to take photos of their food.
"People talking about food in the bath like your toilet isn't in the same room as your tub," another commenter said. "You've never ordered room service and ate it in the tub? Then you aren't truly living my friend."
Kourtney Kardashian's favorite vegan chicken
Travis Barker and Kardashian's love of Daring's vegan chicken started last year when the couple first partnered with the brand on its "Saucy" campaign.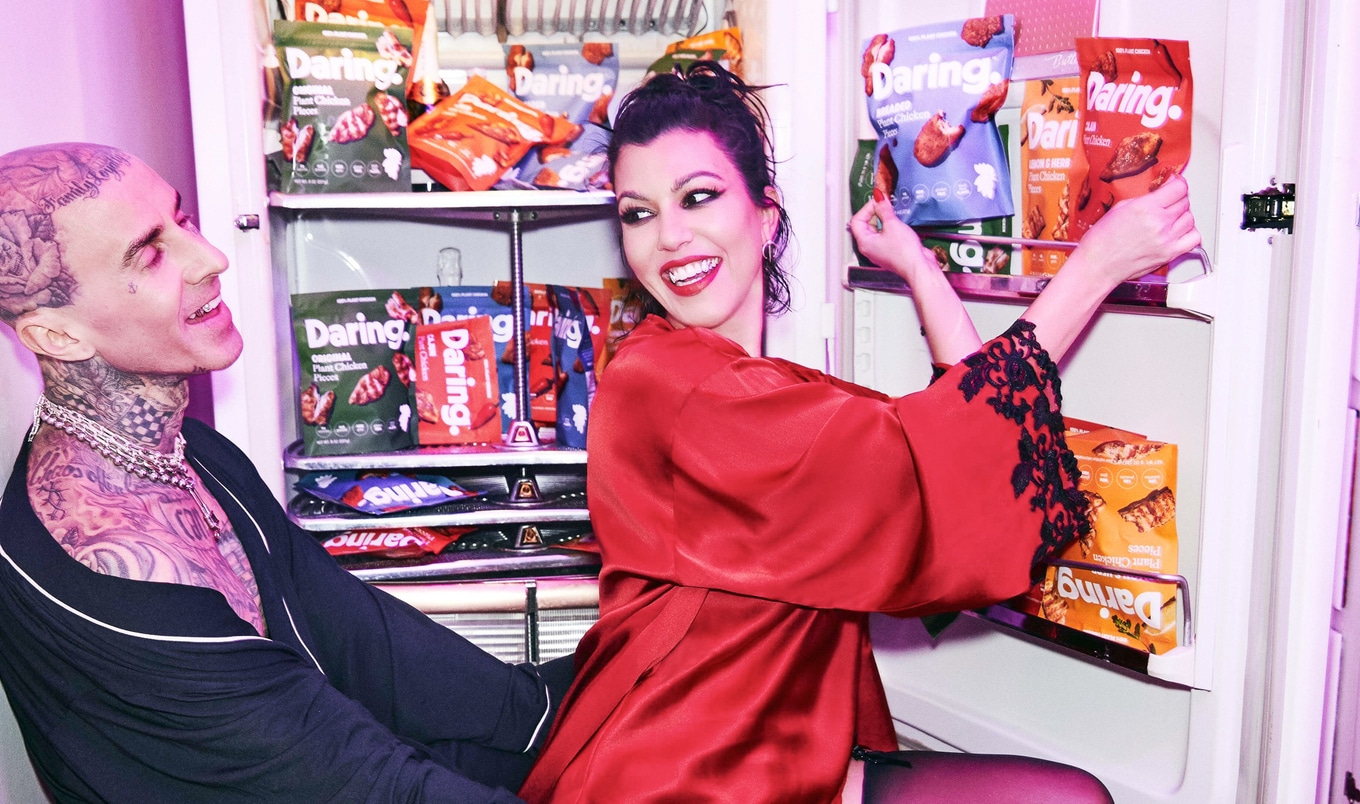 Ellen von Unwerh
Since she began dating longtime vegan Barker, the entrepreneur has been removing animal products from her diet—and confessed to being nearly vegan—"like, 95 percent"—in a 2021 Poosh blog post.
"I've been on a health and wellness journey for the past 13 years, which has made me super conscious of what I put into my body and my kids' bodies," Kardashian said in a statement at the time. "I'm not fully vegan, but Travis has helped me keep to a mostly plant-based diet, which is so much easier with Daring."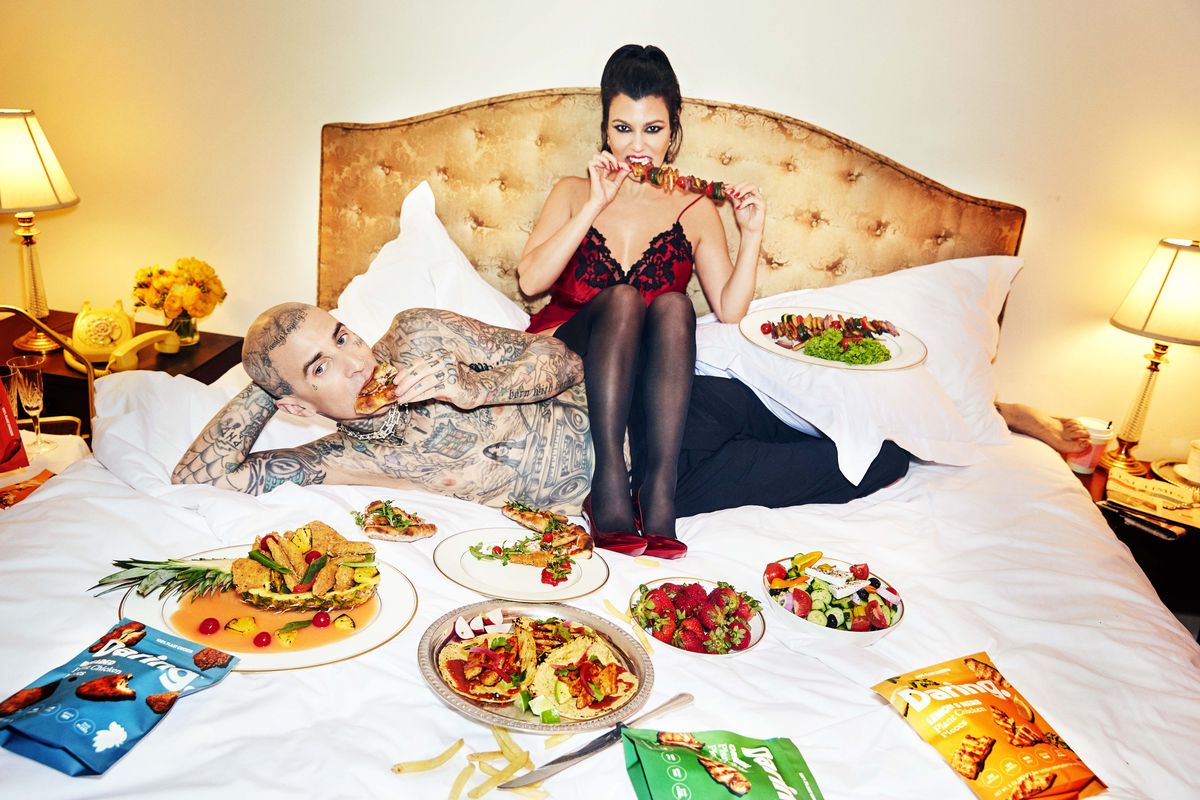 Ellen von Unwerth
The first Daring campaign was, as the company's name indicates, quite racy. Shot by famed photographer Ellen von Unwerth, Kardashian and Barker were pictured in their limo and their hotel room (at West Hollywood's Chateau Marmont) wearing bathrobes shortly after eloping in Las Vegas.
And their love for each other was only matched by their love for Daring's vegan chicken.
"I honestly cannot believe how much it tastes like chicken," Kardashian said. "There are lots of plant proteins out there, but we're always looking for options that are super clean with all-natural ingredients. That's why I love Daring."
Last week, to put trolls at bay, Kardashian took to her Instagram stories to explain that the bathroom shot was a behind-the-scenes look at her Daring campaign. "The comments about this photo," she wrote, followed by 10 swirly-eyed emojis. She also shared another photo of the scene shot by von Unwerth in which the couple enjoy food and drinks inside the bathtub.
Travis Barker loves Daring, too
Barker went vegan after surviving a tragic plane crash in 2009 and is an avid supporter and investor in plant-based businesses, including restaurant Crossroads Kitchen—which recently expanded to his Calabasas neighborhood—and fast-food chain Monty's Good Burger (where the Travis Oat Matcha Latte Shake recently hit the menu).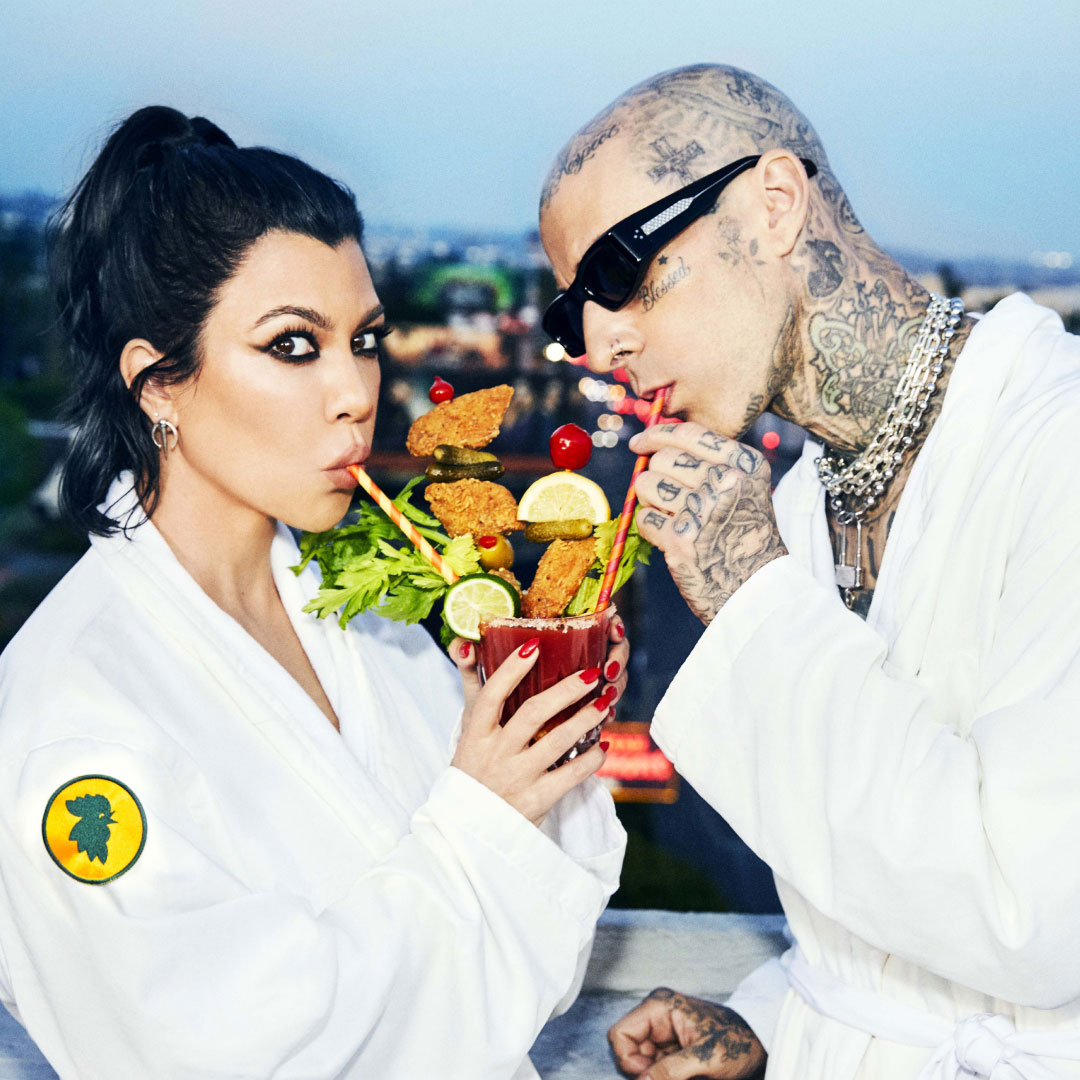 Ellen von Unwerth
"I haven't eaten meat since I was 13 years old, so really good plant protein is important to me. Daring is awesome, because it's super clean and has all-natural ingredients," Barker said in a statement at the time.
"When I went fully vegan 15 years ago, the options were basically straight vegetables, so I'm excited to see more plant-based choices on menus," he said. "That's why I invested in Crossroads Kitchen and Monty's and why this partnership with Daring felt so right for Kourt and me."
Last year, the duo continued their long standing relationship with Daring with a fun pool party concept. The '50s themed party featured a walk-up window where guests were treated to Daring's Fried Chicken & French Fries with gochujang ketchup and vegan ranch. Hors d'oeuvres trays also showcased the plant-based chicken as the protein in the '50s inspired spread of Cobb salad and plant chicken and "bird dogs"—or sliders served in mini hot dog buns and all the fixin's. Daring was also the star in refreshing chicken salad cucumber cups.
"From the moment our partnership with Kourtney and Travis began there was clear synergy between Daring's mission and their personal beliefs on plant-based eating and the positive impact it has on the environment," Ross Mackay, CEO and Founder of Daring Foods, previously told VegNews.
Daring's new vegan chicken meals
In the United States alone, more than 9 million chickens are slaughtered for meat each year and nearly all are crammed on factory farms in deplorable conditions. The polluting industry is also a major contributor to the climate crisis.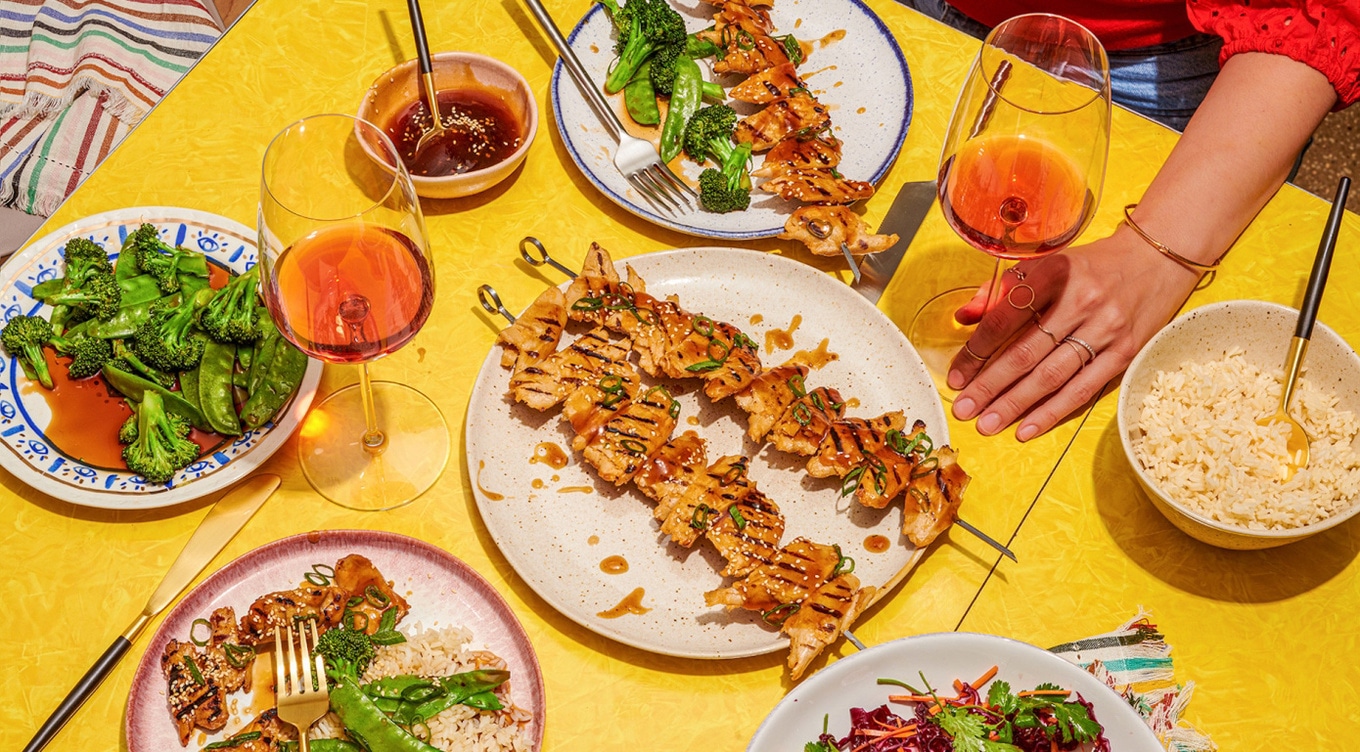 Daring Foods
Mackay founded Daring with a clear mission in mind: to eliminate the need to produce chicken meat the traditional way by replacing it with near-identical plant-based chicken alternatives. And working with celebrity backers—which, for Daring, also includes Drake and Naomi Osaka—gets the message to more people and fast.
Currently, the company offers its Plant Chicken in Original, Cajun, Teriyaki, Lemon & Herb, Buffalo, and Breaded varieties. This year, Daring will expand into the frozen foods category with the launch of Plant Chicken-powered plant-based frozen meals in four varieties: Teriyaki Bowls, Fajita Bowls, Penne Primavera Pasta Bowls, and Autumn Harvest Bowls.
Daring Foods
Daring previewed its upcoming frozen meals at the recent trade show Natural Products Expo West and VegNews editors were impressed with their flavors. Dare we say enough to eat them in the bathroom.
For the latest vegan news, read: