In a neighborhood filled with red-brick apartment buildings and crumbling Craftsman homes, in one of the last bastions of what wistful residents often refer to as "Old Portland," sits Fermenter—the city's very own "friendly neighborhood beneficial bacteria emporium." Peer through the massive picture windows during any given mealtime, and you'll surely see a full house of smiling diners chowing down on massive sandwiches and colorful salads, all of which share one thing in common: they're powered by plant-based ferments.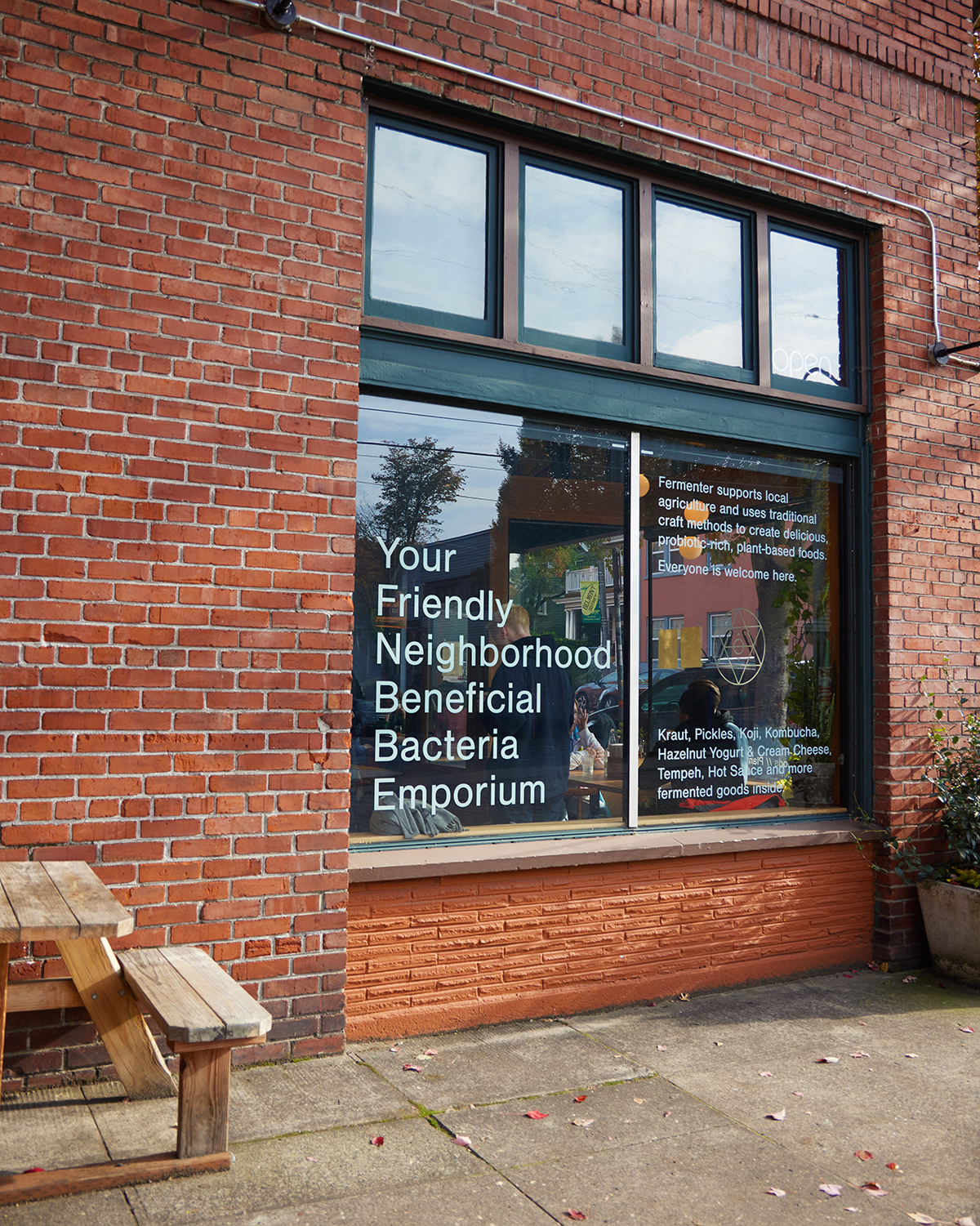 George Barberis
At the helm of it all is Chef Aaron Adams, who made a name for himself in Portland's vegan culinary scene as the co-founder of Portobello Vegan Trattoria, and later, Farm Spirit. Both ventures proved that there was room for plant-based fine dining in a city where vegan restaurants were still dwelling on the fringes. These days, Adams' focus is on the science of fermentation, providing Portlanders with an ever-changing menu of delights made from the symbiosis of healthy bacteria and locally grown produce. But don't expect a strict menu of tiny sauerkraut salads and plain kombucha: while the dishes at Fermenter are undoubtedly great for your gut, most are a far cry from what's typically dubbed "health food." Instead, you'll find massive burgers and sandwiches topped with smoky tempeh bacon cured in brown sugar and smoked over applewood, heaping piles of oven-baked potato wedges, and delightfully sweet cookies and parfaits.
Another tenet central to the Fermenter philosophy: sourcing ingredients locally—and directly—whenever possible, to take advantage of Oregon's bountiful terroirs. The quinoa served here is grown not in the mountains of South America but right in Oregon's winery-filled Willamette Valley. Same goes for the olive oil, sourced from Durant Olive Mill, less than an hour's drive south of Portland. Depending on the season, you may even find produce grown on Sauvie Island, a farm-filled islet in the middle of the Columbia River that's still close enough to downtown Portland to be reached by city bus. Fake meats are eschewed in favor of housemade tempeh crafted with lentils and beans or, occasionally, tofu sourced from Ota Tofu—the oldest tofu manufacturer in the United States—situated just a few blocks away. While most of Fermenter's ingredients are organic or, at least, spray-free, their biggest emphasis is on keeping things fresh, local, and sustainable.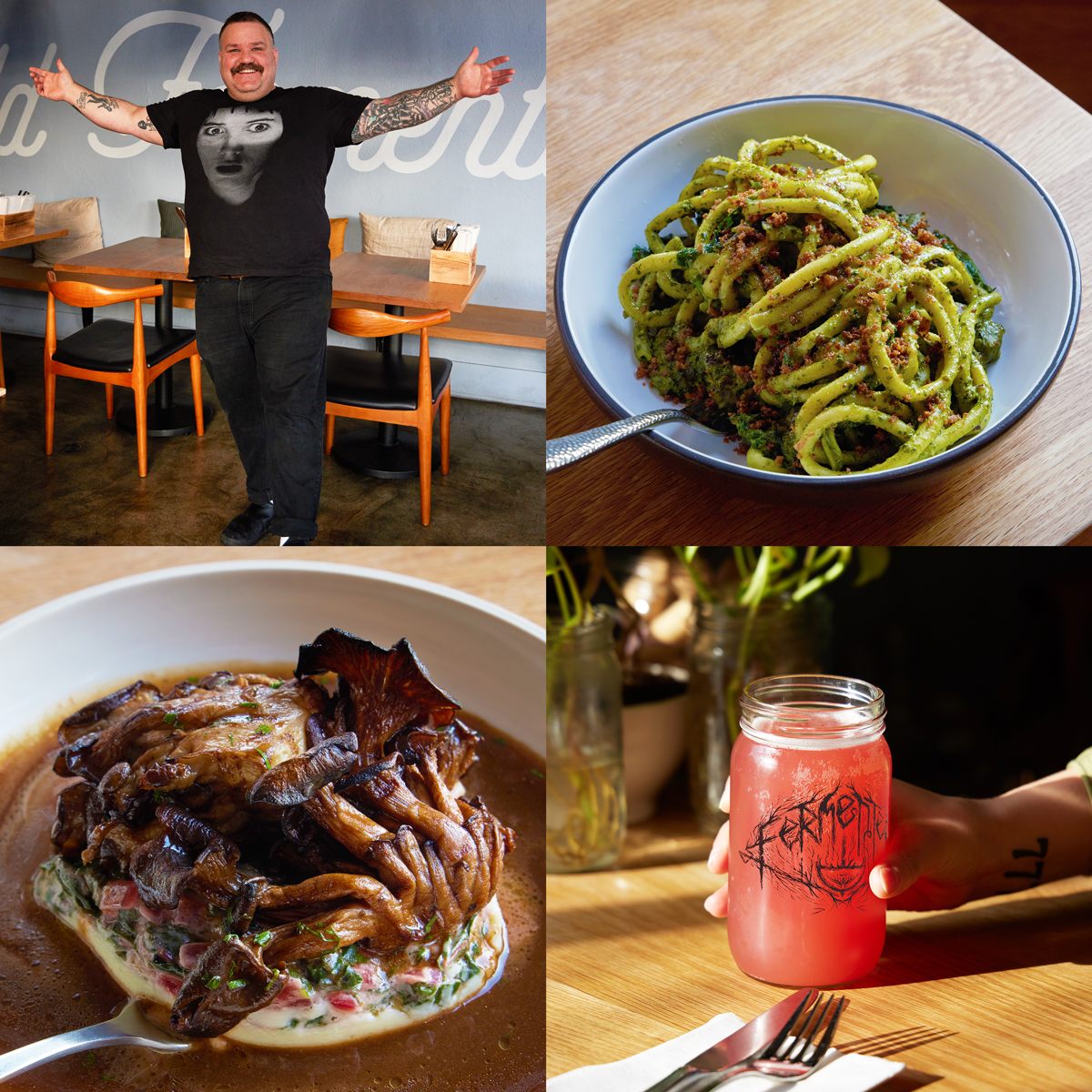 George Barberis
The menu—particularly at dinnertime—is ever-evolving, allowing the kitchen to continually refine and reimagine their offerings based on both what's in season and their own creative inspiration. "At the beginning of the season, a dish may look like X, and by the time you're done it's over at Z," says Adams. "It may not look anything like it used to, but we still call it the same thing." What all the dishes do have in common is that they all have at least one fermented element, whether it's smoked beets incubated with koji—a culture traditionally used in Japan for making things like miso and sake—or cream made from sunflower seeds and kefir.
Growing ideas
Eating fermented food is nothing new—in fact, it's among the oldest culinary techniques known to humanity. Although historians struggle to pinpoint exactly where and when humans began intentionally fermenting food and drink, many date the discovery to around 12,000 years ago. Some hypothesize that this played an integral role in motivating ancient humans to give up their hunter-gatherer ways to grow grains to make into beer, laying the groundwork for what would become agrarian societies. While fermentation may have been a happy accident, it was human ingenuity—driven by a thirst for beer (and reliably potable beverages)—that changed the course of our species' path: for better or for worse.
Fermenter, too, traces its origins to the meeting of fluke and resourcefulness. It all started in 2019, after Adams moved Farm Spirit—which was, at the time, a four-seat, chefs-table-style counter spot—into a bigger space just around the corner. "We kept the original [Farm Spirit] location because we had a really expensive and amazing three-phase power oven that we couldn't move," says Adam. "So I would sit over there and do R&D and fermenting stuff." However, the lease terms required them to keep an active storefront if they wanted to stay. "The landlord eventually told me you can't have a storefront that isn't doing something. You need to have it be an active part of the of the building." Adams was left at a crossroads: either pack up shop or start something new. And thus Fermenter was born.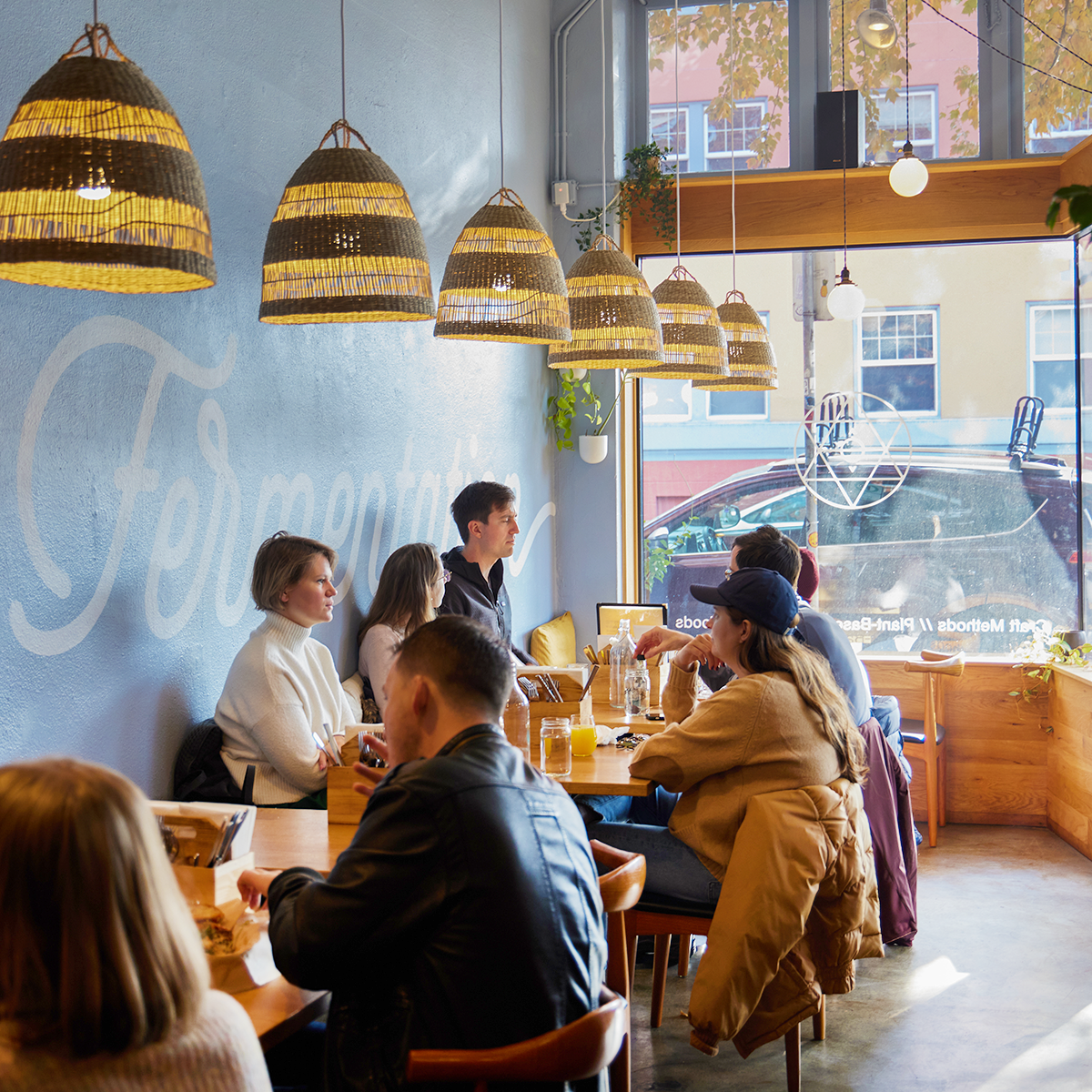 George Barberis
First, the new venture's identity needed to be solidified. "I thought: ''What's the most ridiculous logo I can do?'" Adams enlisted an artist to make a brambly metal band-style logo, an intentionally cheeky choice for a relatively sophisticated spot. He plastered it onto the window, and opened up shop, offering three-course lunch tastings for just four seats. When the pandemic hit, Farm Spirit closed and Fermenter moved into its space, allowing Adams and his team a new opportunity to bring their fine-dining level commitment and sophistication to a wider audience in a comfortable-yet-chic café setting.
Beyond expectations
Don't let that original logo fool you: Fermenter is more suited to an afternoon of quiet reading than a night in a mosh pit—it also has a new, soothing alchemy-inspired logo (though the OG black metal brambles still make an appearance on Fermenter's Mason-jar glasses). The interiors feel decidedly contemporary, with calming hues of muted steel blue on the walls and long pendant lights shaded with woven baskets. A frozen-drink machine next to the till churns kombucha, fruit juice, and ice into signature kombucha slushies, while light-wood taps at the bar advertise more housemade booch, water kefir, and ginger beer on draft. Potted plants inject vibrancy to the already bright spot, while soft background music infuses the space with calm. A similar aesthetic extends to the outdoor seating area, which is dominated by a greenhouse-like covered enclosure, one of many that sprang up around Portland en masse during the height of the pandemic.
While the décor is unquestionably inviting, Fermenter's food remains its biggest draw. Although many of the menu items change with the seasons, there are a few dishes that you're likely to find no matter when you visit. The quintessential dish here is, undoubtedly, The Bowl: a hearty blend of quinoa mixed with pillow-soft braised beans, tangy housemade kraut, kale, and whatever vegetables happen to be in season, all drizzled with yogurt, miso, or spicy herb chili sauce. For an added (and worthwhile) boost, you can add a bit of Fermenter's signature millet-lentil tempeh, an earthy alternative to the traditionally soy-based protein.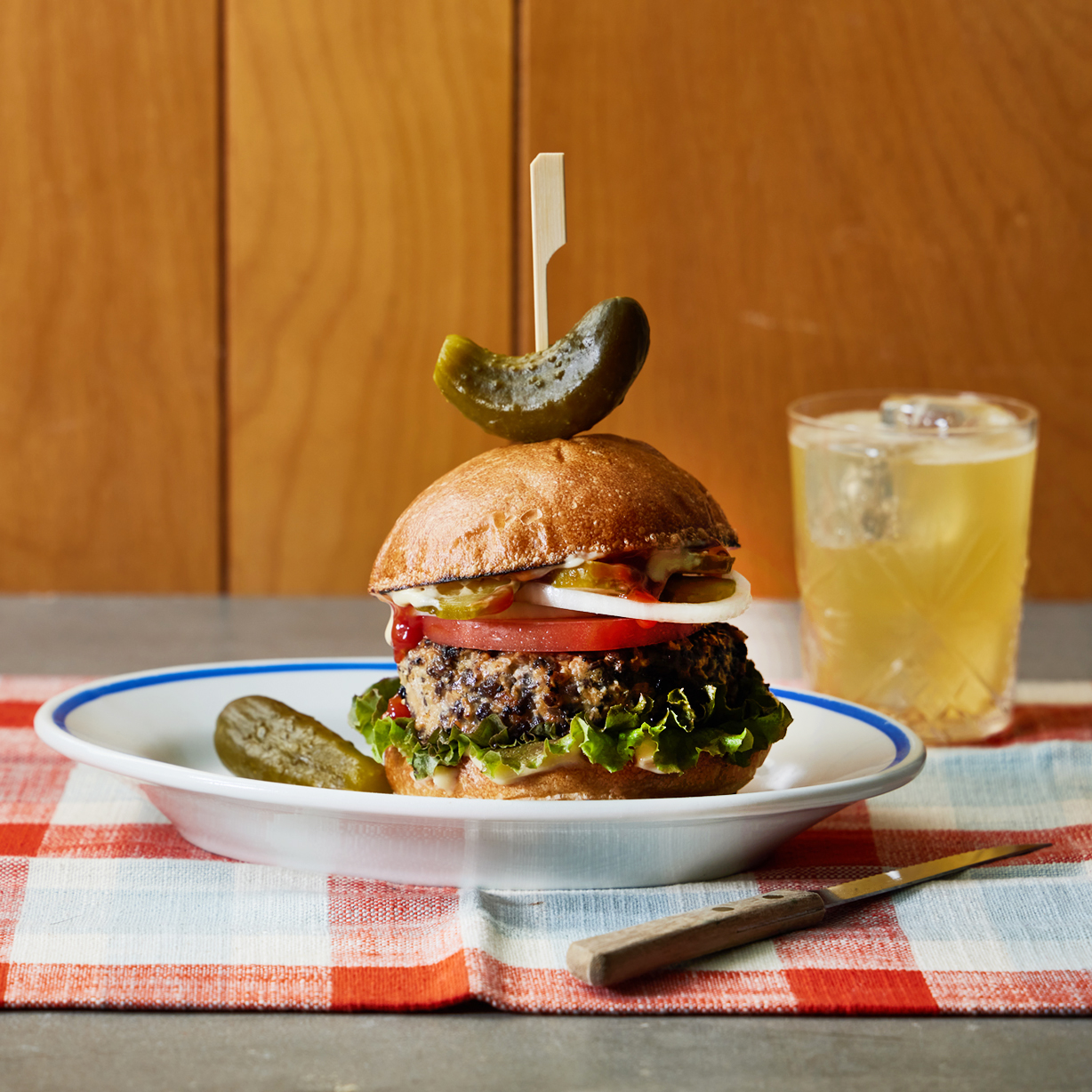 Aaron Adams/Sasquatch Books
The Fermenter Burger is another surefire option, made from a black lentil-millet tempeh patty glazed with smoked onion shio koji and optional sunflower-chive cheese. The JoJo Supreme is another must-order, taking all that is good from both nachos and potatoes and merging it into one massive pile of happiness—think baked potato wedges seasoned with a house blend of umami koji and fragrant spices, topped with fermented chilies, tempeh bacon, pickled red onion, and huge dollops of thick cheesy sauce and tangy sour cream.
The eclectic brunch menu features house classics such as the Koji Beet Reuben, a multi-flavored marriage of beets, sunflower cheese, and kraut on rye, to fluffy soy- and gluten-free oat-flax waffles dolloped with slightly sweet sunflower yogurt and fresh Oregon fruit. Other favorites include the hearty breakfast sausages made from soft, maple syrup-glazed pinto tempeh and Chef Adam's beloved flaky, buttery biscuits. You can order them as a side with jam, or get ambitious and opt for a combo plate that includes biscuits drenched in a gravy of tempeh bacon and cauliflower cream, served with a savory tofu scramble.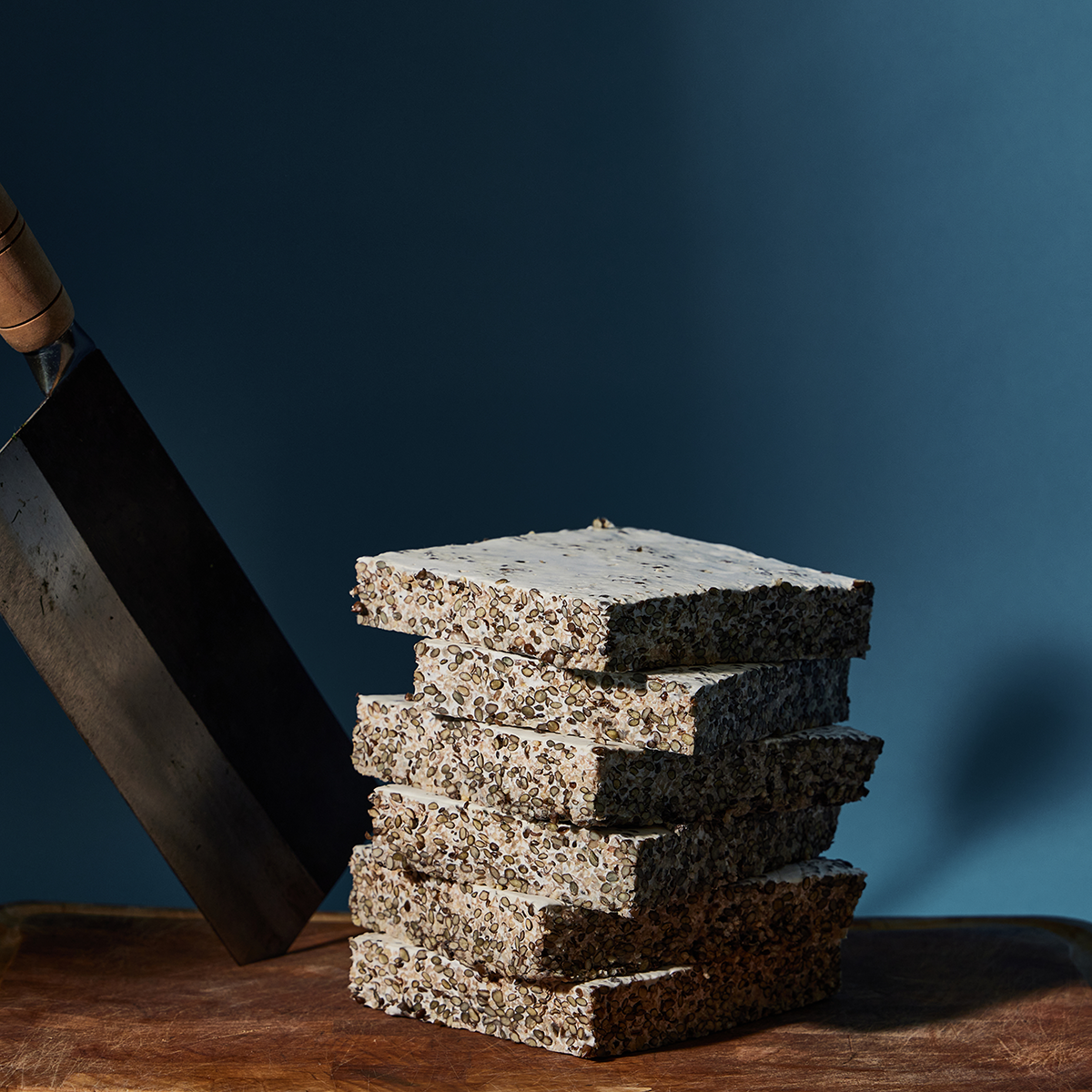 Aaron Adams/Sasquatch Books
Home alchemy
The Fermenter team have been actively encouraging people to engage in a little bacterial alchemy in the comfort of their own kitchens, offering everything from fermentation crocks and starter cultures to the occasional beginner-friendly fermentation workshop. Starting this September, you'll be able to pick up a copy of Adams' upcoming cookbook: Fermenter DIY Vegan Fare and Ferments. The book will feature recipes for many of the restaurant's most popular dishes along with step-by-step instructions on how to make the elements that go into them, from tempeh and vinegar to miso and kombucha.
"The book is going to show people how to do ferments in a really approachable way," says Adams. And while home fermentation can sound daunting for novice home chefs and kitchen wizards alike, Adams has some words of assurance. "The kind-of theme of the book is that failure is an option, you know, like you will probably have some failures, and it doesn't matter if you don't do things perfectly," he says. "It's that philosophy of just doing things without fear."
Perhaps it's that same philosophy that has helped Adams continue his culinary explorations, from introducing fine-dining fans to innovative plant-based creations to reimagining health food in a way that appeals to those who value locally sourced ingredients, rich umami flavors, and massive portions—all with a little help from fermentation.
For the latest vegan eats, read: