Foggy coastlines and sandy beaches. Towering redwoods and vineyard-covered hills. Historic vistas and swaying palm trees. California's coast is world-renowned for its diverse landscapes and jaw-dropping cliffs that give way to the stunning Pacific Ocean. This summer, skip the international jet setting, hop in the car, and take a vegan food tour of this stretch of roadway that winds from the quiet and misty town of Mendocino to bustling and sunny San Diego.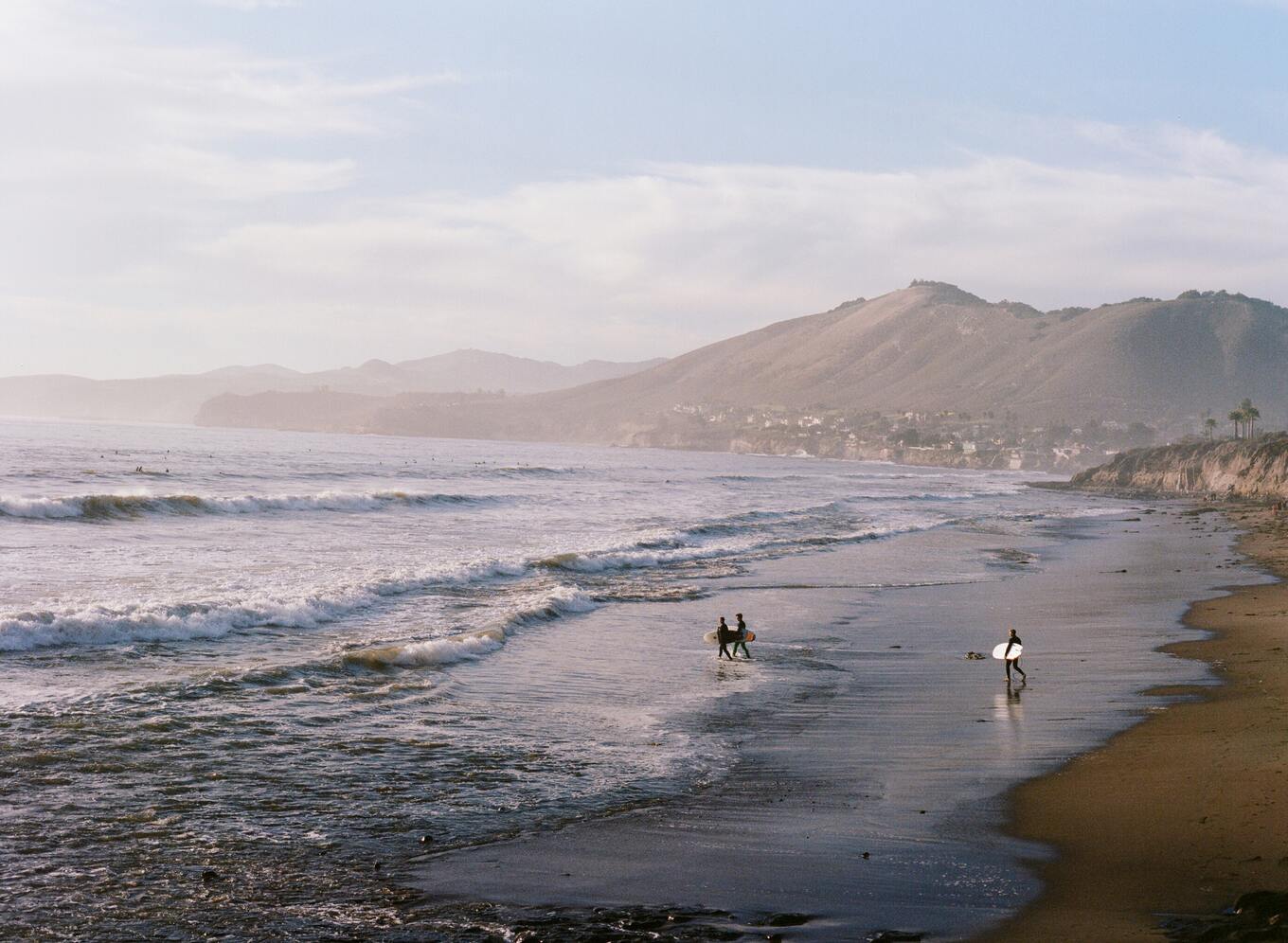 Lindsay Garrett
It's a highway voyage full of unbelievable getaways into nature and some seriously great hidden plant-based gems (think an all-vegan hillside eco-resort, chocolate biscotti-topped oat milk cocktails, and plant-based burritos at the world's most beautiful Taco Bell).
Where to eat and stay in Northern California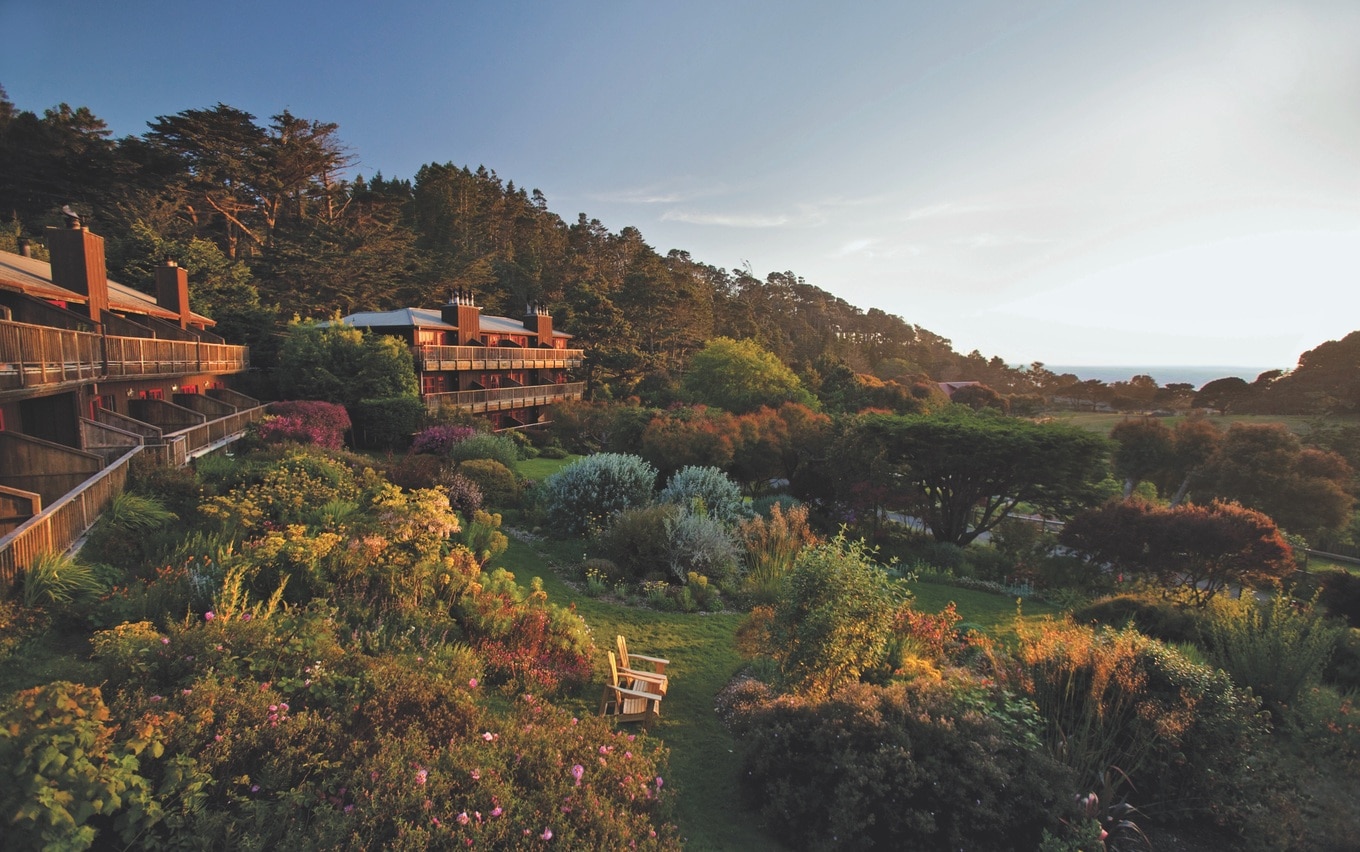 Stanford Inn
Start your drive in the quaint cliffside town of Mendocino. With a population of less than 1,000, this tiny town is perched on a headland and surrounded by the Pacific Ocean crashing at its cliffs. Its incredible vistas have made it a destination, not just for tourists, but for film crews and artists alike.
Nestled into the hills of the winding roads through this town lies Stanford Inn by the Sea, an all-vegan, environmentally minded resort complete with pine and redwood-paneled rooms, wood-burning fireplaces, an upscale vegan restaurant, rolling vegetable gardens, and a holistic wellness center that treats guests to massages, tai chi, acupuncture, and yoga. A morning dip in the solarium-enclosed pool and sauna, dripping with lush trailing houseplants, provides a world of calm before embarking on the rest of your journey.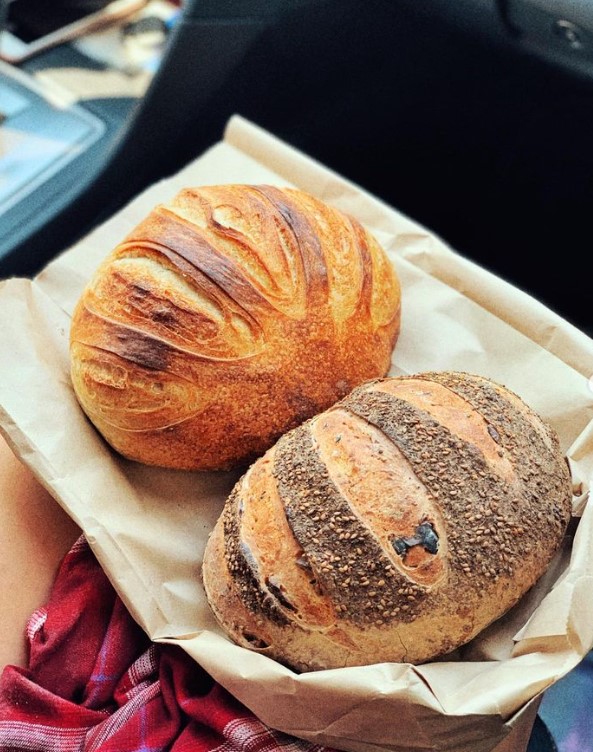 Sarah McLaughlin
As you head back onto Highway 1, continue down to Bodega Bay and make your way to the Bohemian Highway. Tucked into the green hills dotted with grazing cows and red barns, you'll find a vegan carb-lovers dream.
Wild Flour Bread is a hole-in-the-wall bakery specializing in rustic French-style sourdough baked in giant wood-fired brick ovens that has made a name for itself far and wide. The loaves are anything but basic: Greek olives are kneaded into the olive loaf before being topped with a generous dusting of nigella seeds and za'atar seasoning, while the Dragon Loaf is infused and twisted with jalapeños, garlic, polenta, and cornmeal. Make sure to get there in the early hours to snag a hot-from-the-oven vegan scone (with ever-changing seasonal add-ins such as rhubarb, nectarines, marzipan, figs, and pears) to sip with your alt-milk latte.
Vegan dining in the San Francisco Bay Area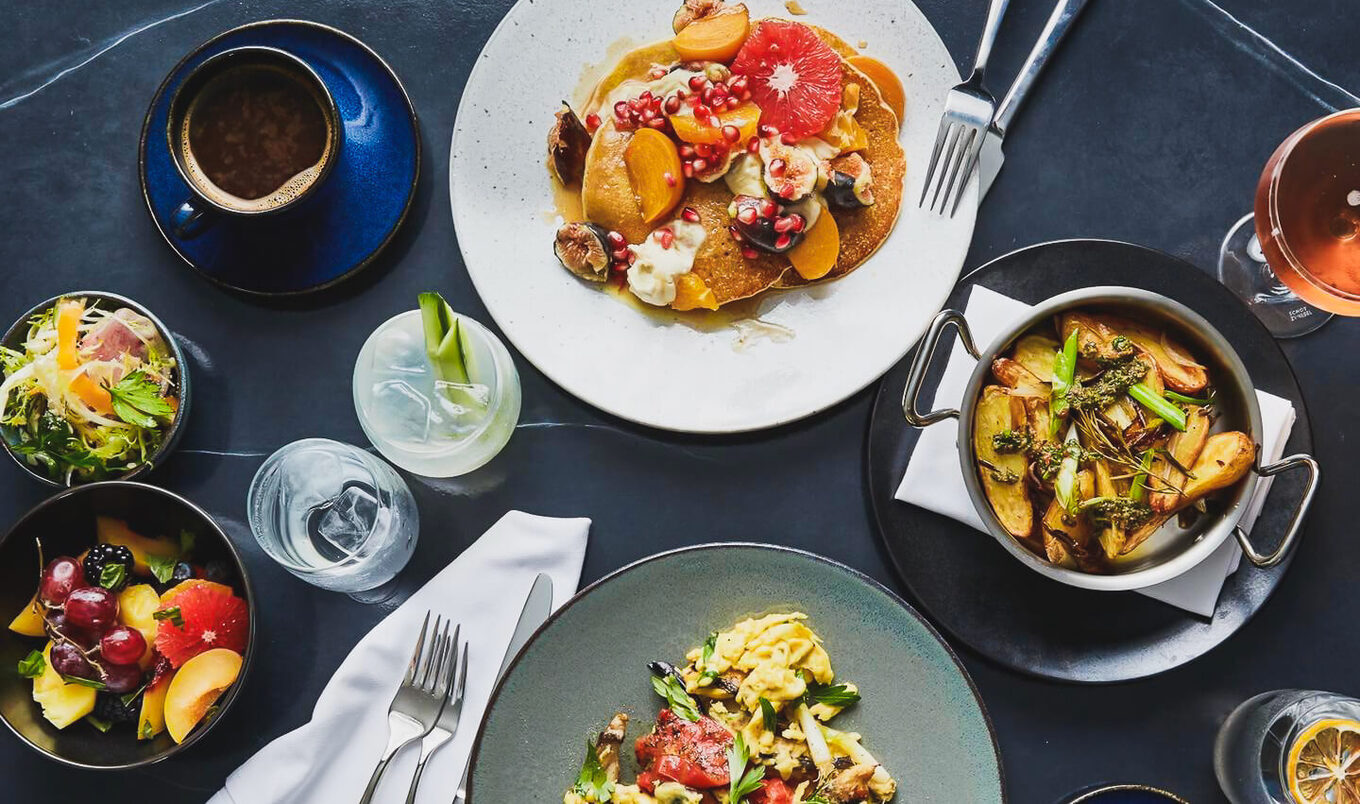 Baia
Just one hour further down the Pacific Coast Highway, you'll be crossing the iconic Golden Gate Bridge into the city on a hill that is San Francisco. From Peruvian tiger's milk-jicama ceviche, silky vanilla coconut panna cotta, and butterfly pea aloe cocktails at the chic eatery Wildseed to buttery garlic knots and wood-fired pizza at Matthew Kenney's upscale Italian dining spot BAIA, a quick detour into this diverse city is worth a day (or two) of exploration.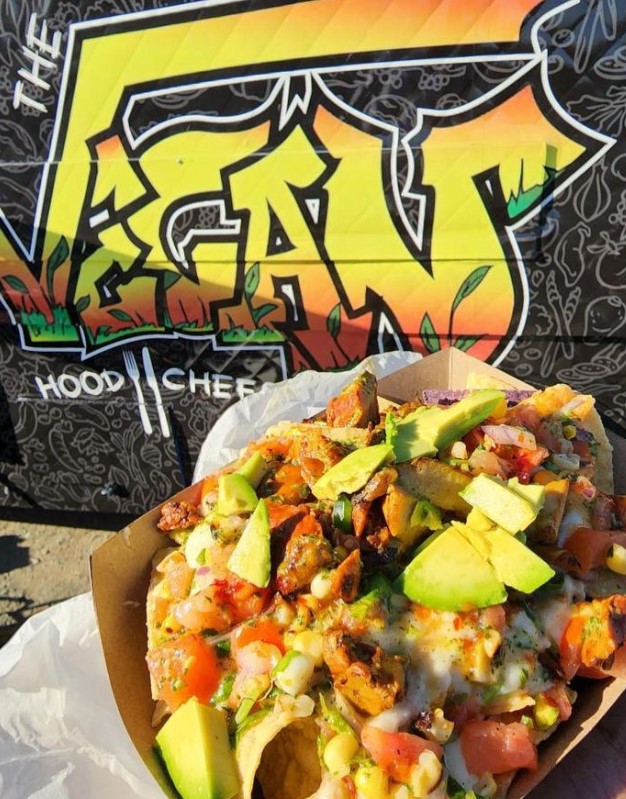 The Vegan Hood Chefs
And while the city is filled with great vegan restaurants, don't miss the nighttime pop-up scene where you can catch The Vegan Hood Chefs—the marinated papaya poke bowls with vegan crab or the lion's mane "steak" Surf and Turf fries are worth the trip.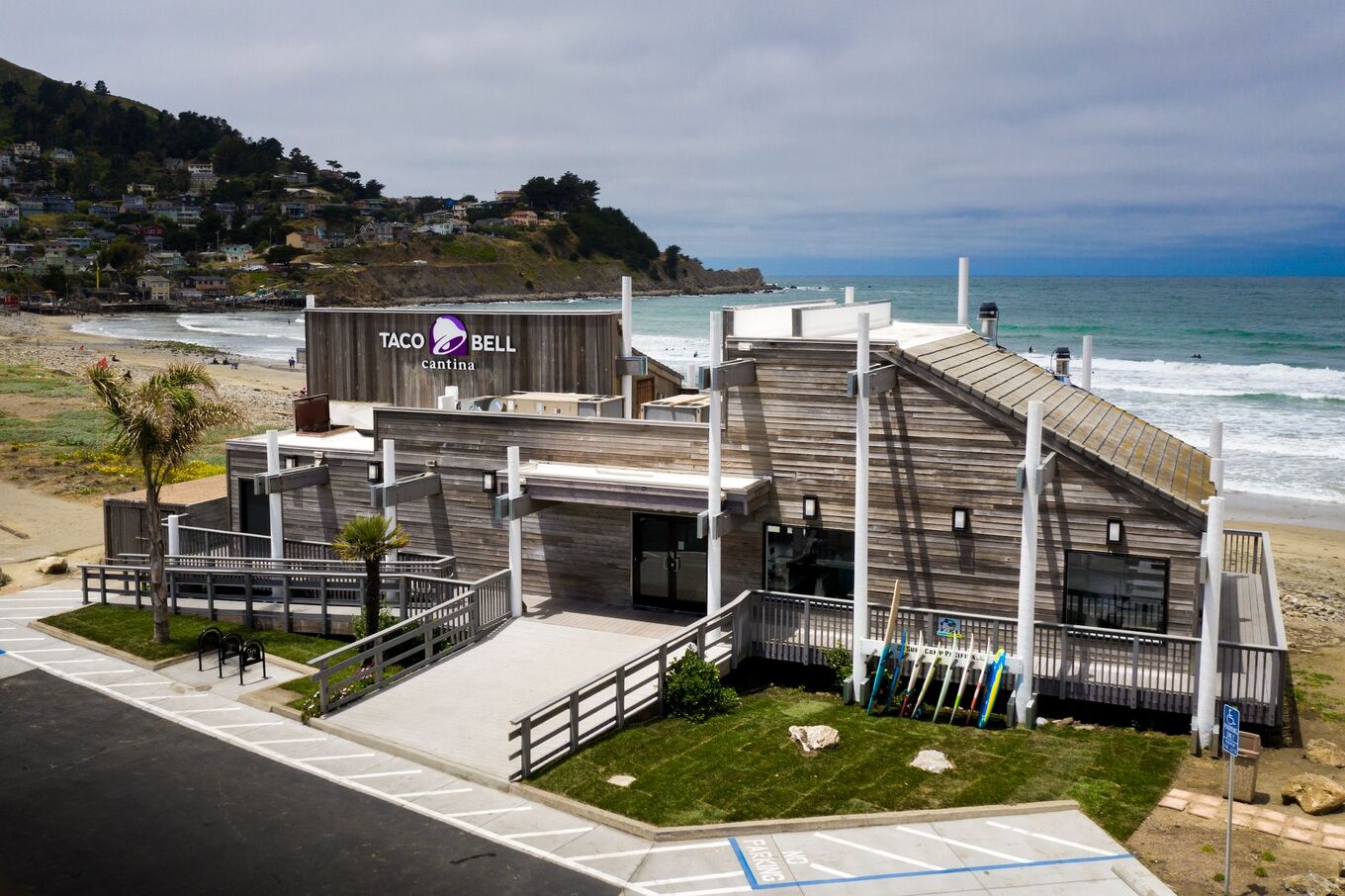 Taco Bell
With San Francisco's foggy hills shrinking in your rearview, look forward to the sleepy city of Pacifica, just 20 minutes south. Time your arrival here carefully—don't come after a heavy meal in San Francisco, as you'll want to leave space for an absolute staple of road trips: fast food.
Pacifica is home to the most beautiful Taco Bell in the world. Located right on the beach with a gorgeous outdoor patio, fireplaces, and even spots for beachgoers to park their surfboards, this internet-famous location has drawn guests worldwide. And, luckily, the chain is very vegan-friendly! Order items without cheese or queso and sub with pico de gallo salsa. Plus, with the option to add potatoes to black bean-style Crunchwraps and burritos, there will be plenty to leave you feeling fueled for your drive.
The best spots for vegan food in the California Central Coast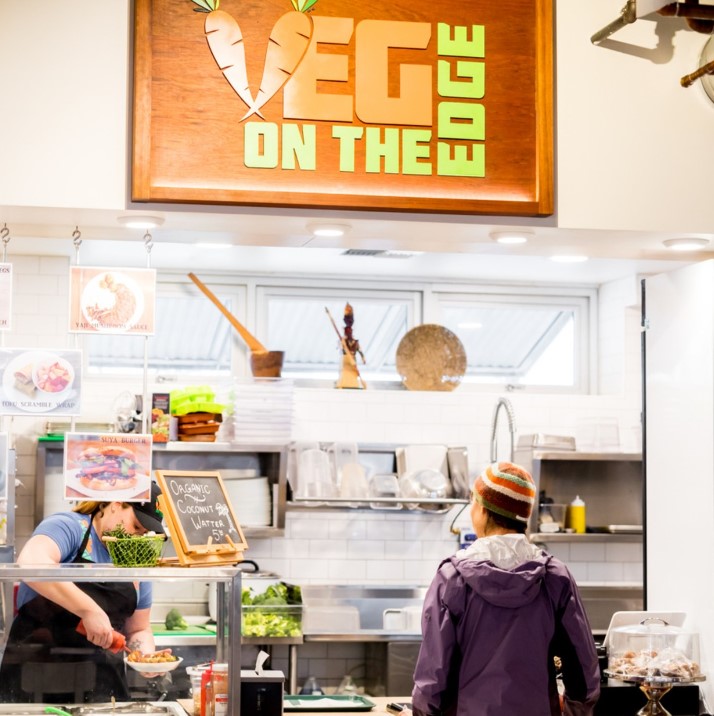 Veg On The Edge
Ninety minutes later, pull into the beach town of Santa Cruz, known for its competitive surfing and crowds of tourists who flock to the historic boardwalk every summer. Pull up to mom-and-pop dumpling spot Mo's Dumplings and order the crispy, sticky rice balls stuffed with red bean paste, the spicy kimchi noodle soup, and at least a couple orders of the vegetable-tofu dumplings in chili oil broth with sweet potato noodles.
If you stay the night, wake up and head downtown to Veg On The Edge, a totally vegan West African fusion eatery, for a Roasted Scramble Stack with fluffy tofu scramble, juicy Beyond Sausage, roasted potatoes, and a drizzle of West African-style pumpkin seed-based sauce.
Staying for the day? A stop at Akira Sushi is more than worth the time. The vegan options abound with rolls named after pop culture references such as the Silence of the Yams (with mango, tempura yam, spicy sesame miso aioli, and wasabi vinaigrette), or the Veggie Gaia (with spicy tofu, tempura yam, green beans, and unagi sauce).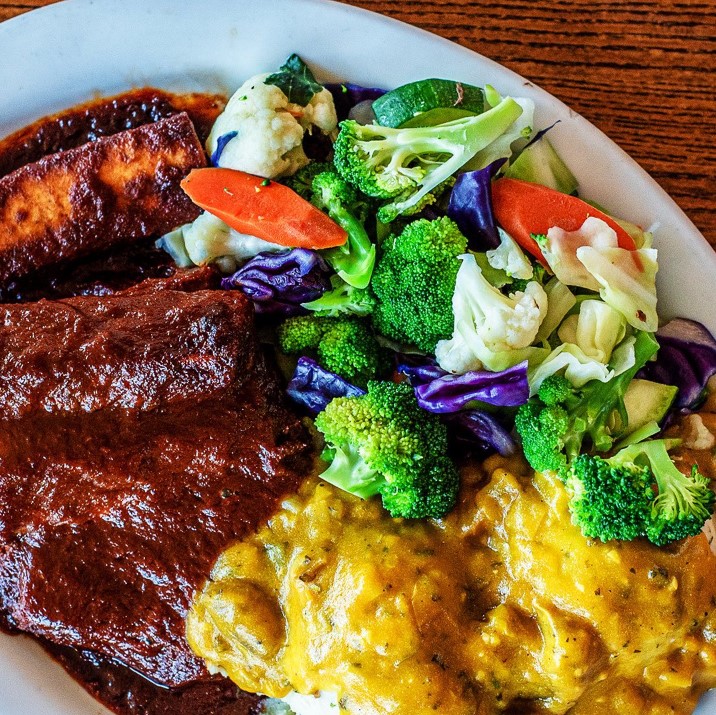 Dharma's
As you leave town, quickly stop in neighboring Capitola for a meal at the beloved vegetarian hotspot Dharma's Restaurant. Founded in 1981 as a meatless, fast-food-style spot, the family-owned eatery has served plant-based food to hungry college students and beach-going tourists for over four decades. The gigantic menu boasts a wide variety of cuisines spanning the globe: housemade tempeh burgers with pineapple and grilled onions; platter-sized tofu rancheros with vegan cheese; five different variations on tofu scramble; curry plates with papadum and fruit chutney; butternut squash ravioli; and old-school-style macro plates. Come hungry, leave satisfied.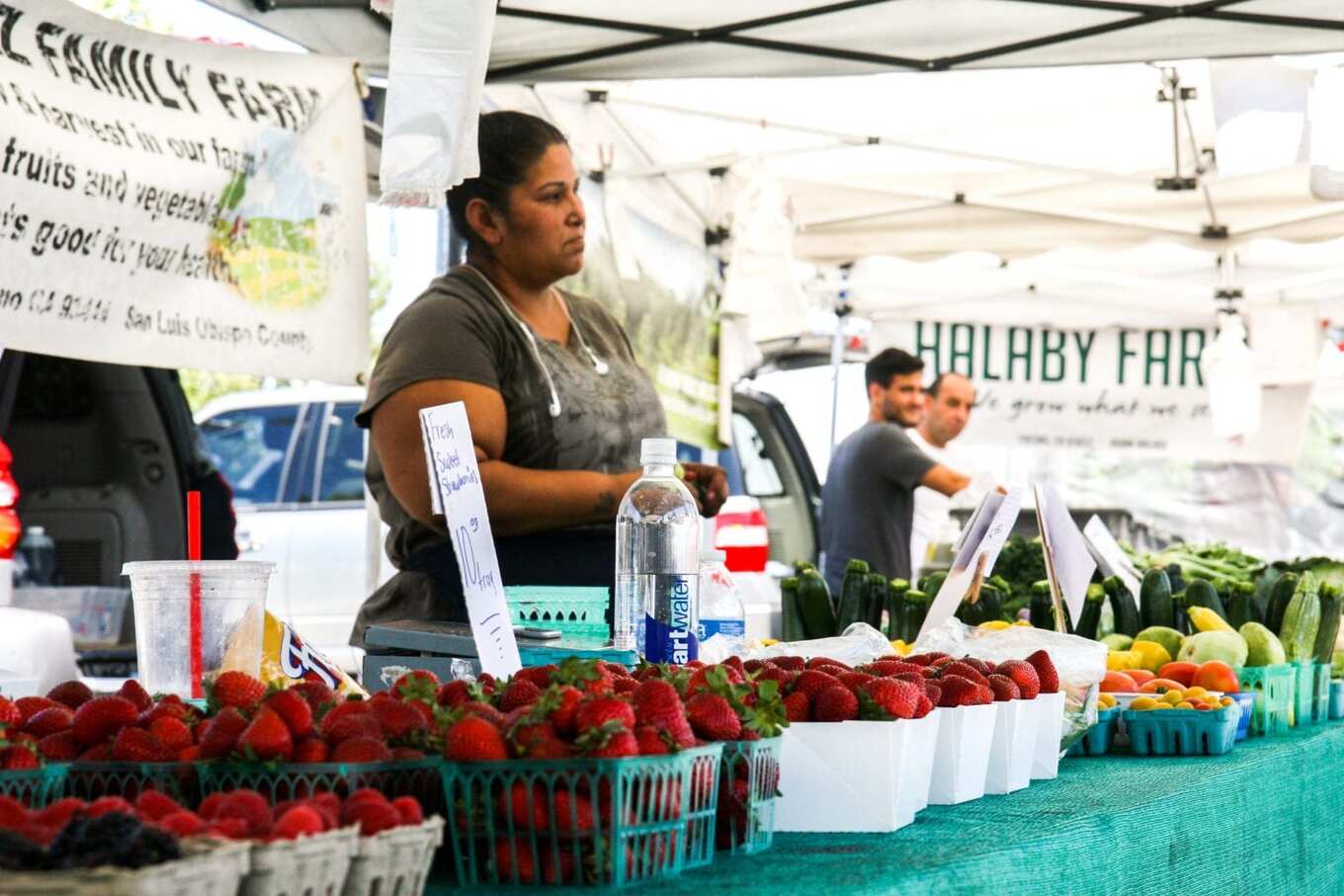 Santa Clarita Valley Signal
The next leg of your tour will bring you through ritzy Carmel-by-the-Sea, which hugs the awe-inspiring Big Sur coastline, and past Ragged Point (a landmark often referred to as "the Million Dollar View").
An hour later, you'll arrive in San Luis Obispo, known for having one of the best farmers' markets in all of California. Every Thursday night, more than 120 vendors sell locally grown produce, freshly made hummus, vegan cheese, and loaves of fresh bread.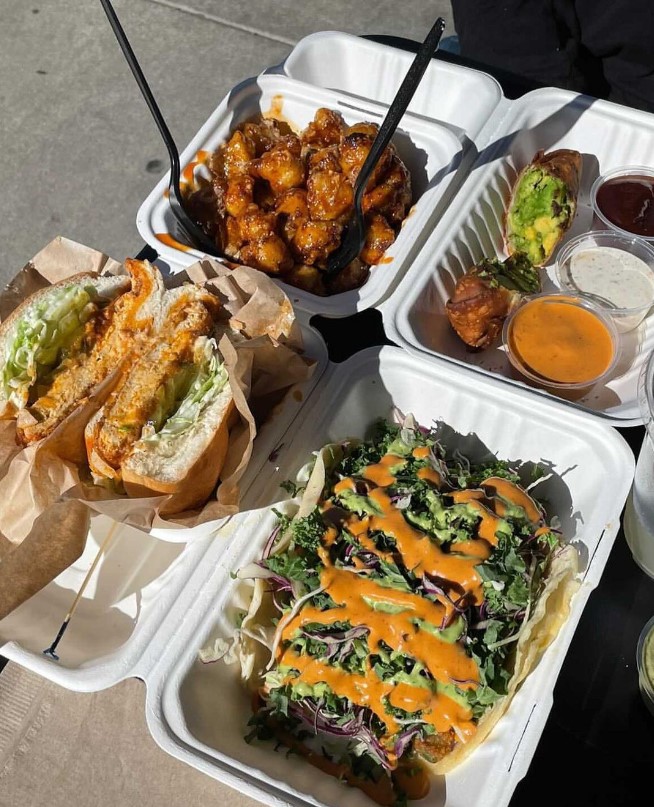 @eatziggys/Instagram
After picking up a few staples, head over to the town's cherished vegan spot Ziggy's for Korean-style fried cauliflower with gochujang; housemade black-and-pinto bean burgers with vegan pepper jack, guacamole, and charred jalapeños; and Impossible taquitos with sour cream.
Prefer a lighter option? Try Bliss Cafe, a plant-based restaurant and marketplace with an Ayurvedic twist, where you can enjoy dishes such as protein Buddha bowls with almond nutritional yeast dressing, quesadillas stuffed with sautéed kale, and feel-good golden milkshakes with a kick of turmeric, cinnamon, and cardamom.
Where to wine and dine in Southern California's Wine Country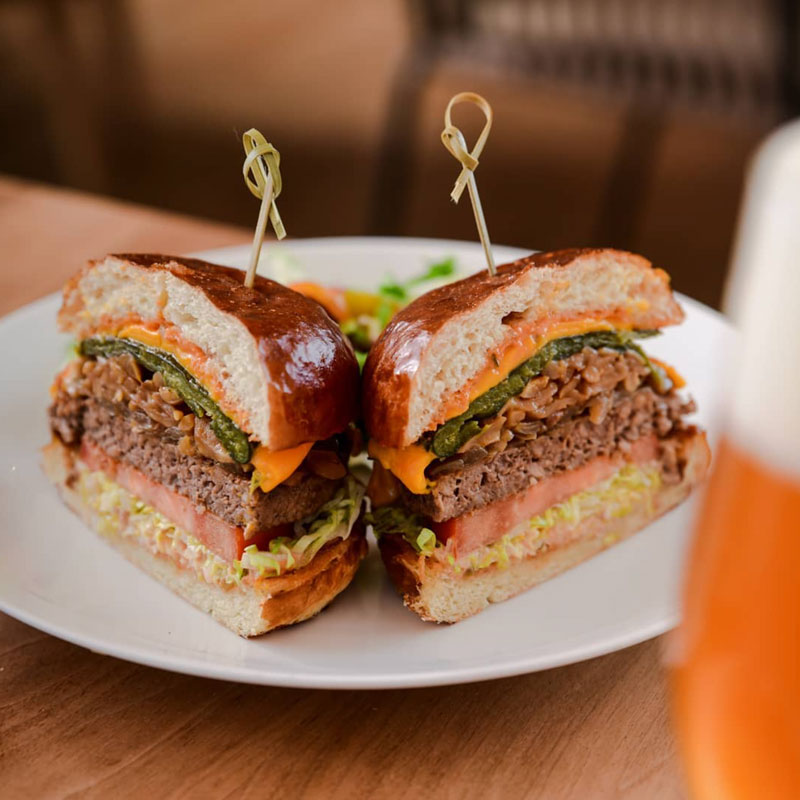 Oliver's
You'll know you've entered Southern California when you come upon picturesque Santa Barbara—trading the rocky, ocean-sprayed bluffs of the north for broad sandy beaches and swaying queen palms.
Find your way to Oliver's, Santa Barbara's premier plant-based fine-dining institution. Its menu is impressive, replete with smoked almond goat cheese apple salads, shredded hearts of palm artichoke crab cakes, and heirloom zucchini-tomato towers with macadamia ricotta and pistachio pesto.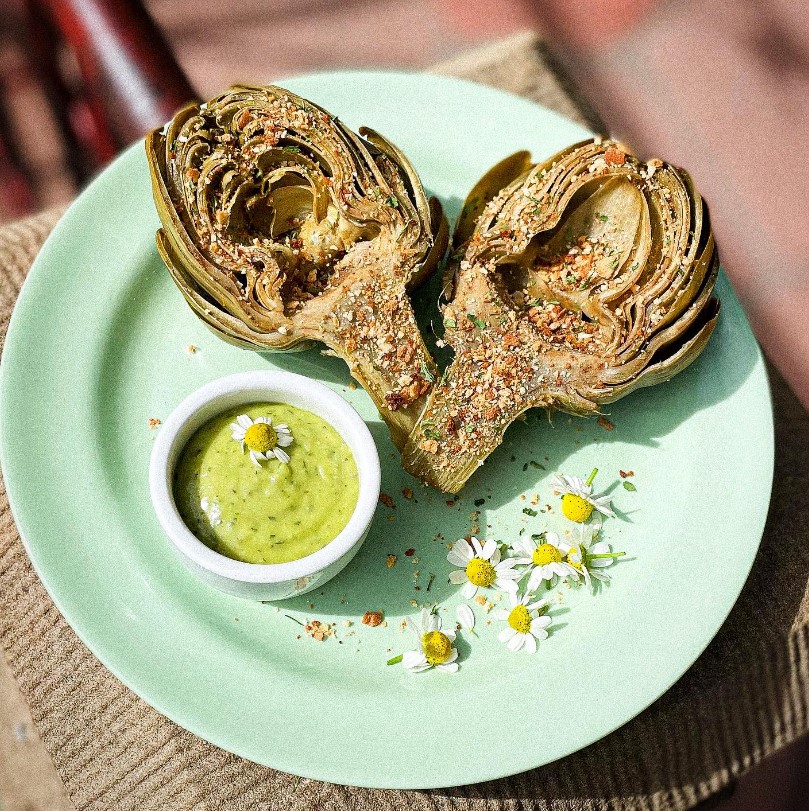 Satellite
In a town known for its wine, a visit to a vegan-friendly natural wine bar is a must. Satellite in bustling downtown serves their local pours alongside farm-to-table tasting items such as filet de hongo with polenta, seared shiitake mushrooms, and herbed chimichurri; gigante beans with harissa, garlic, and hemp seed pesto; and roasted broccolini with creamy vegan parmesan, basil, and vegan bagna cauda (an Italian hot dish traditionally made with anchovies).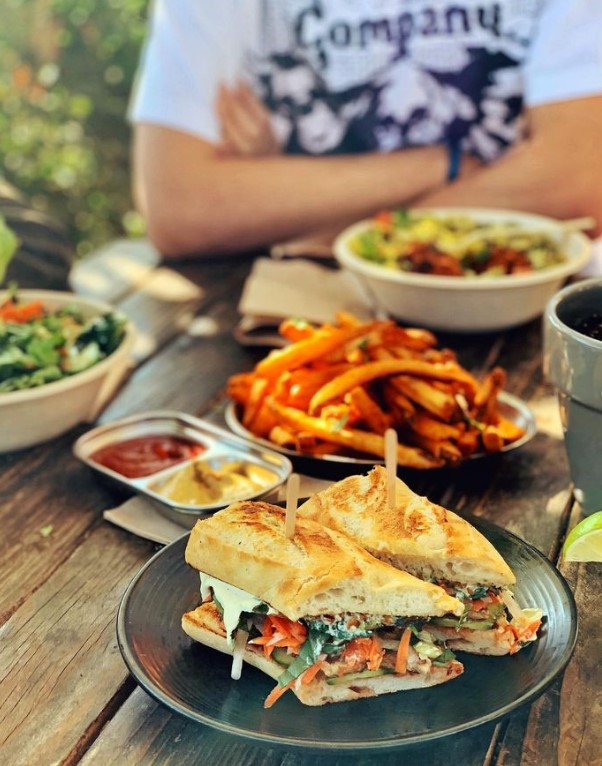 Sarah McLaughlin
Twenty minutes off the highway is the quaint, getaway town of Ojai―where celebs the likes of Britney Spears, Emily Blunt, and Tom Selleck have called home―and it's worth the detour.
Renowned for sunsets that paint the surrounding mountains in dusty pinks and pale purples, this scenic spot is where you can find the vegan gem that is Hip Vegan. Located right off the main downtown street, this old-school eatery's tree-shaded patio is always bustling with customers enjoying dishes like jackfruit carnitas tortas, South Indian dal with spicy cashews, bánh mì with marinated tofu and cashew "laughing cow" cheese, and piles of Gunpowder Fries tossed in seasoned salt and served with spicy ketchup. Grab a few of the massive chocolate chip, strawberry hempseed, or herbed cheese scones to go.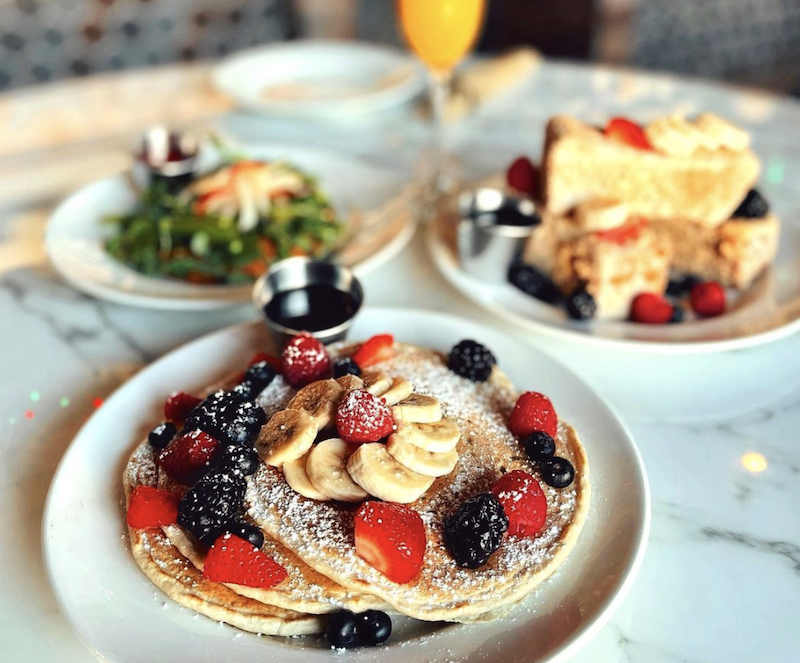 Sarah McLaughlin
From Ojai, wind your way down to the jaw-droppingly beautiful Malibu coastline and into Los Angeles' beach enclaves of Santa Monica and Venice. Swing by Margo's Bar + Kitchen in Santa Monica for a next-level brunch of Jumbo French Toast sticks made from custard-soaked brioche and seasonal berries; Frittata Española with vegan eggs, soyrizo, caramelized onion, and pickled peppers; and a giant Breakfast Pizza loaded with buttery cashew mozzarella, spiced sausage, scrambled vegan eggs, and a maple syrup drizzle.
And if that pie kicked off a pizza craving, head down to Venice for acclaimed vegan chef Matthew Kenney's Double Zero to nosh on slices of rosemary potato pizza with cashew cream, vegan-egg-yolk-topped, four-cheese pizza, and wild mushroom truffle pies.
The best spots for vegan brunch and more in Southern California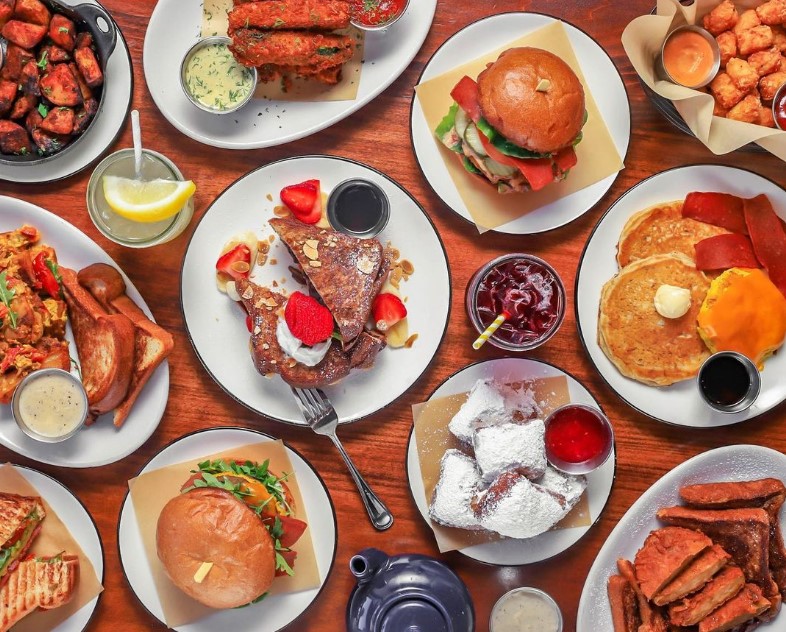 Wild Chive
With your trip nearly at its close, roll down the windows and enjoy the warm coastal air as you traverse among the cliffs of Palos Verdes into the city center of Long Beach. There you'll find the bright and fun, woman-owned must-stop The Wild Chive. Arrive early to find a seat in the bustling eatery, or get your food to-go and walk five minutes to the waterfront for an ocean picnic. Dig into a sweet-and-savory Monte Cristo: grilled cheese and ham stuffed into caramelized potato French toast with fresh strawberry jam and maple syrup. Or the popular Chick'n & Waffles with crispy beer-battered chicken over Belgian-style cornbread waffles served with habanero-strawberry jam, chive butter, more maple syrup, and a dusting of powdered sugar.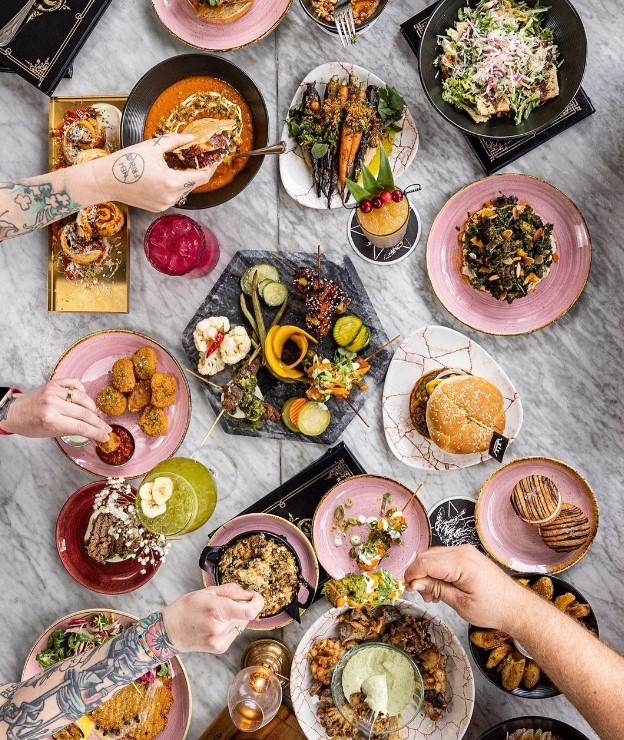 KINDRED
It's time to hit the highway again for your final destination: the always pleasantly warm San Diego. Roll into town, and head straight to Kindred, a whiplash-inducing clash of a bar and restaurant where elements of French gothic, heavy metal, and airy pink and gold are expertly blended to create a completely one-of-a-kind space.
Slide into your seat at the marble-topped bar to sip down refreshments such as the strawberry-rhubarb-key lime Spinal Tap with gin and tiki bitters or the coffee-chocolate-oat milk White Noise with vodka, biscotti, and vegan marshmallows. As you sip the delicately crafted tipples, dig into bar snacks like chargrilled seitan skewers napped in chimichurri, harissa, and horseradish aioli or everything bagel-spiced puff pastry knots with togarashi pub cheese.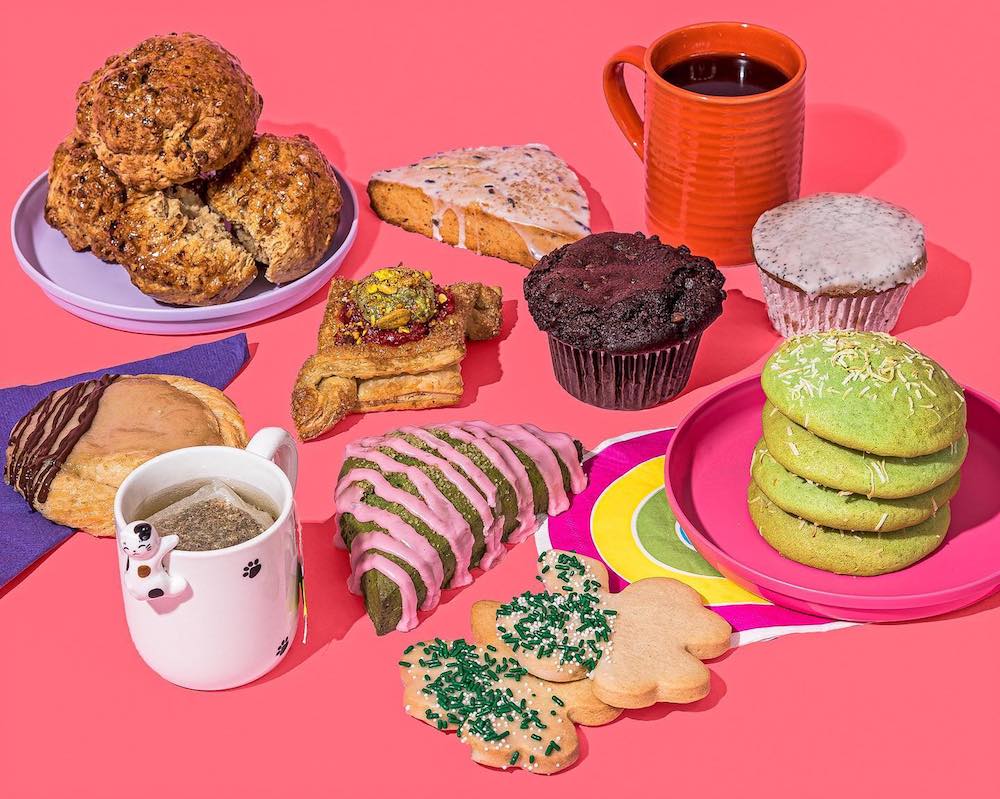 Split Bakehouse
And if your sweet tooth beckons, head to Split Bakehouse to pick up boxes of ever-rotating pastries such as strawberry pistachio frangipane tarts, pandan coconut cookies, and matcha rose scones.
For food and natural beauty lovers alike, this road trip will prove unforgettable. And with more than 650 miles of excitingly diverse terrain, blissful weather, and world-class vegan food, it's an expedition that can be returned to again and again with endless opportunities for exploration. So next time you're itching for an adventure and unable to decide between a beachy escape, a mountainous hideaway, or a metropolitan escapade, just block out a few days on the calendar, pack the car, and do it all. The coast awaits.
For more travel pieces like this, read: