Los Angeles is a vegan foodie's heaven. From next-level food trucks to upscale candlelit dining, there's something plant-based for everyone in the City of Angels. But in 2018, Brooklyn transplant Tara Punzone decided there was something missing from the vegan food scene—authentic Italian fare—and she was ready to fill the niche. It was only a matter of time until Punzone, a veteran chef and culinary director of some of the best plant-based restaurants in New York City and Los Angeles, opened an eatery of her own, and she's hit the nail on the head with West Hollywood's Pura Vita.
The one-year-old restaurant specializes in classic southern Italian dishes, and has already cemented its place as a favorite among locals, critics, and celebs. Located on glitzy Santa Monica Boulevard, the small, dimly lit space serves a full house almost every night, and the clientele is as diverse as it is passionate about the food. Old-school Italians, young Angelenos with hip haircuts, couples on dates, queer folk, social media influencers, businessmen, drag queens, and families all huddle at tables, animated conversation filling the air while sharply dressed waitstaff buzz about with trays of food. Before even a plate of olives can be ordered, it's apparent that this place is special. "Pura Vita is a space where people come and sit at the bar and talk to each other, laugh, enjoy the food and the wine, listen to great music, and simply share the love and positive energy," Punzone says. "It's all about community."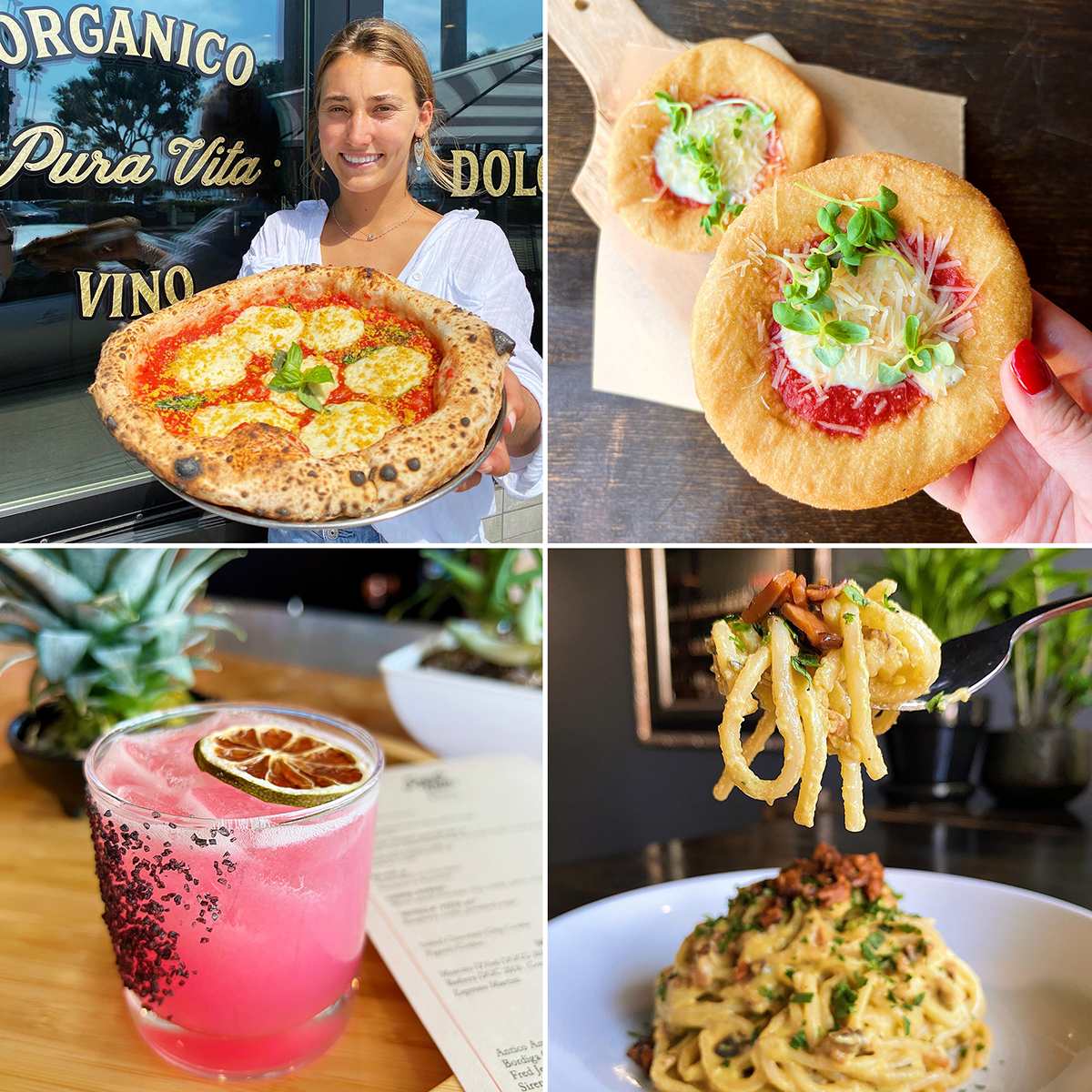 Pura Vita/@roxyrockstv
How Pura Vita got started
Punzone dreamt of having her own plant-based restaurant since going vegan at age 12. With a family background in food (her grandparents owned a neighborhood market and sandwich shop serving hungry New Yorkers lined around the block), Punzone's life has revolved around quality, from-scratch meals for as long as she can remember. Huge dinners were the norm for every occasion, from birthdays to funerals to Sunday family get-togethers. But after watching a slaughterhouse video in grade school, she dropped animals from her diet for good. And despite belonging to a culture so fearsomely protective and proud of its food traditions, Punzone says her veganism was supported and even nurtured, with her parents encouraging her to get in the kitchen and learn to cook her own dishes at an early age.
From there, both a mission to veganize her family's recipes and a passion for plant-based food was born. That passion led her to positions at countless vegan restaurants and even a stint living in Rome to learn Italian flavor profiles straight from the source. "In Italy, I learned authenticity, which gave me more confidence to create my own plant-based versions of those flavors," she says. It's this devotion to purity, custom, and heritage that has become the backbone of the food philosophy and stellar menu at Pura Vita.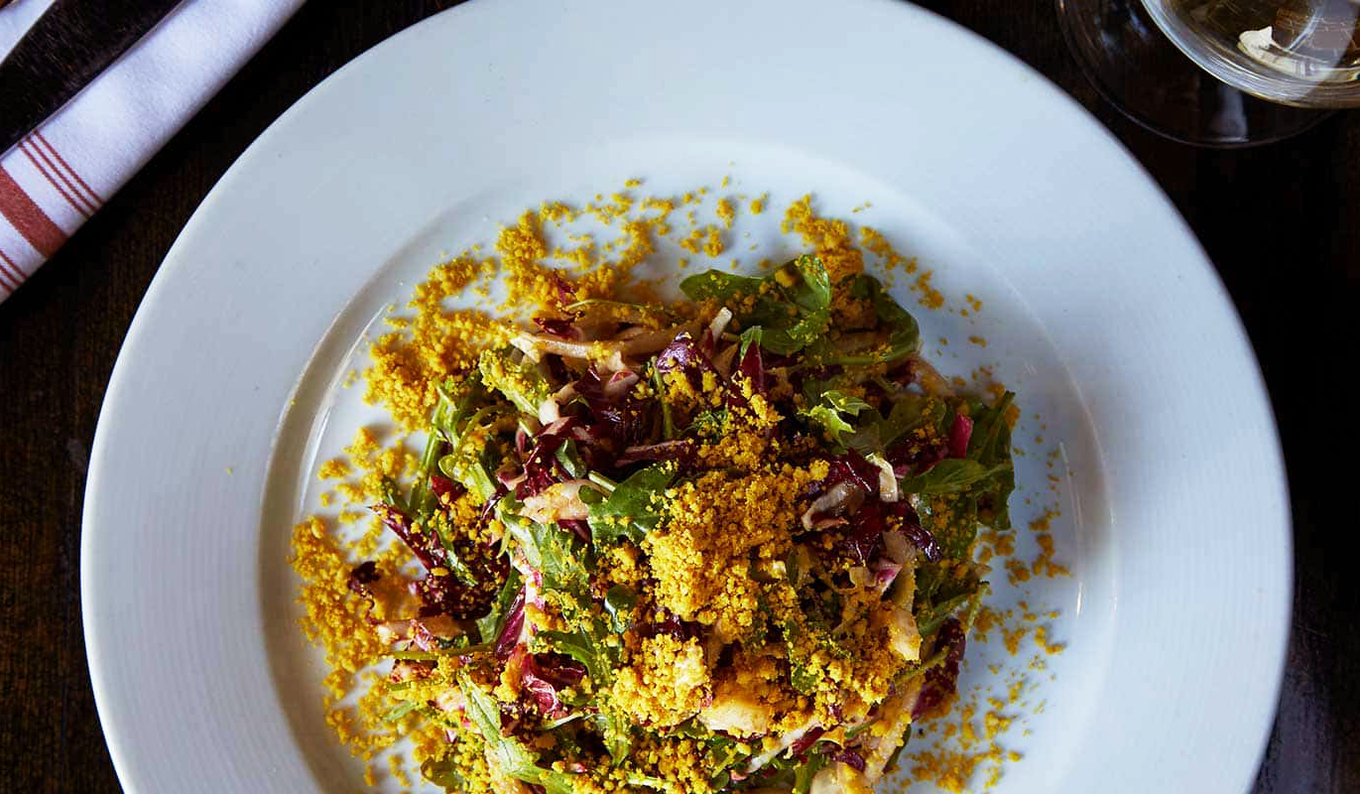 Pura Vita
The makings of a vegan Italian menu
Italy is where Punzone first got hands-on experience with carbonara, a decadent pasta made with egg, cheese, and a bacon-like cut of meat called guanciale. It was a dish her family never prepared, and she was a longtime vegan by the time she found herself in Rome. But its popularity among Italians inspired her to take on the challenge of recreating it senza animali.
In her version, Punzone replaces the guanciale with a smoky bacon made from shiitake mushrooms, and substitutes cheese with a housemade macadamia romano cream. But the stand-in for the signature fatty creaminess of egg came to her from an unexpected place.
"I had a dream I was cooking pasta with avocado," she says. "And when I woke up and got to the kitchen that day, the carbonara was born—I learn a lot from my dreams."
Her instincts, spot-on even in her subconscious, paid off: the carbonara, with its layers of salty, creamy, silky, rich flavors, is easily her most popular dish.
A selection of antipasti and verdure do a fine job at introducing diners to Punzone's skill. The polpettine—soft mushroom-lentil meatballs smothered in warm marinara and macadamia parmigiano—satisfies any nostalgic meatball craving. The nutty, slightly bitter flavor of the Broccoli Rabe shines when sautéed with garlic, chili flakes, and a sprinkle of flaky sea salt. The Peppas (named after Punzone's father's pronunciation of "peppers") are an addictive mix of long, hot Italian peppers, pepitas, and almonds, all balanced with sweet raisins. And the thick, cashew-based Baked Cashew Ricotta, served with airy, olive oil-brushed ciabatta, will have you fighting off your dining company for what's left at the bottom of the ramekin.
This quartet of starters, though spanning two different menu sections, is designed to be ordered together, Punzone explains. Be sure to add the Peppas and a meatball atop your ricotta-slathered ciabatta for the perfect bite.
Salads and soups include hearty vegetable stews topped with grilled bread, bean and pasta medleys sprinkled with cheese, classic caprese salads with thick slabs of housemade cashew mozzarella, and the Pura Vita—a mix of Tuscan kale and arugula tossed in a smoked almond dressing, dolloped with almond ricotta, and balanced with tangy pickled carrots. However, it's the many perfected pasta dishes that steal the show.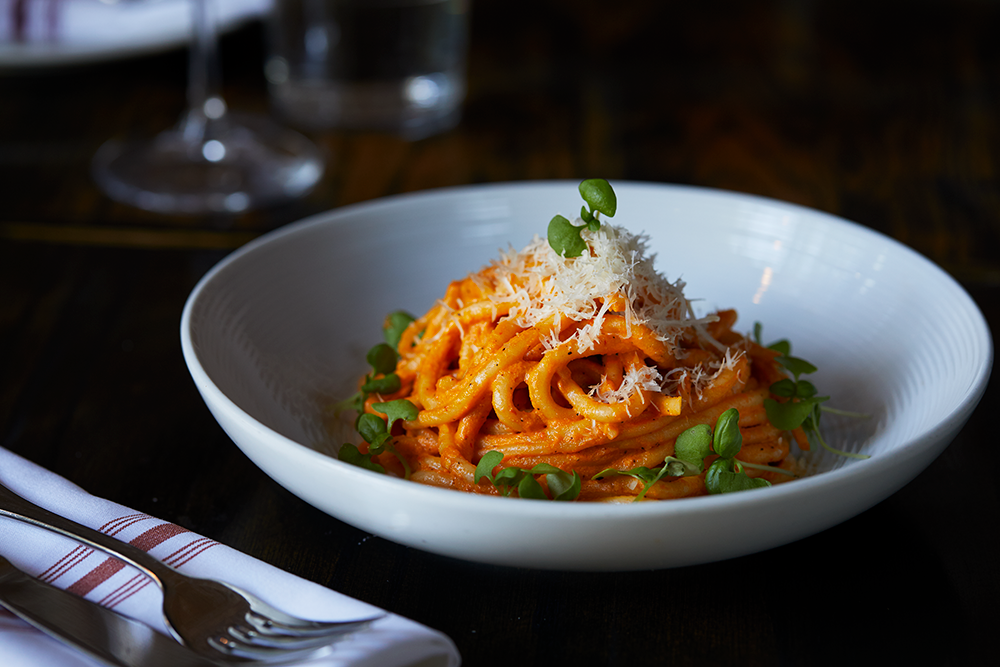 Oliver Barth
Plant-based pasta? Perfect.
Alongside the top-notch carbonara, the Black Magic Lasagna is another intriguing menu star. Sheets of delicate pasta are layered with cashew ricotta, bechamel, spinach, mushrooms, and black truffle cream, then given a generous finish of saucy, aromatic pesto. For seafood lovers, the Linguine di Mare is an easy decision, with its succulent, tender king oyster mushroom "scallops" nestled on a bed of linguine and garlic-white wine sauce, then topped with buttery, toasted breadcrumbs. Traditionalists can opt for pomodoro—spaghetti, tomato, basil, and cashew ricotta—and will be just as impressed with its pure, simple flavors.
No pasta dinner is complete without a glass of vegan wine, and America's first vegan Italian restaurant and wine bar delivers. The sprawling selection—displayed prominently in a red-lit wall spanning the length of Pura Vita's 12-seat bar—is organic, biodynamic, and mostly Italian, with a few California gems and essential French varietals providing some diversity. Champagne, cocktails, beer, and hard kombucha round out the menu of libations, while hot tea, coffee, imported mineral water, and a lip-smacking mint lemonade are available for non-drinkers.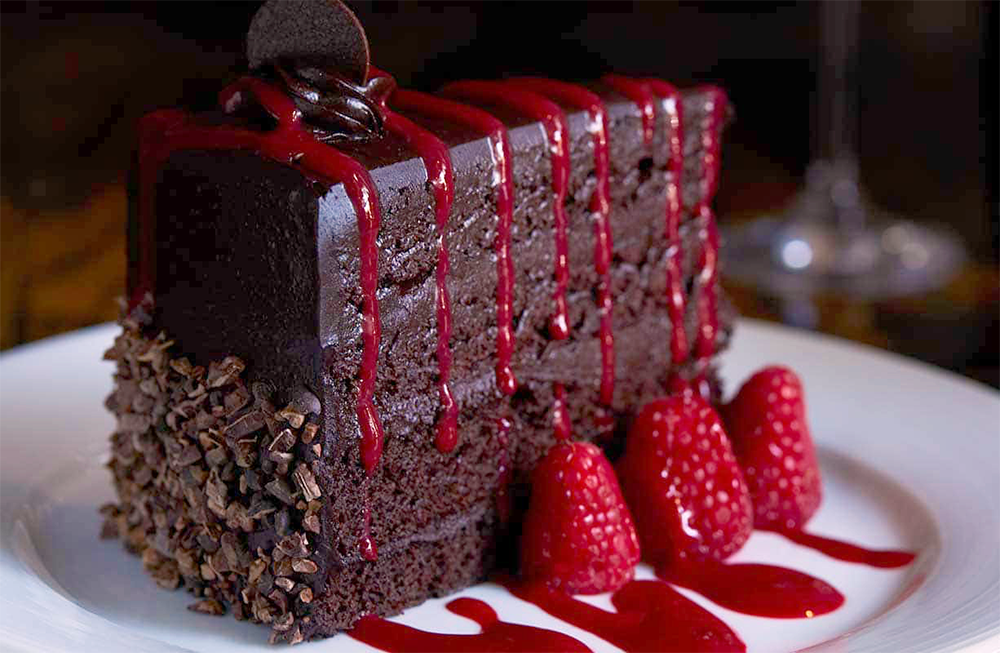 Oliver Barth
Desserts to die for at Pura Vita
To round out the evening, dessert is mandatory. Dense and custardy, the vegan gelato comes in flavors like chocolate, pistachio or hazelnut. Get any scoop as an Affogato—"drowned" in a freshly pulled shot of espresso. The light-as-air Tiramisu—with its layers of vanilla bean-infused cashew mascarpone, cocoa, and more espresso—is the most authentic vegan replica outside of Italy. But the crown jewel of the dolci menu is the Chocolate Fudge Cake. Even the most ardent dessert-lovers will be hard-pressed to remember the last time they tasted chocolate so pure and intense. Thick swirls of fudgy frosting and a zippy raspberry coulis take the experience over the edge. How did the most delectable slice of vegan chocolate cake come to find a home on Pura Vita's menu, and who is the star baker responsible? Punzone crosses her arms, shrugs, and says with a smile, "I gotta guy."
A Friday night at Pura Vita is revelrous and romantic. It's full of warm smiles, exceptional service, and even better food. And luckily, so is its brunch. The weekend morning service sees diners pour in for Punzone's spin on breakfast, including the Queen Cornetto (a "very New York" sandwich of shiitake bacon, tofu egg, and cashew mozzarella on a buttery croissant) and the Nutella Pancakes, filled with melted, housemade chocolate-hazelnut spread and topped with juicy strawberries.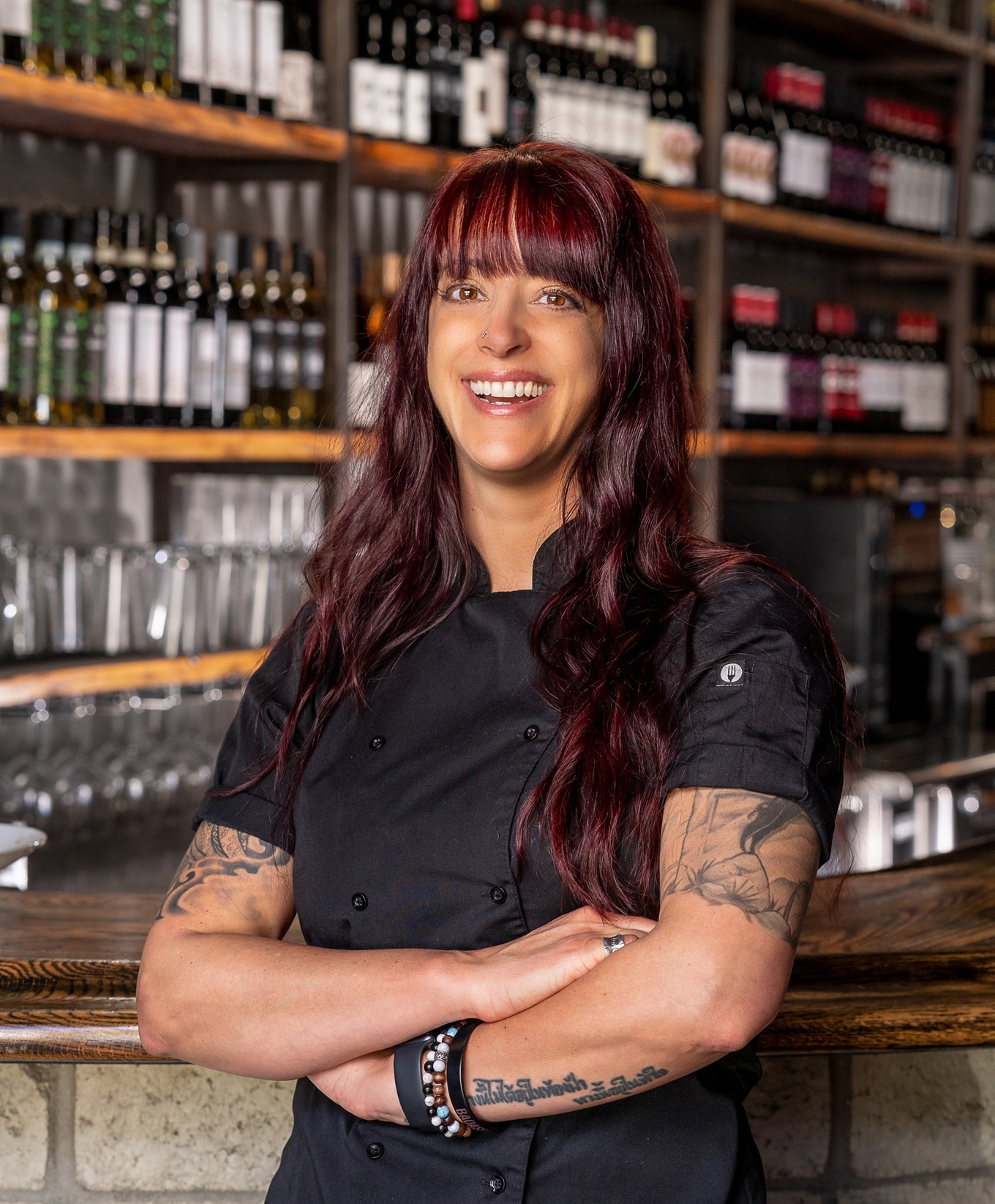 Linda Pianigiani Photography
Still craving more of Punzone's culinary deftness? You needn't go far. Right next door, Punzone opened Pura Vita Pizzeria, an entirely separate pizza venture that serves Neapolitan-style pizza, calzones, and other Italian comfort dishes. It was a dream Punzone held close to her heart, but couldn't fully realize with the space constraints of Pura Vita upon opening initially. But after a vacancy opened up next door—and a successful crowdfunding campaign that pulled in more than $18,000 came rolling in the first few days—Punzone was able to her dream pizzeria, now slinging everything from perfected classics to a pizza version of her famous Black Magic Lasagna.
Pura Vita is greater than the sum of its parts. As soon as you walk in, you're transported to an intimate New York City wine bar. As soon as you're greeted, you're reminded of the warmth of coming back home. And as soon as you take your first bite, you instantly feel all the passion and care that goes into Italian cooking. All together, and it's clear this is more than just a meal. This is pure love.


For more, check out: