The stars aligned when PR-media company founder Amanda Molina and Emmy award-winning television producer Geoff Rosen spotted each other at a mutual friend's Fourth of July party. "It was like she was glowing," says Rosen. Meeting in the midst of the party, the pair's powerful connection was instantaneous. "If we were in a Disney movie, it would be like lots of little sparkles," says Molina.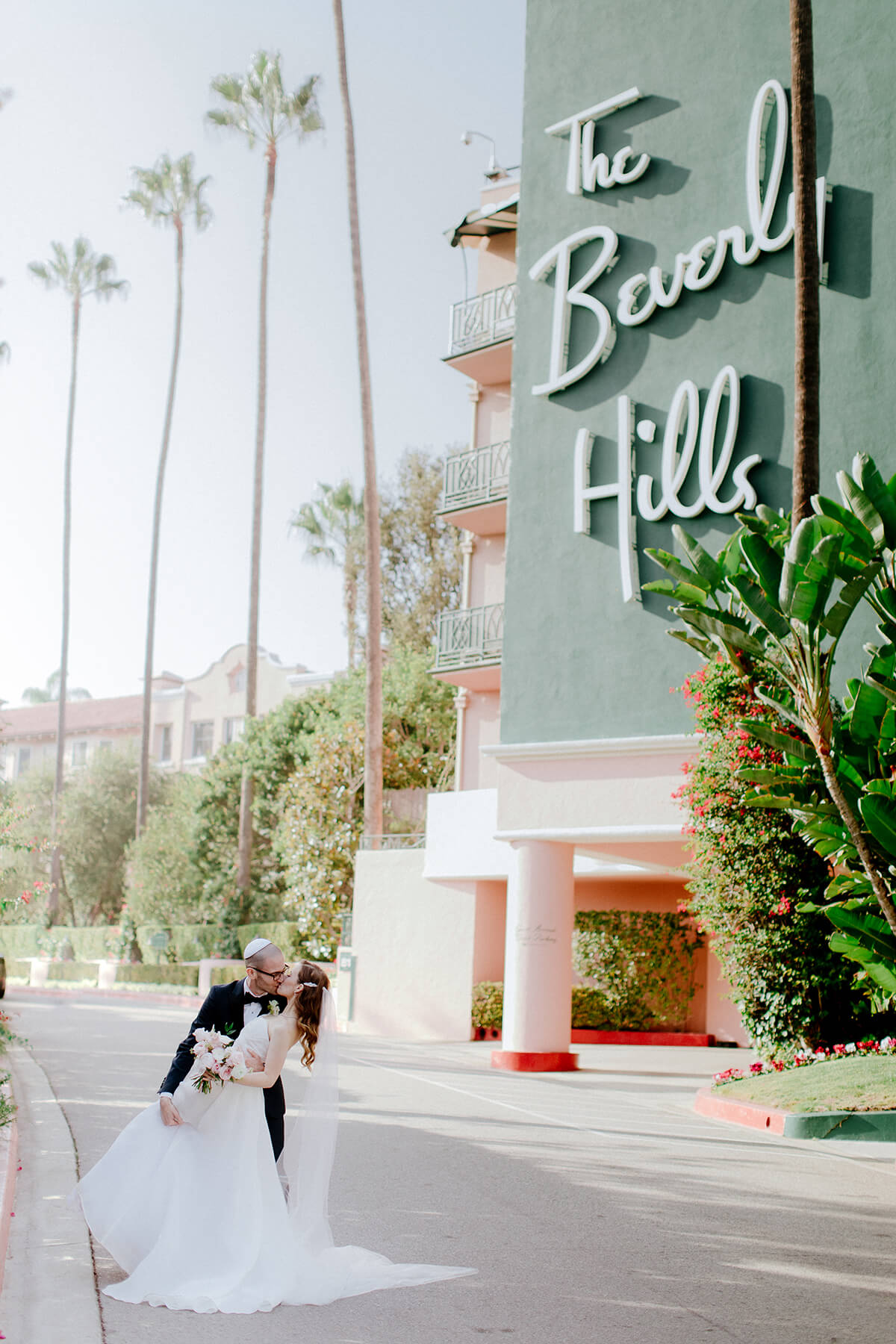 Chris J. Evans
The love story
Despite Rosen's TV job in New York City and Molina helming her own company Casita Creative Studio in Los Angeles, the two soon found their way back to each other. During the wintertime holidays, Rosen returned to Los Angeles where the pair shared a magical evening at the storied Polo Lounge in The Beverly Hills Hotel. They schmoozed over vegan appetizers, mesmerized by the sounds of singer/guitarist Galo Pacheco and charmed by the ambience of the historic celebrity hotspot.
Eventually, Rosen relocated to the West Coast, and the couple transformed the pandemic's mandatory quarantine into an opportunity to meet for long walks, explore Los Angeles, and grow closer. While meandering down a beautiful tree-lined path along Santa Monica Boulevard, they decided to move in together, making their home in a sweet, tile-roofed townhouse.
Rosen hoped to propose on Purim, a Jewish holiday of unity and happiness, but when the day came, he was still waiting for the engagement ring he'd ordered. As evening approached, the jewelry store called with news it had finally arrived. Within an hour of picking it up, he proposed to Molina. "I asked her if she was ready to change the world together."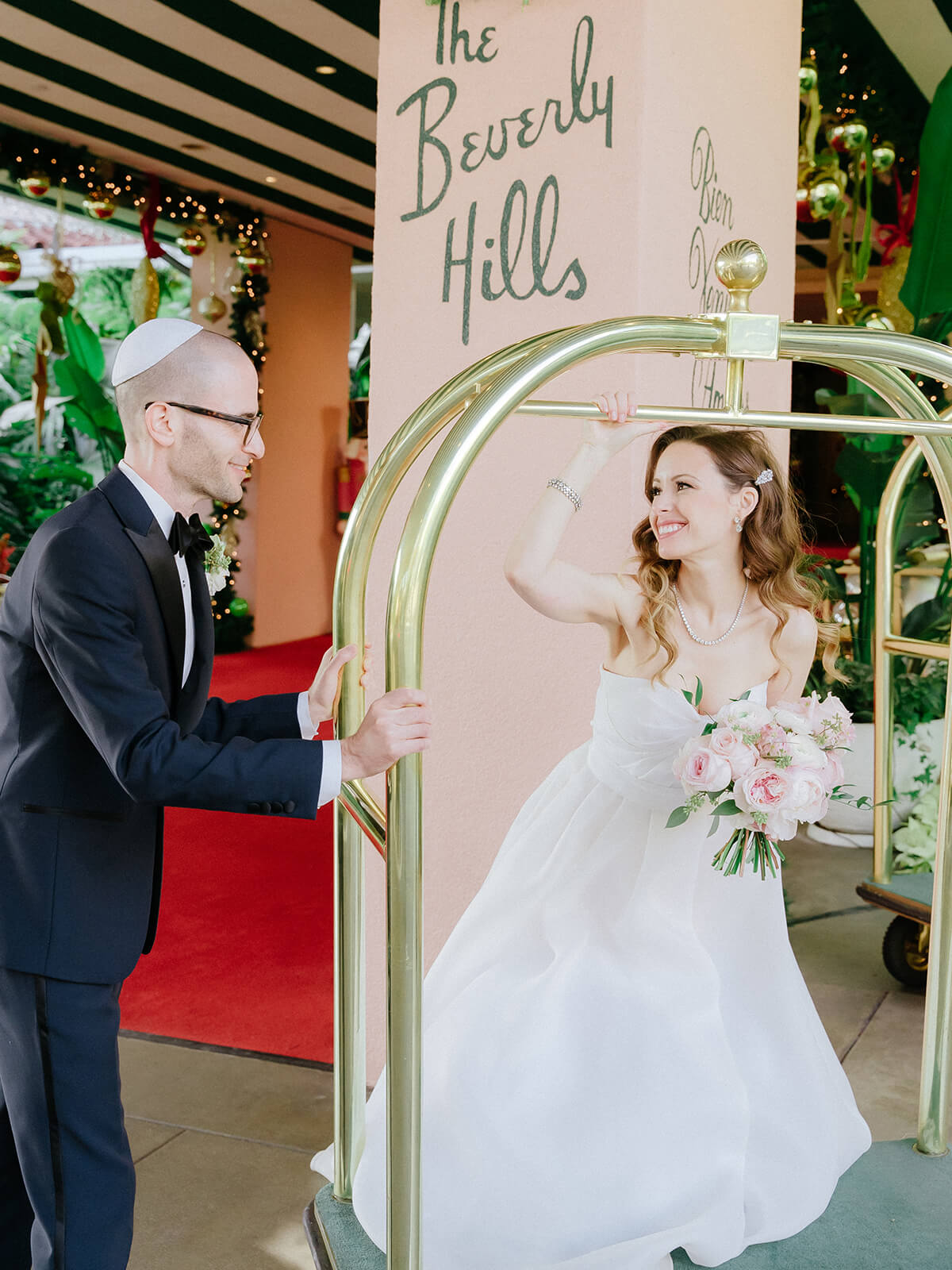 Chris J. Evans
For their wedding, the couple revisited their spectacular Polo Lounge date with a ceremony in The Beverly Hills Hotel's enchanting Polo Garden and reception in Polo Private Room, a dining room that had historically been used by Rat Pack members Frank Sinatra, Dean Martin, and Sammy Davis Jr. Moving through the garden, which was transformed into a floral fantasy, the bride and groom joyously embraced guests as they walked down the aisle.
"I asked her if she was ready to change the world together."
The same musician who had enchanted the couple on their Polo Lounge date played romantic melodies from decades ago throughout the reception, handing over the mic to Rosen for a raucous rendition of "I'm Gonna Be (500 Miles)" during Molina and Rosen's grand entrance. To share their sweet love, the newlyweds gifted each guest with a petite box of miniature vegan pastries from Green Table Cafe, a local Italian café they stroll to every Sunday, complete with tiramisu, a chocolate-covered date, and a pistachio and cookie dough cupcake.
The Big Day
The décor
Abundant and elaborate floral arrangements in a Polo Lounge-inspired palette of whites, pinks, and greens evoked the cool California vibes of The Beverly Hills Hotel.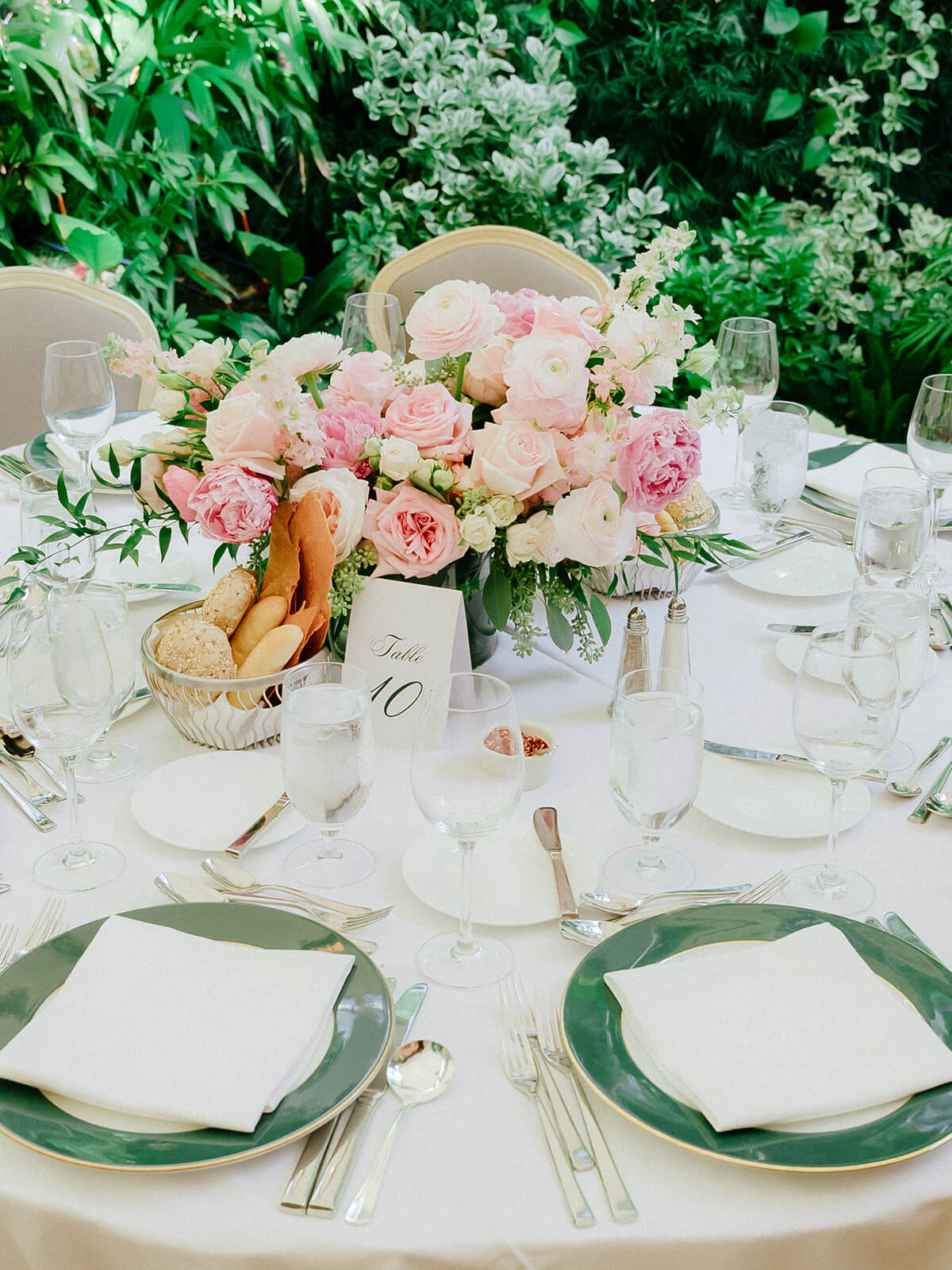 Chris J. Evans
The flowers
Abundant and elaborate floral arrangements by Farmgirl Flowers in a Polo Lounge-inspired palette of whites, pinks, and greens evoked the cool California vibes of The Beverly Hills Hotel.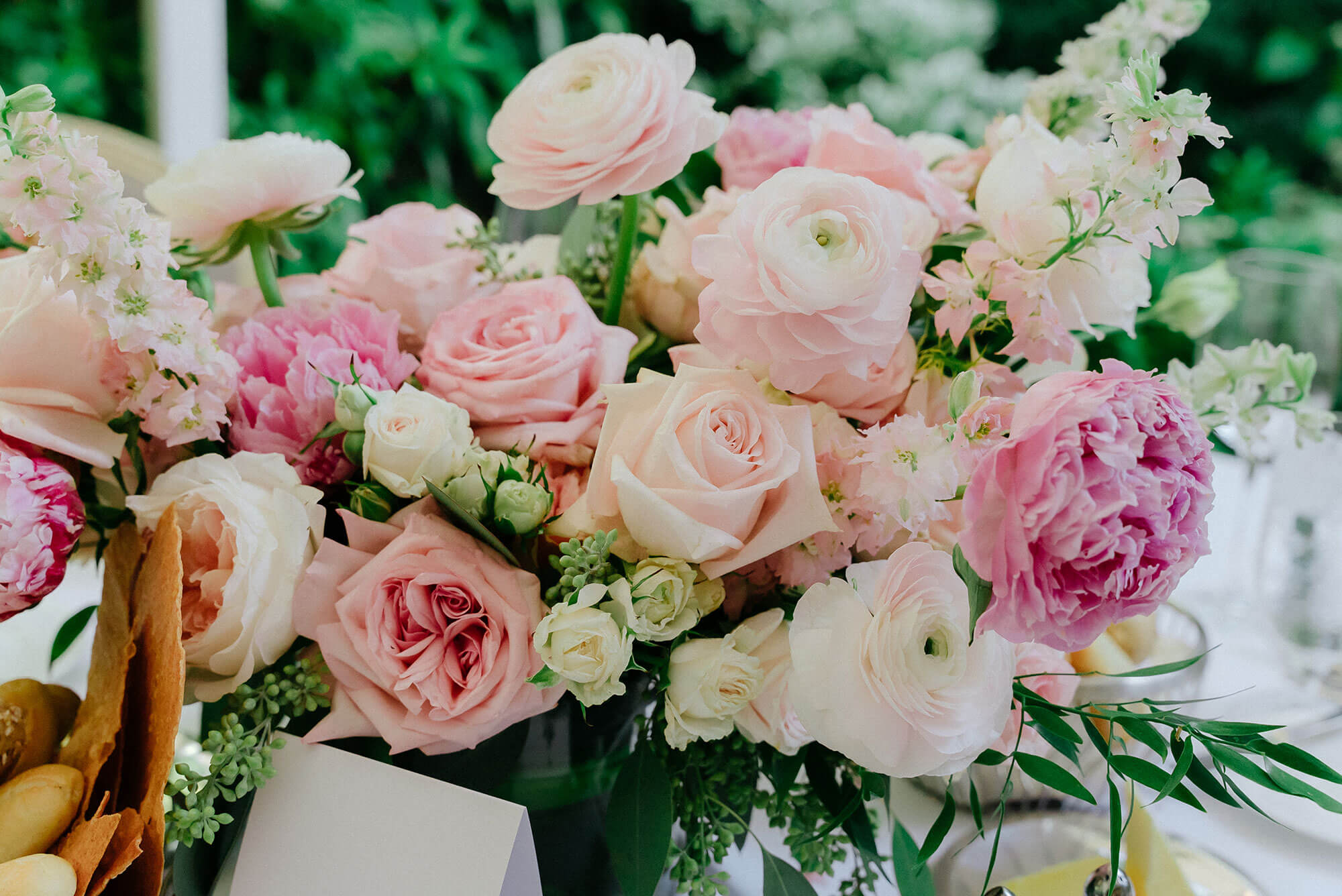 Chris J. Evans
The music
Artist Galo Pacheco led his band in renditions of classic songs including "Fly Me to the Moon" and "Sweet Caroline," and crooned "This Magic Moment" for the couple's first dance.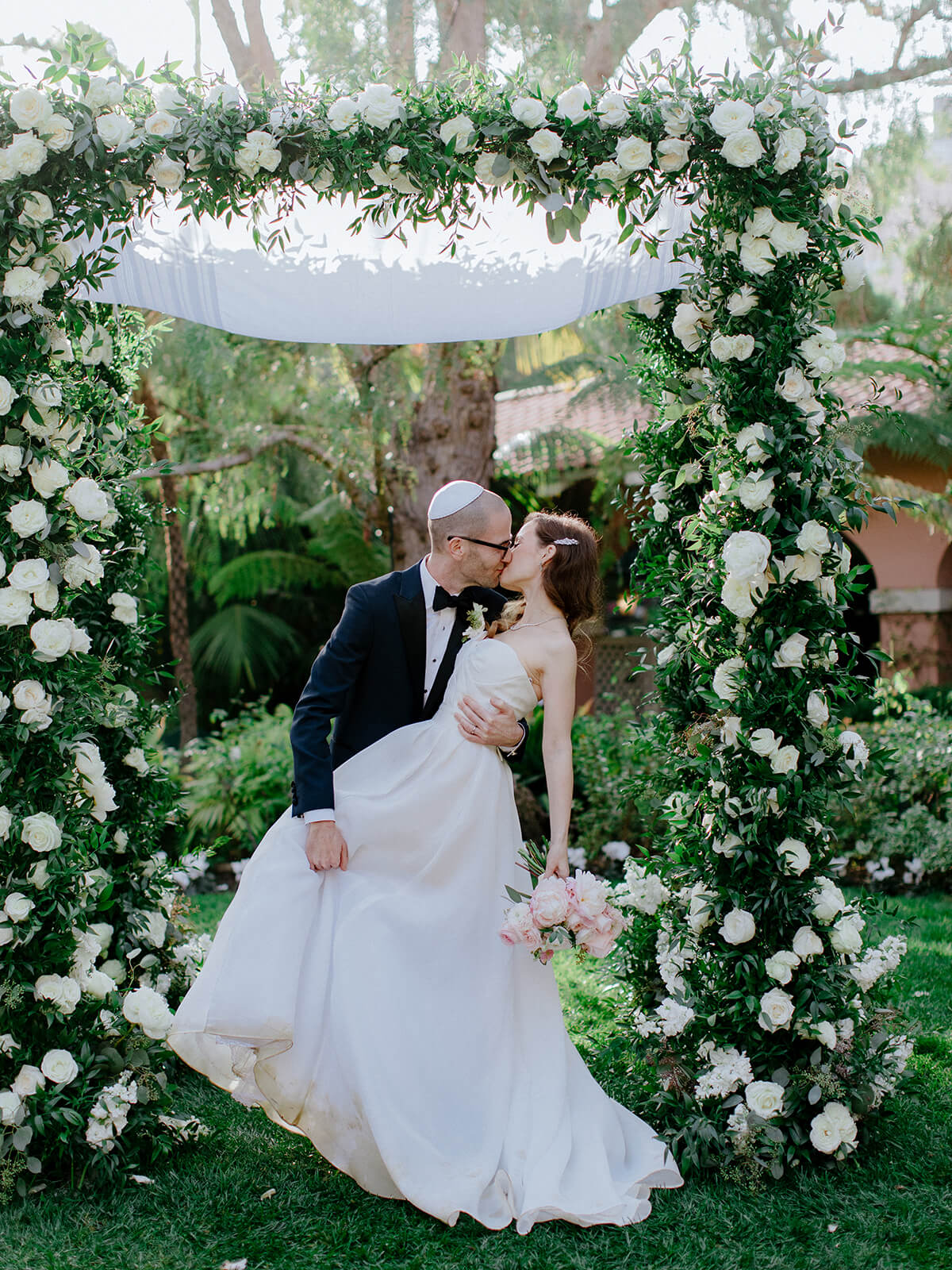 Chris J. Evans
What they wore
The bride wore a classic full-length Vera Wang gown while Rosen opted for a navy tuxedo with a black lapel. "Amanda saw me try it on and started crying," says Rosen. "So I knew that was a good sign."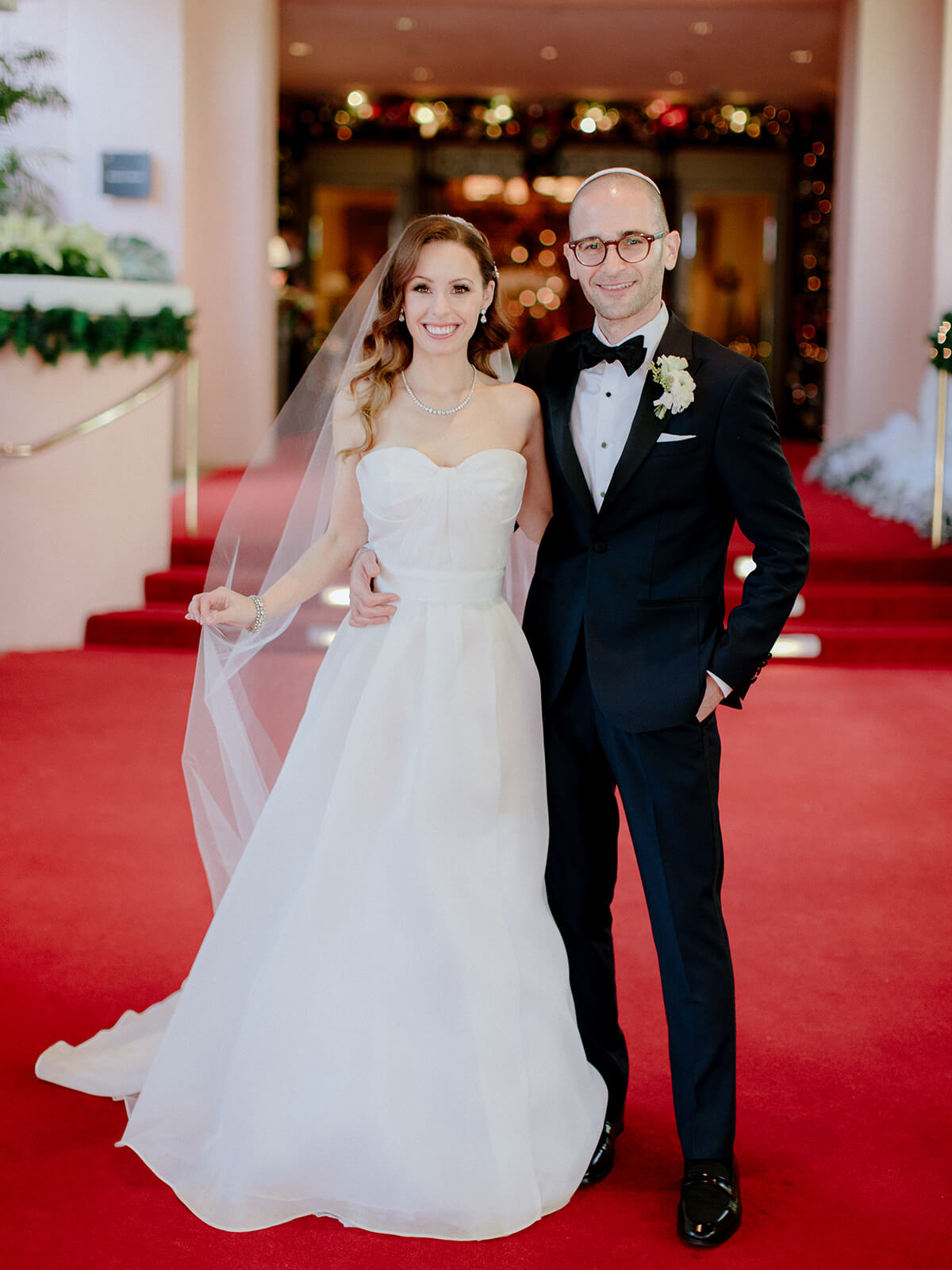 Chris J. Evans
The food
Guests indulged in elevated versions of the couple's favorite plant-based dishes reinvented by The Beverly Hills Hotel's acclaimed Chef Sebastien Guillemin.
Mini Impossible cheeseburger sliders on pretzel buns
Artichoke and hearts of palm crab cakes
Fig and almond crostini
Mini potato latkes with applesauce
Avocado crispy rice
Butternut squash soup with pomegranate reduction and crispy sage
Caesar salad
Wild mushroom truffle risotto
Chicken Parmesan over roasted spaghetti squash and broccolini
A grand, four-tier chocolate cake—filled with vanilla and chocolate filling and chocolate chips, decorated with white icing and delicate pink flowers—was the perfect sweet finale to the couple's menu.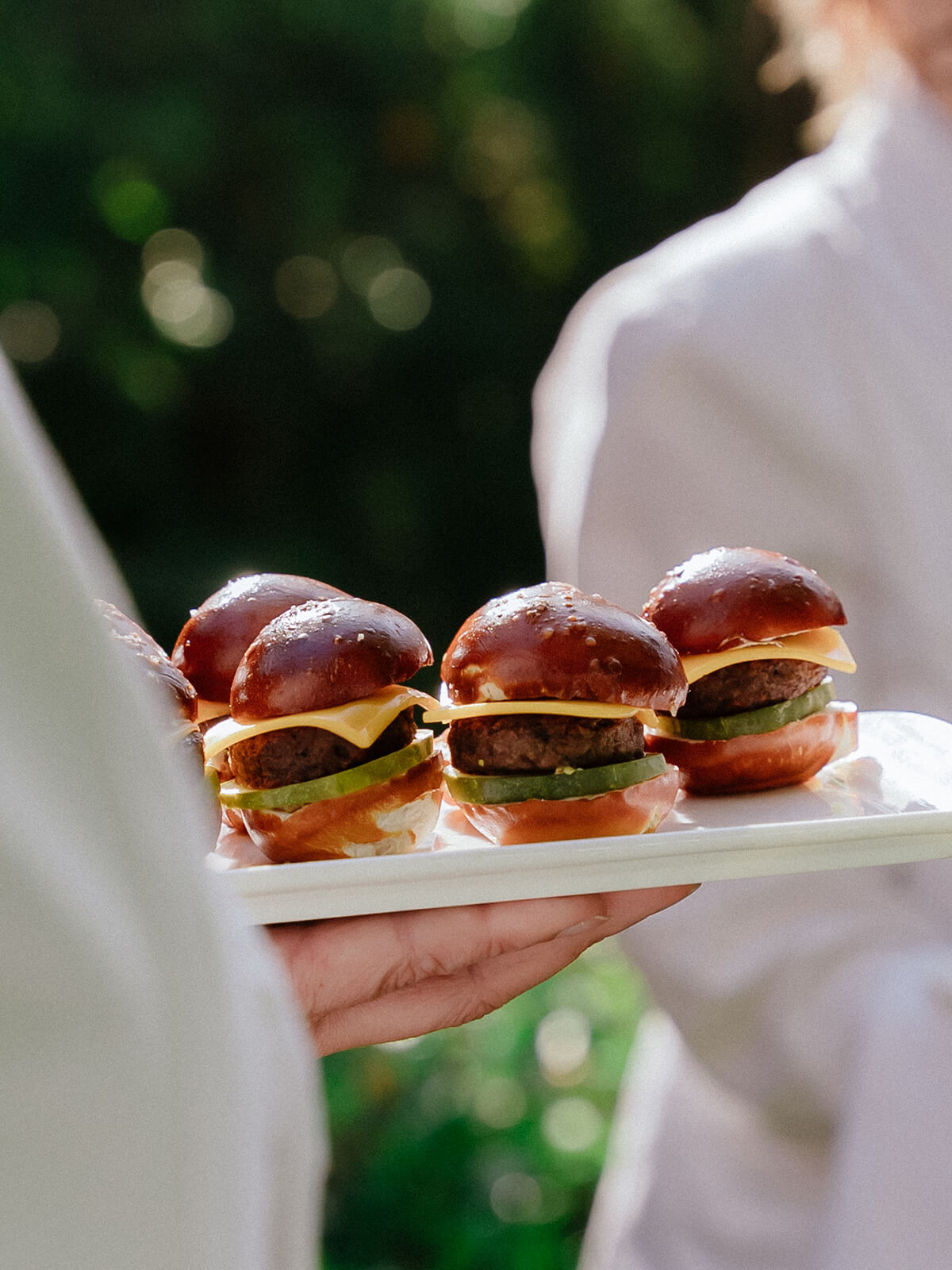 Chris J. Evans
The custom drinks
Cocktail hour offerings included "The Fantasy Island," a fanciful tropical libation made with strawberry lemonade, vodka, and a mini candy cane, named for the celebrated television series that Molina's grandfather wrote and produced, as well as The Beverly Hills Manhattan, crafted with whiskey, sweet vermouth, bitters, luxardo cherries, and an extra-large ice cube.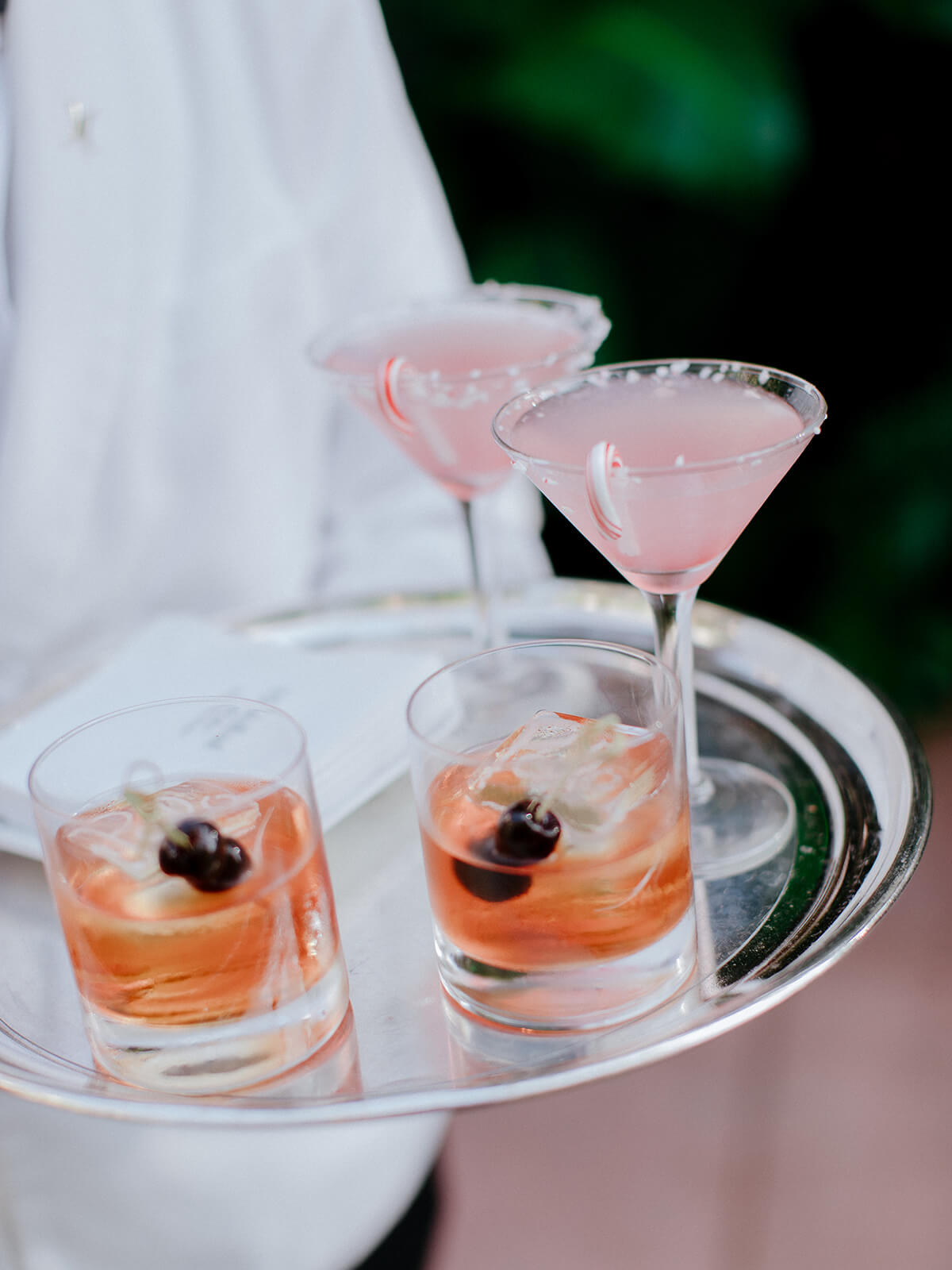 Chris J. Evans
And the personal touch
At dessert, the couple honored Rosen's grandmother, serving her favorite sweet treat: an old-fashioned vanilla milkshake made with cashew milk, a cookie crumb rim, sprinkles, and a paper umbrella.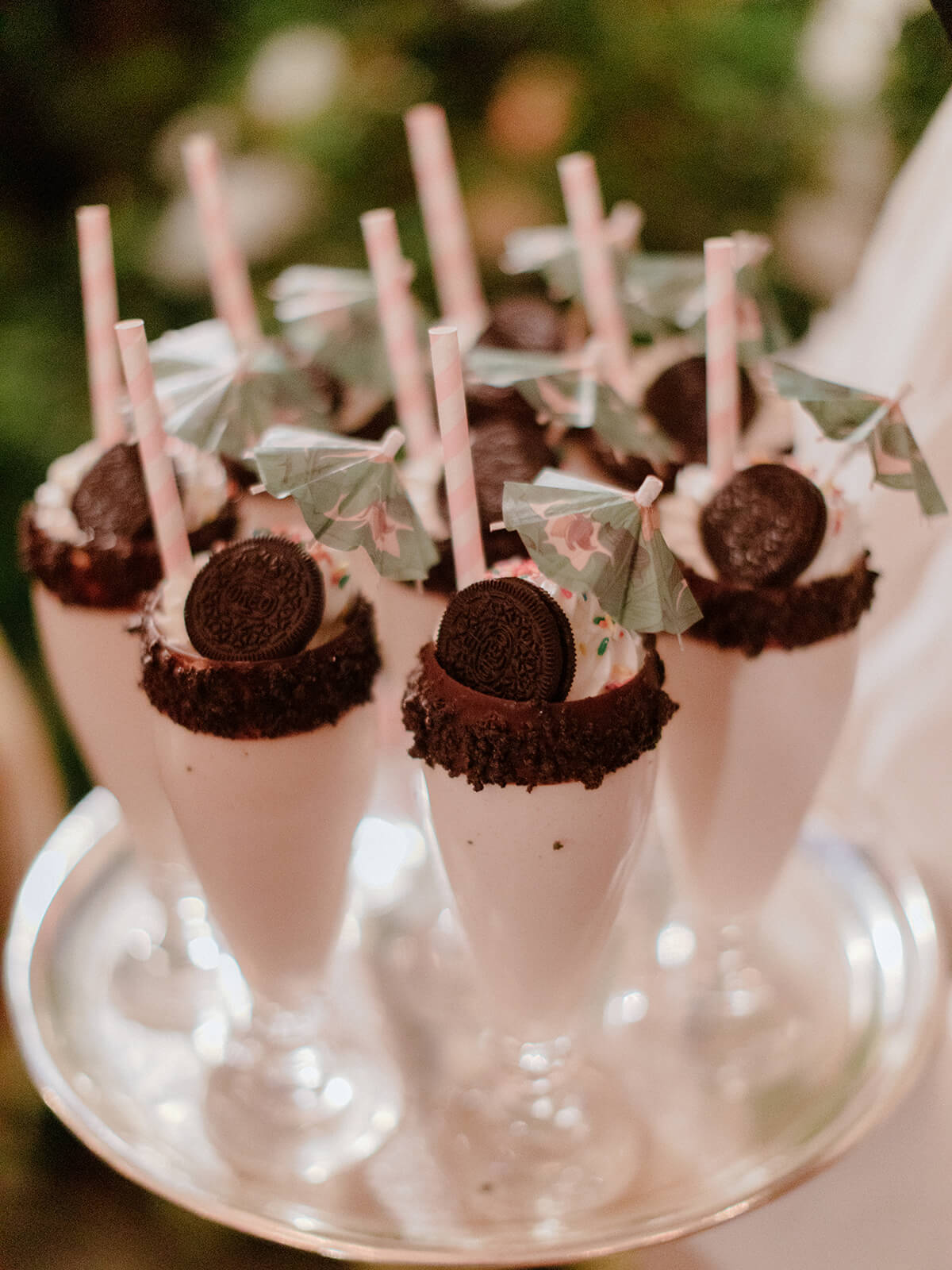 Chris J. Evans
For more vegan weddings, read:
A Vegan Indian Wedding in the British Countryside
From Hollywood to Chile: A Love Story
A Whimsical Forest Wedding in Canada