Celebrity vegan chef Mary Mattern and professional musician Neil Westfall met in musical mayhem while the two were touring with pop-punk band Blink-182—Mattern as chef for the headliner's vegan drummer, Travis Barker, and Westfall as guitarist for opening act A Day To Remember. Engaged one year later, the couple is now planning to open Heirloom Deli, an eatery serving vegan Jewish-deli comfort food. For their rustic chic autumn wedding, the pair stayed true to their down-home style, invoking the spirit of an all-American barbecue, made spectacular with elaborate plant-based charcuterie, gourmet vegan burgers, Coors Light cocktails, and a show-stopping wedding gown—purchased on the internet.
"We just wanted tohave a big backyard barbecue for all of our friends and family," says Mattern. "So we basically did that. Just scaled it up a bit!"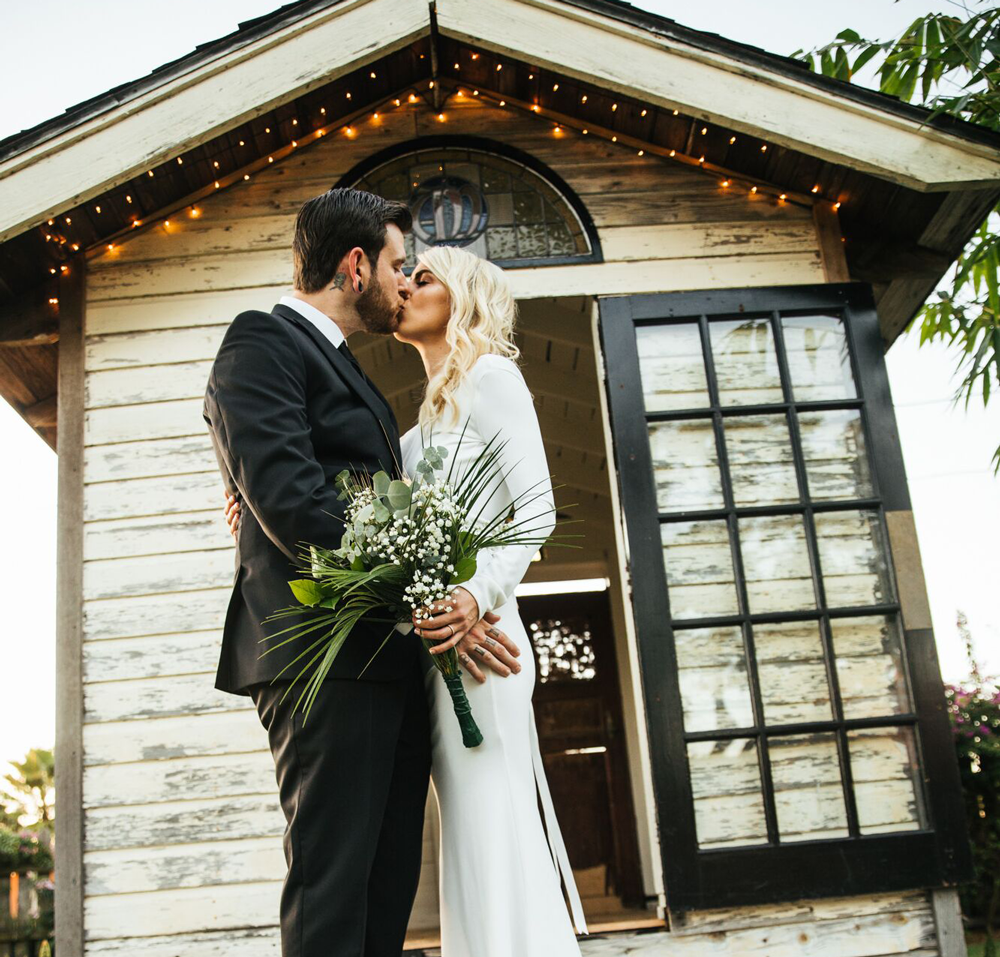 James Hartley
The venue
Orlando's The Acre—a lush, one-acre urban sanctuary boasting a quaint tiny house for gathering, towering camphor trees, and whimsical fountains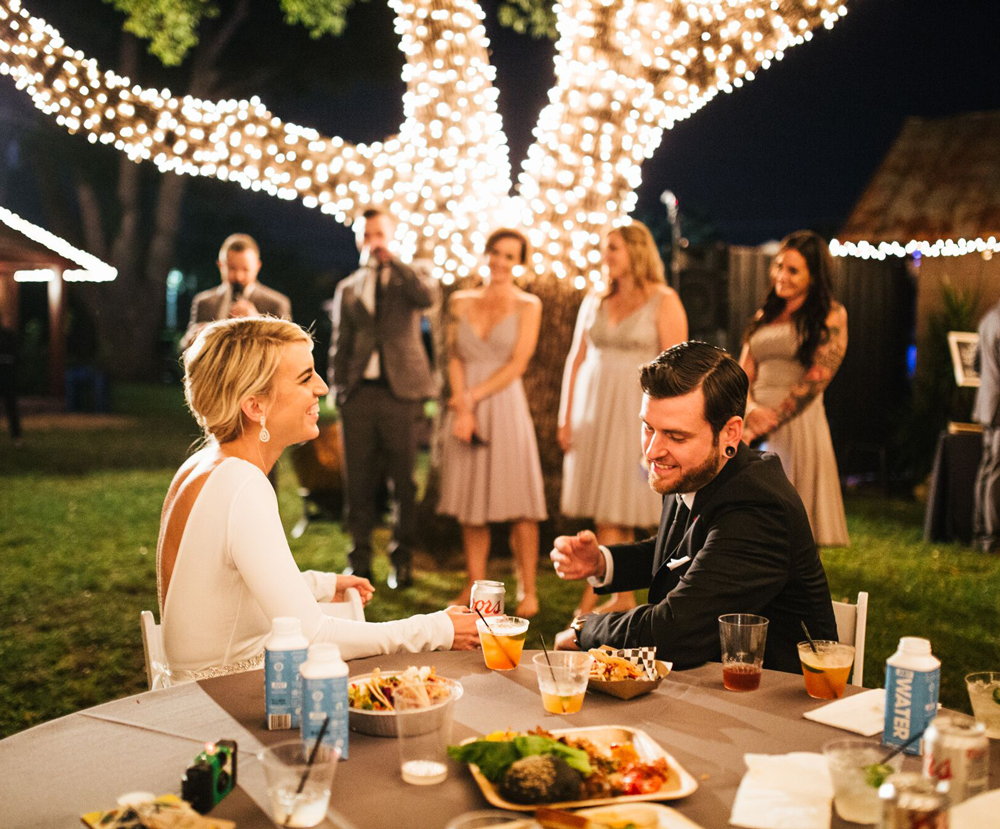 James Hartley

The décor
For a glammed-up backyard vibe, Mattern and Westfall took full advantage of the venue's rustic feel, where they were surrounded by charming buildings, ivy-covered walls, and outdoor areas strung with delicate white lights.
The music
The newlyweds had their first dance to the soulful "I Will Be There" by Odessa.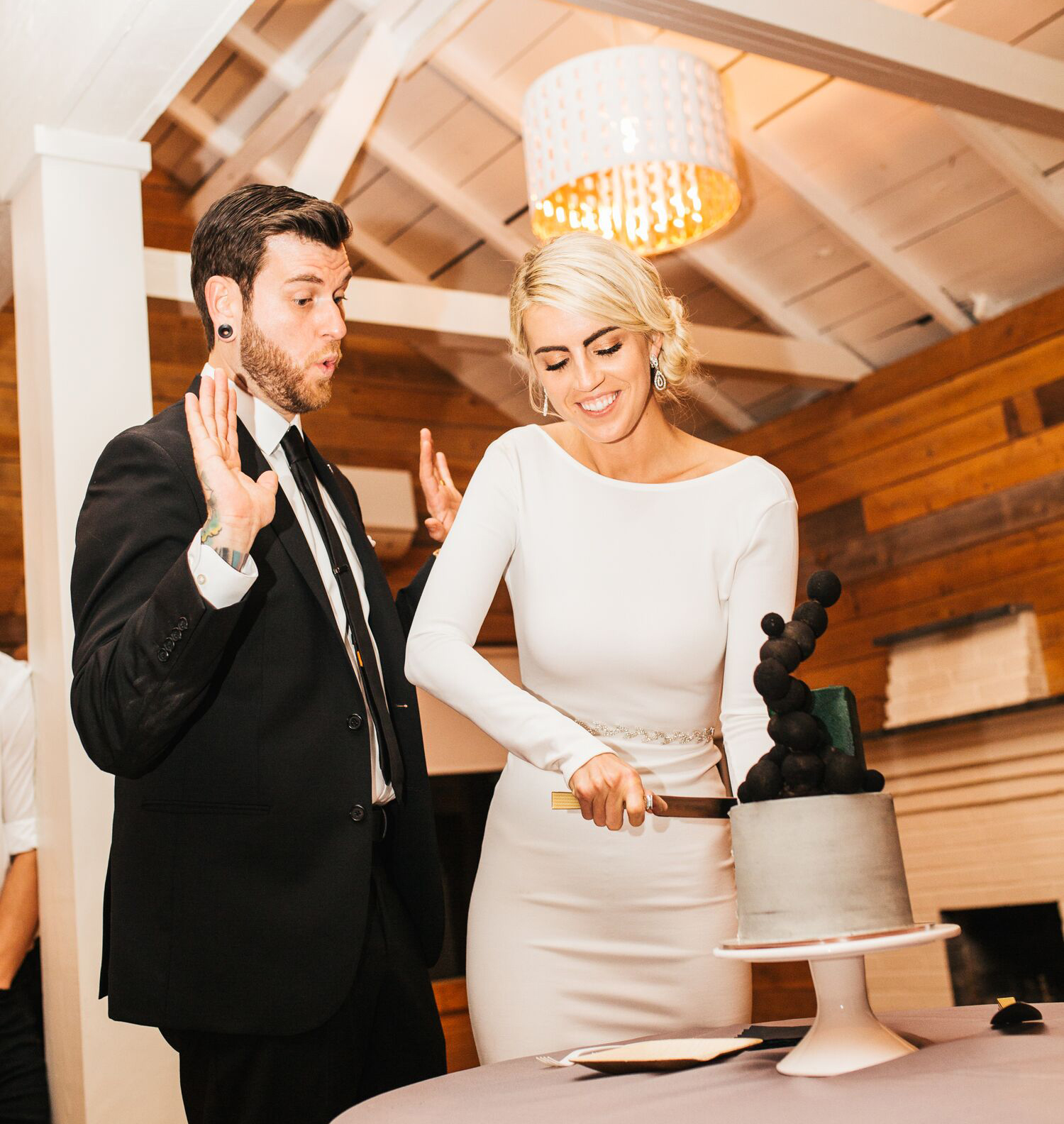 James Hartley

The cake
A vanilla bean cake with notes of almond and citrus, filled with a rich coconut cream dotted with freeze-dried raspberries
The proposal
Westfall proposed to Mattern when they returned to the serene Somerset, WI campgrounds where they'd met, asking her to be his wife one year after their first encounter.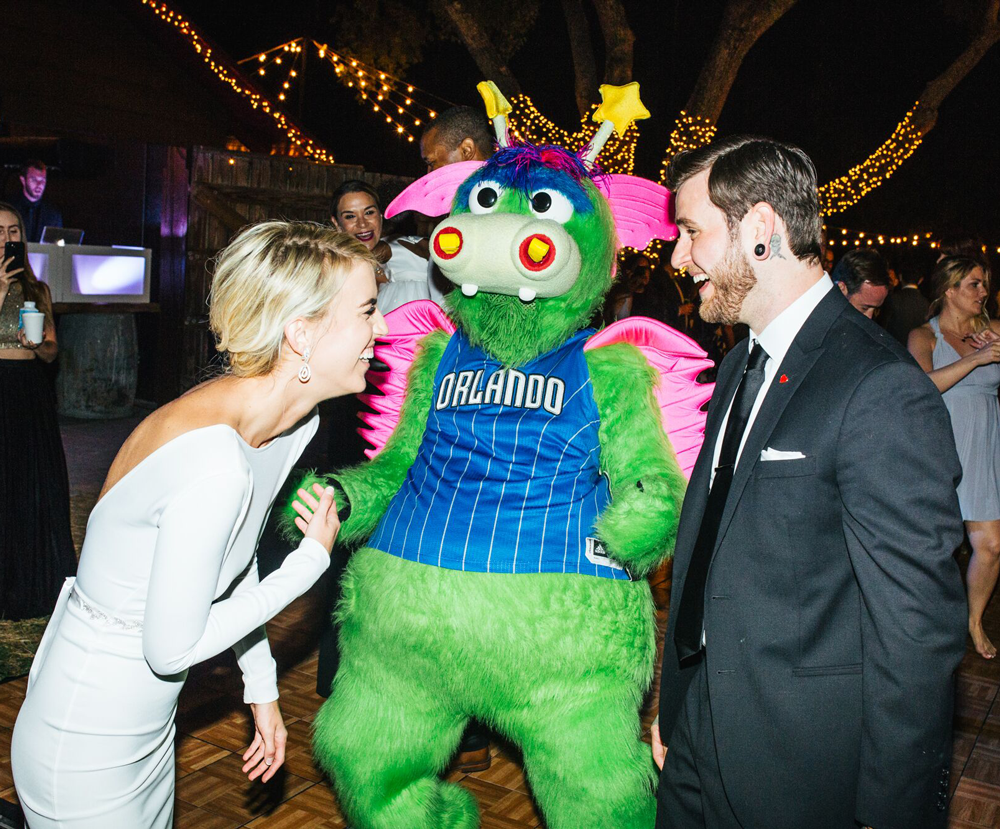 James Hartley
The gifts
As her wedding gift to Westfall, Mattern enlisted the Orlando Magic basketball team's fuzzy green mascot, Stuff the Magic Dragon, to surprise her new husband—a massive sports fan—with an in-person appearance at their celebration.
The honeymoon
The happy couple hopped aboard a train from Los Angeles to Portland, soaking up stunning views of the Pacific shoreline, massive mountains, and expansive forests—all while indulging in the dining car's vegan offerings along the way.
The menu
Charcuterie
Miyoko's Smoked Farmhouse, Kite Hill Ricotta, pastrami beet tartare, vegetable crudité, dried fruit, housemade pickles, and assorted jams
Taquitos
Wonton wrapper, sautéed vegetables, and chili sauce
Duo of Empanadas
Soy chorizo and cheese; sweet guava and cheese
Korean Barbecue Tacos
Soy steak, red cabbage slaw, Asian carrot slaw, jicama, sriracha aioli, and crunchy fried noodles
Soy Chorizo Tacos
Soy chorizo, vegan ground beef, lettuce, black bean-corn salsa, tomato, cilantro-garlic crema, and tortilla strips
Tostone Slider with Street Corn
Fried plantains, habanero-guava barbecued jackfruit, sweet corn, mayonnaise, chili-lime seasoning, parmesan, and cilantro cream
Burger Bar
Impossible Burgers, barbecue jackfruit, eggplant bacon, fried maitake mushrooms, onion jam, cashew mac and cheese, and Nashville-spiced cauliflower wings
Want more vegan weddings? Purchase our special wedding issue featuring Mary and Neil's vegan wedding! Check out all of our 2019 vegan wedding couples here, 2018 couples here, 2017 couples here, our 2016 couples here, and our 2014 couples here!