News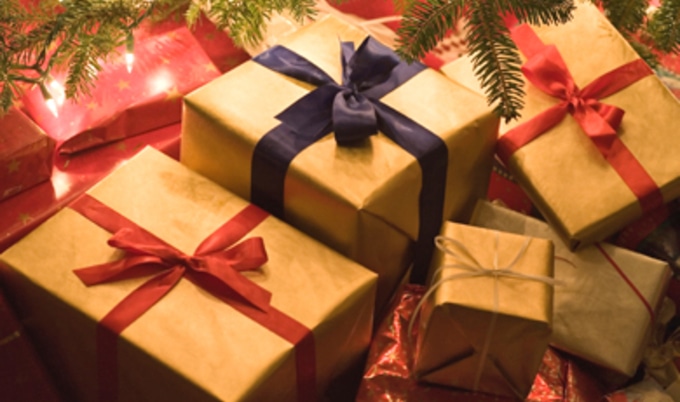 The Penny Pinchers and Big Spenders Guide to Vegan Giving
Whether you are on a tight budget this holiday season or your riches are stacked, the right cruelty-free gift is simple to find.
December 11, 2012
---
Gift giving needn't wipe out your entire life's savings to be special and put a smile on your loved ones' faces. If you're on a strict budget this year, homemade gifts can go a long way in showing how much you care about someone. But if you want to spend a little extra on your friends and family—but keep in line with your vegan ethics, let this guide to gifts lead the way!
Kids
Penny Pinchers: The big kids may have outgrown bath-time toys, but water flutes from ($16) the SF MOMA's Museum Store will give your favorite musically inclined tot songs to play in the bubbles. And for a nighttime light that beats all others, the Discovery Rainbow In My Room light ($27.99) will create a majestic rainbow arch inside any bedroom with just a flick of the switch. But if all you are looking for is a new bedtime story, the hardcover Nutcracker book ($45.61) written by E.T.A. Hoffmann and illustrated by Maurice Sendak will give your little one some reading material that will bring the Christmas classic to life. The New York Times Book Review calls this literary masterpiece, "A classic, new, and complete. One of the 10 best illustrated children's books of the year." Can't go wrong with that.
Big Spenders: Need an escape from the cold winter and have a Disney-fanatic niece or nephew? Take a trip to Orlando, FL and stay at the Walt Disney World Resort where the two (or more!) of you can feast at the theme park's meat- and dairy-free Terra kiosk and sit inside spinning teacups and thrilling I-am-going-to-die rollercoasters. And for the little girl looking for something sparkly, get a necklace with her name twisted into the metal ($99.95). To appeal to all of the young kids who asks for only games every year, give them the gift of becoming energy-conscious changemakers with the alterative energy kit Thames and Kosmos Alternative Energy and Environmental Science Power House Green Essentials ($99.95). This sustainably-minded project-kit will remind your kids why it pays to go green.
Teens
Penny Pinchers: Smartphone cases have become the latest fashion statement and giving a handcrafted smartphone case is a sure way to put a big smile on your favorite texter's face. Pencil Shavings Studio sells a variety of colorful and unique cases ($39.99) through their Etsy shop and has 99-percent positive feedback. If your teenybopper has just gotten the latest iPhone, this hexagon-stylized glossy shell will snap onto the phone and give it a splash of color and geometric pattern. What could be cuter? Don't know what to get the hard-to-please teenage boy in your life? A pair of upcyled beech wood housing earbuds by LSTN ($45) is one way to make his day. Another terrific option is wrapping up a bright red Moleskine planner ($18.95) that is a favorite among the VN staff. Perfect for the highschooler in search of better organization. Plus it's got adhesive labels to boot.
Big Spenders: For every teen out there that has suffered from the last-minute zit, surprise it's picture day moment, the complexion-changing Clarisonic Mia ($119) will be the most appreciated holiday gift out of the bunch. While the price tag on this electronic face washer is steep, it is worth every Andrew Jackson. Clarisonic's smallest cleansing system to date comes in colors ranging from lavender to navy blue and allows for a thorough scrubbing. Does your teen need a new backpack that is just as chic as it is animal-friendly? Matt and Nat has a gorgeous pebbled vegan-leather backpack ($138) that zips right up. This knapsack might not be able to carry as much as the standard Jansport, but it surely can fit a laptop and several textbooks to help your undergrad study stylishly, always. For some winter protection, swap Uggs for some vegan and luxuriously cozy Snug Boots ($145) from Vegetarian Shoes. The water-resistant vegan suede and faux-wool lining will keep teens' toes comfy no matter how big the snowstorm.
Adults
Penny Pinchers: We obviously love our magazine, but you wouldn't be reading this if you didn't too! Spread the love this winter season and give your would-have-could-have-should-have vegans a subscription to VegNews. For all of the animal- environment-, and health-friendly information we pack into these glossy pages, we make sure that our magazine is affordable so that you can spend your extra money on organic raw cacao butter, sprouted macadamia nuts, and the like. Once you're finally done with all of the calorie gorging that takes place from November to January, let the smell of decadence and confections live through the new year with this spiced cocoa mint soy candle ($19). Another great stocking stuffer is Obsessive Compulsive Cosmetic's Lip Tar set of lip colors ($49), which can be ordered online, and also purchased at the international beauty retailer, Sephora.
Big Spenders: You know how much your boyfriend or dad loves beer, but does he know how much he would love brewing his own booze? With this beer brewing kit made by UrbanBrewery ($115) you can give your beer-lover a two-gallon-sized brewing pail, fermenting jug, reusable beer bottles, brew bag, and many more tools that the quintessential home brewer would need. The kit, which can be purchased on etsy.com, has people raving saying things like "thought out with detailed instructions, carefully packaged, and such a great, great idea!" For a new pair of manly kicks, Brave GentleMan and Novacas have joined forces to make the "Worker" boot ($250), which comes in dusty brown high-quality faux leather and a moccasin-style toe. Stylish, masculine, and rugged all-in-one. For a pair of gorgeous wedges for your female friends, Novacas has made the ultimate day and night funky, yet chic heel called The Astrid Shoe ($149). With all of this generous present-karma, don't be surprised if Stella McCartney comes knocking on your door for a private fitting.
Gift giving is a great way to spread the yuletide cheer. Presents may get unwrapped in a flash, but their memories will last a lifetime!
Please support independent vegan media and get the very best in news, recipes, travel, beauty, products, and more.
Subscribe now to the world's #1 plant-based magazine!
Subscribe
Give a Gift