Food + Recipes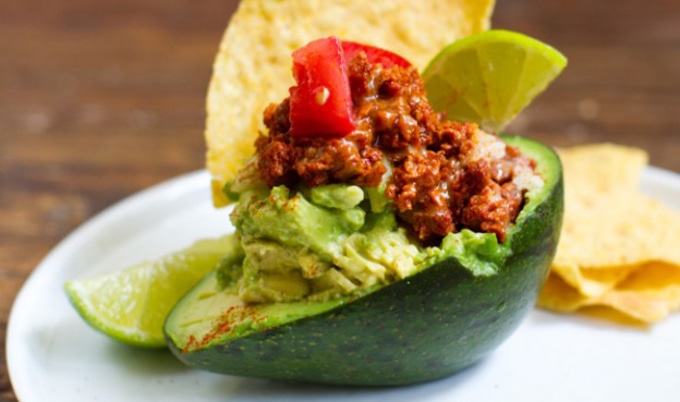 14 Game-Changing Avocado Recipes
Vegans know how to make the most of this buttery green treat, and here are 14 next-level ways to enjoy it.
---
It's no secret that vegans love avocado; with its creamy texture; mild, buttery flavor; and bright green hue, it enlivens and enriches virtually any dish. But what you may not know is how versatile it is. We've all seen it in sandwiches and salads, but have you ever experienced the outer limits of its possibilities? Pulled straight from our epic Pinterest library, we bring you 14 delicious ways to make the most of good 'ol avocado.
1. Taco-Stuffed Avocado
With their soft middle and firm skin, avocados are practically begging to be stuffed—or at least babble.com thinks so. And what better to fill them with than a kickin' combo of soyrizo, vegan cheese, onion, tomato, and a squeeze of lime?
2. Vegan Avocado Chocolate Birthday Cake with Chocolate Ganache
Once you bake, you never go back. That's what we say about this beautiful birthday cake, made extra-fudgy with the addition of avo. Extra points for colored sprinkles!
3. Avocado Fries
Move over, potatoes—these panko-crusted Avocado Fries are our new favorite way to snack hard. Pass up the fatty fast food original and pass the spicy mayo dip!
4. Avocado and Jalapeño Grilled Cheese Sandwich
We all know that a grilled cheese benefits from some add-ons, and what better combo than spicy jalapeño-garlic vegan havarti and smooth avocado? Peppered faux turkey slices and a squeeze of lemon juice complete this hearty sando.
5. DIY Cucumber Avocado Hand Rolls
Keep on rollin' with these homemade hand rolls that combine crunchy cucumber and thick slices of avocado. We might just get wild and mix in some vegan cream cheese and shiitake mushrooms.
6. Avocado Potato Salad
Your next picnic will be 'cado-riffic if it includes this creamy potato salad. Plus, this mayo-free recipe is spiced with cumin, scallions, chile powder, and garlic.
7. Tofu Avocado Benedict
Few things can rouse us from our beds like a properly made bennie. This one, from The Sweet Life blog, is loaded with buttery avocado and decadent vegan Hollandaise. Now, who's making mimosas?
8. Kale Noodle Bowl with Avocado Miso Dressing
This marvelous meal has as much flavor and heartiness as your go-to noodle takeout, but with way less guilt. Combine your vitamin K fix and your carbs into one scrumptious, easy-to-prepare bowl.
9. Avocado Frozen Yogurt
Very verde, this avocado fro-yo is a healthy way to indulge in your cravings for the cold and sweet. And, it's lo-cal and ready in just minutes. Our idea: throw in some dark chocolate or carob chips for extra flair.
10. Buffalo Chickpea Soft Tacos with Avocado Sour Cream
Sure, the avo may not be center stage here, but that doesn't mean that it isn't essential to this daring dish. The incorporation of sesame oil, Sriracha sauce, and rice vinegar in these tacos adds an Asian flair that make them a unique addition to your next potluck or dinner party.
11. Deviled Avocado with Spicy Curry Sauce
Deviled eggs? No thanks, we're vegan. Deviled avocado? Bring it on. Loaded with crunchy salad and drizzled with a bold, spicy-sweet curry sauce, these stuffed wonders are as gorgeously green as they are tasty.
12. Avocado Lime Tequila Popsicles
It's 1:42pm. Too early for a margarita? Well … we suppose so. But it's never too early (or too cold) for one of these boozy popsicles!
13. Florida Avocado Summer Wrap
Come lunchtime, we love sinking our teeth into a great vegan wrap. This one's got the works: yellow tomato, sweet onion, spicy bean spread, shredded carrots, pumpkin seeds, and—of course—big slices of avocado.
14. Avocado Gnocchi Salad
Gnocchi is the perfect nom when you're craving comfort food. But did you know that it can be made without potatoes, eggs, or gluten? Cue this superfood-filled gnocchi, made with avocado, chia seeds, and quinoa flour.
For more great recipes (with or without our favorite stone fruit), visit our Pinterest page.
Please support independent vegan media and get the very best in news, recipes, travel, beauty, products, and more.
Subscribe now to the world's #1 plant-based magazine!
Subscribe