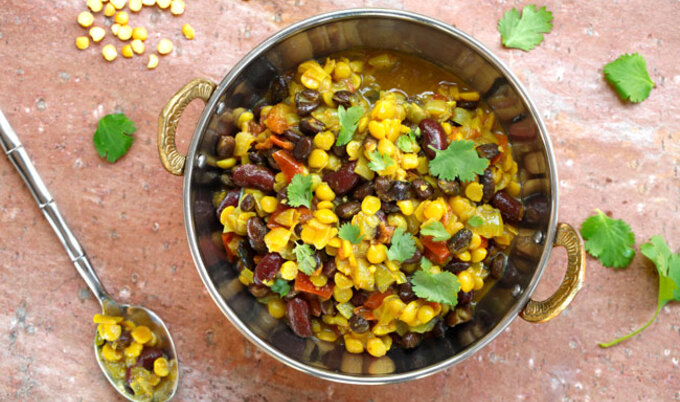 Vegan Three Bean Dal
This bean medley mixed with all the classic Indian spices makes for a fragrant, savory dish.
Serves 6
What you need:
1/2 cup dried yellow split peas
1 teaspoon ground turmeric
1 (15-ounce) can black beans, drained and rinsed
1 (15-ounce) can kidney beans, drained and rinsed
Salt
2 tablespoons corn oil
1 medium yellow onion, chopped
1 large garlic clove, minced
2 teaspoons minced fresh ginger
1 teaspoon ground cumin
1/2 teaspoon ground coriander
1/2 teaspoon cayenne
1/4 teaspoon ground cardamom
1 (14.5-ounce) can diced tomatoes, drained and finely chopped
2 tablespoons chopped cilantro leaves
What you do:
1. Rinse split peas and in a large saucepan, place with 3 cups of water. Bring to a boil. Reduce heat to low, add turmeric and simmer partially covered for 20 minutes, stirring occasionally. Add black and kidney beans, season to taste with salt and simmer uncovered until sauce thickens and beans are very soft, about 20 minutes.
2. In a large skillet over medium heat, heat oil. Add onion, cover, and cook until softened, about 5 minutes. Add garlic and ginger and cook until fragrant, about 30 seconds. Add cumin, coriander, cayenne, cardamom, and tomatoes, stirring constantly for about 30 seconds longer. Pour contents of skillet over simmering bean mixture and stir well to combine. Taste to adjust seasonings. Serve hot sprinkled with cilantro.
 
Click here for more delicious recipes:
Masala Magic
Coconut Chutney
Indian-Spiced Cauliflower